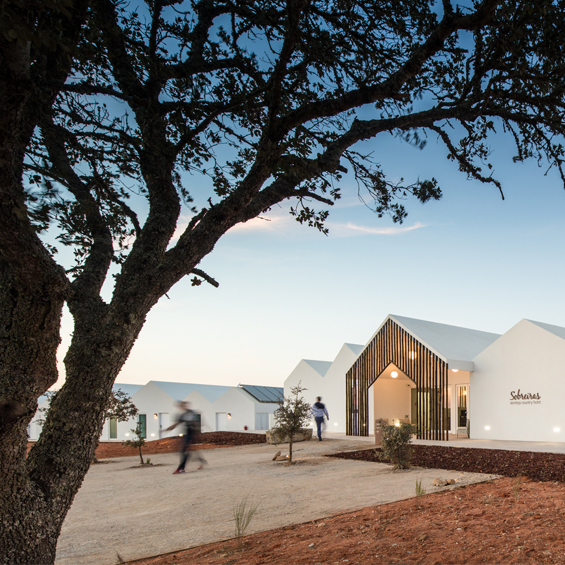 FAT Alentejo Country Hotel
---
The Alentejo Country Hotel is situated in the heart of a landscape filled with cork oaks and olive trees in the Serra de Grândola in southern Portugal. Architecture, introduced on the site by agency FAT – Future Thinking Architecture, offers a posture of respect and enhances the rural environment around the hotel. The set consists of eight modules arranged on top of a hill, with rooms overlooking the great landscape.
The landscape of the Serra de Grândola consists of rolling hills in the heart of a landscape that seems to stretch to a distant horizon. Only an hour from the capital Lisbon and a few minutes from the village of Grândola, the rural surroundings, in which the project is installed, has been favored by the singular beauty of the site. The concept of the hotel and the architecture developed by its designers were guided by the desire to promote the enjoyment of nature and the discovery of the regional culture.
The arrangement of trees on the site led to divide the project into several single-storey modules arranged between them. The hotel consists of eight building structures placed around minimizing soil sealing in particular and the scope of the foundation. The largest volume offers the entrance, reception and a guest lounge. The smaller buildings contain staff facilities, technical rooms, storage and service. The other five volumes, of a more similar size, offer 22 rooms and 2 suites all with large spaces, minimalist design and private terraces facing the landscape.
The project buildings evoke the traditional image of a house. The architects wanted to express the characteristics of the traditional architecture of the region through the formal principle of their architecture and the simple geometry and materials. The logs of wood used for facades establish a dialogue with the surrounding landscape. They also contrast with their texture and color with the white buildings in the simple and refined architecture lines.
Photography João Morgado
Via  ArchiDesignClub