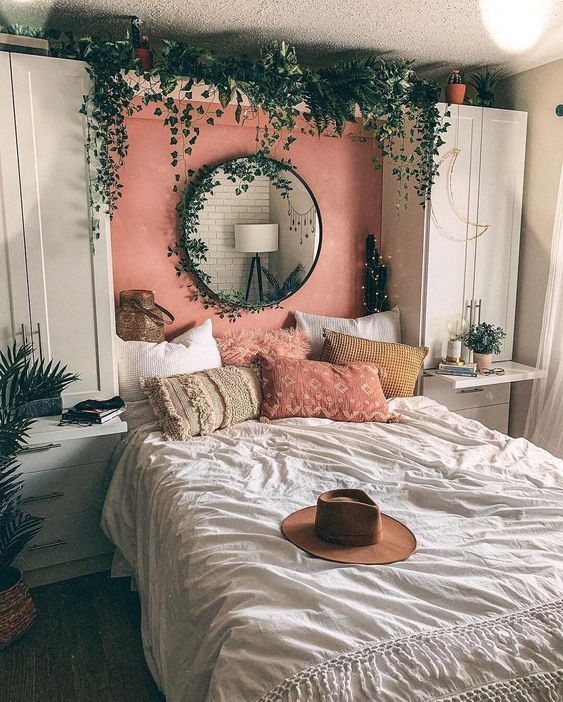 50+ Aesthetic Bedrooms And 9 Tips On How To Decorate Yours
---
We're talking about the most private and personal area in your home – bedroom. A bedroom is a place to sleep, recharge, dress, relax, and do all kinds of different stuff. So we always want that this space would be neat and aesthetic. When renovating your bedroom, you have lots of options. These days there are so many design solutions it's hard to choose one particular. Achieving the ideal result is not an easy task. That's why it's important to gather ideas before starting your renovation project. Let's take a look at aesthetic bedrooms and how you can create one in your home.
Ideas of aesthetic bedrooms
For most of us, our bedroom is the most important place in the home. Make sure you decorate it the way you like it. Add objects you love and use materials that resemble your inner self. Take some time before getting into the renovation process. Gather ideas, maybe consult with an interior designer or ask your friends who just had a renovation for advice. We hope you will find some inspiration in our collection of aesthetic bedrooms below. Be inspired and create your dream home!
Aesthetic bedrooms and their colors
Since your bedroom is a place where you want to relax, we recommend choosing warm colors. Soft and warm colors do not put a strain on your eyes and create a calm atmosphere. If you want intense colors in your bedroom, you should use colorful blankets, cushions, or other objects. By doing this, you will avoid the unnecessary repaint of your walls if the result is not what you expected.
Increase space and light with mirrors
A mirror is a perfect way to increase space and bring more light into a small and dark bedroom. It reflects light and creates a feeling of spaciousness. And of course, if you don't have a separate wardrobe, a mirror is a must in your bedroom. We love tall mirrors with thin frames as they create that aesthetic bedroom feeling.
Bed
The most important element in your bedroom is, of course, your bed. Choose wisely and think long before deciding to buy a bed. To create an aesthetic bedroom, you should always use a headboard. It gives a finish to a bed and adds style to the bedroom. We encourage you to choose frames and headboards made of sustainable materials such as wood or iron.
If you have enough space, you could also use a bedroom bench at the end of your bed. It may serve as a storage unit if it has this feature, but do not use it to pile your clothes! Always keep it decluttered from your stuff, and you will have a perfect element in your bedroom.
Nightstand and lamp
These are very important elements in any bedroom! A nightstand is a place to place a book, smartphone, a glass of water, and any other object you will want to reach by hand at the same height.
A night lamp is also a must as it provides a dim light before sleep. It also helps you to find your way in the dark. We recommend having the same nightstand and lamp on each side of the bed. This provides a visual and practical balance even though you're sleeping there alone (yet!).
Pillows
Colorful and decorated cushions and pillows create a relaxing atmosphere. However, do not overload your bed with too many cushions! If you place a lot of them, it will take up too much space. Also, it will create a feeling of clutter. Choose cushions accordingly to your bed size. If your bed is large, you could use more cushions. There should be enough space for you to simply lie or sit down on a bed.
Rack
If you want to maintain order in your bedroom, a rack is a must. Instead of throwing everything on the bed or table, you hook it on the coat rack and therefore avoid chaos. You can also use a rack to keep the stuff you rarely use.
Organization of aesthetic bedrooms
To keep your bedroom decluttered, we recommend you use boxes, trays, baskets, and other containers to store small things. This prevents them from being scattered on the table, lying on the bed or floor. If you have a large wardrobe, this will not be a problem for you. But if your bedroom is small, then you will want to organize your stuff with these storage solutions.
Small desk
These days, when lots of people have to work from home, it's crucial to have a home workspace. If you don't have much space, you can use your bedroom to create a small home office. It doesn't matter whether your space is large or small, you only need a good desk, a comfy chair, and you're ready to go! Keep it simple and functional.
Relaxation corner
If you like spending time in your bedroom, it's always a good idea to set up a small corner for relaxation. It can be a separate armchair or a small coffee table with plants on it, and you're good to go!