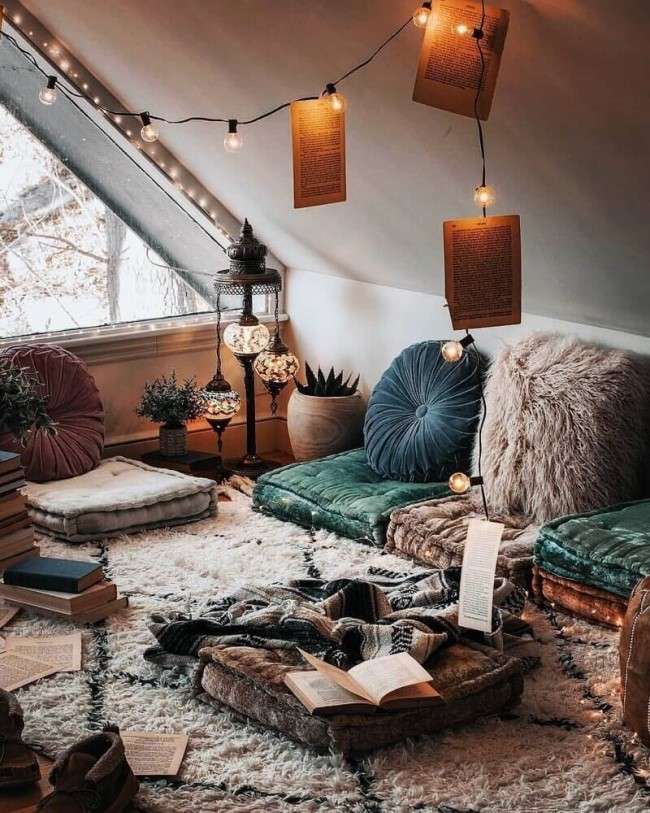 9 Meditation Room Ideas to Help Before, During, and After Panic Attacks
---
The article is developed in partnership with BetterHelp.
Because they are the result of a stressor, having a panic attack can be severe. Panic attacks can happen without warning, so having coping strategies are critical for managing the episodes when they come on.
If you have a meditation room, you can deal with your panic attack before, during and after it happens.
The meditation room is a calming environment designed for use by one or two people at a time. There is no one "right" way to design a meditation space, but the single rule for its design is that it must be something you enjoy and find calming.
These ideas may help you find the solace you need.
1. Declutter Your Space
Regardless of the space you choose for your meditation room, removing excess items can help you feel more at ease.  Having too much in the area serves as a reminder of all the other things you could be doing instead of meditating. Keep those things that put you at ease: a small statue,  candles, a few comfortable pillows.
2. Use Light to Your Advantage
Natural light can improve your mood.  It also helps you have a positive outlook when you finish meditating. If looking out the window is distracting, try filtering the light with semi-transparent blockers like screens with cut-outs, plantation shutters or blinds that can be adjusted, or panels with designs.
3. Canopy Your Space
Remember the fun of creating tents when you were younger? The personal space inside is perfect for meditation. Instead of using sheets, tables and chairs, hang a canopy from the ceiling and let the fabric drape around the perimeter on the floor. Add a few pillows, and viola! You have your own meditation room.
4. Meditate by the fire
An indoor or outdoor fireplace can inspire meditation during a panic attack.  Pull up a cushion or a chair and allow the flames to mesmerize you while you meditate. If a real fire is out of the question, consider one of the many electric fireplaces available. They turn on and off with a switch, and they can be just as relaxing as a traditional fire.
5. Make a Corner of Your Own
If setting aside a dedicated room is out of the question, create a personalized corner in your room. The optimal location would be near a window, but the key to using this space is to make it uniquely yours. Add a plant, worry beads, or a miniature zen garden tray to help you master your emotions.
6. Take it Outside
If you've created a small zen patio garden, it's time to return to it. The outdoor room you designed is a natural mediation spot that will sooth your emotions.
7. Enjoy the View
A room with a view is an ideal space for a meditation room. Seeing nature in its element just beyond your window can help you focus on something other than your anxiety. Again, the idea is to make this space uncluttered but personal so you feel attracted to it.
8. Activate Your Inner Child
It's okay to create a room within a room. Install a teepee or set up a tent, just like you did when you were a kid.
9. Create a Separate Space
Almost any room for meditation will do when you need to cope with anxiety. However, if the thought of household chores makes you feel agitated, stay out of the kitchen or the utility room. You're too likely to stress about other things than take care of yourself.
By designing a meditation room or space all your own, you create a coping strategy for dealing with anxiety.