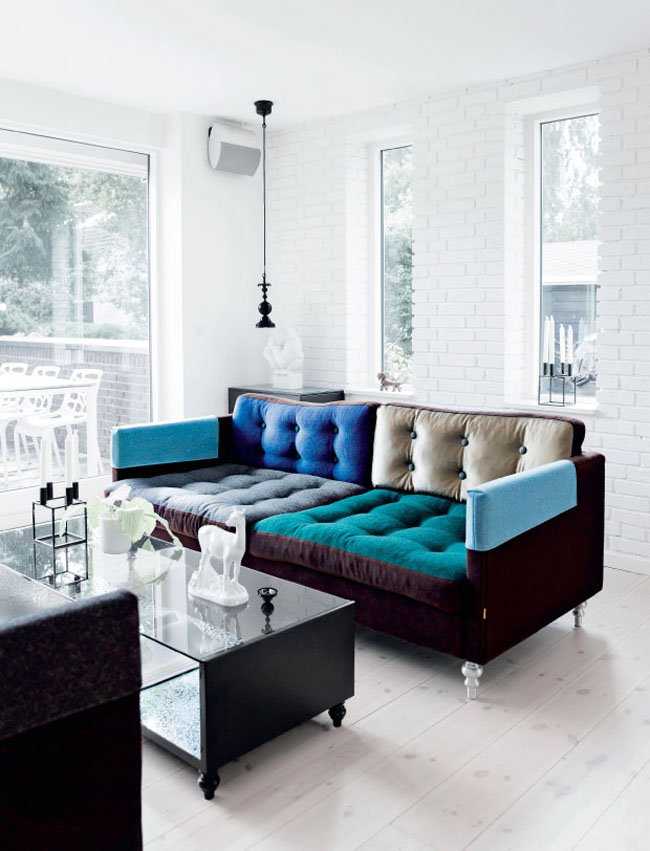 A Colourful and Airy Home in Denmark
---
Today we're sharing an interior of an aged detached house from the 70s with superb location by the forest and beach in Solrød. This classic home was selected by owners Jacob and Lone Engberg because they had to have the house and garden here and now. The solution was a complete renovation of the interior, where they chose to keep 70's style, but interpreted it in modern way so the house today stands as their dream with loads pop of colour and funky design.
Location |Denmark, Solrød Strand
All info via | Femina
The terrace was built the summer before and works in the good summer months as an additional outdoor space in the garden. Garden furniture is from Idemøbler, and the oversized garden lamps in white plastic is from Fatboy.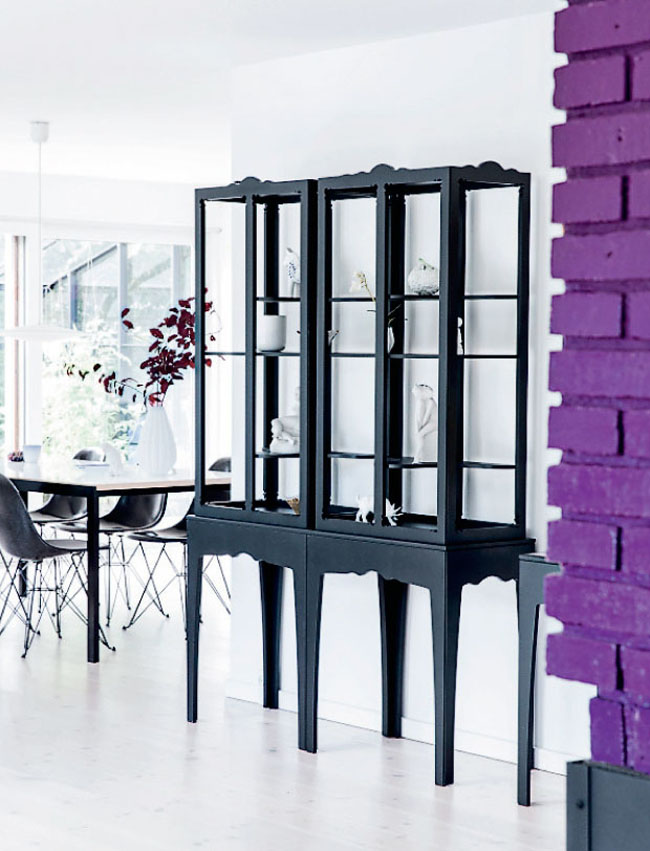 The open shelving units in the living room were originally used as showcases at Royal Copenhagen, and when they needed replacement Jacob was allowed to take them home – now they work perfectly as a display for the family's collection of porcelain and figurines from, among others Royal Copenhagen.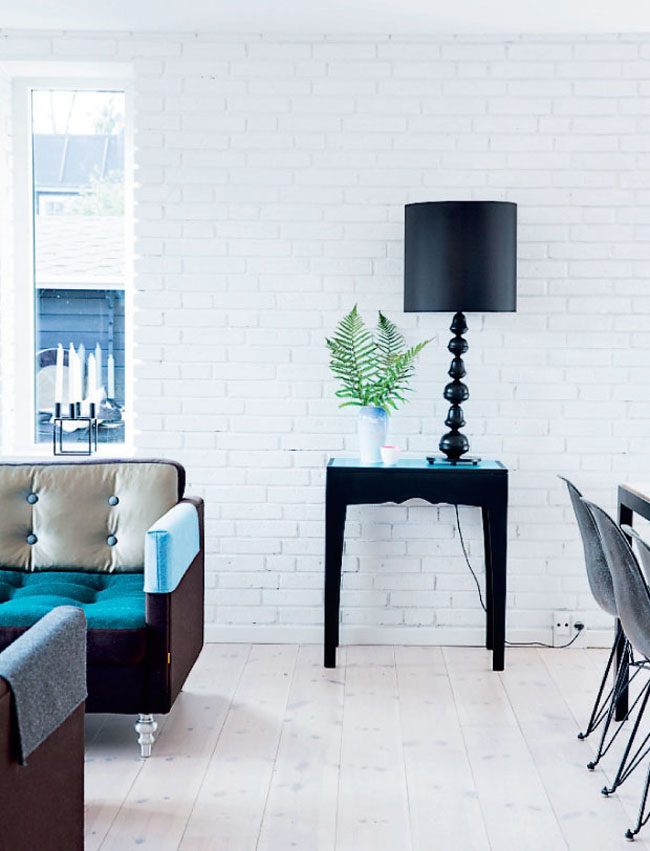 The raw brick is genuine 1970s style, but to update it a bit Lone and Jacob had painted it white. The table is a customized display model, which has been once turquoise laminate. The table lamp from Design By Us.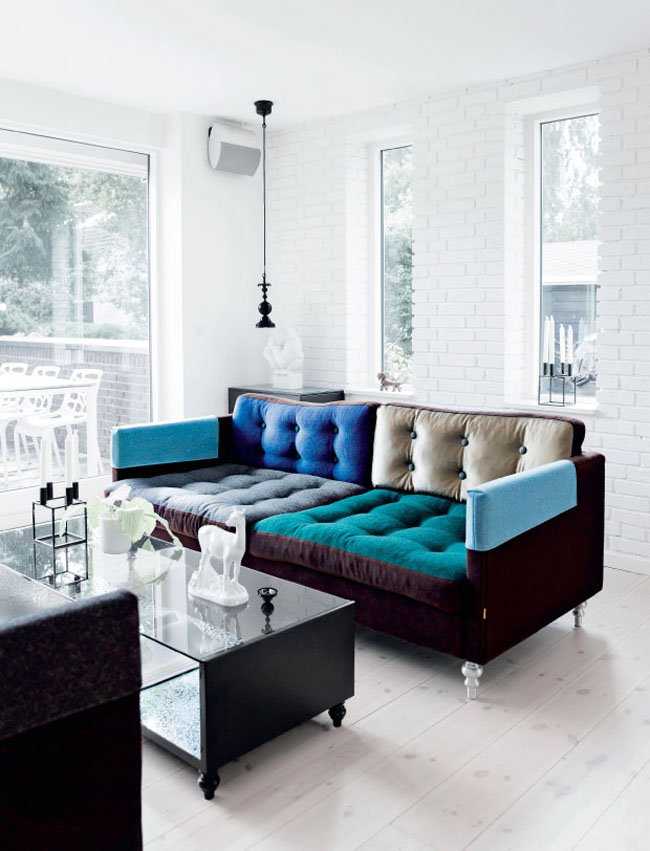 The sofas and coffee table are from Design By Us and originally stood in Royal Copenhagen showroom where it came to sales among employees. Jacob loved the colors and funky design and bought it. On the table some porcelain figurines by Royal Copenhagen are showcased, where both Jacob and Lone has worked for several years.
The kitchen runs along the whole of one wall of the housing and serves as preparing part at one end and with a dining table at the other end. The kitchen is designed and built by Karsten K. Lülloff and Kristian Lille-lund from Rum4 and made of MDF with laminate on both sides of the doors.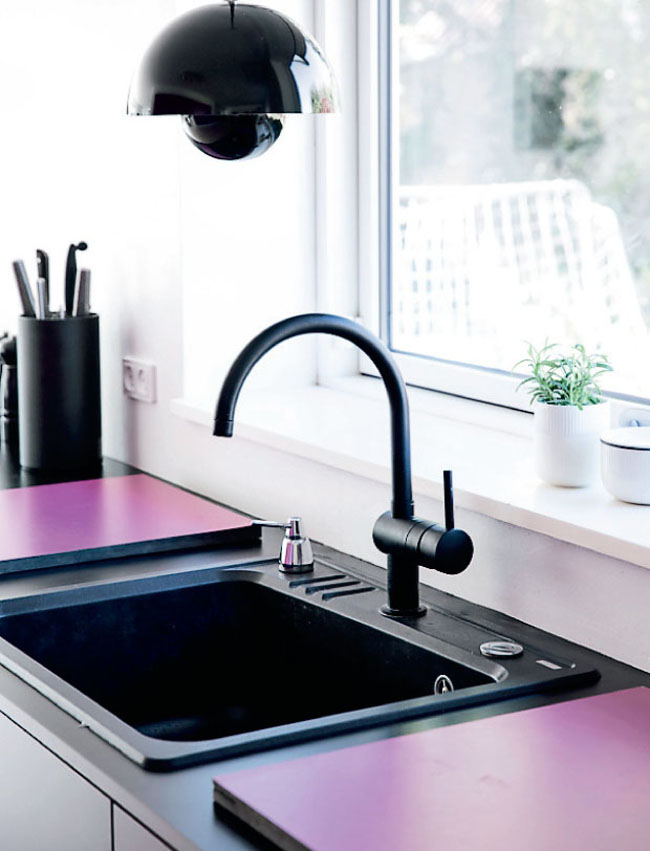 Kitchen sink and fittings are in black so that they match with the black countertop. A nice touch is the pink cutting boards, which brings a pop of colour of and create some contrast and liven up the dark countertops.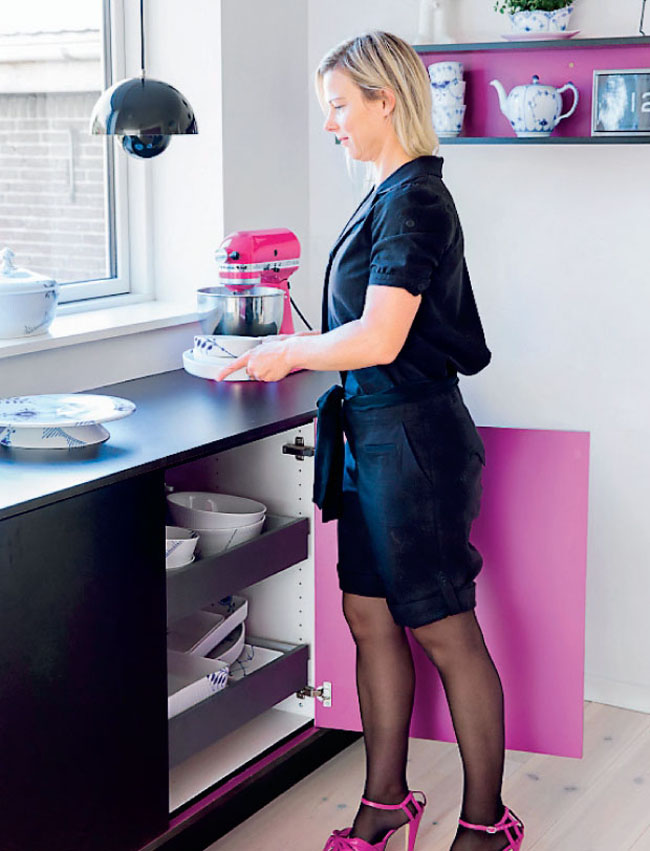 Black tiles are usually no-go in bathrooms because of lime, but the solution was to put a descaling system at the main valve to the house, so all the water now is almost lime-free. The dark tiles are the same on floors and walls, just in different sizes, and called Adamastar purchased from Evers. The bathtub is from Duravit and all fixtures are from Grohe.
Via Femina