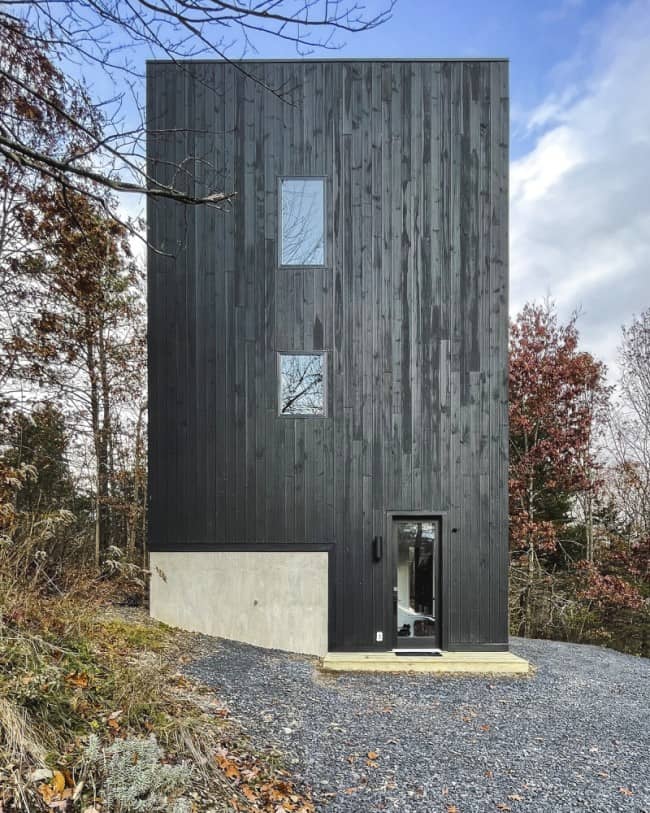 A Modern Watchtower by Kimberly Peck Architect
---
The owner of this new home titles it a "modern watchtower". Located in the Catskill Mountains, the home's design capitalizes on the mountain views. The client searched for several years to find land to create a unique property that would stand out among short-term vacation rentals in the Hudson Valley.
They came to Kimberly Peck Architects with the form of the house fully conceptualized: a 3-story extruded 20 ft x 20 ft square sited at the top of the small hill on the property. The fenestration was also very important to the owner. The cuboid was to be punctuated randomly with windows of various sizes and shapes that he positioned to best capitalize on specific views.
The architects connected the floors by a stacked steel staircase that continues to the roof, where you can access an occupiable deck via an operable skylight at the top of the stair. Directly below the roof deck, contrary to a traditionally configured home with bedrooms on top, is an open floor where the kitchen, living, and dining room enjoy the higher vantage point through the largest window in the house. Each of the bottom two floors consists of an en-suite bedroom and bath.
The architects designed the house with energy efficiency in mind, utilizing sips panel construction at the exterior walls and roof to create a heavily insulated envelope. The ground floor is slab on grade concrete construction, with radiant heat embedded in concrete which along with a mini-split system and erv technology comprises the buildings heating and cooling system.
The owner's favorite room in the house is the master bath. It has a heated terrazzo tiled flooring and freestanding soaking tub, situated so that one can take in the view as they relax.
Project by Kimberly Peck Architect
Photos by Gregory Farrell