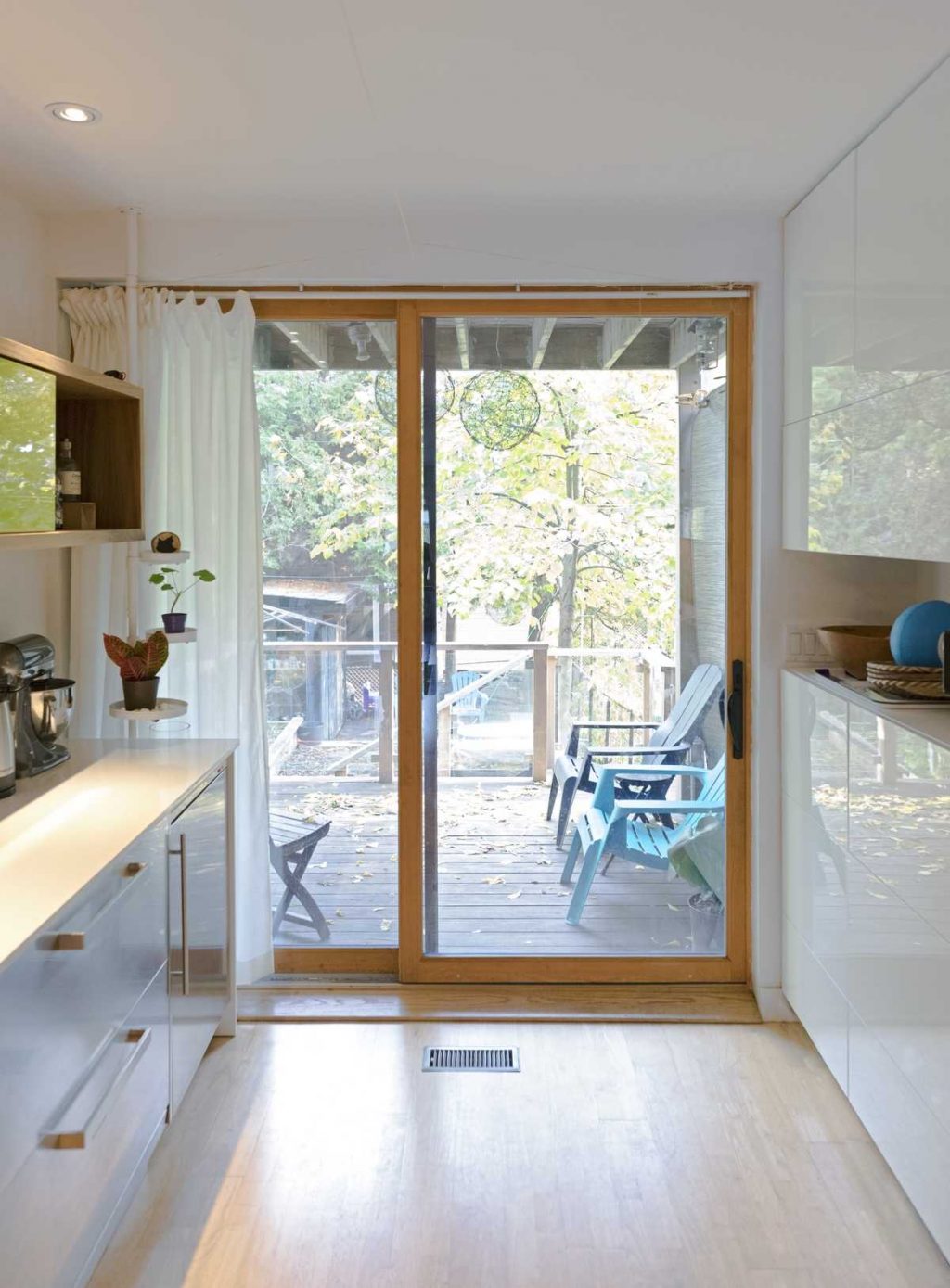 A renovated designer's house in Toronto
---
"Our house" is where we play, fight, make-up and start all over again. It is a display case of our memories, a sketchbook for our future dreams. It is a container for everyday living, a place of respite and chaos at the same time.
"Our house" is not the entire house. It is the lower unit, consisting of the ground and basement floors. The ground floor has the public spaces while the basement holds the bedrooms. The open concept layout was achieved by knocking down all the old walls, enlarging some openings, especially the rear wall, and by underpinning the basement. While the big moves were done within nine months, the rest took well over a decade. In many ways, "our house" is not finished yet.
Designing "our house" was the easy part. The designers took cues from the existing house and created special moments around them. The window by the couch became a "happy place", especially on chilly sunny afternoons. A built-in bench by the front window became the "reality TV". The whole family rushes to the window whenever there is any action on the street.
Behind the kitchen sink, the slot window has been enlarged to capitalize on reflected light from our neighbor's window. When the sun streams in, the light plays off the colored glasses in the glass cabinet in front. In the basement, the designers infused a calmer feel by dropping a partial wood ceiling to hide ducts and worked with a polished concrete floor with radiant heating.
The bathtub is strategically located right beside a window so, during the morning showers, the tiles shimmer in the sun as if it is a waterfall. The basement takes advantage of natural light from A south-facing bathroom window channels natural light to the center of the basement thanks to the strategic use of etched glass instead of drywall.
After a few years of calm, the addition of little people made the designers rethink the space. They scrambled for storage space. Also, they added a built-in wall unit with a flip-down desk, making the entrance hall double as a home office. The front hall bench now stores both shoes and office files. The steps of the basement stairs slide out like drawers to store our supplies. The designers created a mini-desk area for their kids by recycling an unwanted conference room table from a previous employer. When they grew tall enough, the designers added circular shelves made from sono tubes. Their play area is sometimes confined to their desks, but most of the time it spills out on to the floor, the rug, the couch, etc. On nice days, it expands straight to the deck and the backyard.
"Our house" is a continuous experiment. Given that life changes all the time, "our house" has been slowly transforming to suit. In a few years, it may be completely unrecognizable. This is a sign of a fine house.
Project by Picnic Design Inc.
Photography by Andrej Kopac