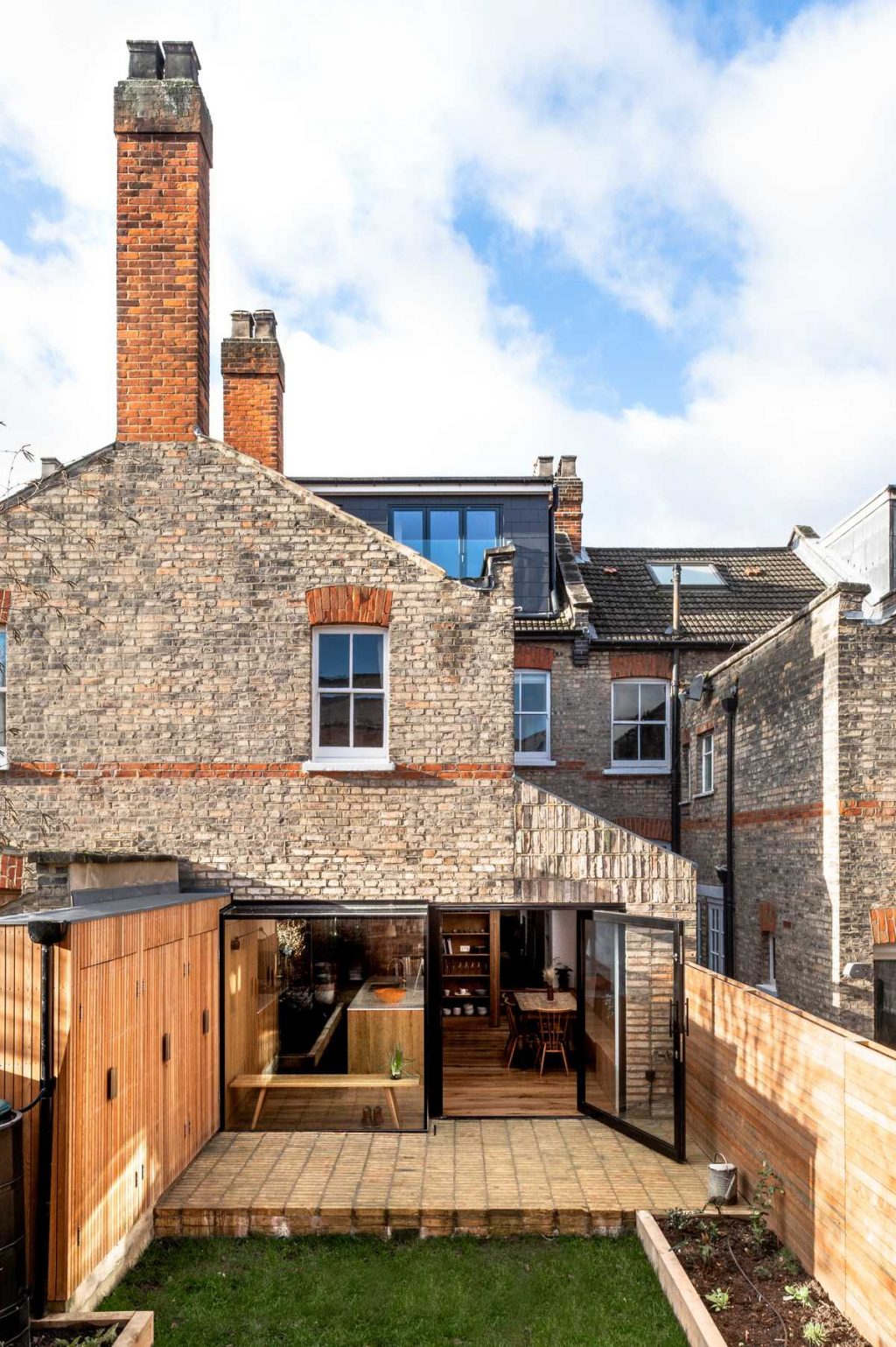 A Spacious Kitchen Side Extension by Bradley Van Der Straeten Architects
---
Bradley Van Der Straeten Architects completed a kitchen side extension for a family with two young boys. The clients were very keen on having a timeless space and not over complicating it with materials. That is why the team focused on natural light and a simple material palette.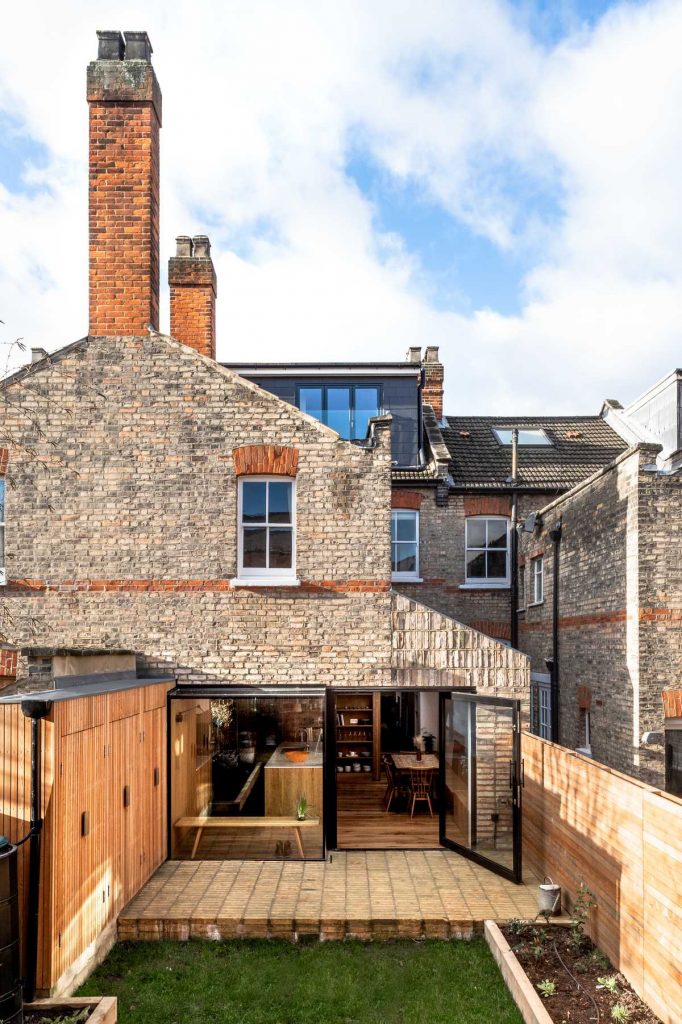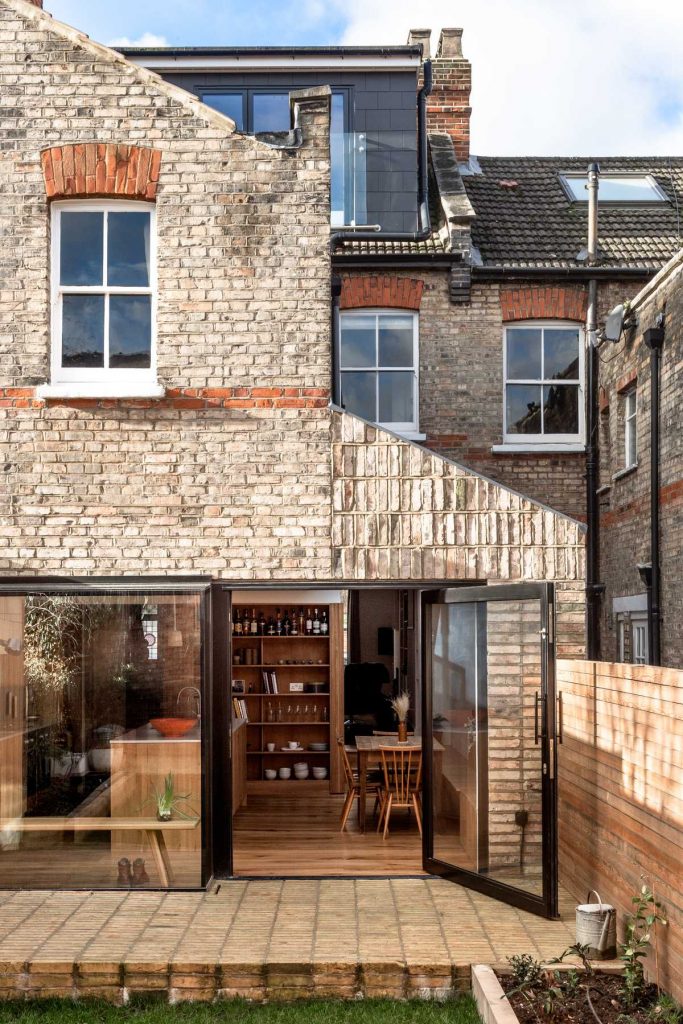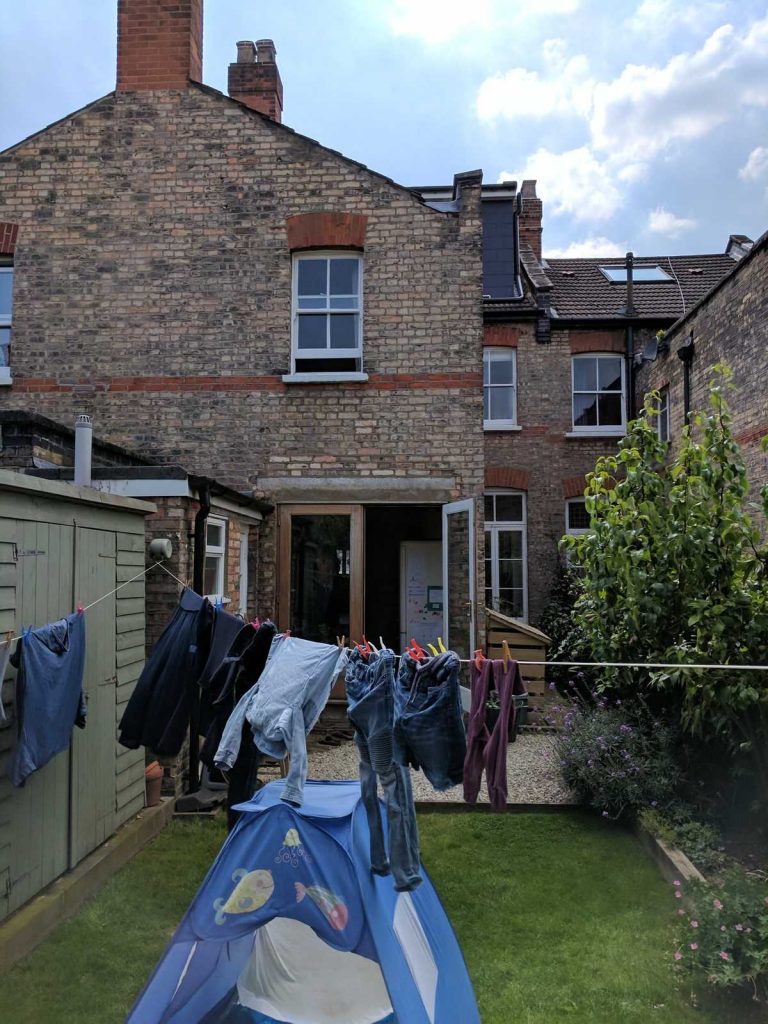 The brief was to create a new open plan kitchen and dining space for the family, with an open connection to the garden. As the architects say, the biggest challenge was to make the new space feel as spacious as possible without eating up too much of the valuable garden space.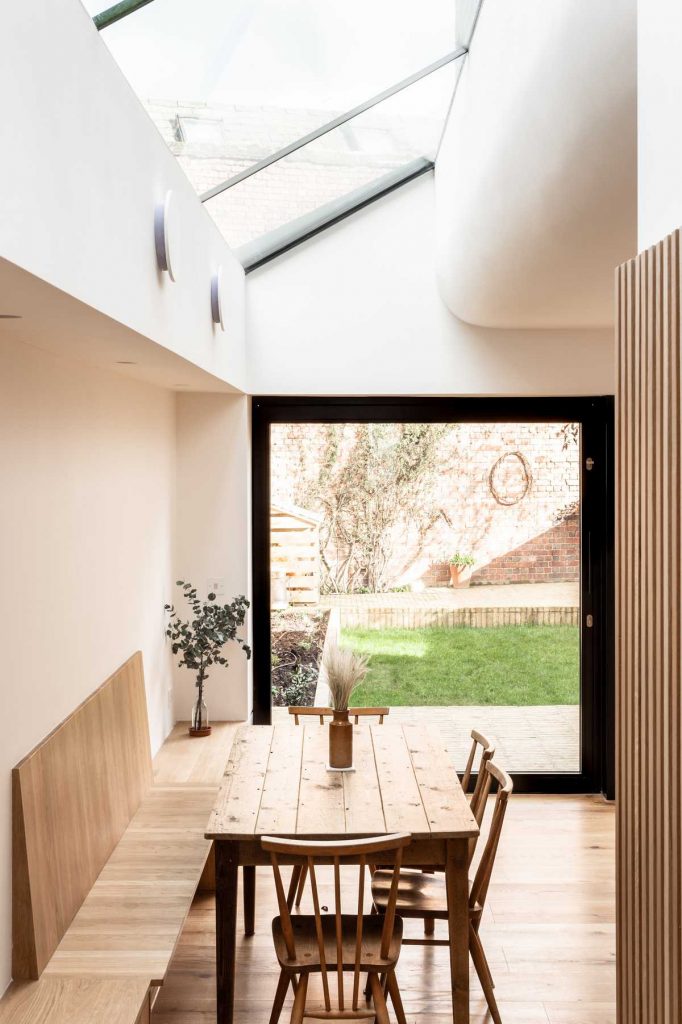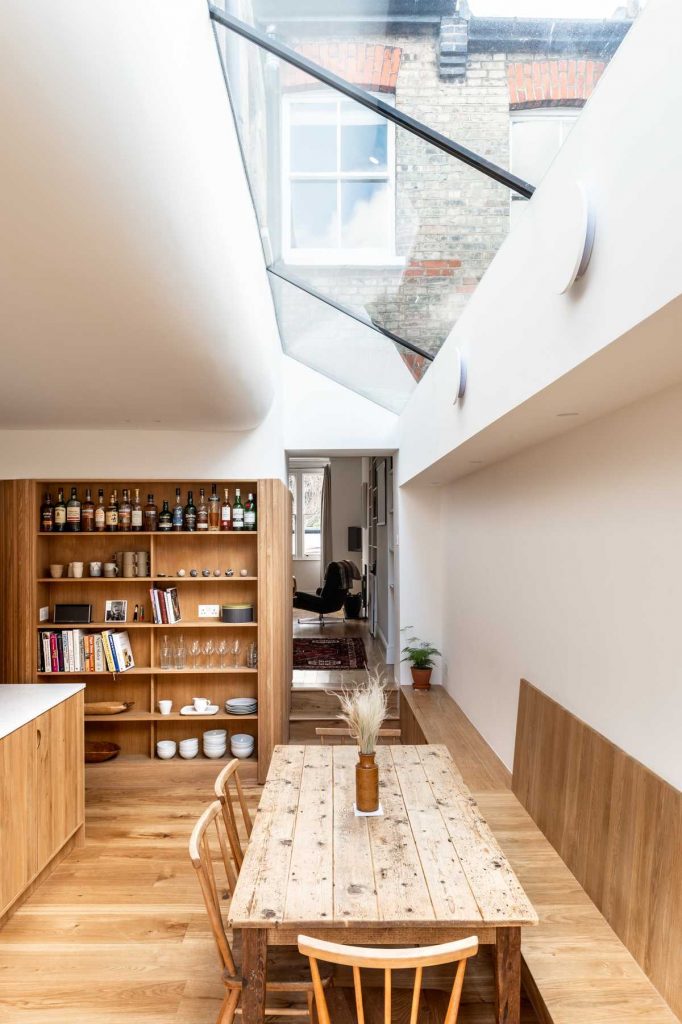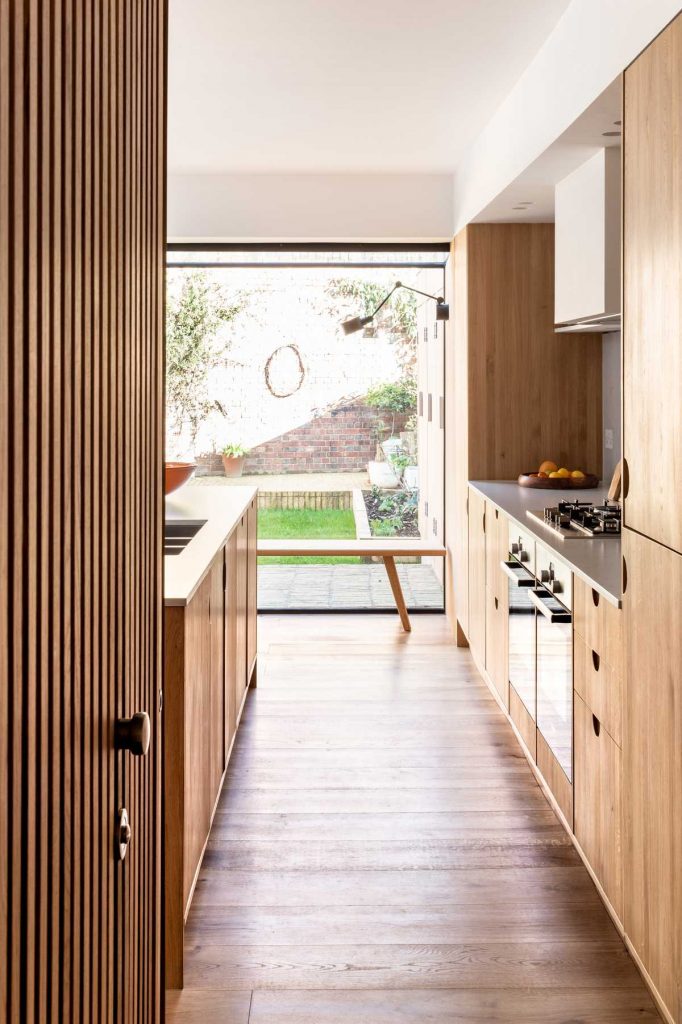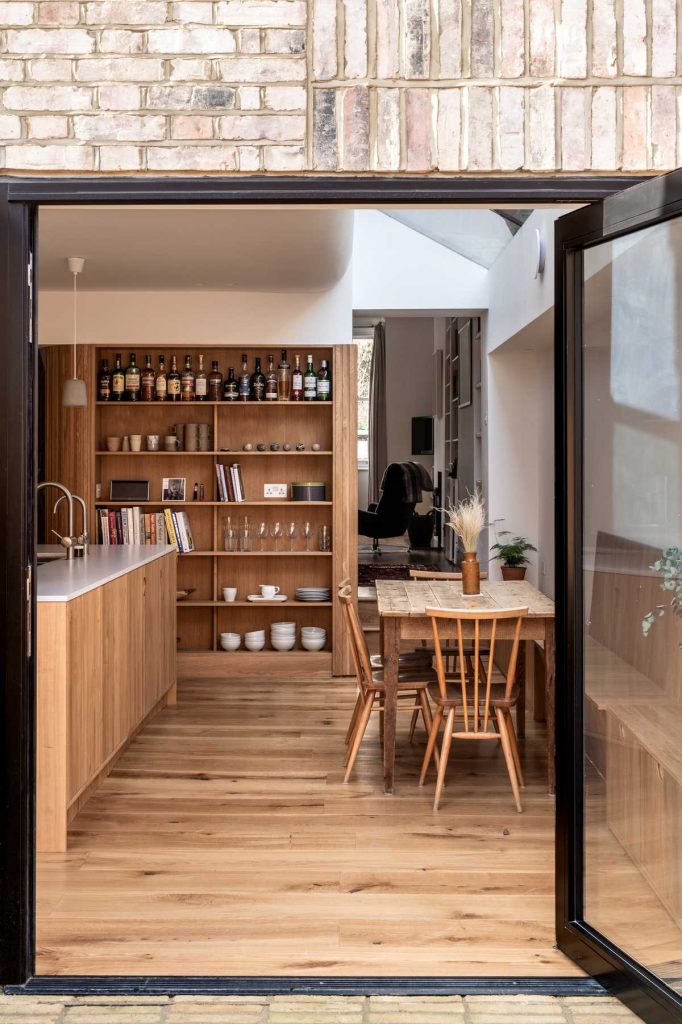 As the side extension area is north facing it provided an opportunity to use a lot of glass without risking overheating. The architects couldn't increase the height of the existing kitchen ceiling but they curved the edge of it up to the new glass roof window to bring more light in and make the area feel more spacious. To connect the garden the team created a seamless physical connection from inside to outside by extending the kitchen to create a timber-clad garden storage area.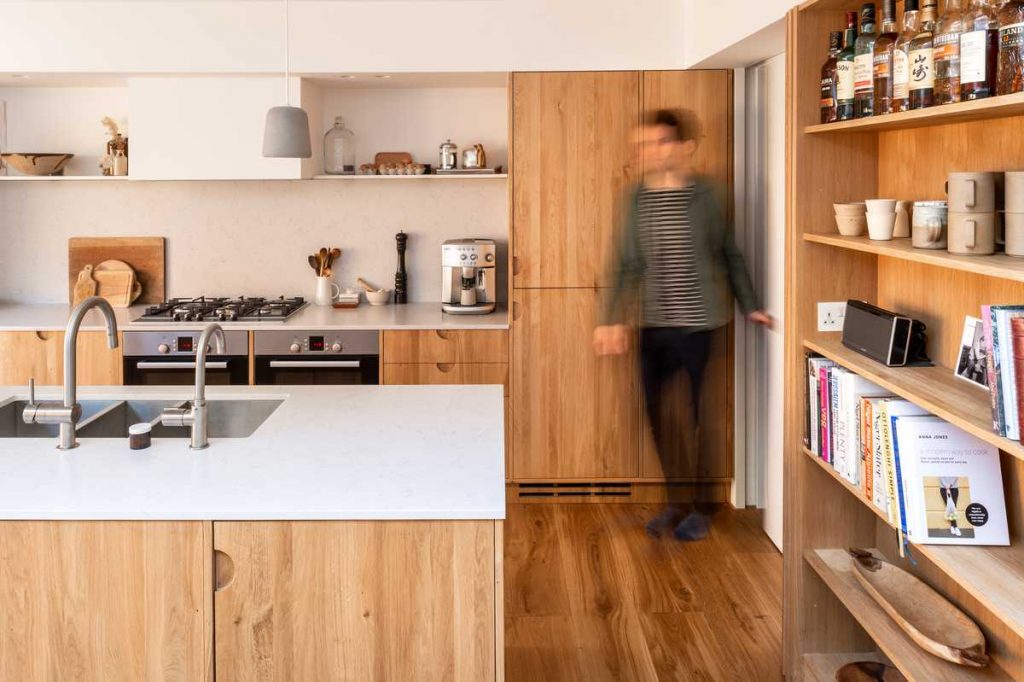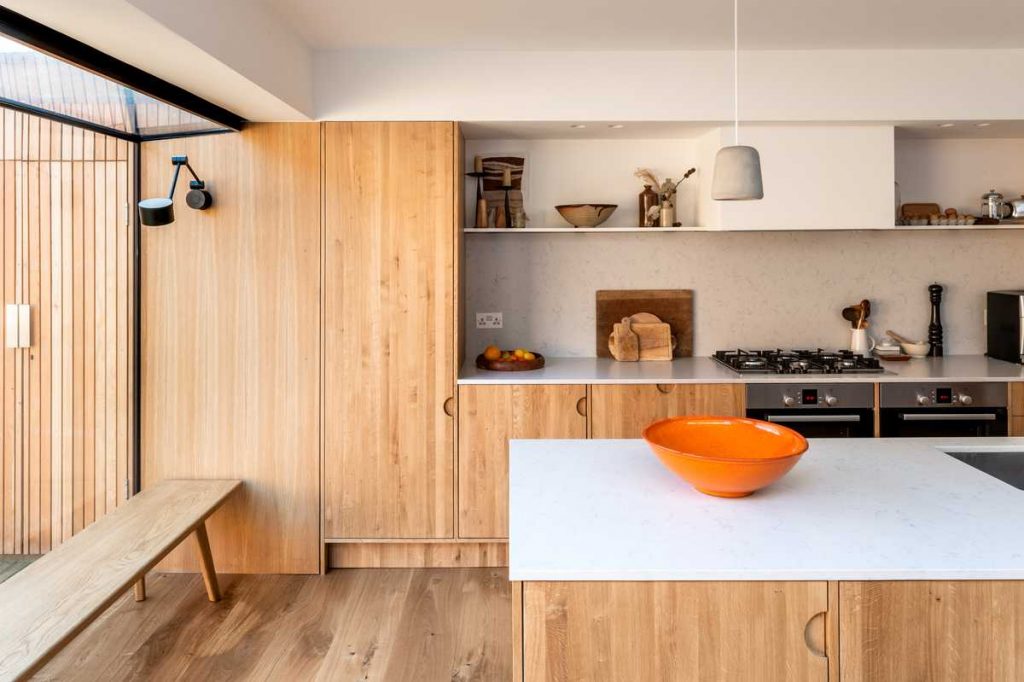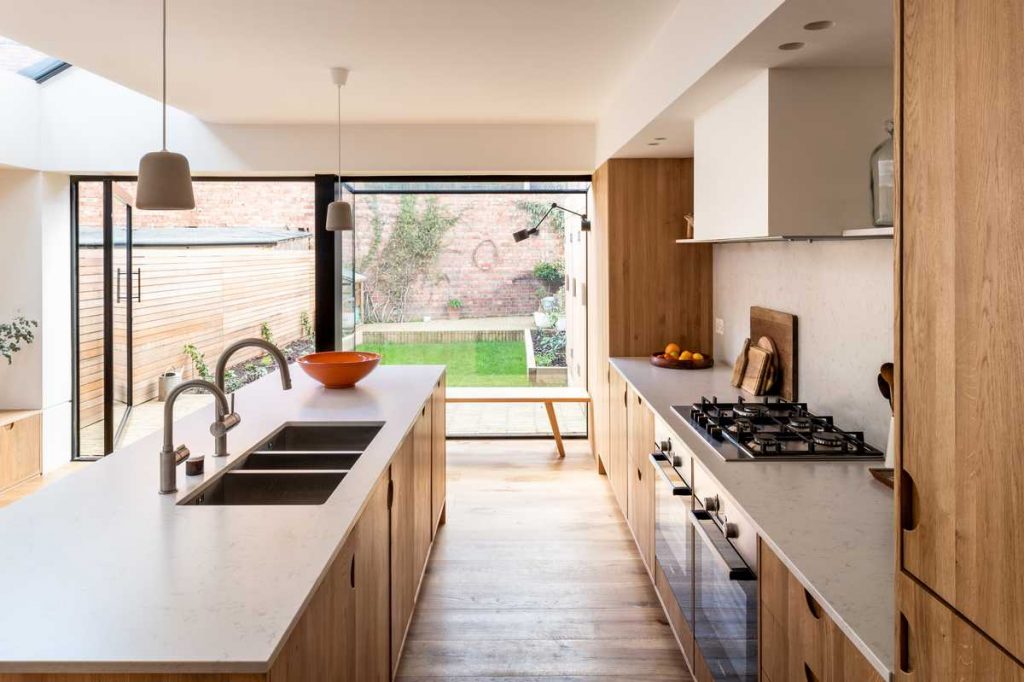 To achieve the intricately patterned brickwork on the garden facing elevation, the architects asked the builders to cut the face off the existing London stock bricks to create brick 'tiles' (brick slips) to bond to a blockwork wall behind. This freed the team from the supporting structural requirements of the bricks and allowed them to use the pattern. A very simple but effective trick.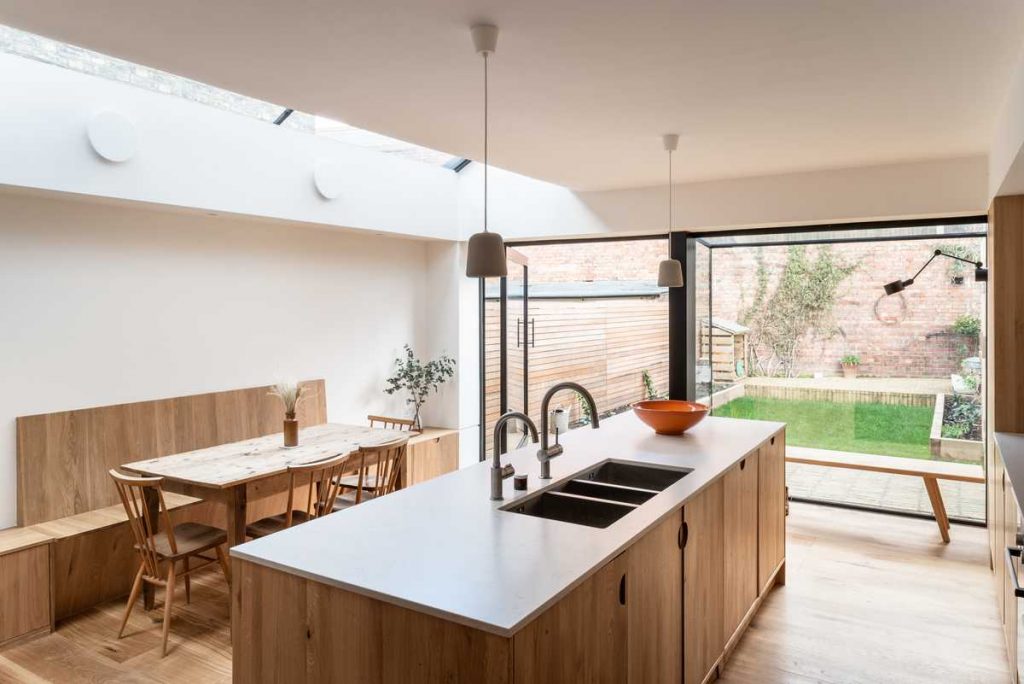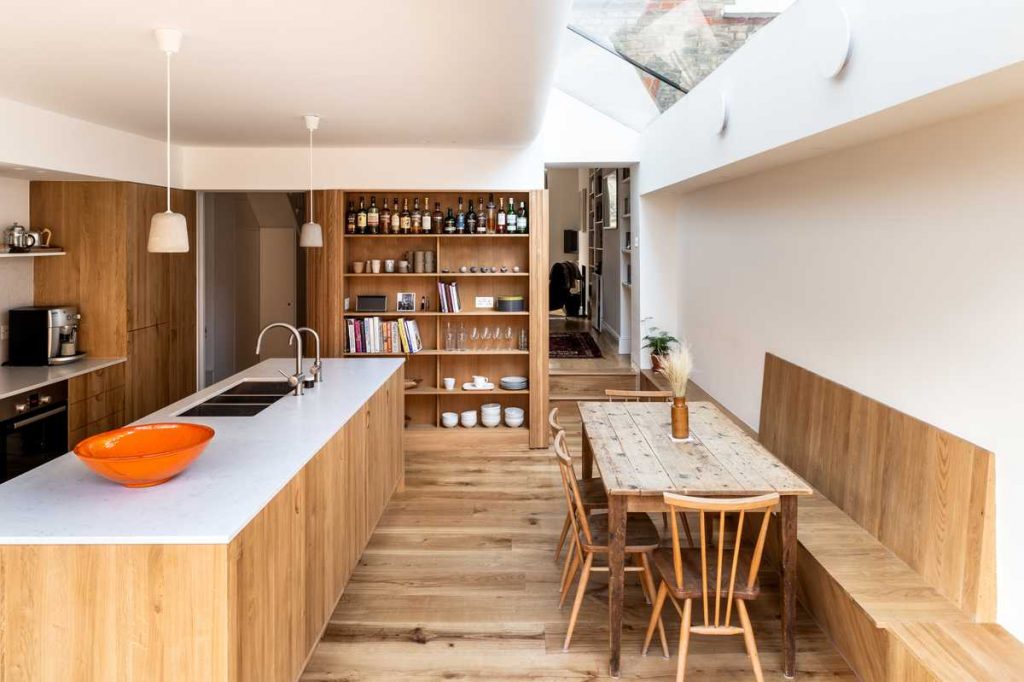 A big challenge with rear extensions on houses is to make sure that by improving light and space in one area you are not taking it away from another. On this project, the architects brought the new glass roof right up to where the old window onto the middle lounge used to be. As light is now reflecting off white plasterboard surfaces, more reflected light comes into space than before.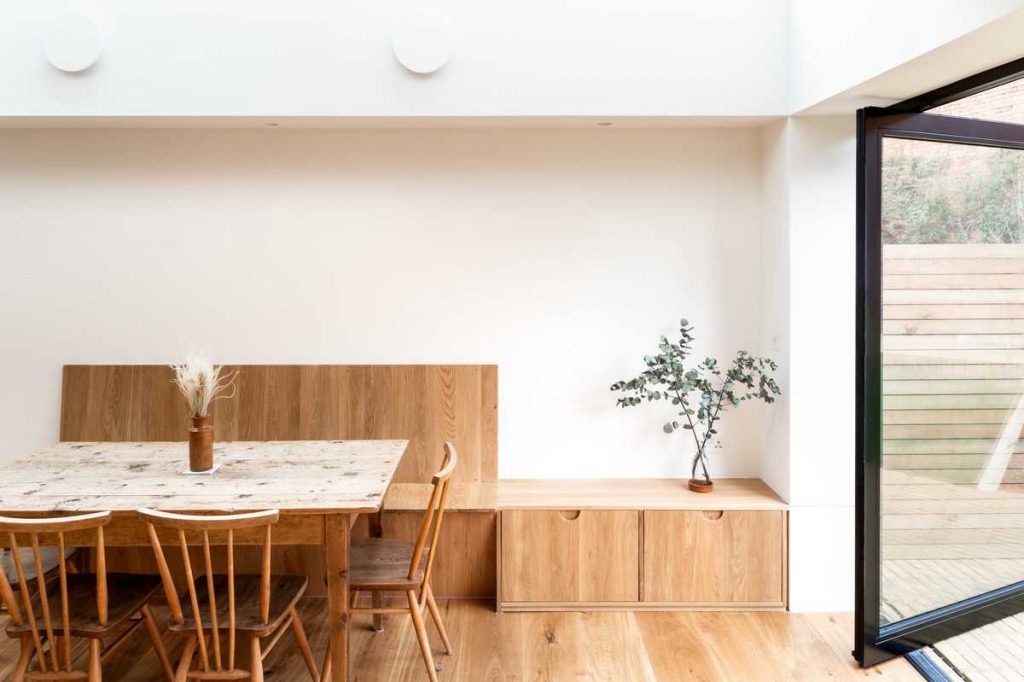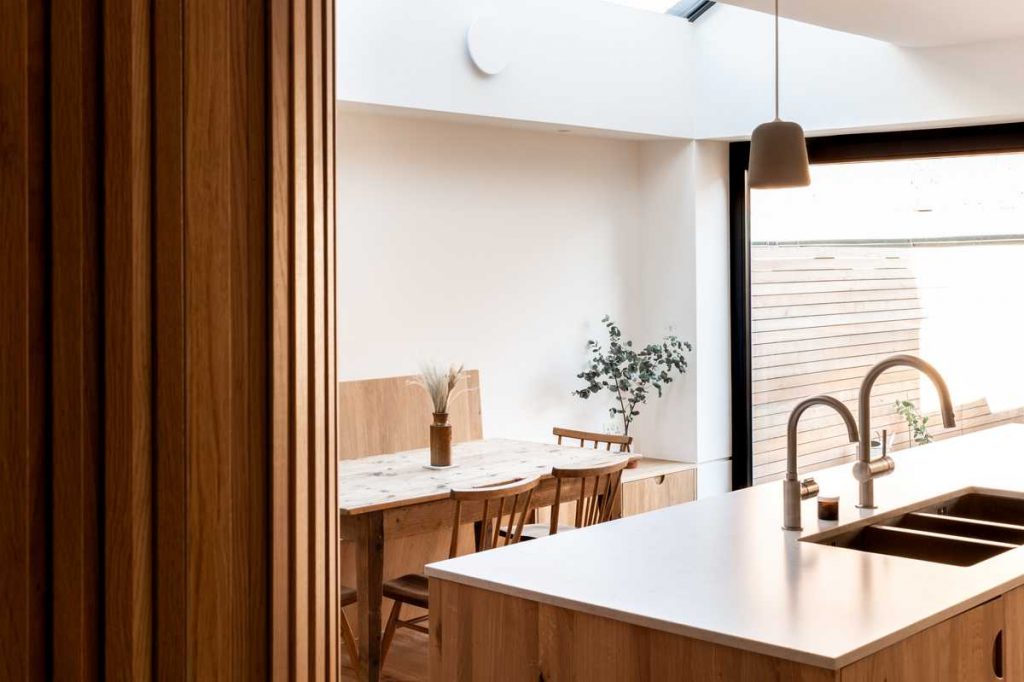 Also, the timber wall paneling that the team wrapped around the downstairs toilet also extends into the existing lounge, which creates a physical and visual link between the old and new spaces.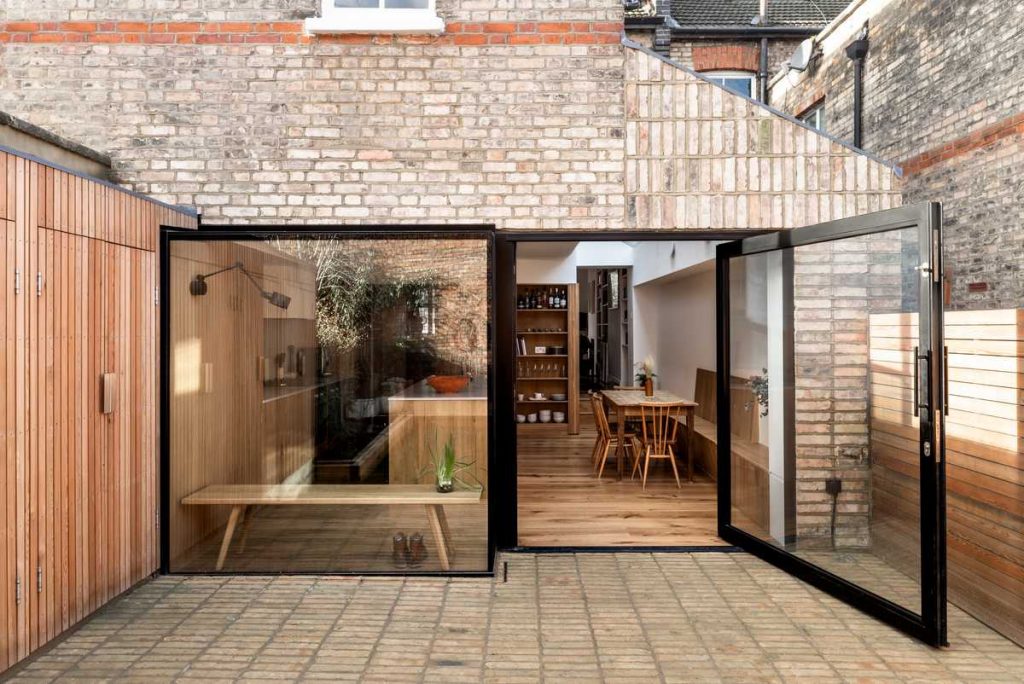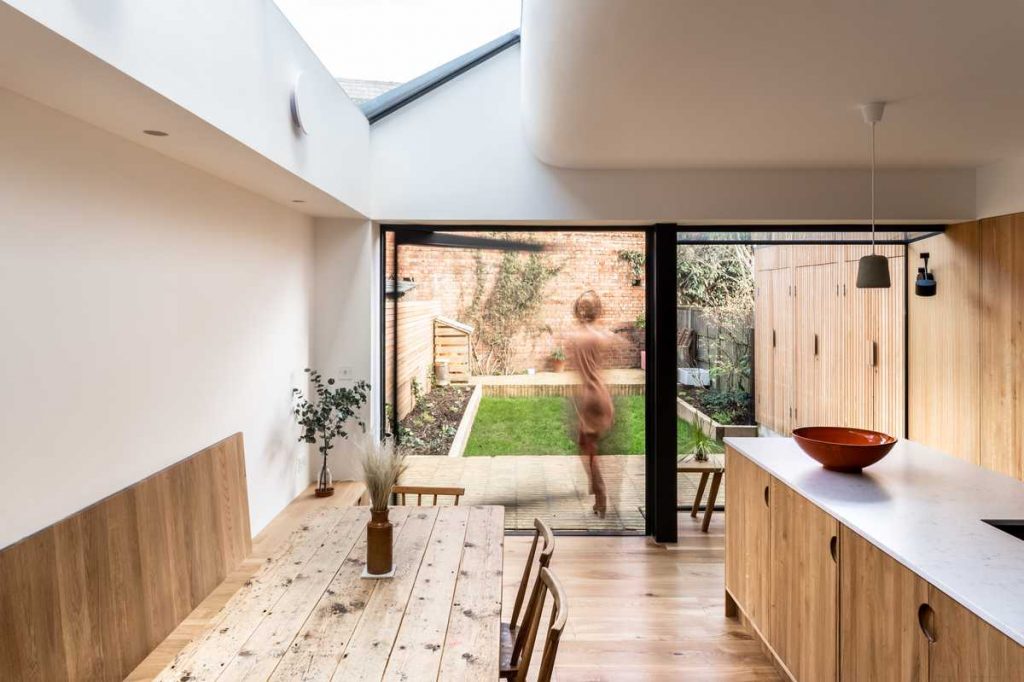 The architects had to create a totally bespoke fitted kitchen but without breaking the budget. To achieve that they used standard off the shelf kitchen carcass units for the whole kitchen but had bespoke cupboard fronts and facing dividers made by a carpenter in natural oak. The oak matched the wall panelling and dining bench, also made by the carpenter.
Project by Bradley Van Der Straeten Architects
Photography – French & Tye
Structural Engineers – Blue Engineering
Carpenter – Jai Brodie