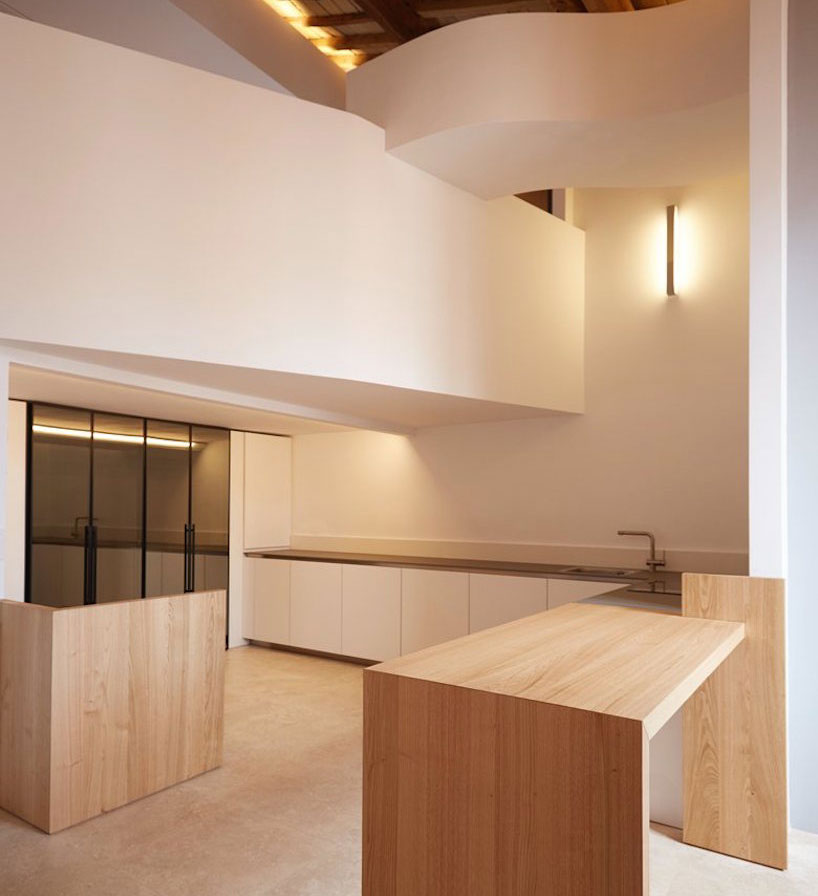 Apostoli Loft By Alessandro De Sanctis
---
This small loft is located on the top floor of a building that was originally built in Rome on 1644 by Architect Mattia de Rossi (pupil of Bernini). In 1719 Alessandro Specchi renovated the building.
The main goal was to transform it into a contemporary loft with a timeless elegance and with a quiet atmosphere without forgetting the spirit of the Baroque period in Rome. In fact, the curved balustrade and the serpentine suspended tv stand was inspired by the serpentine facade of Church of Saint Charles at the Four Fountains, designed by Francesco Borromini in Rome.
The loft is openly organized with living room, kitchen, and bathroom located on the first floor, and the bedroom on a private mezzanine above. A Reflective glass is used to provide a sense of expanse of inner space. The living area is floored with matte roman travertine slabs, sofa and table are made of solid chestnut like the original ceiling beams. The lighting is provided indirectly to give a quiet atmosphere.
Interior Design by Alessandro De Sanctis – des interior architecture
Photos are the courtesy of alessandro de sanctis – des interior architecture