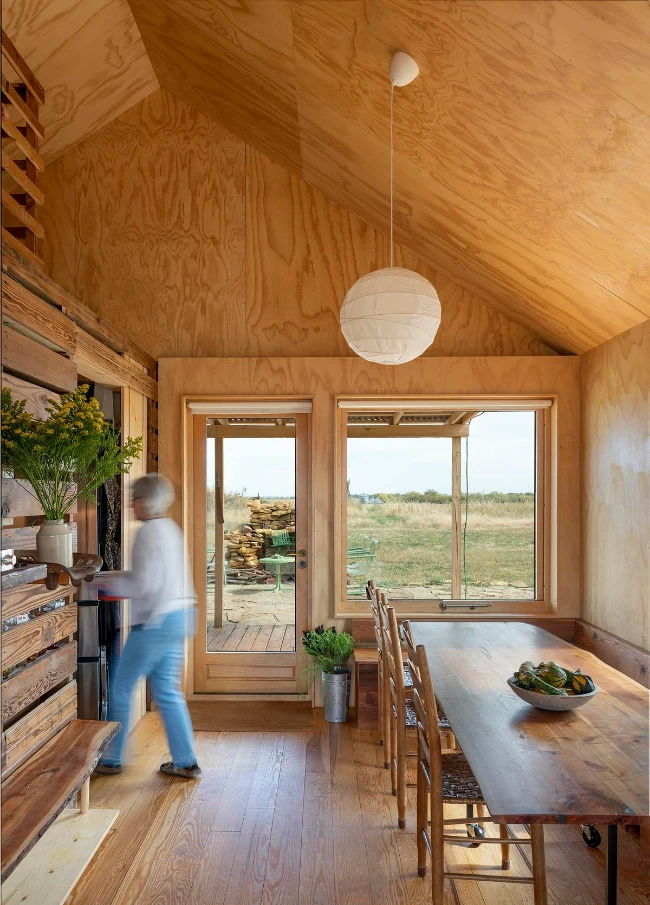 BNIM's Transformation of Two Buildings Across 78 Acres
---
Situated on a sprawling land grant farm that has been a cherished family home since the early 1960s, BNIM Architecture Firm embarks on a transformative journey encompassing the renovation of two buildings across 78 acres. This ambitious project not only preserves the historical essence of the property but also infuses it with modern functionality and sustainability.
Historic Renovations: A Symphony of Stone and Yellow Pine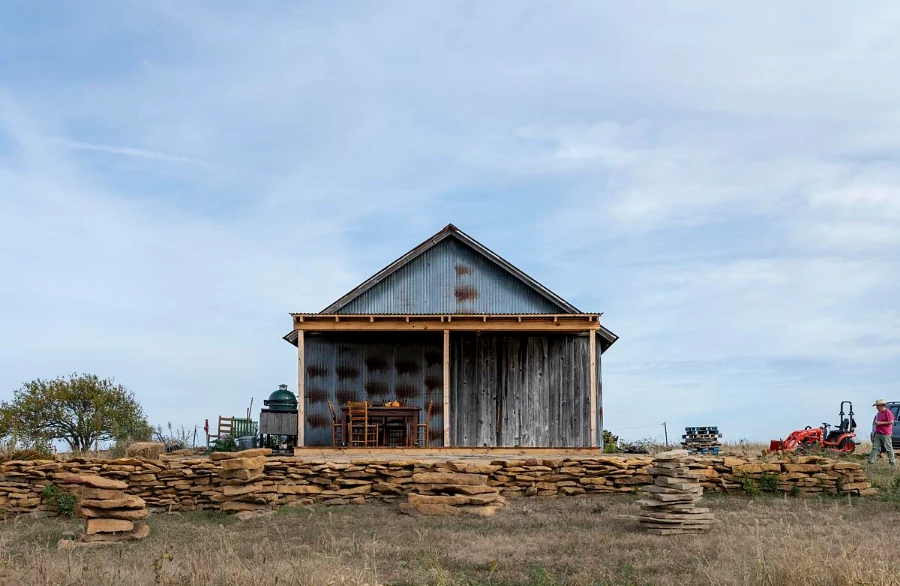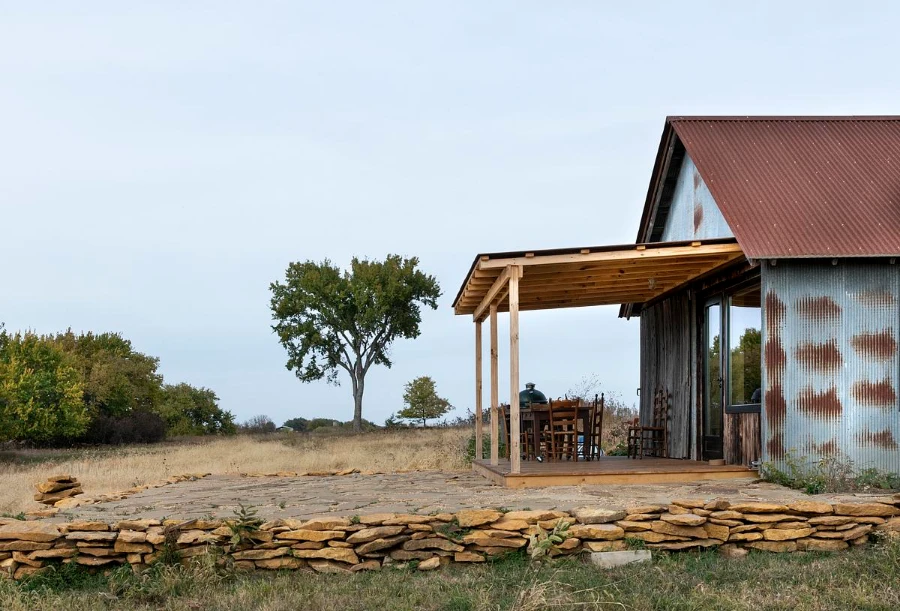 The focal point of the renovation lies in the meticulous restoration of a 160-year-old dry stack limestone cellar, the original house. BNIM utilized stones from the site and crafted bespoke windows and doors to revive this piece of history in 2021 and 2022. In a parallel endeavor, a 1960 yellow pine structure and corrugated metal barn underwent a stunning transformation in 2020, evolving into a compact farmhouse. This space, spanning 540 square feet, now seamlessly integrates living, dining, kitchen, bedroom, bathroom, and a sleeping loft.
Architectural Harmony: Preserving History, Embracing Modernity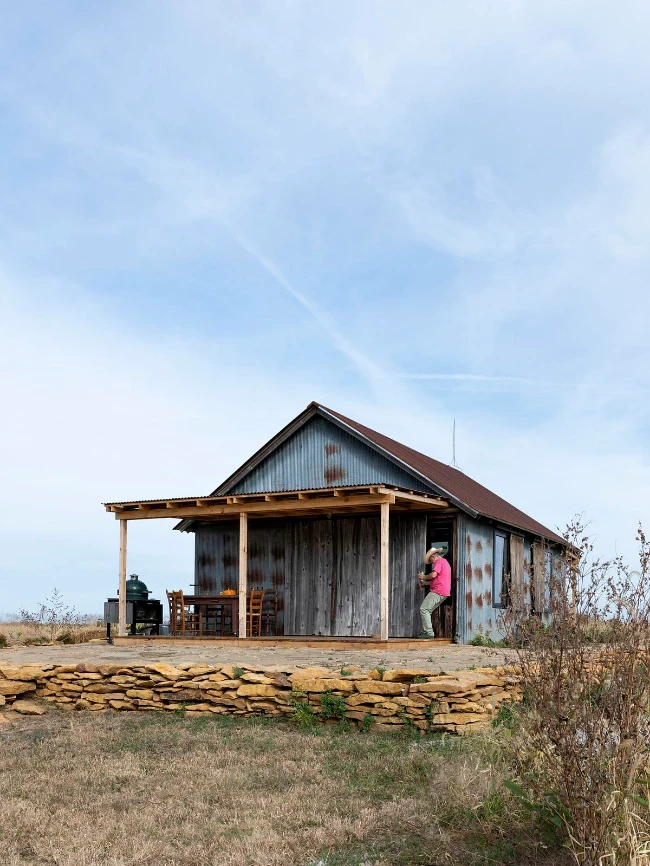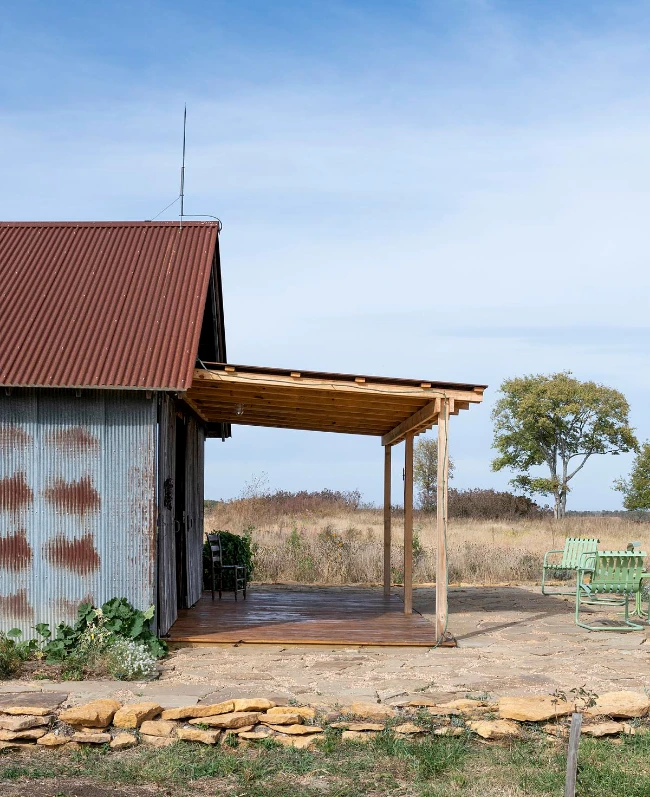 A relic crib wall stands as a testament to the site's rich history, creating a captivating divide between public and private zones. BNIM's design ethos involves custom-fabricated furnishings and casework maximizing available space while adhering to a clean design aesthetic, harmonizing with pine plywood surfaces and flooring. The dining table and banquette seating, fashioned from cherry harvested from the owner's primary residence, add a personal touch to the space. Original sliding barn doors and 60-year-old corrugated metal siding bear the marks of the Kansas prairie's wind and weather, contributing to the building's timeless charm.
Innovative Additions: Weathering Steel and Sustainable Strategies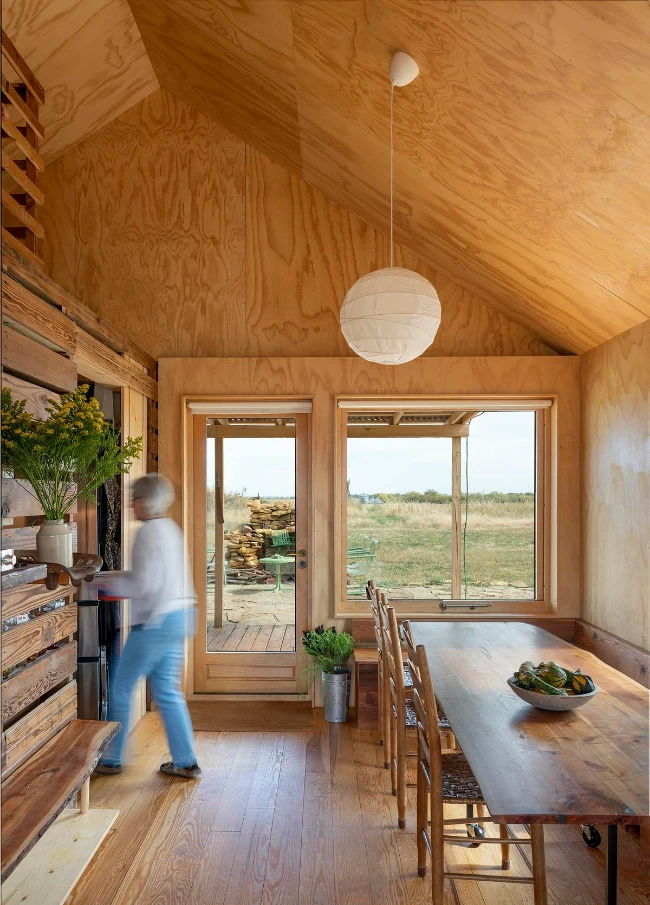 To enhance long-term roof performance and reduce solar load during summer, new weathering steel corrugated roofing crowns the original structure. Sliding barn doors and added shutters serve both solar shading and security purposes. The exterior design consistently celebrates the original form, structure, and materiality of both buildings, maintaining a harmonious blend of history and contemporary vision.
Client Impact and Prairie Renewal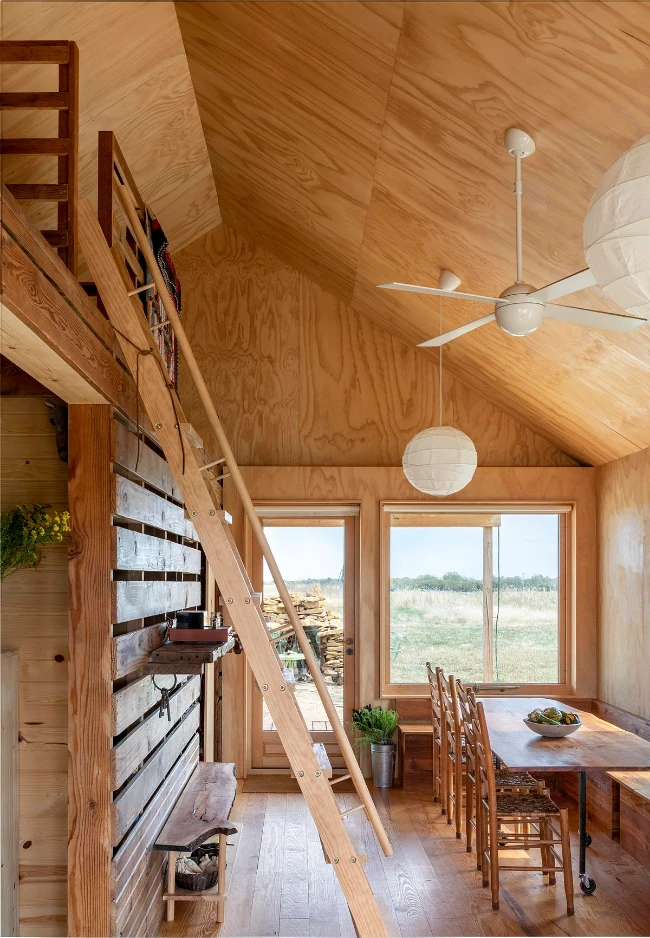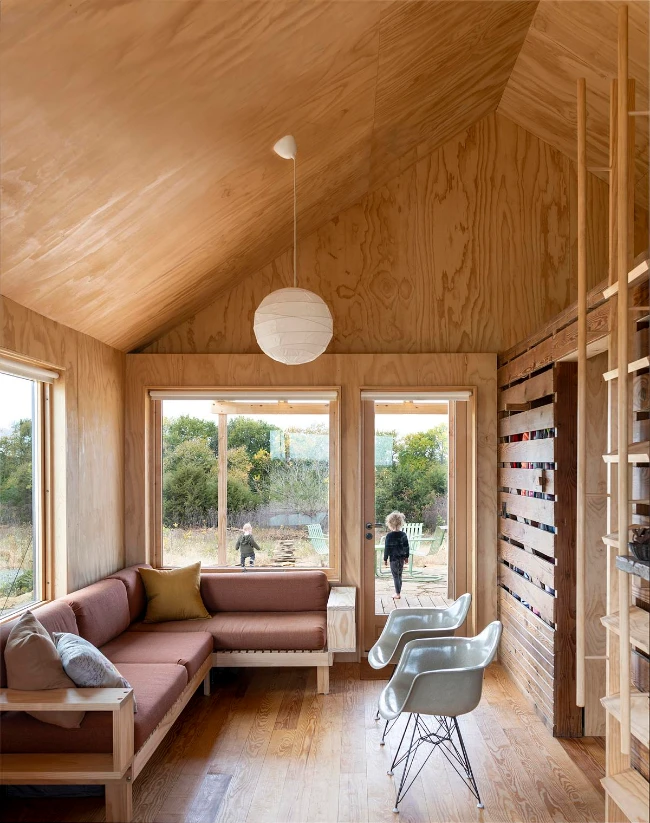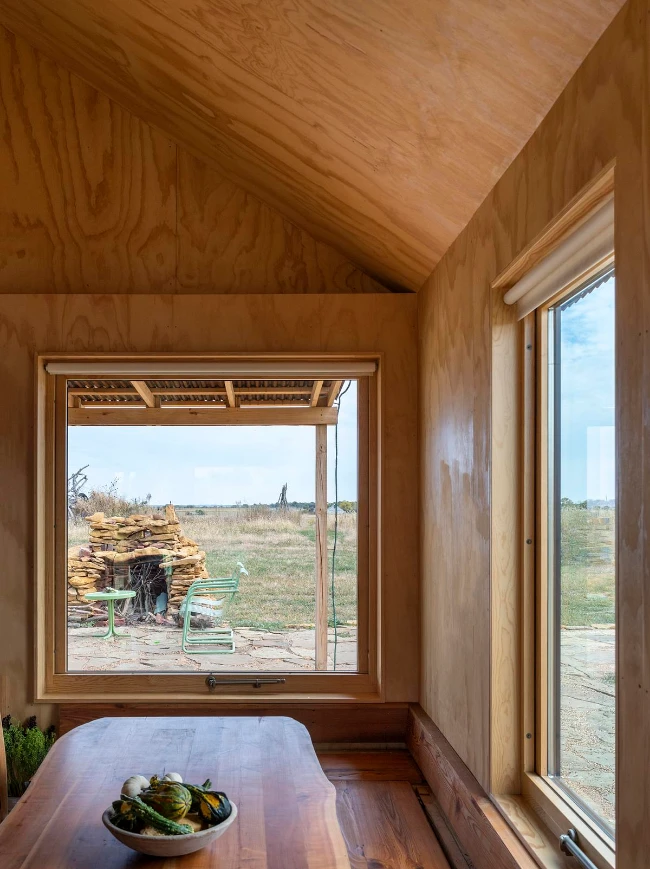 For Mary Anne, the farm owner, this project is a personal journey reconnecting with childhood memories spent in the farmhouse. Collaborating with her husband, BNIM Principal Steve McDowell, they envisioned transforming the resilient corrugated steel barn into a cottage. The renovation, completed within six months, followed by porch and terrace additions over 18 months, has created enduring memories for Mary Anne's family and community visitors, providing a renewed connection to the prairie.
Performance and Sustainability: A Holistic Approach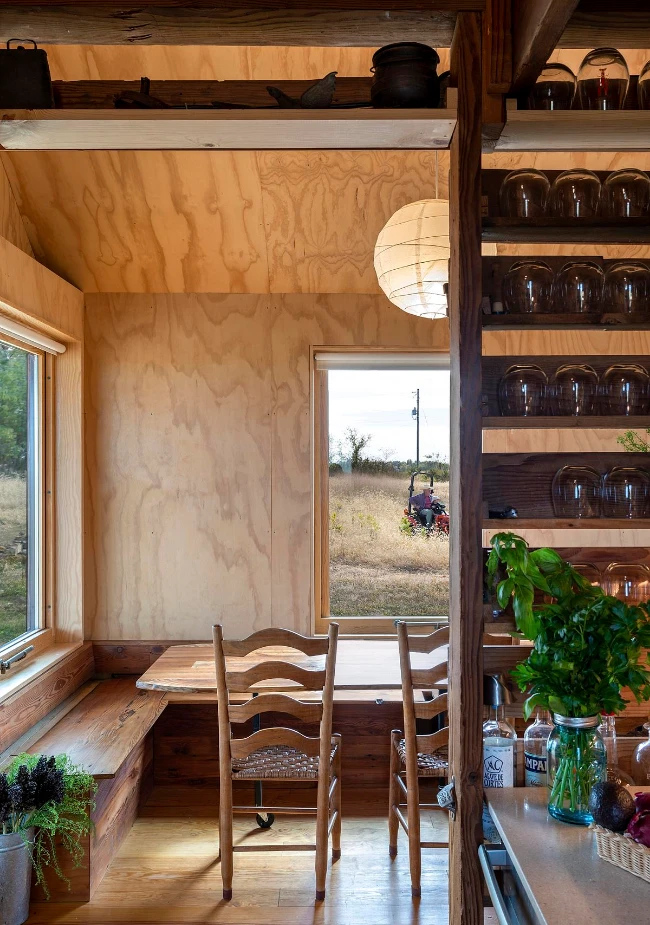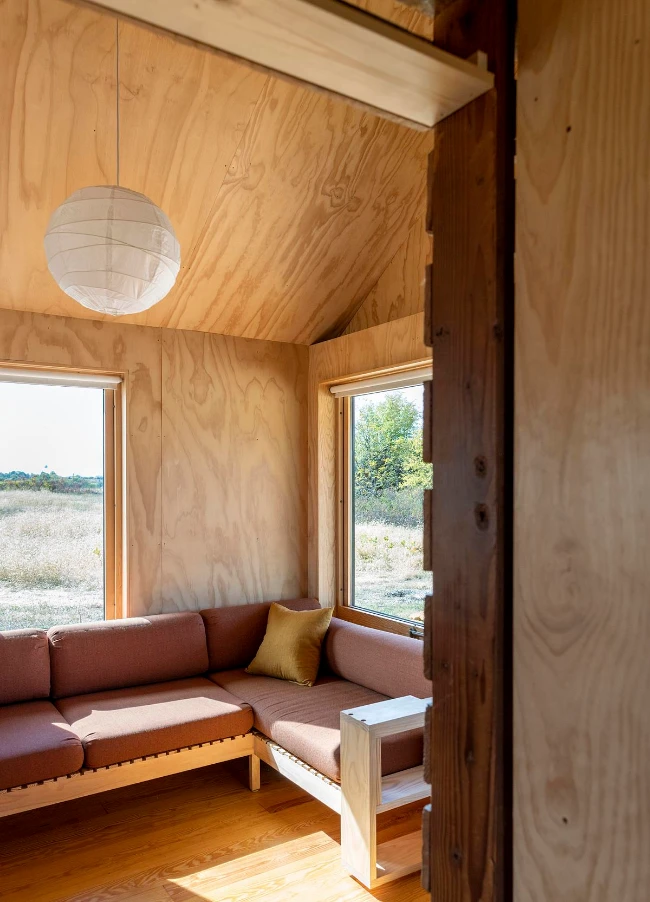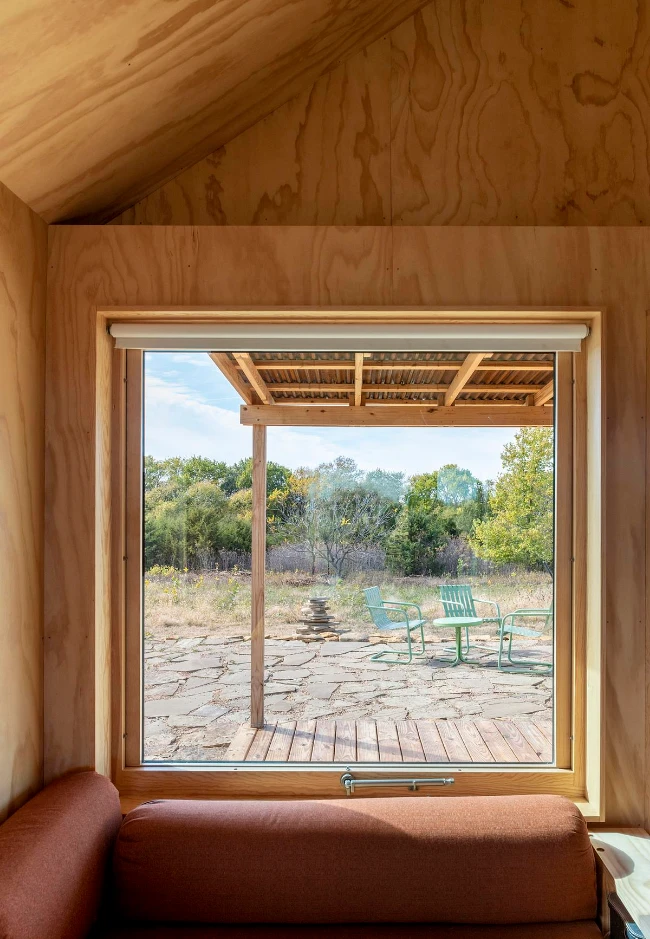 BNIM's design strategy extends beyond aesthetics, focusing on the optimal utilization of existing structures for future programs. The south half, with public spaces and extensive fenestration, embraces daily life views, while the north section houses sleeping, kitchen, and bathroom with limited fenestration. The 540 SF building area is enveloped by 1540 SF of surface area, emphasizing the importance of efficient envelope performance. Cross-ventilation, foam-in-place insulation, high-performance H Windows, ceiling fans, and a SEER 33 heat pump create a comfortable and energy-efficient environment. With an EUI at 19.5 kBtu/sf/yr, the project boasts an approximately 80% improvement over the baseline, showcasing BNIM's commitment to sustainable design.
Preservation Dilemma: Concealing Beauty for Comfort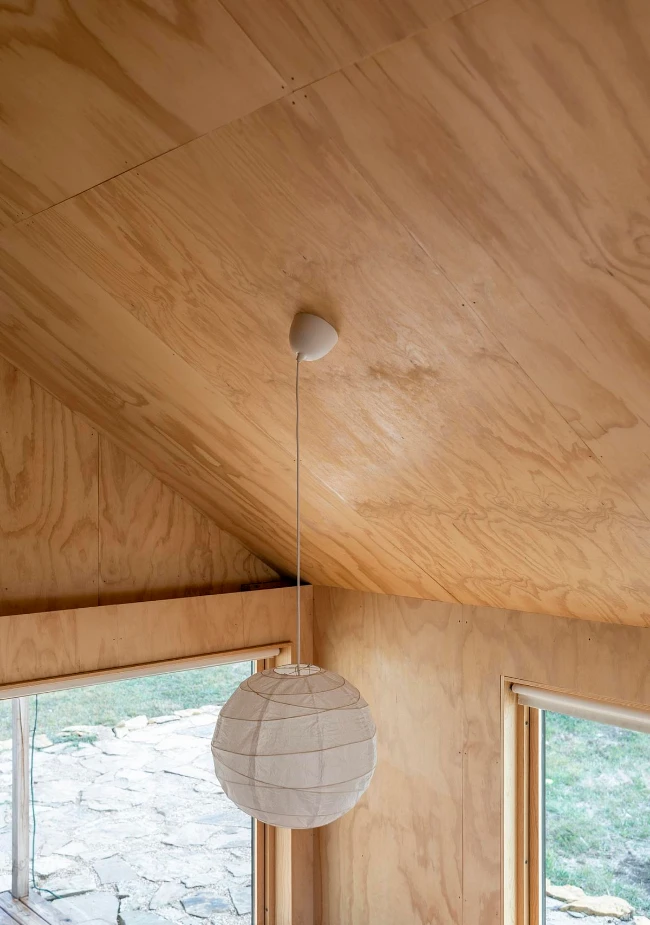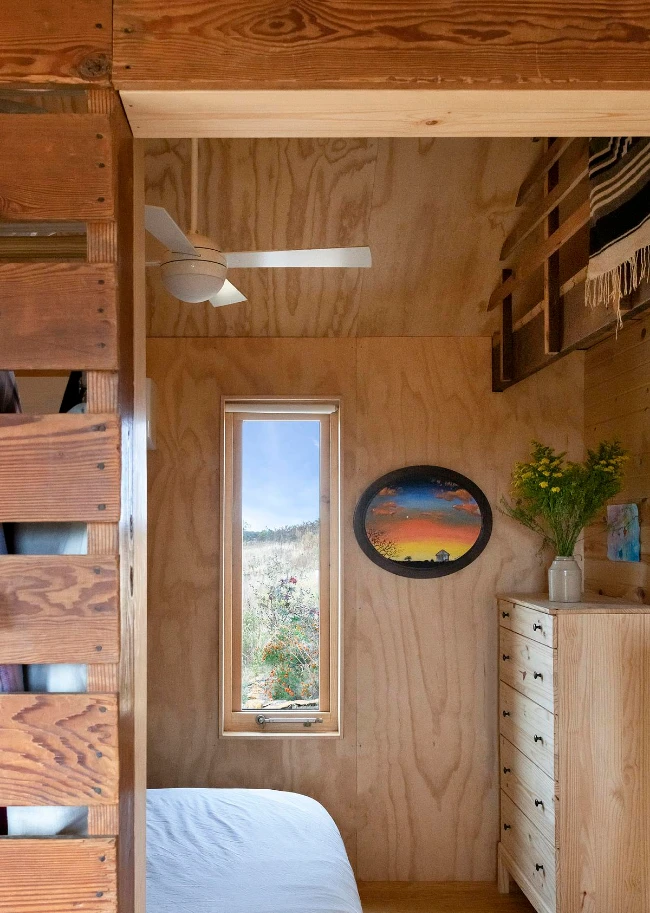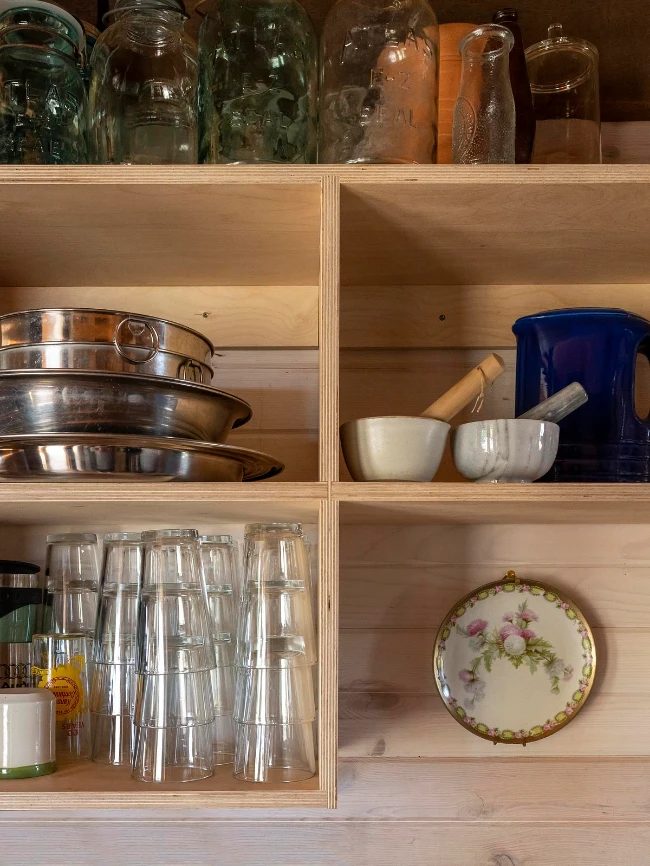 The architects grappled with a crucial decision during the project—whether to conceal the beautiful yellow pine structure behind insulation and plywood sheathing for year-round comfort and structural reinforcement. This conflict exemplifies the delicate balance between preserving historical aesthetics and embracing modern sustainability practices.
Design Team — Steve McDowell and Mary Ann McDowell (Owners), Steve McDowell (Architect) Tom Simpson – Introba (Mechanical Engineer), Trevor Acorn – Walter P Moore (Structural Engineer), Mike Musak (Site / Plumbing), Frank Rhodes (Electrical), Tim Moore (Mechanical), Beena Ramaswami – Bnim (Color / Design Collaborator), Navid Jones (Dining Table), Mary Anne and Steve McDowell (Sofa, Loft Ladder), Sheldon Vogt (Casework), Shutters (Steve McDowell), Kansas Spray Foam (Insulation), Western States Metal Roofing (Weathering Steel Roofing), Lucas Koch (Stone Cellar Restoration), Cellar Window and Door (Steve McDowell).
Photos by Kelly Callewaert