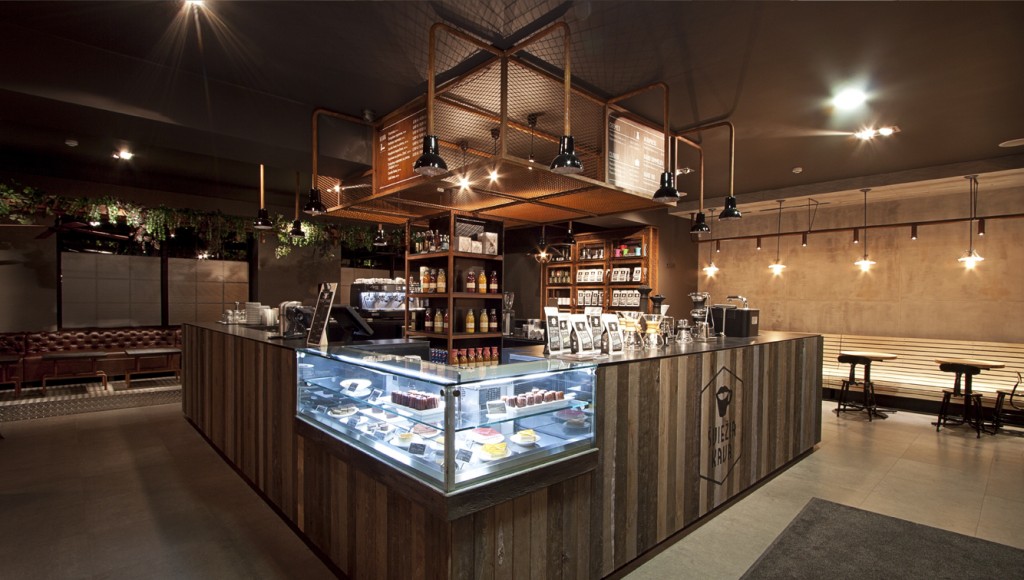 Coffee Shop ŠVIEŽIA KAVA In Vilnius
---
'Šviežia Kava' have set themselves apart with their serious outlook towards coffee which they grind with *Mahlkonig* grinders and brew with *Dalla Corte* machines. Clients can choose various terroir and micro lot coffees from the extensive brew bar or purchase for home brewing.
The cafe's interior, done by Giedraitis & Architects, is adapted to its location on Vokiečių street, one of the busiest streets in Vilnius old town.
The architects have created an industrial interior using raw colors which allow customers to tap into the city rhythm. However, warm lighting creates a welcoming environment for concentrating towards the ritual of coffee.
The interior's main feature – a centered square bar, each side with a differing function – brew bar, order counter, espresso bar and coffee shop.
The bar's metal construction mimics the cafe's other details along with special made octopus-like hanging lamps. The industrial style is further emphasized with rough materials – raw wood, aged metal, leather and authentic walls. Although the cafe is made of one large space, it is split into various areas with slightly different seating styles – benches, metal chairs, armchairs and leather bar stools.
The balance of space and use of complex materials by the architects has created one of the most pleasant coffee spaces in town.
huracan.lt