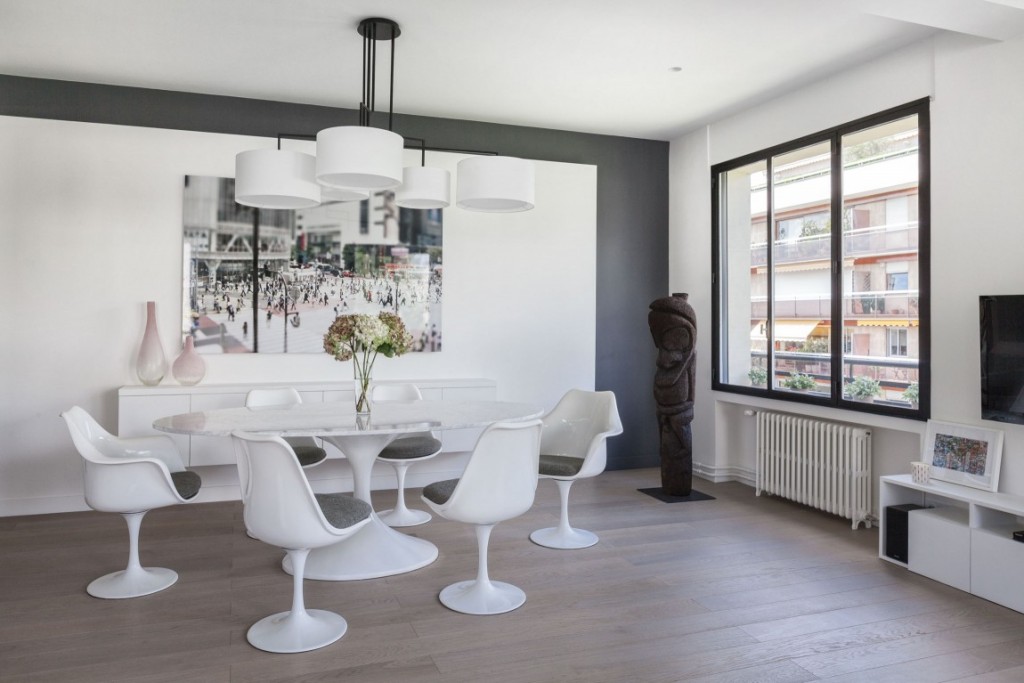 Elegant Apartment Redesign
---
It's always so lovely to see how decision to change and get a renovation looks in it's final stage. Today we're sharing a 100m2 apartment located in a 1957 building in Neuilly-sur-Seine, which was elegantly redesigned to look modern and contemporary.
The project was designed for a young thirty-something couple, who decided to move to Neuilly and to re-arrange their old and a bit dreary apartment into a minimalist refined interior, while still feeling welcoming and cozy. Frédéric Flanquart agency has proposed to create an open space plan to make the most of natural light and offered to create it by using the large windows and elegant and practical furnishings for the suite.
The couple left a free hand and all decisions to the agency, which was responsible for the entire project – from art direction to final delivery. The project is special mainly for it's play with the brightness and contrast. Shadow play, mirror sets and enhanced perspectives challenge the visitor upon entering. The  whole interior style was guided by the best materials that compose the furnishings: the old oak flooring accords well with the steel frames that rim the windows. From the living room to the dining room, the volumes are magnified by the effects of overlays of white and gray. The frank and complete lines give the whole dynamic a balance.
Enjoy your Monday and check out the project results down below.