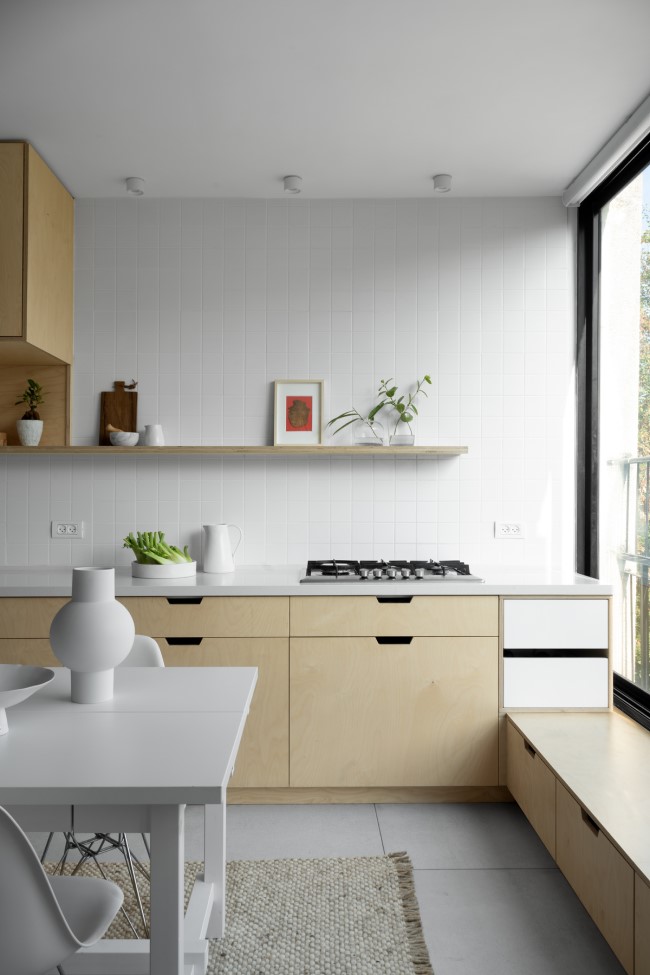 Four Sixty Five by Dalit Lilienthal Interior Design Studio
---
Four Sixty Five is a complete transformation of a 65 m2 apartment located in a residential building in Tel Aviv. The apartment had never been renovated before. The original layout had a very narrow living space adjacent to a small bedroom, the kitchen was in a separate room, and there was just one bathroom with a separate toilet. It was apparent that a new layout had to be created.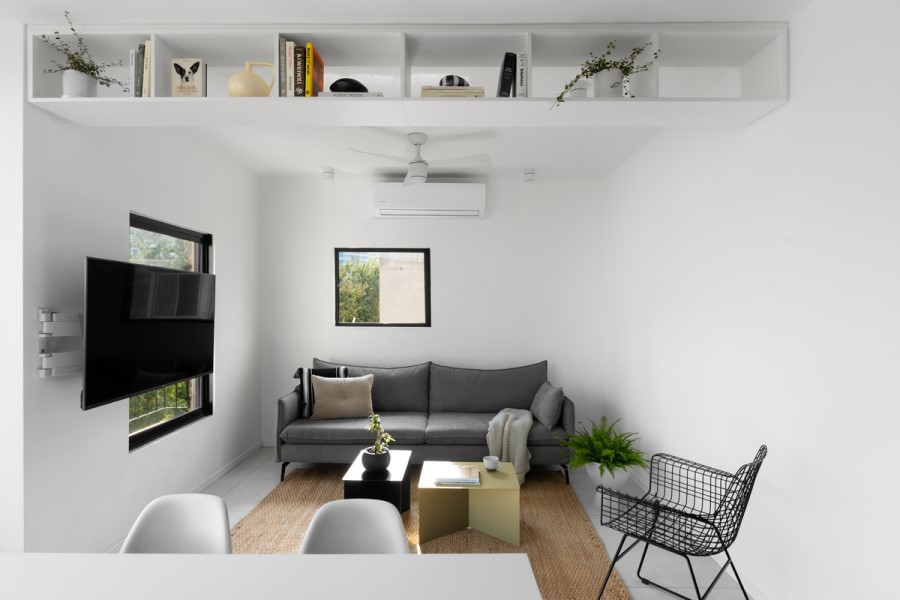 The brief was to optimize the space and create good solutions to answer every need. The client, a family with two sons, wished for a spacious living and a large enough kitchen – dining for their daily gatherings. The family loves to cook and entertain, so the space had to accommodate all practical needs and be very comfortable. The dining table is their number-one space—a constant place for get-togethers. The family uses it for eating, doing homework, and friendly meetings. The table can comfortably fit six people, the storage bench serves for extra seating, and when entertaining a larger group, the table is extendable. Additional folding chairs are easily brought out from the large store near the entrance.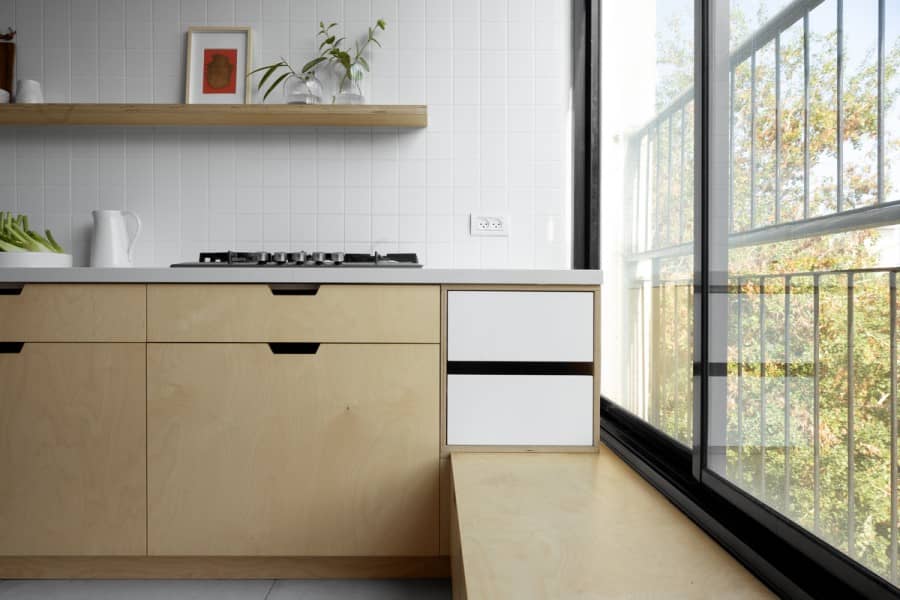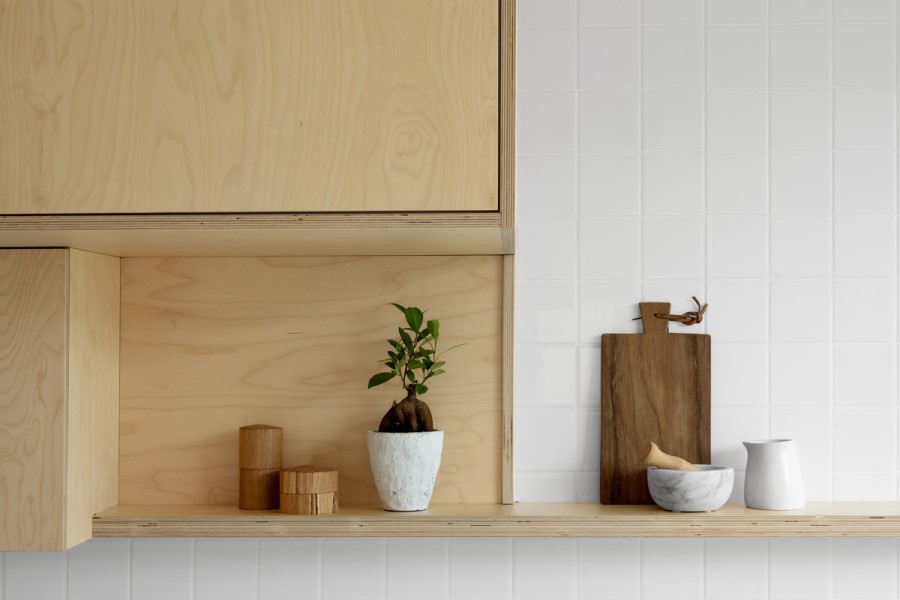 The client wanted the two boys to be in one bedroom but to enable two separate rooms in the future. The designers designed a large bedroom for the boys that can be easily split into two in the future by adding a wall or partition. Each room has its own door and window.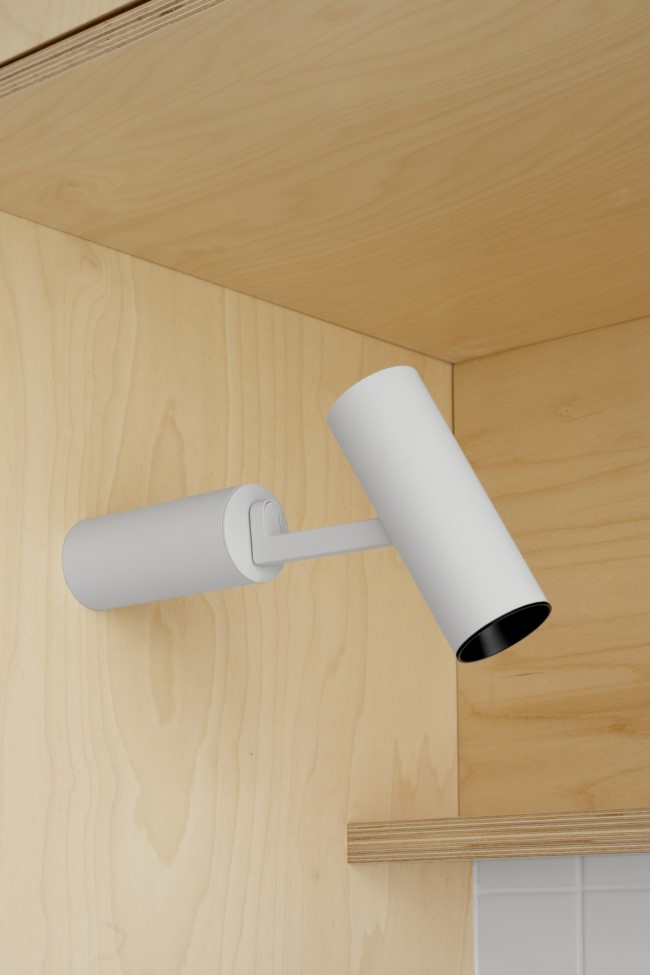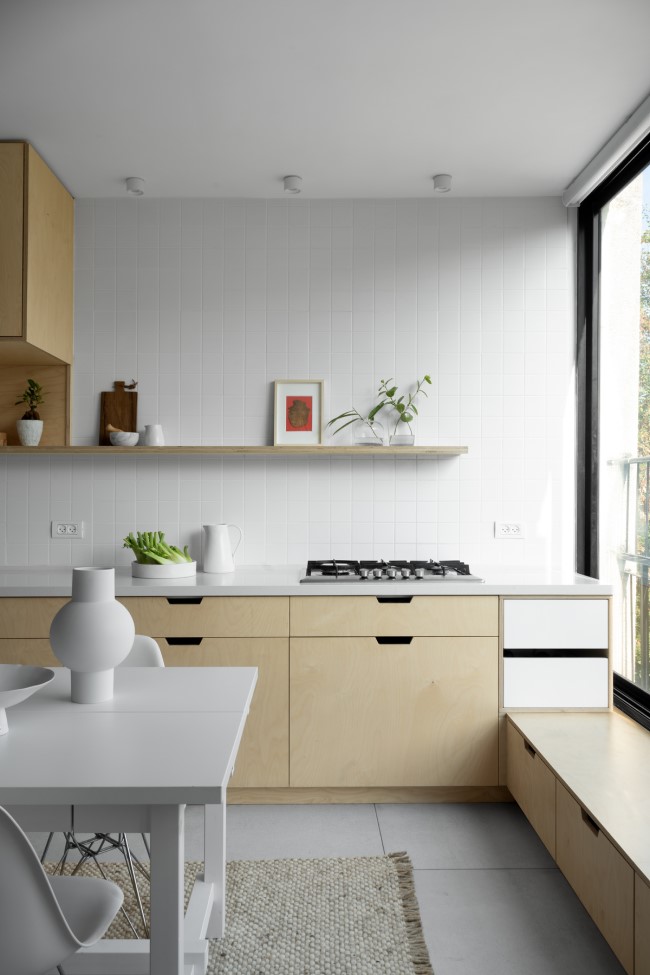 The designers reconfigured the new layout creating an open-plan living-dining-kitchen space, separating private and public areas. They also added a private bathroom for the couple in addition to the main bathroom space.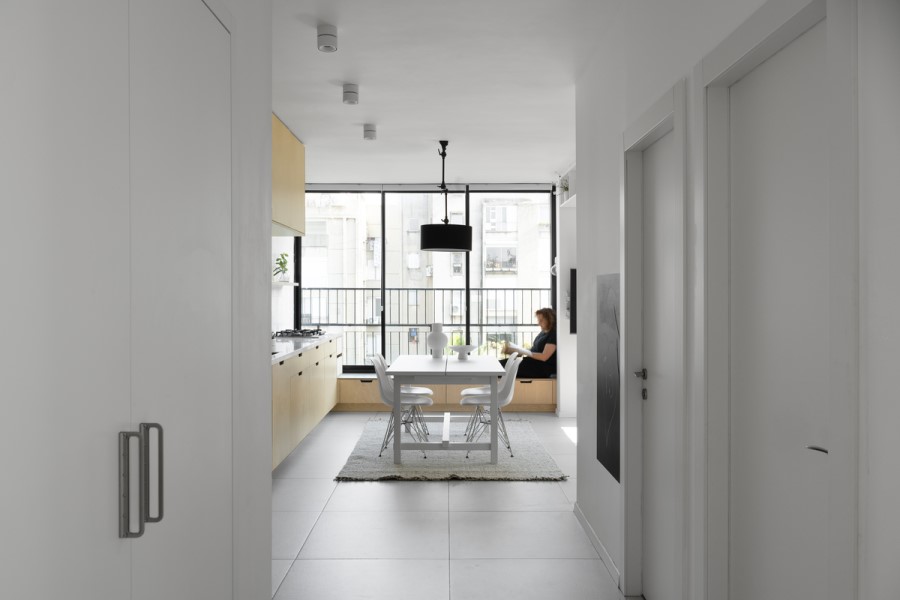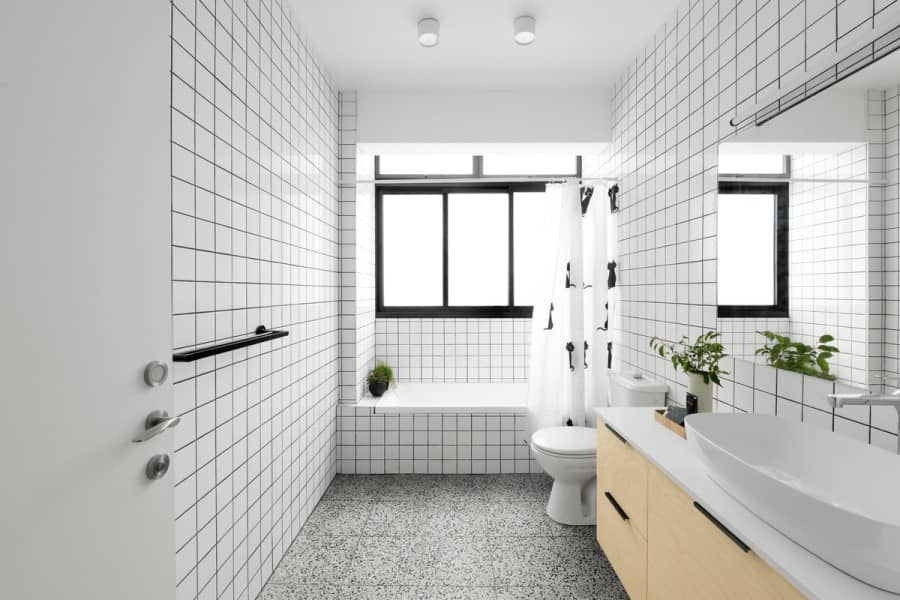 When entering the apartment, there is a sense of spaciousness. Natural light penetrates through; the viewpoint extends outwards through the large windows onto the urban view while a beautiful tranquil space is revealed inside.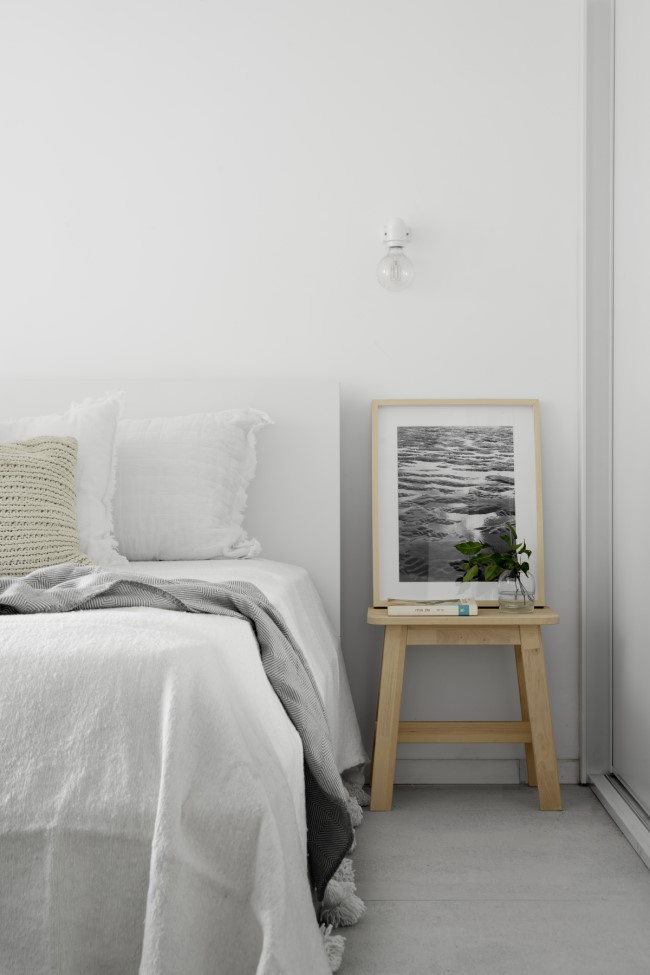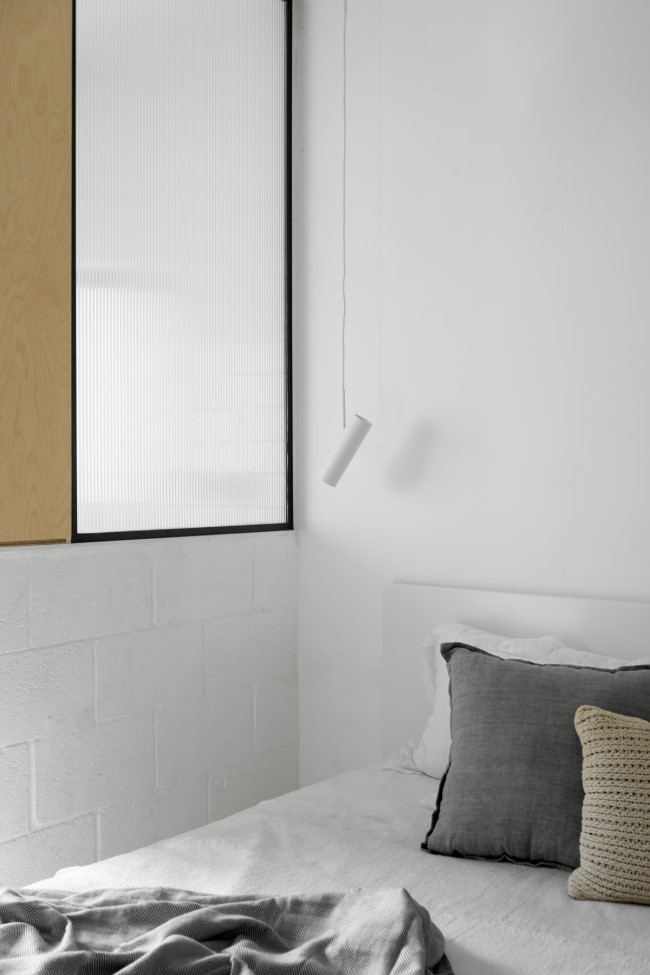 The designers created the hallway as wide as possible so that it becomes a space of its own. It allows for a continuous playing area for the kids, and when their rooms are open, the space becomes even larger. Alternatively, this space works as a yoga studio for the couple.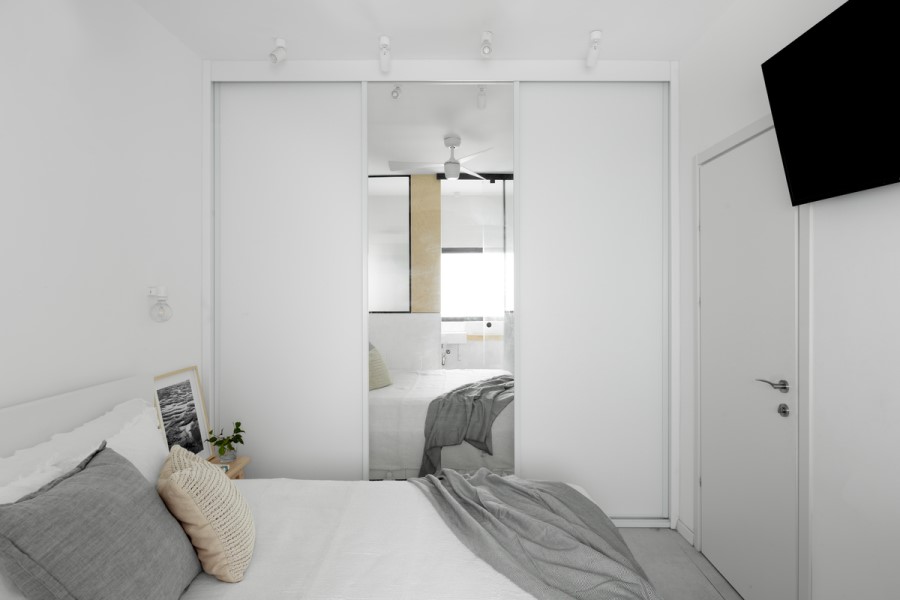 Using the same flooring throughout the entire apartment, uninterrupted, allows a pleasant flow between functions.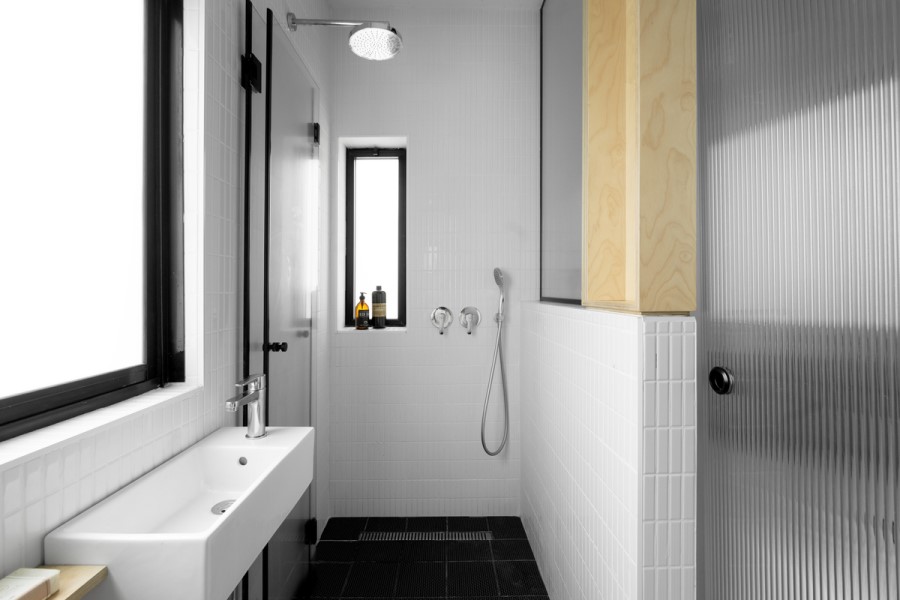 A geometric linear play with grids and shapes of different materials is seen throughout the apartment in the carpentry, kitchen and bathroom tiles, white painted concrete blocks, and fluted glass, all adding texture and contributing to a sense of lightness and playfulness. With a strong concept of simplicity and a monochromatic palette, the designers chose birch wood to define every space in this apartment. A large six-meter-long kitchen and seating element in the public space, a storage unit in the main bathroom, and a small single carpentry reference in the master bedroom, all add warmth and coziness. All carpentry was custom-made by the studio, creating enough storage solutions throughout.
Project by Dalit Lilienthal Interior Design Studio