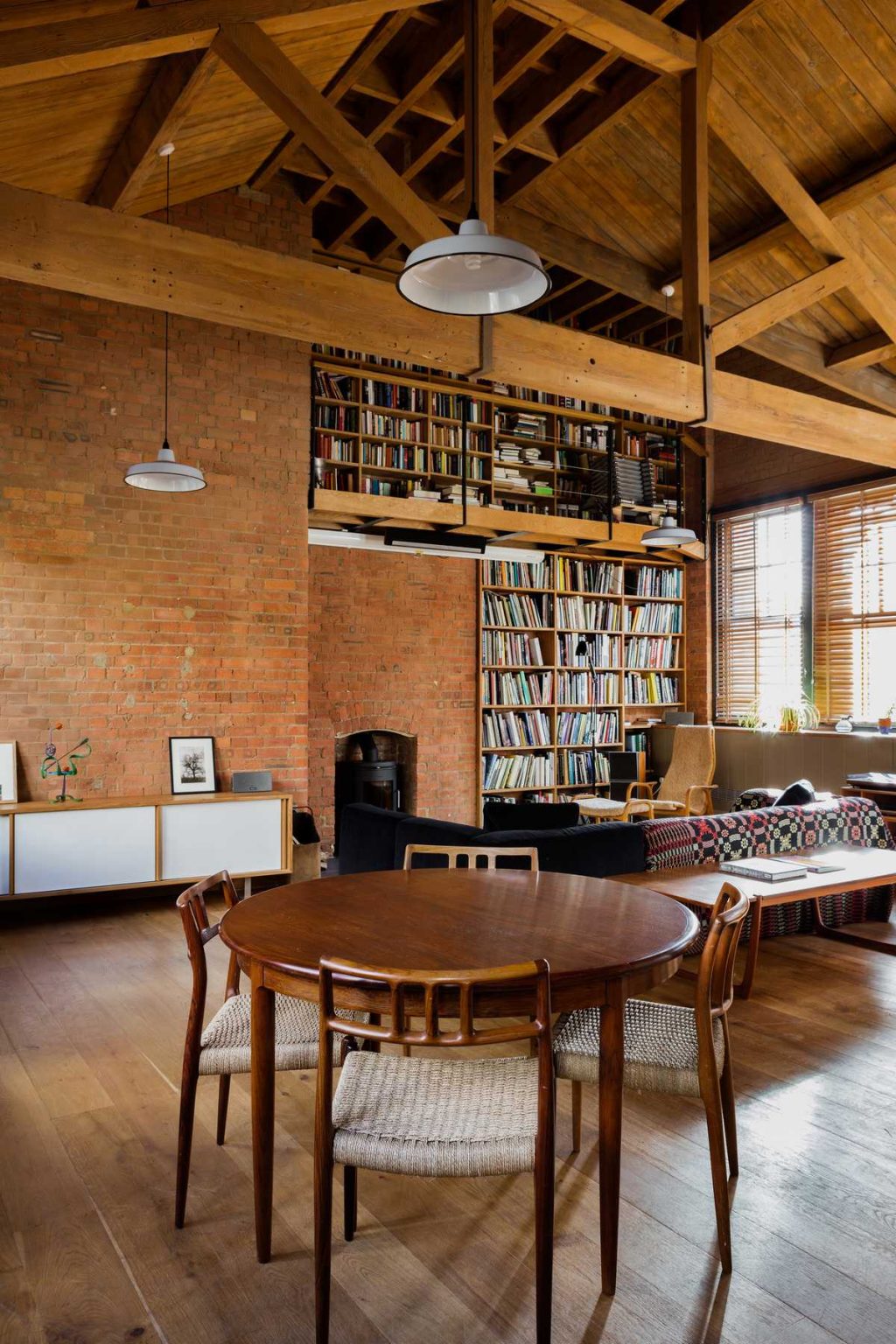 High-end apartments in Hackney By Emil Eve Architects
---
Charlotte Road is a collection of 9 high-end apartments in Hackney completed by Emil Eve Architects. The architects interlinked, reconfigured and refurbished five Victorian warehouses. They also added a large roof terrace. The team retained and restored the original features such as glazed brickwork, exposed timber structures, and historical' quirks'. But they also added contemporary detailing which compliments the original elements of the building's industrial past. And all of this blend into warm and welcoming interiors with a palette of rich textures and materials.
The two-bedroom loft apartment features a large open-plan living and dining area, floor-to-ceiling oak bookshelves, a new library mezzanine, and simple contemporary bathroom and kitchen.
Solutions of the high-end apartments
The last time the street facade had a renovation was in the 1980s and was looking very dated and unloved. So, the architects decided to reinstate the original industrial character while incorporating simple contemporary detailing. To do this, they used steel-framed glazing, glazed bricks, and large bespoke solid timber doors.
Inside, they exposed and restored the original brickwork walls, timber structure and features such as steel lift doors and original columns. The stairs had beautiful handrails cut into the brickwork, and the team tried to highlight details such as these by doing very little to them. They also replaced poor quality windows by new double-glazed ones. Finally, they added simple but high-quality bathrooms and kitchens.
About the client
The client is a small development company who owns some properties in East London. They like to find buildings which other developers may see as a challenge. Mostly because of their conservation status or because their layout means that each apartment needs to be a unique design rather than repeat units.
The client will not be selling but renting the Charlotte Road apartments. So they wanted for high quality and durable materials as well as unique spaces which reflect the original industrial character of the building and neighborhood.
Photography by Mariell Lind Hansen