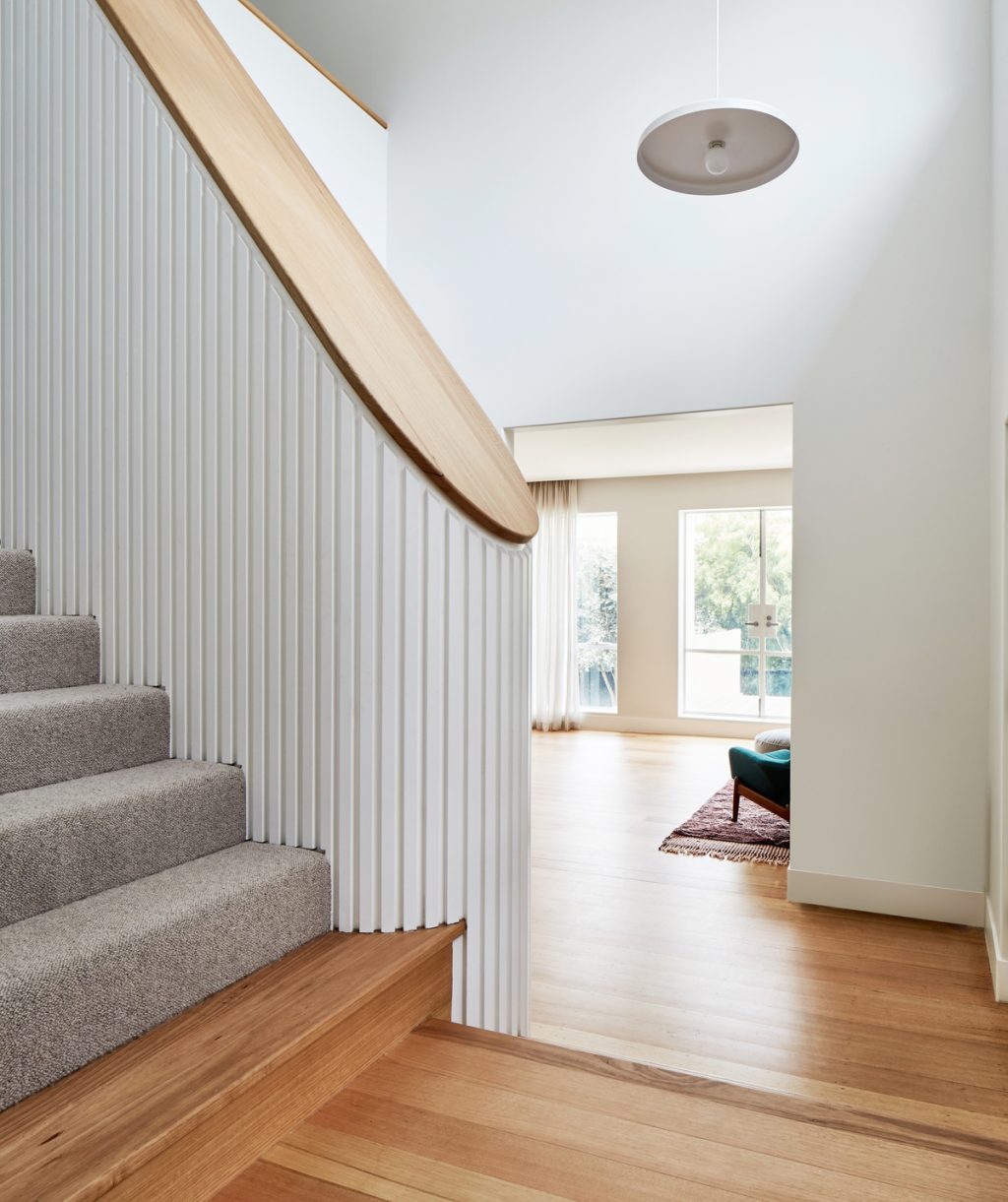 Holroyd – A Renovation By Foomann Architects
---
An existing interwar duplex on a sloping site was the foundation of this challenging project. The two units had elaborate floor plans over three levels; including a detached basement. The building's steep elevation provided excellent views but created a disconnection with the outdoors. The clients are a couple with three active children and a Border Collie.
The project is intended to retain clues to its previous incarnation while feeling natural as a single dwelling. The architects adapted the interior through the demolition of dividing walls and floors. They also created a central void at the entry that provides clarity to the organization of spaces. The stair and associated storage form the pinwheel for circulation through the house.
Internal and external walls are mostly existing which allowed us to retain and refurbish original features and floors. This approach reduced the embodied energy of the project.
Additions include the kitchen that spans across the building's halves to tie it all together. Narrow first floor balconies that contained services were built-in and transformed into bathrooms.
They wanted a home that would function for decades. The architects balanced the capacity to supervise client's kids across all the floors and garden with a desire to provide them with autonomy as they grow up.
The basement garage has been repurposed as the kids' play area and connected with a new internal staircase. Here a bike store has been made accessible from the street to promote use. An essential gesture was burying the old garage doors behind a landscaped hill to connect the main living space in the mid-level to the garden and swimming pool.
The architects respected the solidity of the original building through the use of curved details and materials designed to emphasize mass. Finishes are textural and enduring to minimize their energy use over their life cycle. The tone is pale with timber details; to create calm and relaxing spaces with a sense of fun. The interior is a reflection of the client's tastes; it is contemporary and introduces new details to the house while providing an overall consistent effect.
Planted landscaping protects north facing and ground floor glazing while eaves protect first-floor glazing. New large internal wall openings and the central void allow for cross ventilation and permit light to access all spaces throughout the day. Works incorporated 3000L rainwater collection and 3kw solar photovoltaic cells. Occupant health was a priority with low-VOC finishes and undyed wool carpet. The result is a home that's open and connected; an entertainer where young kids and pets can run wild.
Project by Foomann architects
Photography by Willem-Dirk du Toit