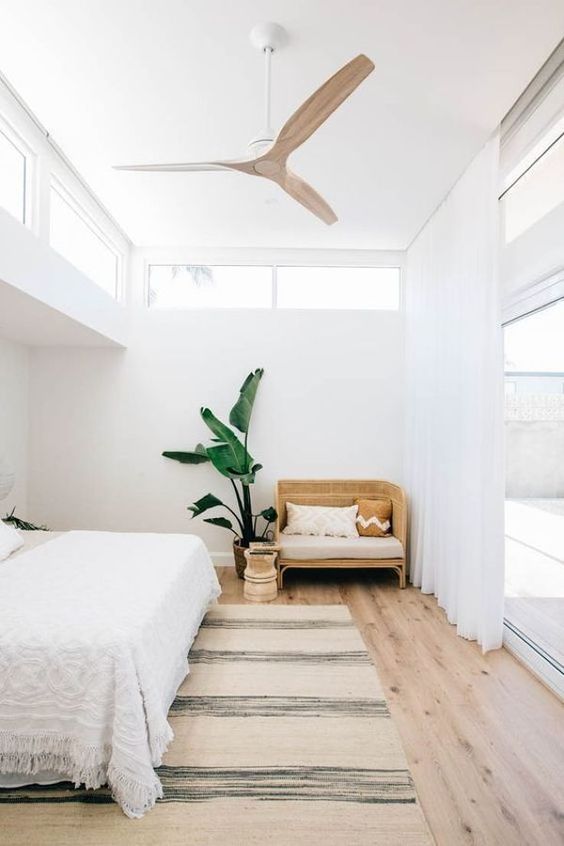 How to Choose a Ceiling Fan Size and Style for your Home
---
Ceiling fans are really popular appliances in homes all over the world. Ceiling fans help to keep us cool and many of them come with integrated light fittings so they are dual-functional. One of the best things about ceiling fans is that there are so many different models available so you are sure to find the right fan for your room. Whilst this is a huge positive, it can sometimes leave people a bit overwhelmed because there are just so many options to choose from. In this article, we will discuss how to choose a ceiling fan size and style for your home.
1. Consider Your Budget
There are various factors that affect the price of a ceiling fan and those prices can vary widely. Material, size, style, energy efficiency and airflow capabilities are all factors that must be taken into account when deciding on your ceiling fan's budget. We will look at each of these factors, but in terms of their effect on the price, it is really common sense. The more luxurious the fan's material, the bigger, more powerful, and more energy-efficient the ceiling fan, the more expensive the fan will be. Top-quality ceiling fans can be very expensive, so it's really important to have a good idea about what you want before you start shopping.
2. Identify Where You Will Put the Fan
Whilst most ceiling fans are indoor fans, you can also put ceiling fans outside on a porch or balcony. It is really important if you are putting your fan outside that you choose one of the specially designed outdoor ceiling fans. These will be waterproof and will be made from materials that aren't affected by the weather. Usually, you will be buying a ceiling fan for a room inside your house and these do not need to be waterproof or resistant to weather and so the main considerations you will need to make are the fan's performance specifications and how it looks.
3. Measure the Room
Style, finish, energy efficiency and blade materials are all important factors, but the first thing that you need to do when choosing a fan is to make sure that it is powerful enough to do its job. There are many different sizes of fans available and we found these large ceiling fans at ModernFanOutlet.com which can give you an idea of some of the more powerful options available. To choose the right fan, you need to measure the room and check that your chosen fan is capable of doing the job. Ceiling fans are sorted according to the diameter of their rotating blades and this is an ideal way to match a fan with a room.
Blade Diameters for Different Sized Rooms
24-42 inch blade diameter – These size ceiling fans are suitable for small rooms with an area that is less than 85 sq. feet. This would include guest bathrooms, laundry rooms or walk-in closets
44-50 inch blade diameter – These size ceiling fans are suitable for medium-sized rooms with an area that is between 85 and 150 sq. feet. These fans are mostly used in guest bedrooms, home offices, and master bathrooms
52-60 inch blade diameter – These size ceiling fans are suitable for standard rooms with an area that is between 150 and 300 sq. feet. Choose this size fan for master bedrooms and living rooms
62 inch blade diameter – These size ceiling fans are suitable for large rooms with an area that is more than 300 sq. feet These are the most powerful fans that are used in big spaces like open plan kitchen-dining rooms.
4. Choose the Blade Material
This is actually about far more than simply what blade material looks good. The material of the sharp blade edge is the most important consideration as that is the part of the blade that will cut and circulate the air. There are various materials that are used to make ceiling fan blades such as metal, plastic, and different kinds of wood. In most rooms, you can choose a material that matches your furniture or the style of your decor, but if you are installing the fan in a room that is prone to dampness like the kitchen or bathroom, you should look for blade edges that have a powder covering.
5. Choose the Number of Blades
It is a common misconception that the more cutting edges a ceiling fan has, the more effective it will be. In reality, what really matters is how many blades the fan has and the angle of those blades. Generally speaking, the most effective fans are ones with three sharp edges. If you want to choose a fan with more blades for aesthetic reasons, then that is fine, just make sure that of those blades, three of them have cutting edges at the optimum angle.
6. Choose an Energy-Efficient Fan
It is really important to choose an energy-efficient fan because it helps to protect the environment and will also save you money in operating costs. The biggest factor which affects energy efficiency is the cubic feet of airflow per minute (CFM) that the fan is able to produce. CFM is essentially the cooling potential of a fan and generally speaking, the higher the CFM, the more money you can potentially save. This may actually seem counterintuitive as a higher CFM is often produced by a bigger fan motor which is more expensive to run. Where the money is saved is that a fan is far cheaper to run than an air conditioner and so if your fan produces enough CFM that you don't need to use your AC at all, you can make considerable savings. The best ceiling fans will have a CFM of at least 6,500 CFM.
There are so many factors to take into account when choosing a ceiling fan, but as long as you have done all the requisite research, you will be able to find some excellent options. Whilst it can be very tempting to make your choice purely based on how a fan looks, the most important things to consider are its performance and energy efficiency. Make sure to choose a ceiling fan that is powerful enough for the size of the room and that has a high CFM.