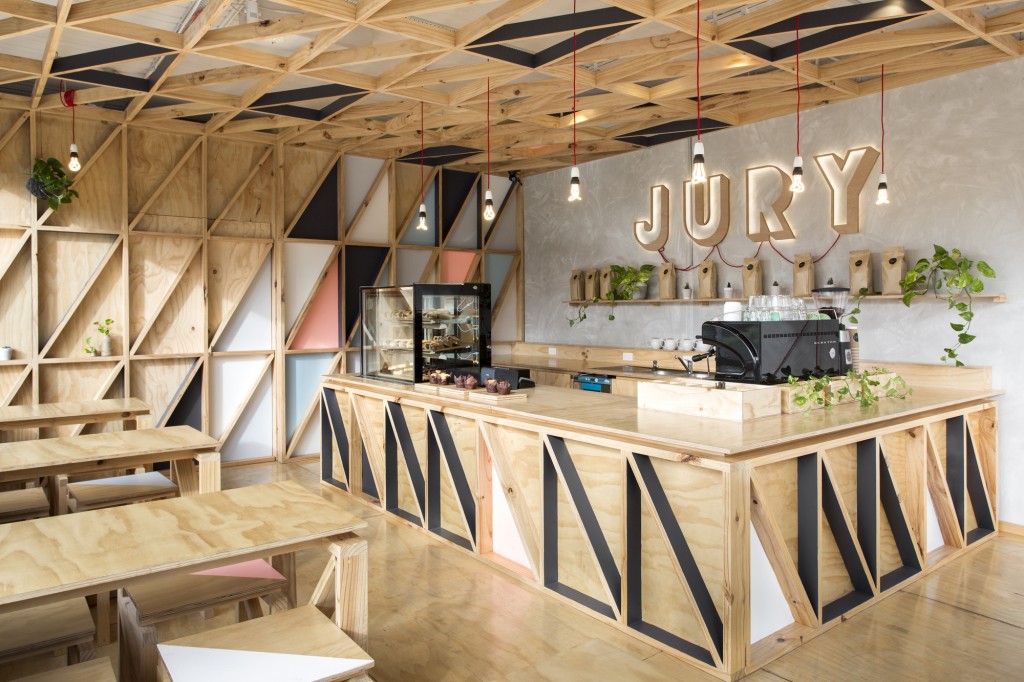 Jury / Biasol: Design Studio
---
To have a coffee in the past prison. Sounds tempting, doesn't it? The concept for this regular coffee place is beyond interesting, and the idea behind this is even more surprising than it sounds at first. The modern pastel tones, wood structures combined with the industrial materials such as concrete, black steel are creating a place suitable for people to come and enjoy the time dedicated to coffee.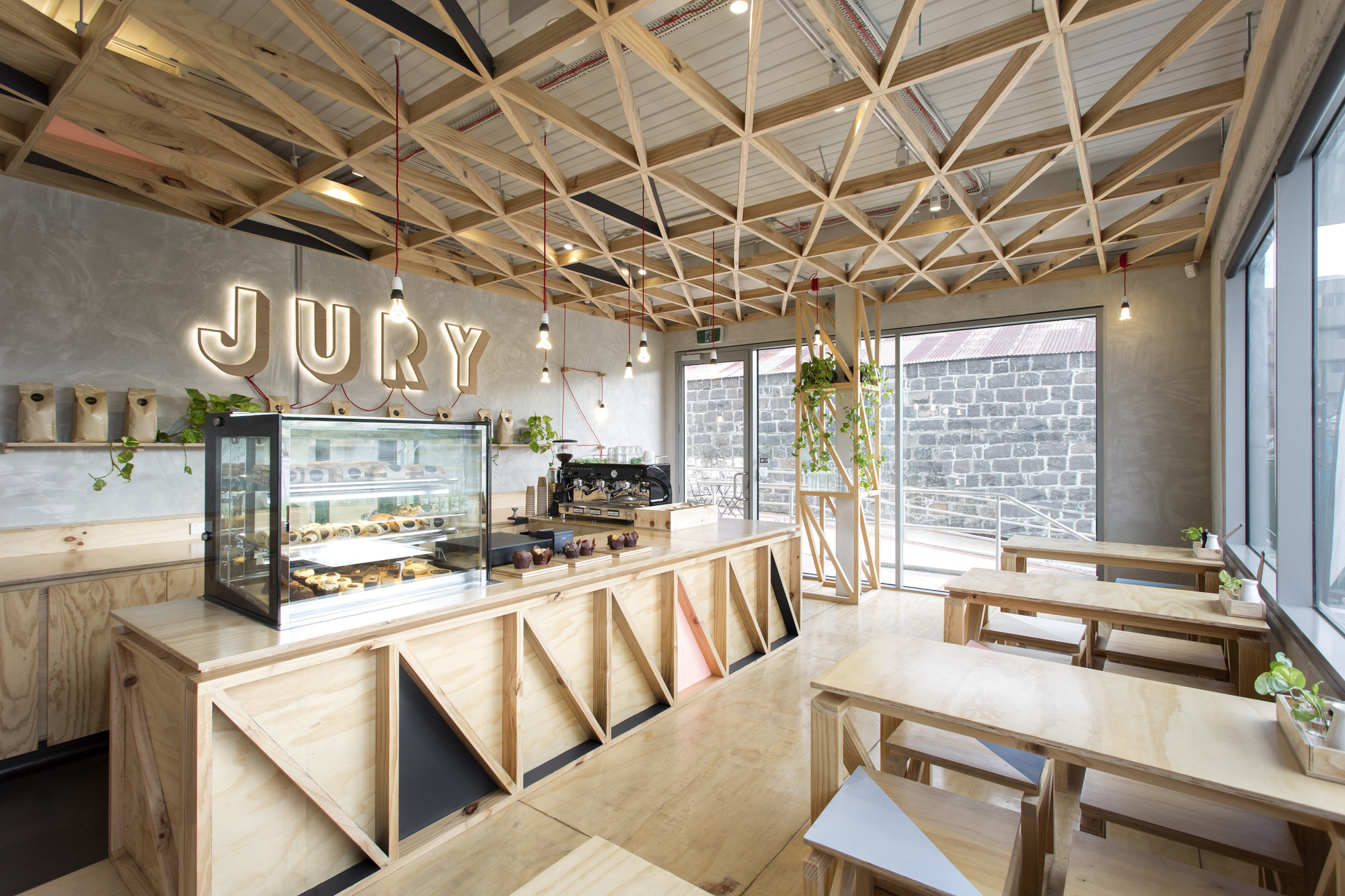 The Architects from the "Biasol: Design Studio" tells us more about the project and the concept which makes this place even more unique:
"Jury Cafe is located in the Melbourne historical site: Pentridge Village, which was formerly a Pentridge Prison, which was decommissioned in 1997. The jury announced various and interesting choices to the studio, but we intended to keep the dark past as a prison combined with the new life which would bring a whole new meaning into the café."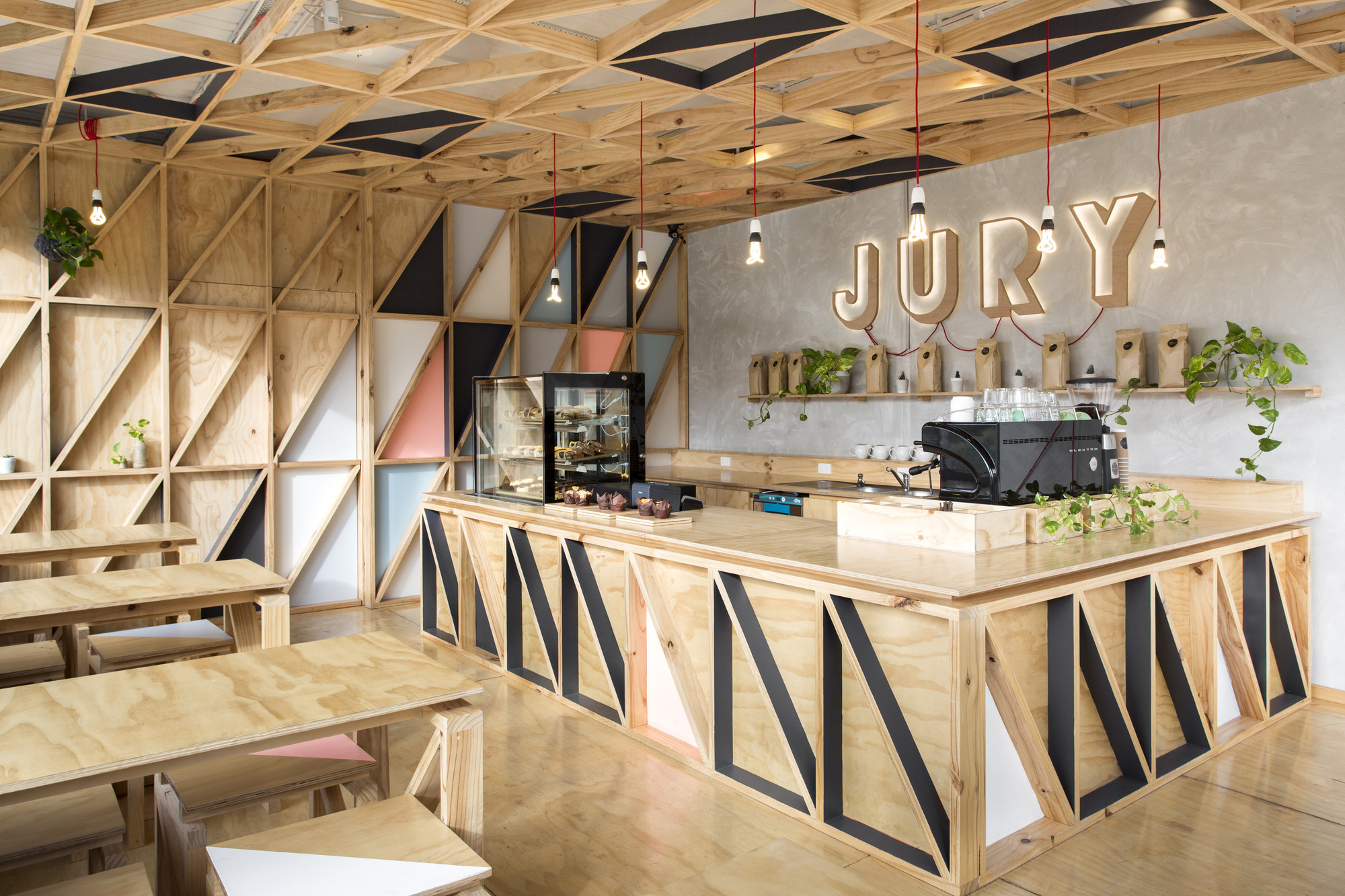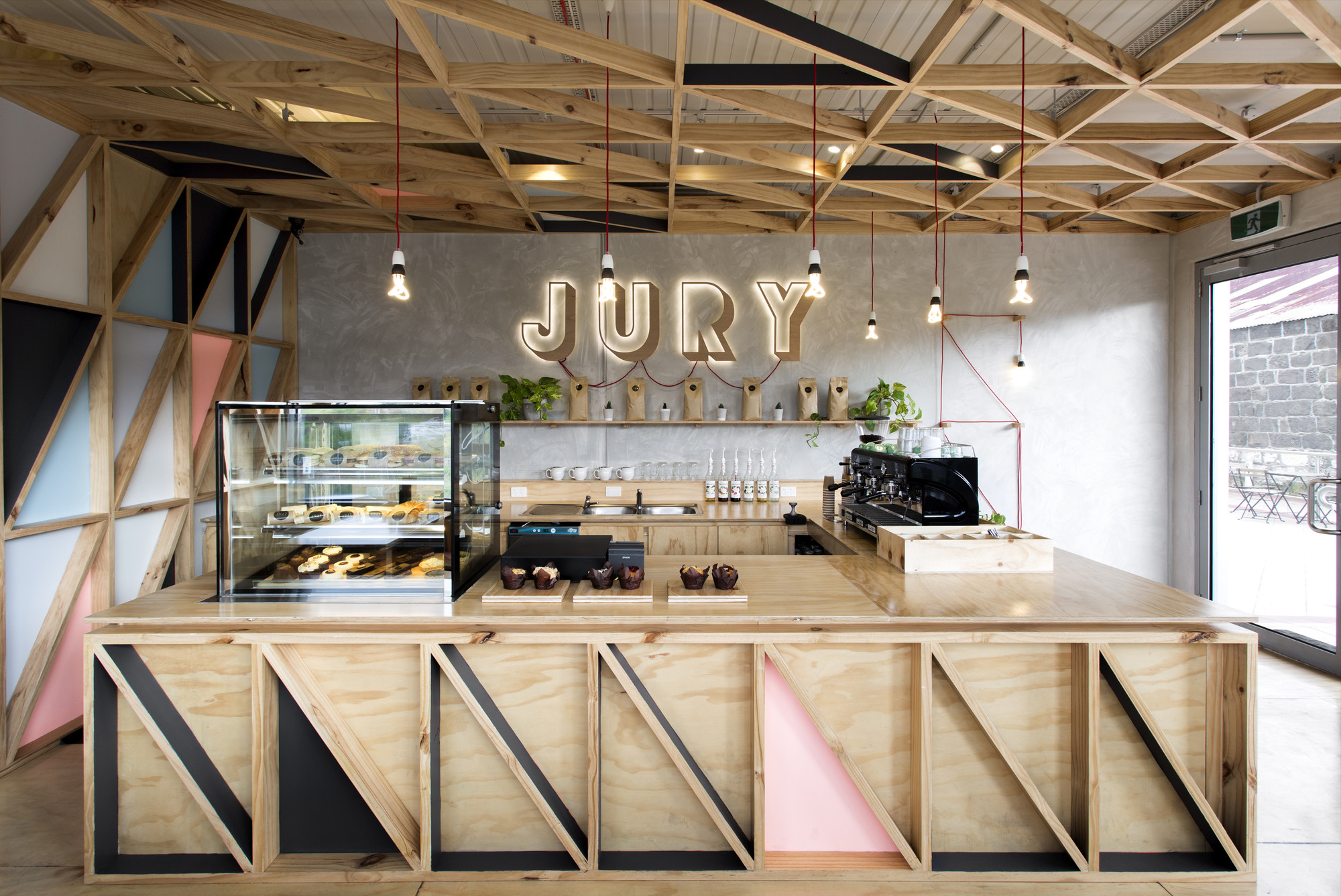 The idea was to play with all the ideas. To make a contrast between the dark walls which would be combined with the pastel tones, blond timbers. Along with this, the architects decided to use raw materials, plywood, concrete which would still keep the old idea of the place, but would be suitable for all the customers. The geometric pattern, which is making a statement in the interior makes it look alive, and gives a character which makes this interior to stand out. It also becomes a playful element, that brings the place to life.
The plants that are being used in the space also are chosen wisely. To soften the place, give it more warm tones the architects decided to hang the plants, so that they would make the place look more green and cozy.
"We decided to soften the space by adding plants such as Pop Plant. To increase the green idea, we also designed bespoke tables and stools that are all made from natural materials."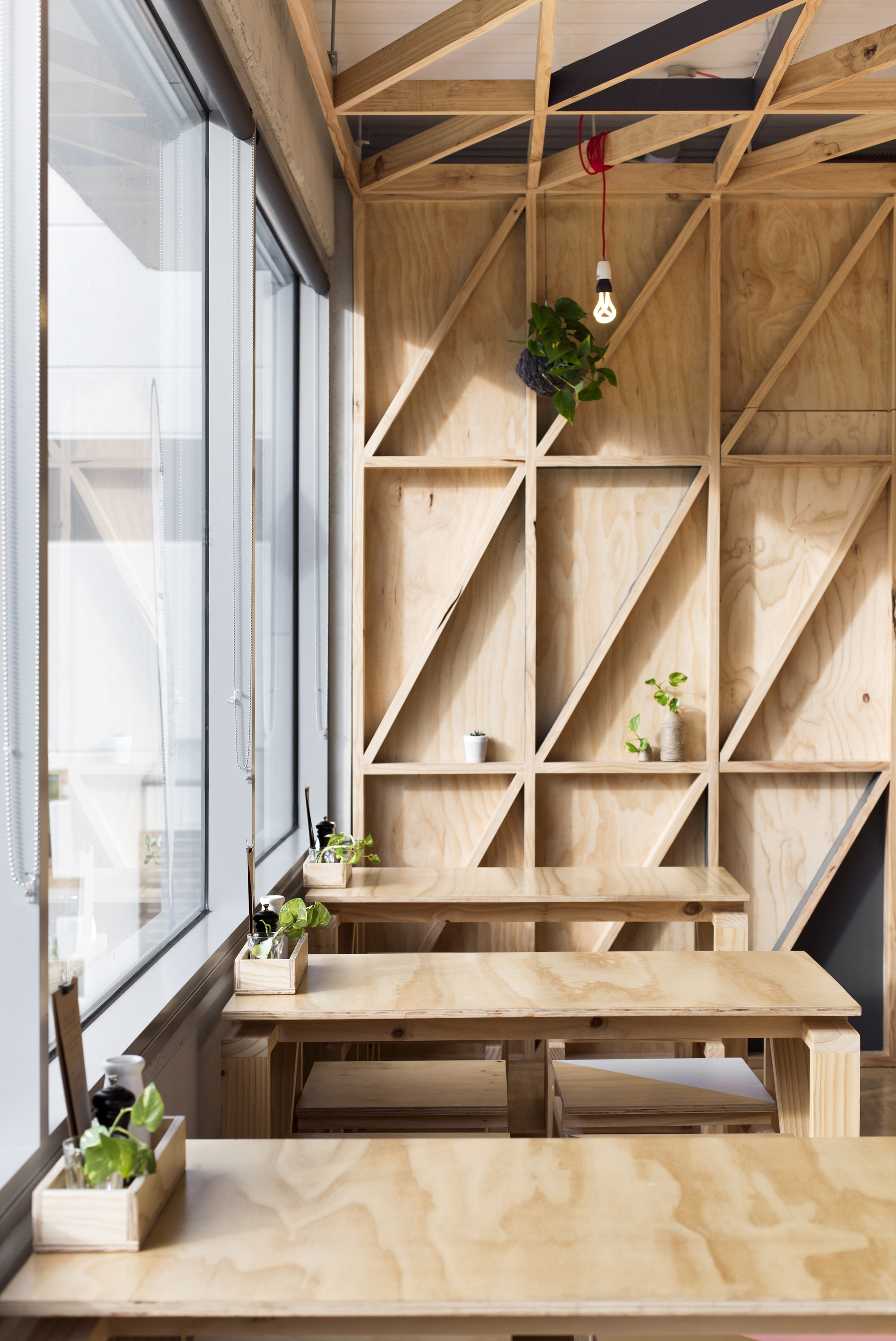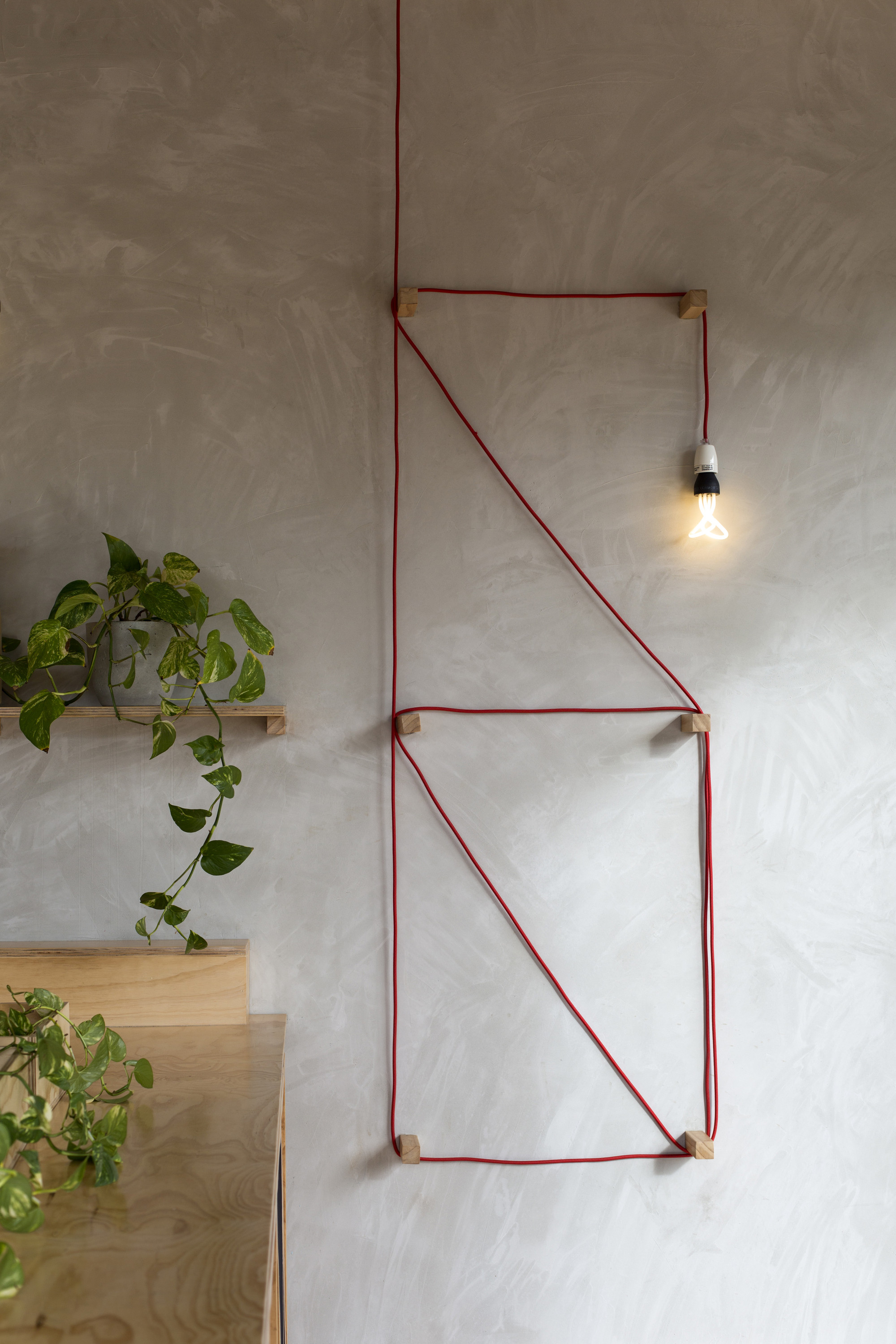 The interior reflects the idea of a modern place, where people can come and relax during the brake. The pastel tones create the effect, that this is a suitable place for the young ones, and it does not make it very serious. The goal that the architects were reaching – to keep the dark side of the prison, but make it modern using the right materials is an example, on how by using the needed details you can create an integrity.
Architects: Biasol Design Studio Office
Location: Melbourne VIC, Australia
Area: 475.0 sqm
Project Year:r2014
Photography: Martina Gemmola