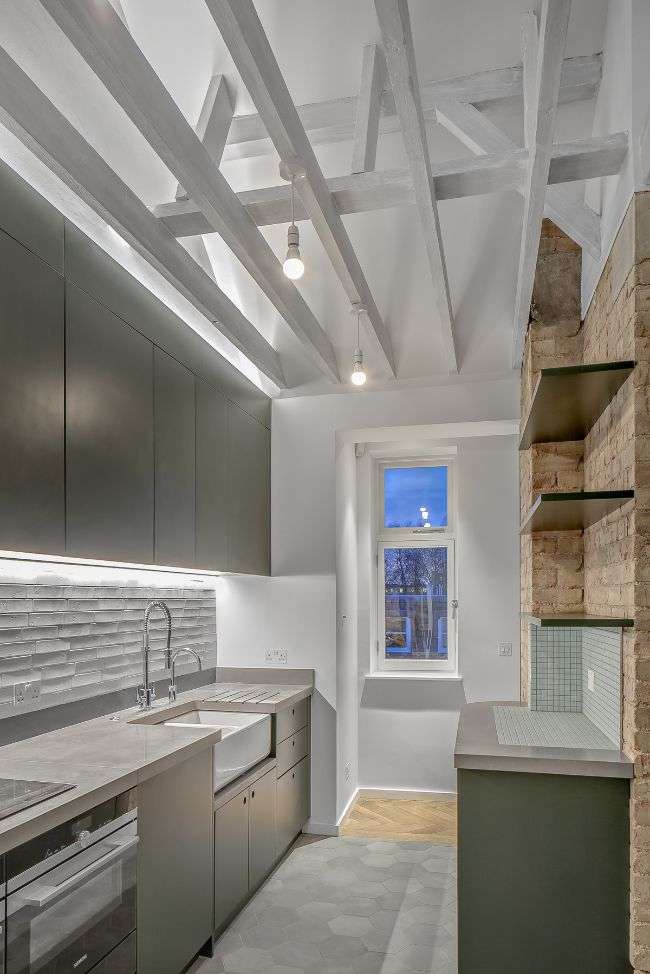 Marylebone Penthouse by Patalab Architecture
---
Marylebone Penthouse is located on the top floor of a 5-story early 1900's residential building in the heart of Marylebone Village in central London. Carefully nurtured by The Howard de Walden Estate and just minutes from the hustle and bustle of Oxford Street, the area is one of the capital's most distinctive and fashionable destinations. Previously split into two smaller apartments, the project presented an opportunity to create a unique penthouse featuring generous outdoor spaces, including a roof terrace with stunning views across London.
To create an open internal arrangement with a large living room, a double-story high kitchen, two bedrooms, and ancillary spaces, the architects carried out primary structural alterations located behind the original façade. A lift provides direct access to the central entrance hall, lit by a large skylight. The master bedroom opens onto a balcony while an internal staircase connects the living room with the roof terrace above.
The architects designed the roof terrace as an outdoor living room. Its central focal point is a fully equipped kitchen with an integrated barbecue. Built-in planters and a pergola structure with a retractable roof and screens around the seating area provide privacy.
Special attention has been given to materials' selection to create a raw but warm interior. A honey-colored Oak floor laid in all apartment rooms acts as a continuous background. The architects contrasted it with dark stained Oak doors with bronze ironmongery, concrete paneled walls in the entrance hall, and exposed brickwork in the kitchen. The master bathroom and dressing room feature waxed mild steel elements, bush-hammered lava stone, and black MDF. The architects installed finely detailed built-in furniture throughout the apartment to complement the interiors and provide ample storage. In the living room, a bookshelf in dark stained oak, accommodating a fireplace with concrete, surround turns into the staircase that leads up to the roof terrace.
Project by Patalab Architecture
Photography by Jan Piotrowicz