Modern Minimalism in Tel Aviv
---
Completed in 2014, this exquisite apartment was a project by Dori Interior Design Studio. It spreads over a total surface of 970 square feet and is located in the center of Tel Aviv, Israel.
The interior is very bright and open without being particularly spacious. All the brightness and ease that this apartment radiates comes from the large floor-to-ceiling glass wall on one side of the room. The glass wall is also beautifully completed by a long and breezy white curtain which gives a soft and romantic touch noting the industrial concrete details nearby. The lovely thing about this apartment is the way various influences and style accents interact and complement each other. The unfinished column and its raw, industrial character are highlighted by the industrial chairs, TV swivel pole in the living area, and even the hanging cord lights and softened by the warm wooden floor, the delicate curtain and pastel pillows. Furthermore, the apartment has a layout that integrates the kitchen into the living area. The kitchen island doubles as a dining table, eliminating the need for a separate zone and saving plenty of floor space which particularly makes everyday living more comfortable.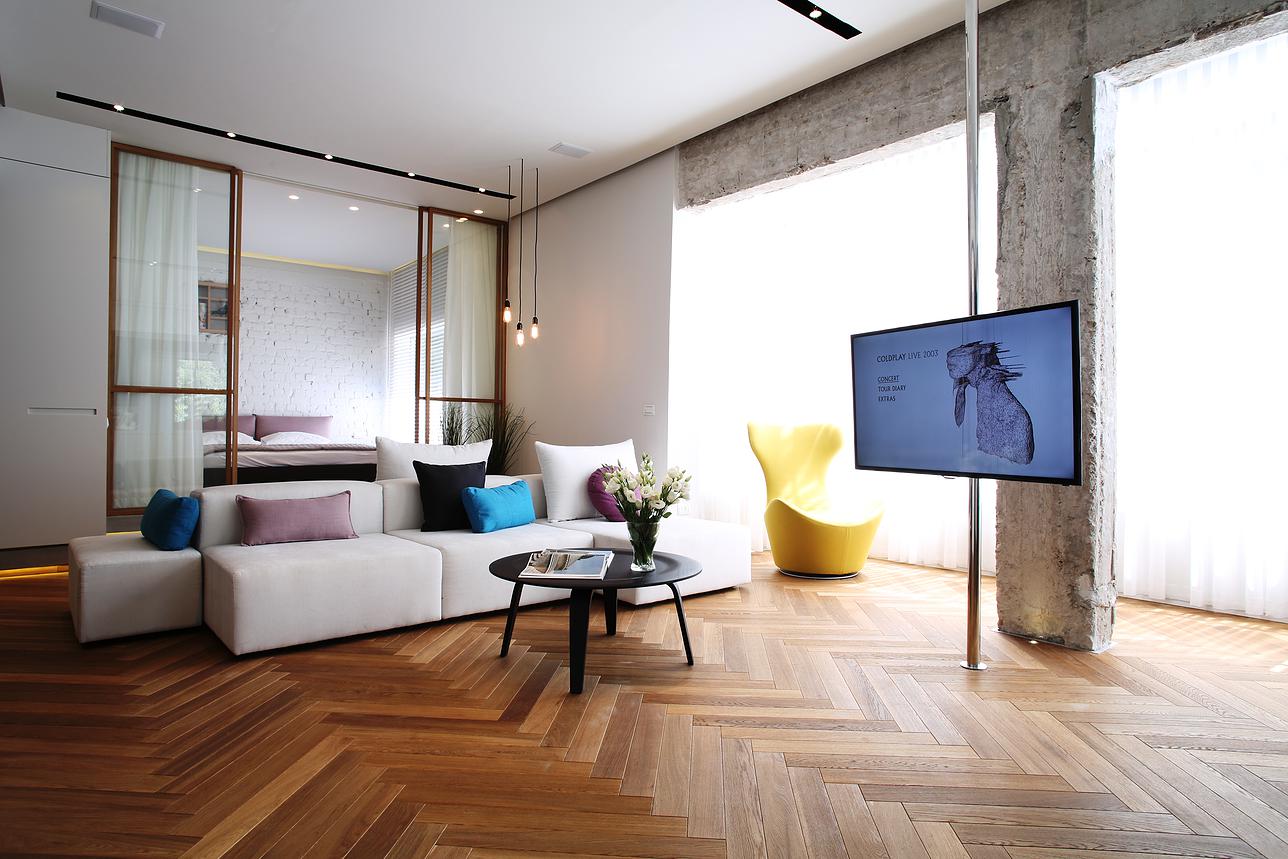 The kitchen features black accents as a way to contrast with the bright space in the living room, keeping balance throughout the apartment and defining this as a separate area. Also, the kitchen island/dining table beautifully illustrates the power of strong contrasts, and the pendant lights above it showcase diversity in a subtle form. But the living area and the kitchen aren't the only areas which are linked. The bedroom is also visually connected to this open floor plan through sliding glass doors. The seamless transition between the spaces creates a very casual ambiance throughout.