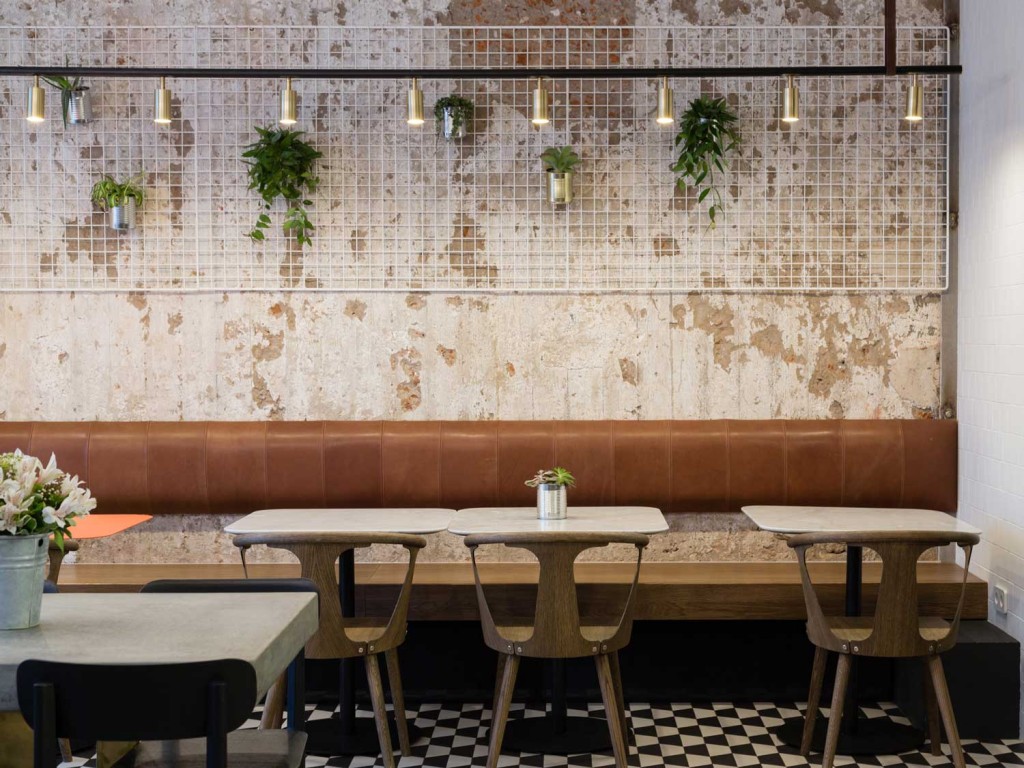 NUDE. COFFEE & WINE BAR BY FORM BUREAU
---
Nude. Coffee & Wine Bar is a small family establishment located in a 1930s residential building in Moscow. In 2104 Russian architecture studio Form Bureau refurbished this place and gave it a new look.
The first thing that strikes the eye in this interior is the materials of the walls. Architects decided to partially chip away multiple layers of plaster and paint to reveal the original bricks, to expose all the beautifully aged textures and colors that were hidden beneath. Designers used simple and rough materials such as concrete and wood were introduced for the furniture, together with small brass accents and a stark black-and-white pattern on the floor. Together they complete the space.
The space of this coffee & Wine Bar is divided into few parts: an open kitchen and dining area. They are separated with a large bar top acting as an intermediary, at which visitors can eat and follow the cooking process. Nude sits about 30 people.  Storage space hidden in the center of the kitchen is used as a menu display board that connects to the bar top by the construction of steel and safety glass. The glass allows natural light into the back of the kitchen. In the dining area, there is a massive wooden bench and marble tables, tall tables next to the wine rack, and the bar top that is comfortable enough for a quick glass of wine, as well as a slow lunch. A large concrete table in the center of the room ties the space together. The interior is completed with elements of Scandinavian designers such as &Tradition, Rubin, and Massproductions. One more important element in the interior is the wine rack, which takes over a large floor to ceiling space next to the entrance and becomes part of the entry airlock. This is a metal grid construction in which wine bottles rest on leather belts.
This attractive interior is a great example of how old materials and modern design elements can complete the same space and maybe even create new trends…
Architects: Form Bureau
Location: Moscow, Russia
Project Year: 2014
Photography by Asya Baranova | asyabaranova.tumblr.com