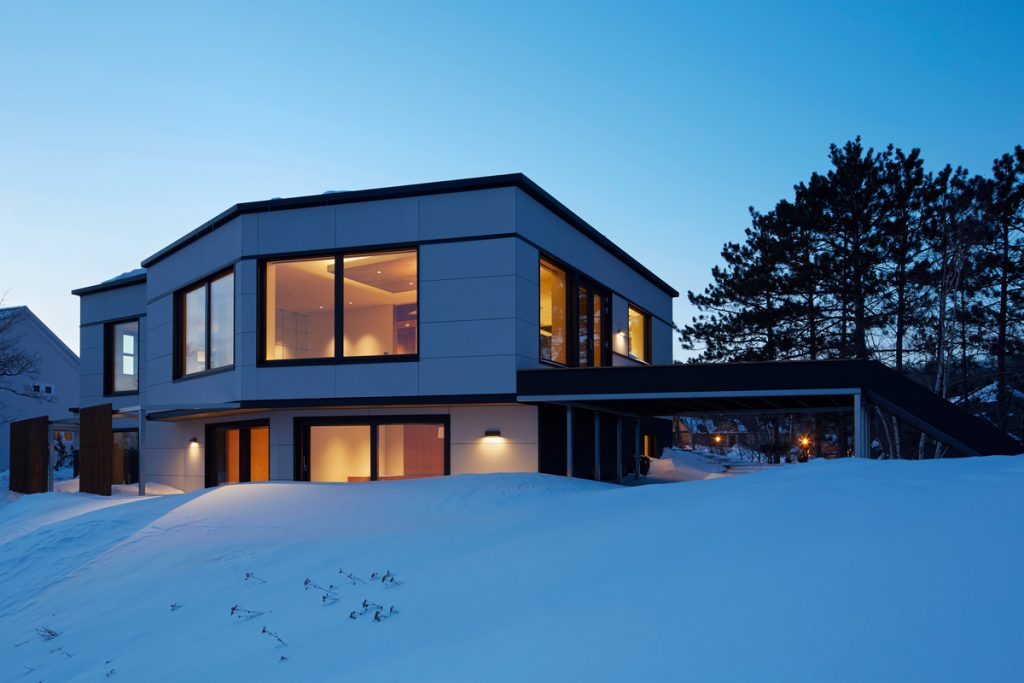 Pays d'en Haut By Carly Coulson
---
Climbing the ridge of ancient ledge rock and gazing across Lake Superior, one's heart is filled with a fierce joy. It is the irresistible pleasure of the wild and far horizons that gives an expansiveness to the soul and a sense of uncounted centuries. Pays d'en Haut is the French explorer's name for this land and that feeling. The great joy of being without boundaries…of exploration…of equilibrium with nature.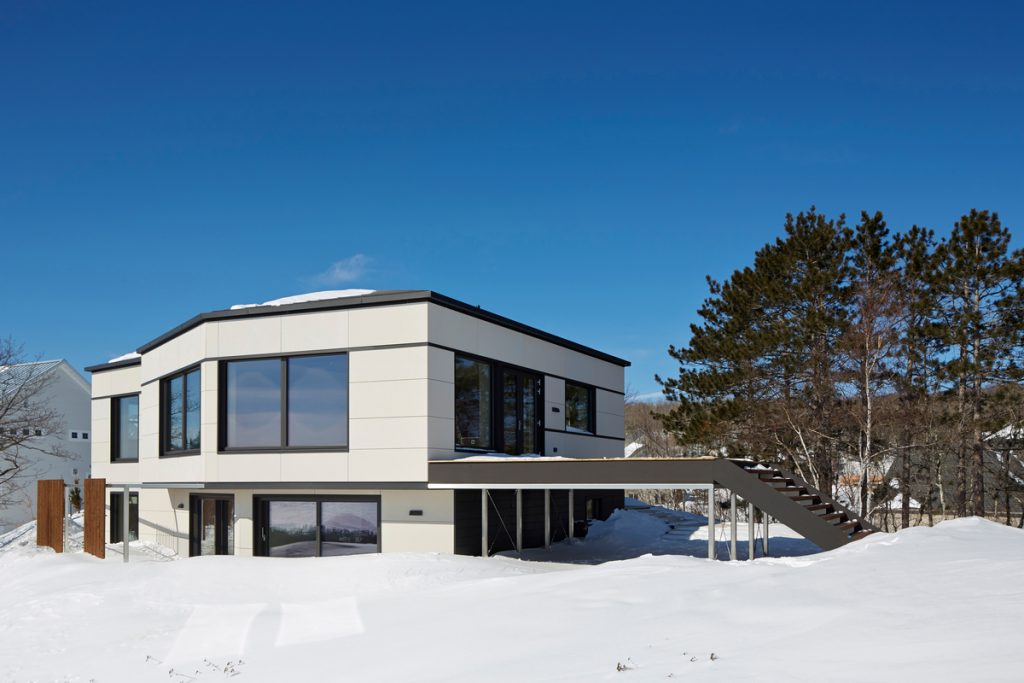 This renovated home in northern Minnesota acts as a vessel for those feelings. Boundaries removed, vistas cleanly framed, surrounding development screened, doors opened to new exterior rooms, and a smooth cascading flow between spaces, floors, and terraces. The passage of time, seasons and weather visible in the light, shadow, and reflection cast over neutral and mirrored surfaces. Nature's warm hues and delicate patterns referenced in the wood, stone, and metal finishes. The flow of similar materials and details between exterior and interior encouraging the eye and the spirit to move freely.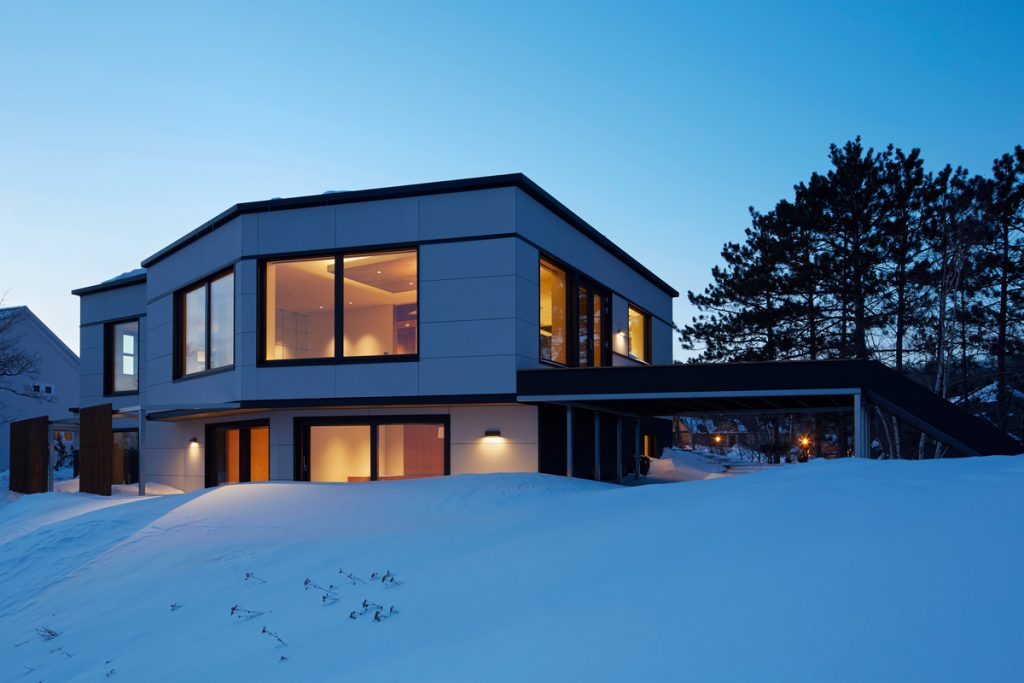 "If we can move into an open horizon where we can live in our modern world with ancient dreams that have always stirred us, then our work will have been done." -Sigurd Olson
It is this desire, to live as one with the glaciated rock, expansive lake, soaring hawks, and towering red pines that drew the client, a retired couple, to this existing 3 bedrooms 2 1/2 bath home in northern Minnesota. With their move, they were downsizing and seeking a simplified lifestyle grounded in nature, efficiency, durability, and well-crafted modern spaces.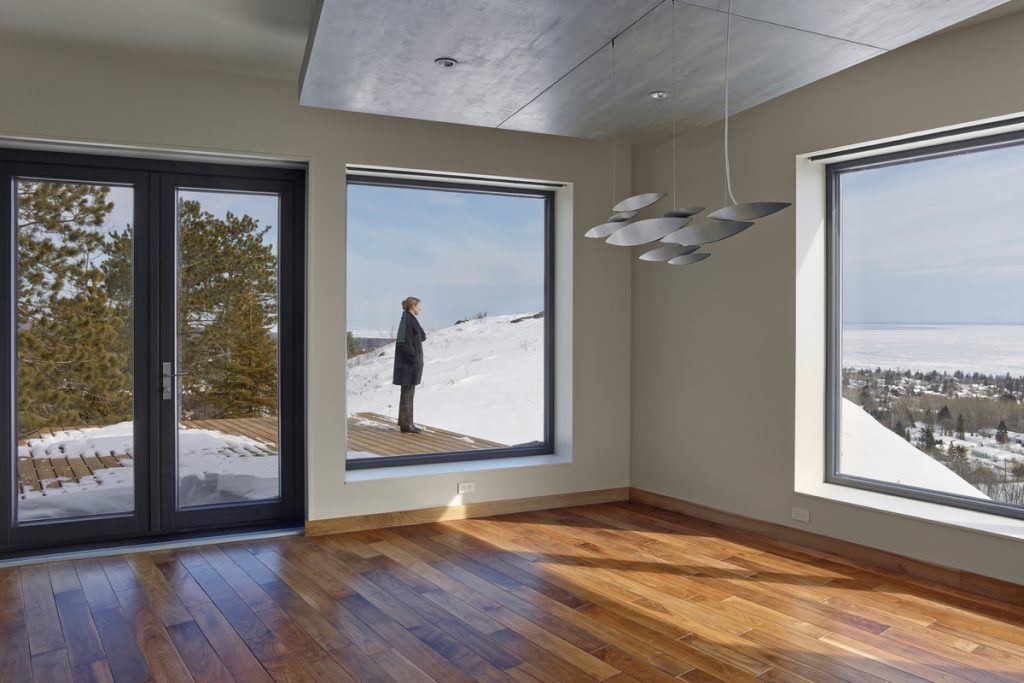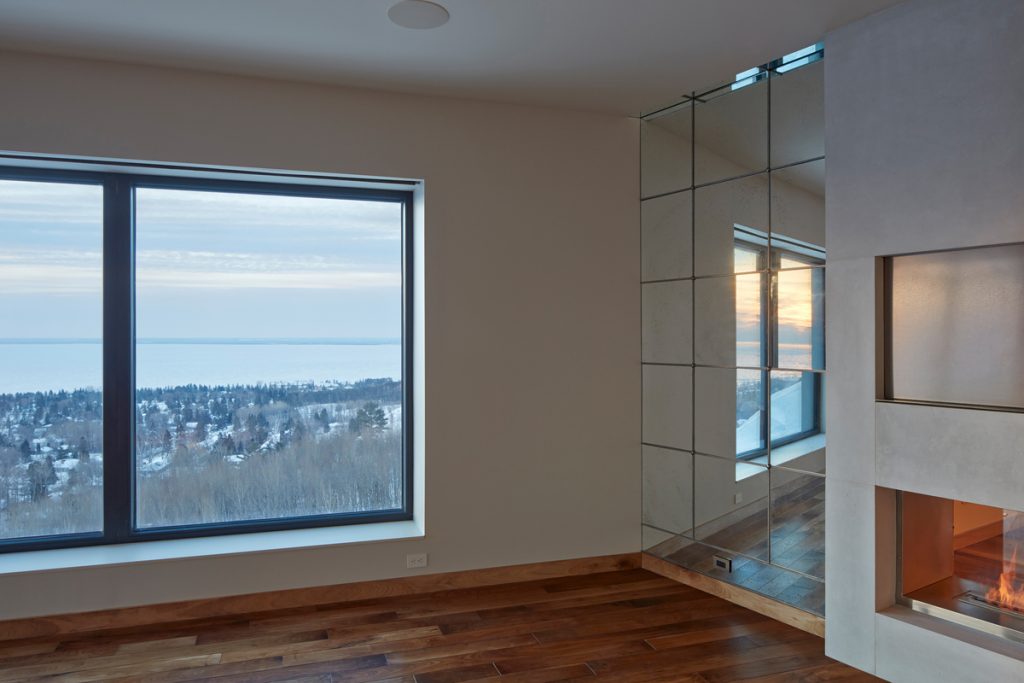 The renovated design engages with the powerful landscape, improves function and flow, and maximizes built-in storage. Screens, canopies, decks, and terraces were added to enhance the exterior design and create a series of new outdoor rooms. A wood slat screen wall weaves the building into the landscape, softens the existing building angles, provides visual privacy, and creates a safe barrier at a steep cliff. Interior walls and room layouts were adjusted so one interacts with multiple exterior views in every space. And by meeting the Passive House standard, the traditional heating system and lower furnace room were eliminated allowing a transformation of the stairwell and lower floor into an open, daylight filled space.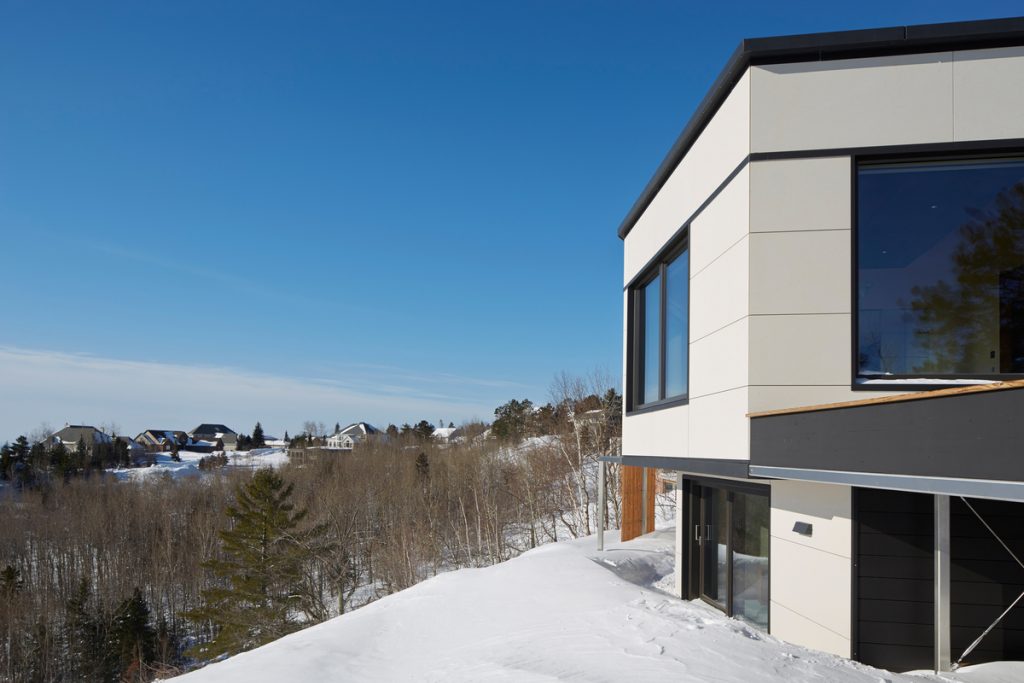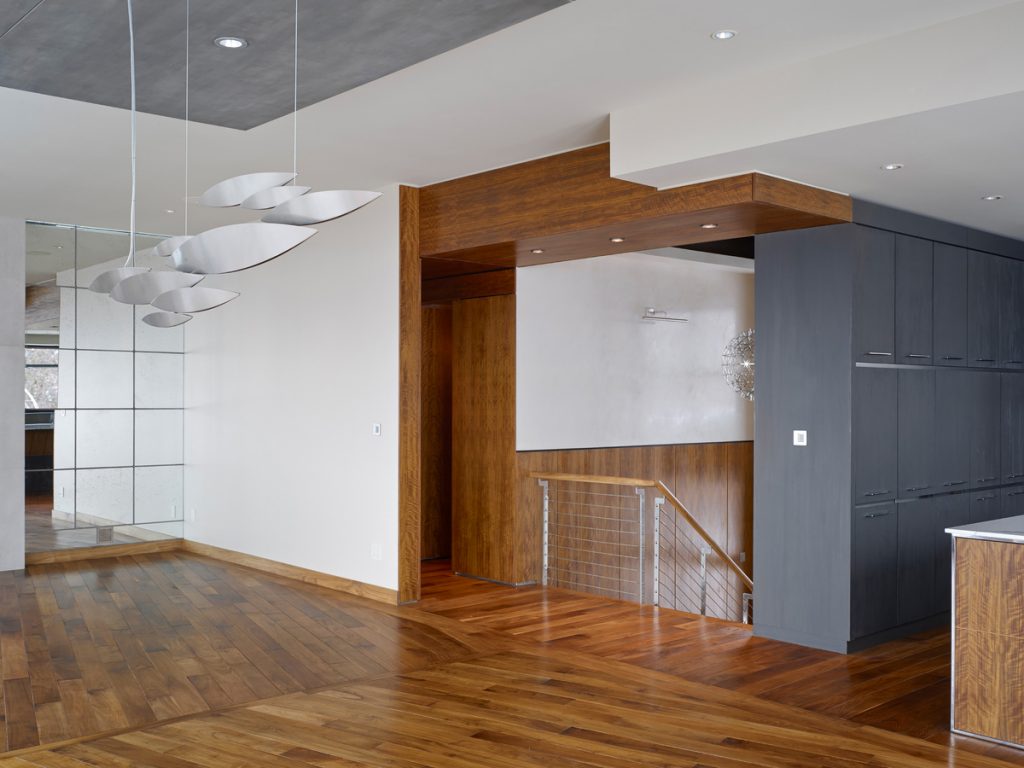 Sustainability
There is a wonderful sense of peacefulness when this home becomes a snow globe in a fierce winter blizzard and the only heat being used is that from the sun not seen for many days. It is more than resiliency. It is a feeling of lightness and freedom to enjoy the raw wild beauty of this harsh climate in comfort, passively and naturally.
The northern Minnesota climate is extreme with January low temperatures typically between -10˚F and –40˚F. Using simple elements such as super-insulation, passive solar heating, rigorous air-tightness, triple-pane glass, and high-efficiency heat recovery ventilation, this renovated home has a peak heating load of just 4300 watts (the equivalent of two hairdryers) to maintain a 68˚F interior temperature. A small bio-ethanol ventless fireplace (a renewable fuel) satisfies this load with minimal use.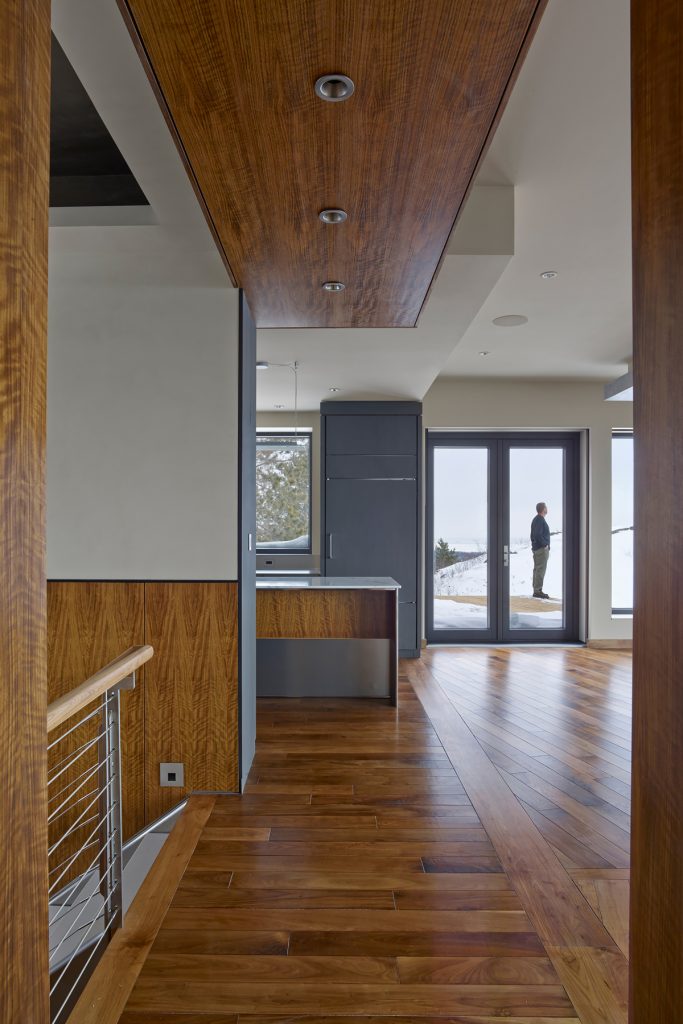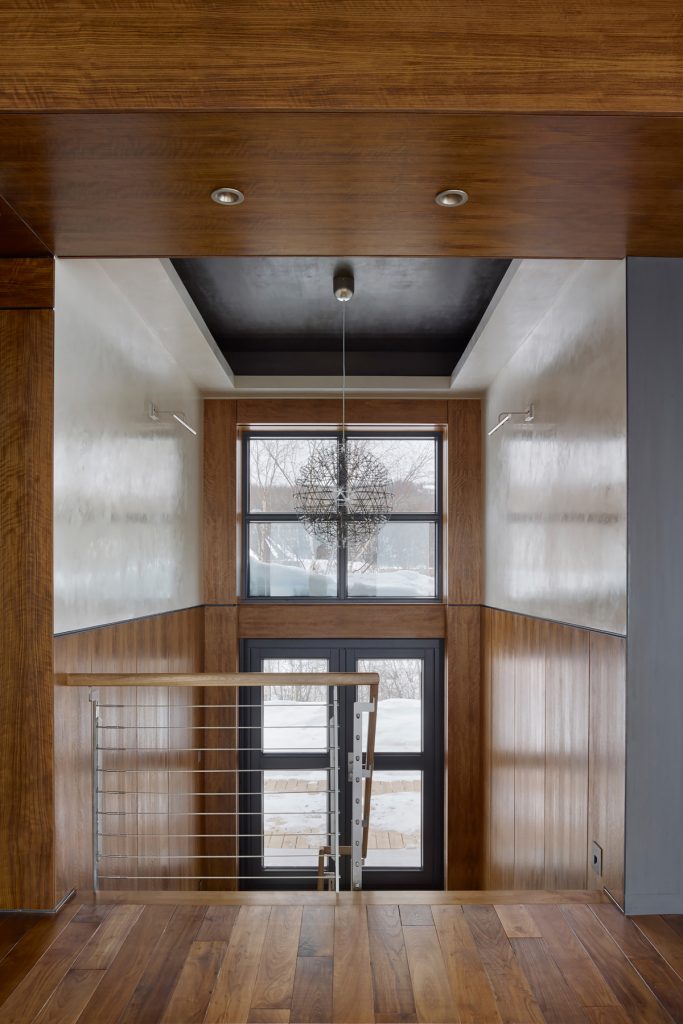 The project has an 81% reduction in primary energy demand and an 84% reduction in heating load compared to the existing building. The design meets the requirements of an EnerPHit project (Energy Retrofit with Passive House Components) through the Passive House Institute (PHI) in Germany.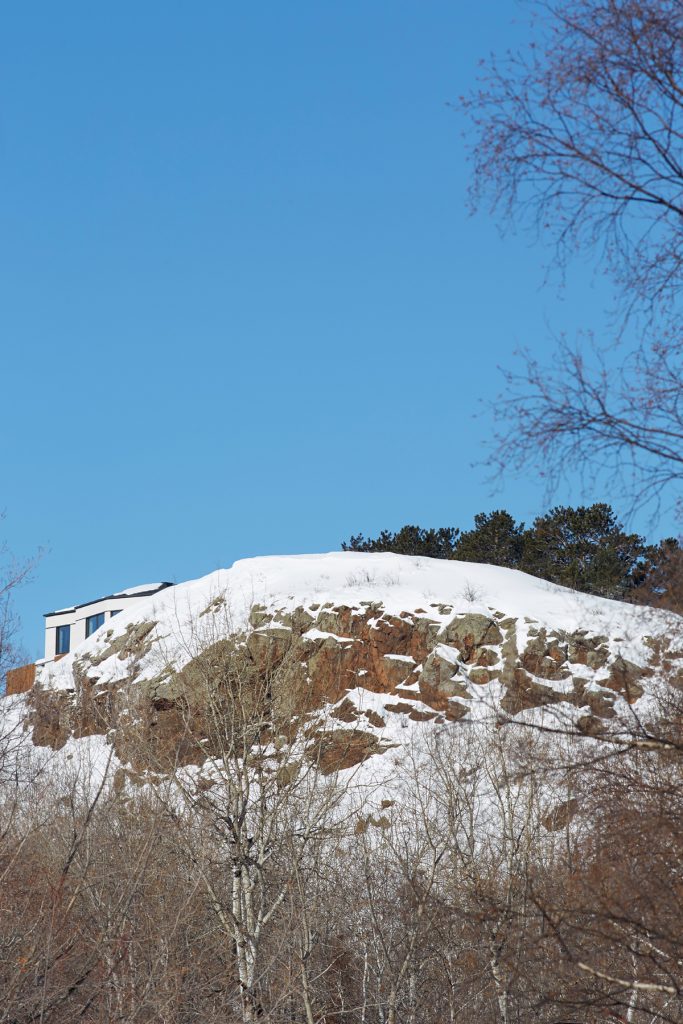 Construction was completed with simple low-tech materials, rigorous attention to detail, and minimal environmental impact. 95% of the existing structure was kept in place and 80% of the deconstructed materials were reused or recycled. A 12-inch wood Larsen truss filled with cellulose insulation was added to the exterior walls, a cost-effective and low-carbon footprint approach. New triple-pane glazing and passive house certified frames were installed. These very large operating doors and windows provide passive solar heating, natural ventilation, and natural lighting. A continuous air-tight layer was constructed and verified with blower door testing. An 84% efficient HRV, installed in a master bathroom cabinet, provides excellent indoor air quality, without losing heat, and has an automatic summer by-pass for passive cooling.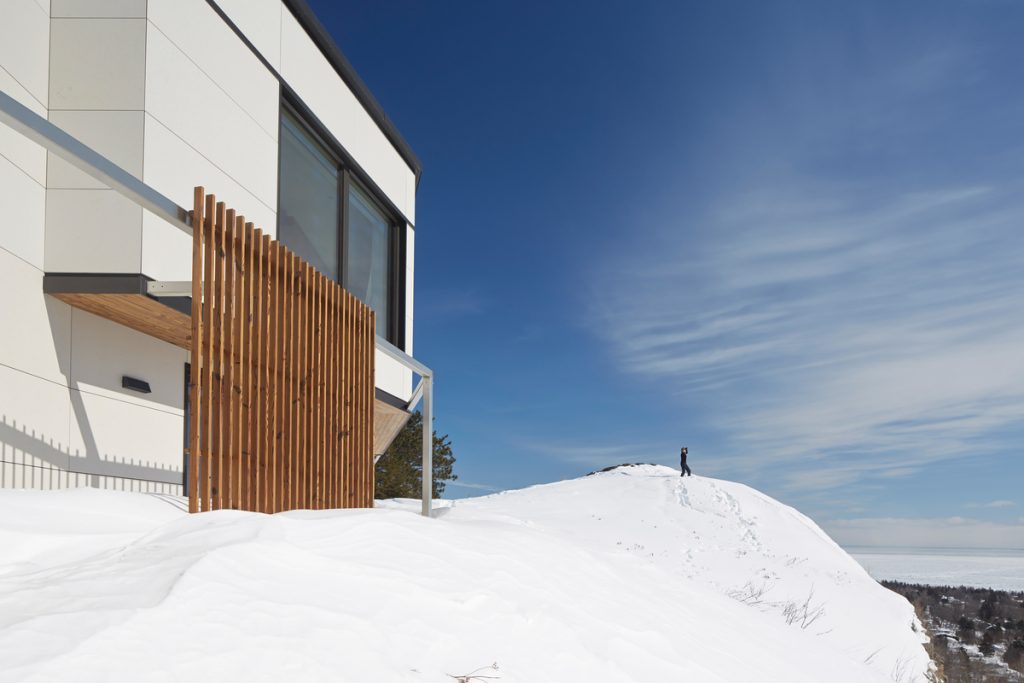 The project provides peace of mind for the client knowing their home is built to last, requires near-zero maintenance, and allows for aging-in-place. The exterior materials of local limestone, stainless steel, zinc, and local thermally-treated wood are timeless in design and long-lasting. The window flashing system, the rainscreen cladding, and the vented roof all have multiple air spaces, drainage channels, and weather resistant layers utilizing flexible, compression sealants and smart breathable membranes to handle the wind-driven rain off Lake Superior and repeated freeze-thaw cycles. The diffuse-open wall and roof assemblies were evaluated for long-term moisture performance using hygrothermal modeling. Zero-threshold large doors and an accessible exterior walkway around the garage were added so the lower floor could function as a barrier-free living space. Finally, the energy savings will last the lifetime of the building as the reduction comes from passive components rather than high-tech systems.
The innovation of Pays d'en Haut is unseen. It is a patient and slow-moving architecture, resisting the temptations of trends and technology. The design strives for a fluid and open living connection with the most extreme climate and beautiful landscape, while working within the constraints of an existing structure, and achieves significant energy freedom using invisible, but rigorous, methods. The construction focus is on the elemental: sun, cellulose, wood, glass, stone, fire, and air. The innovation is the quiet engineering of these basic elements, thus, allowing the scent of the pine trees, the sound of the wind, the movement of light, and the passage of time to be the memorable experience of this place.
Photography by Bruce Damonte & Carly Coulson