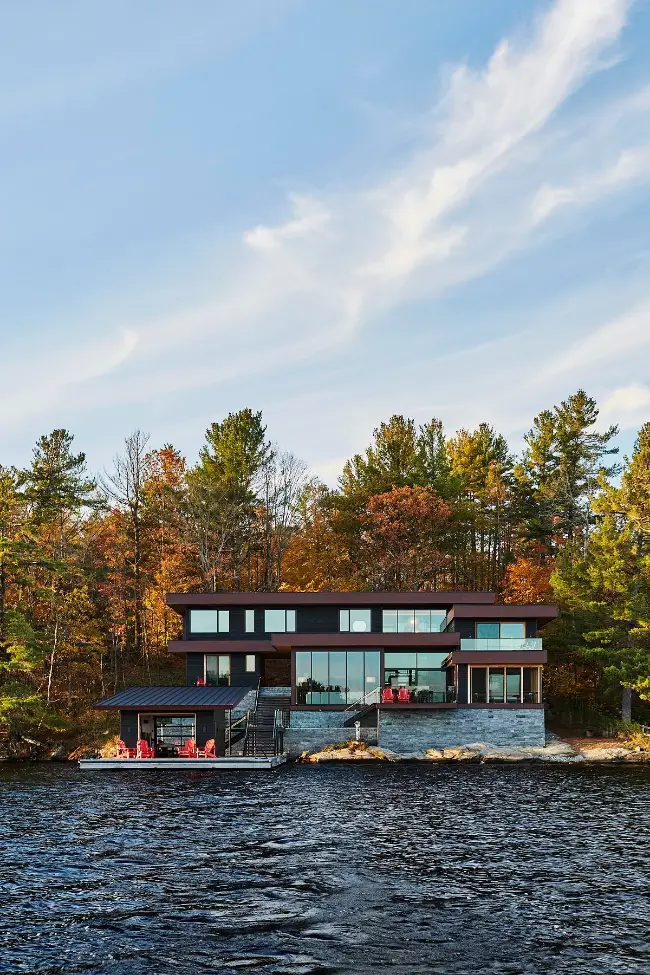 Preserving Nature's Beauty: Altius Architects' Renewal of Scarcliffe Cottage
---
The owners of Scarcliffe Cottage enlisted Altius to assist in procuring a Muskoka property for construction. After an extensive search, the focus shifted to an atypical property on the northern side of Lake Muskoka.
An Unconventional Property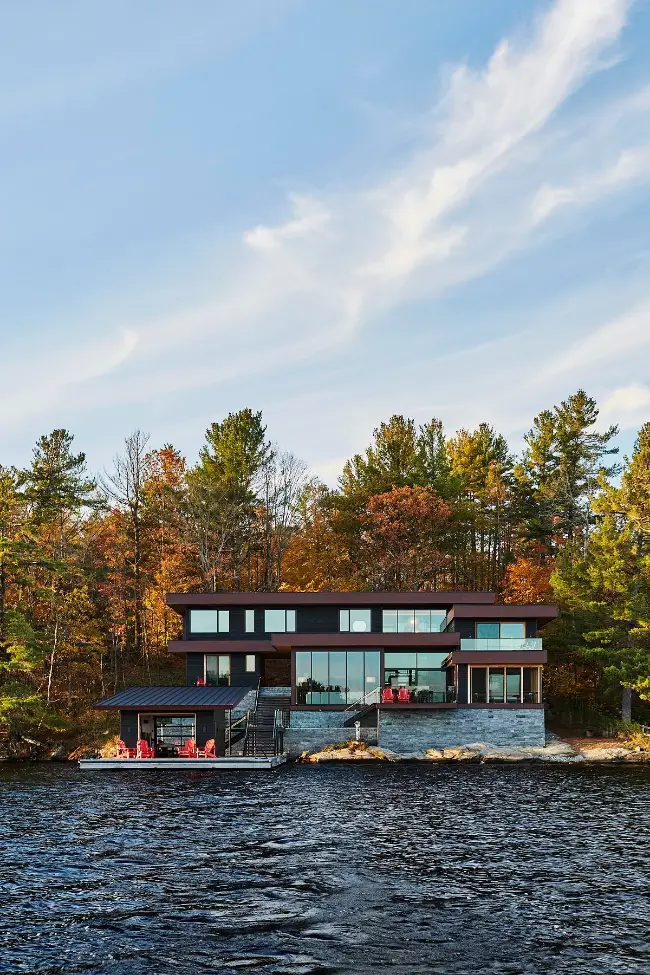 The property stood out due to the existing cottage's unique placement, situated just a few feet from the water's edge. An attached dry boathouse extended over the lake, featuring a marine railway and an expansive dock. This cottage amalgam was built and modified multiple times atop what appeared to be an original early 1900s structure.
A Distinct Presence
Colored in stained light grey with copious white trim, the cottage dominated a relatively small lot with limited frontage and land. However, its position on a compact point provided privacy and stunning southward views over Lake Muskoka.
Crafting a Unique Design
Central Focus
The cottage's layout centers around a two-story open hallway offering picturesque lake views. The main level spans the waterfront, encompassing the living room, kitchen, and dining room that leads to a screened porch. An ample outdoor deck accommodates open-air dining, complete with a built-in BBQ and motorized awning.
Balanced Layout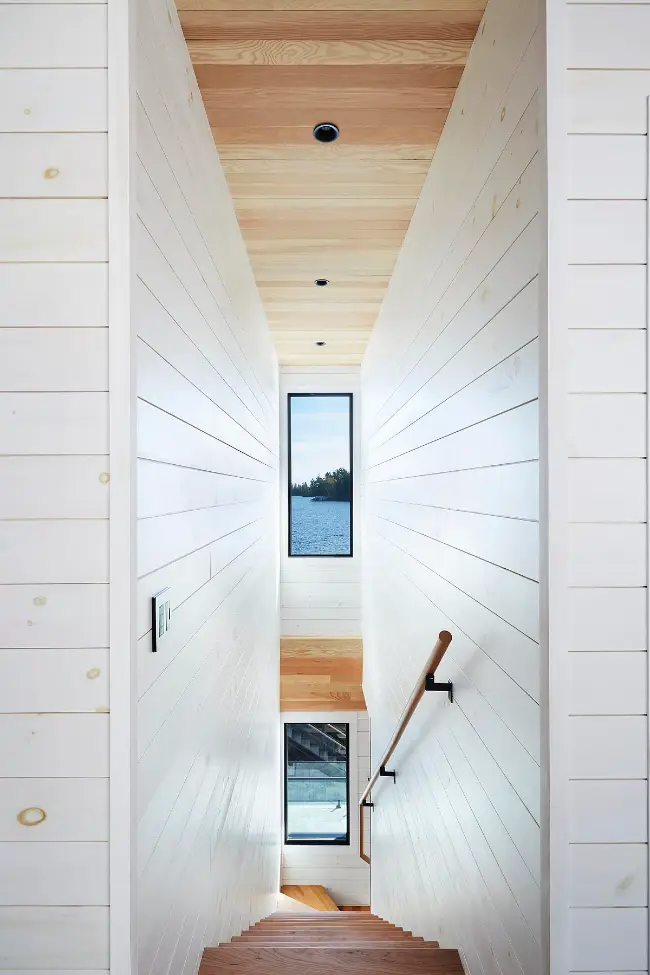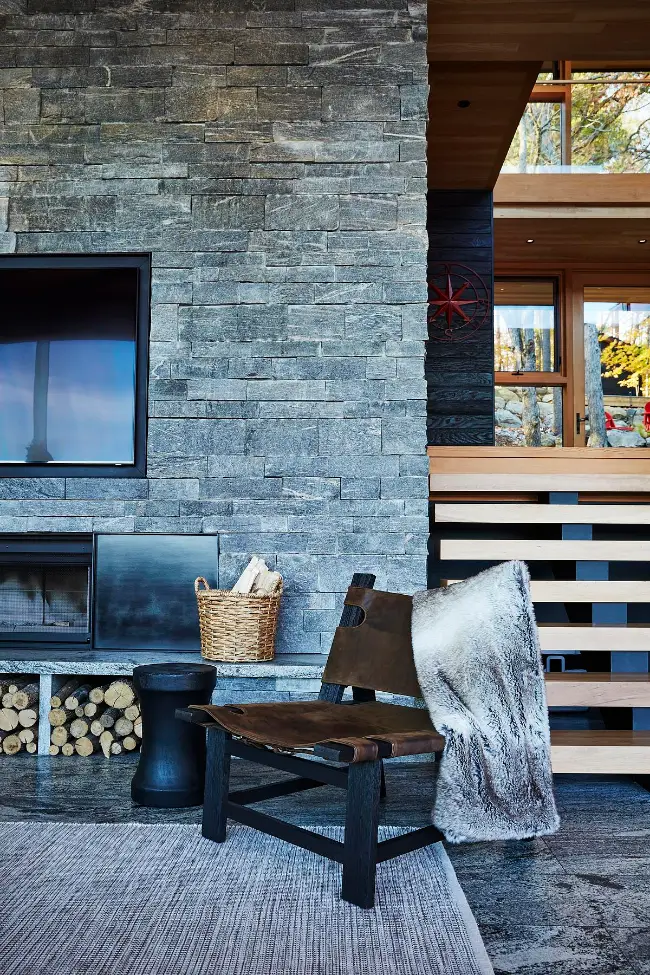 A central corridor divides the master suite on the east from the children's and guest bedrooms on the west. The master suite boasts a spacious ensuite bathroom and a private balcony, while all bedrooms enjoy unmatched lake vistas.
Adaptable Spaces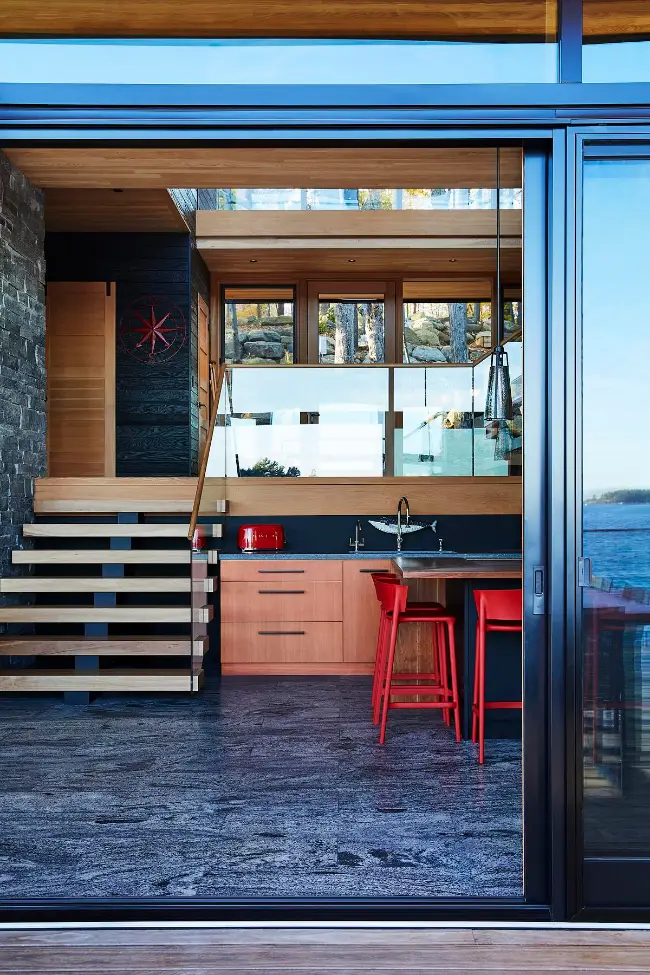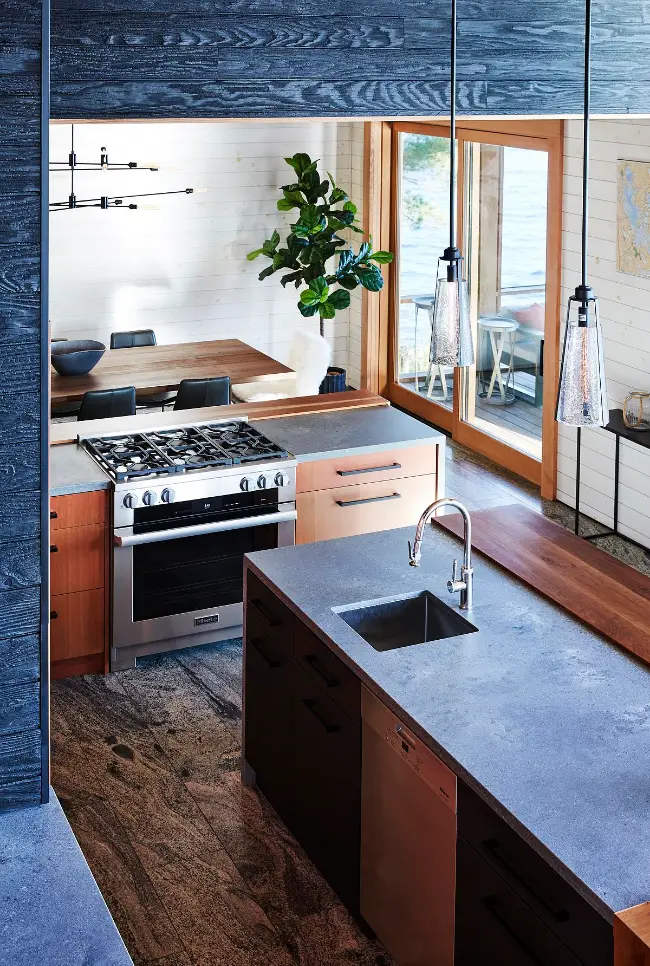 Connected by an open breezeway and linked to the upper level via a narrow staircase, the main floor includes custom bunk beds and dedicated entertaining space. This design enables teenagers to have their own area while maintaining privacy for adults.
Sustainable and Eco-conscious
Harmonizing with Nature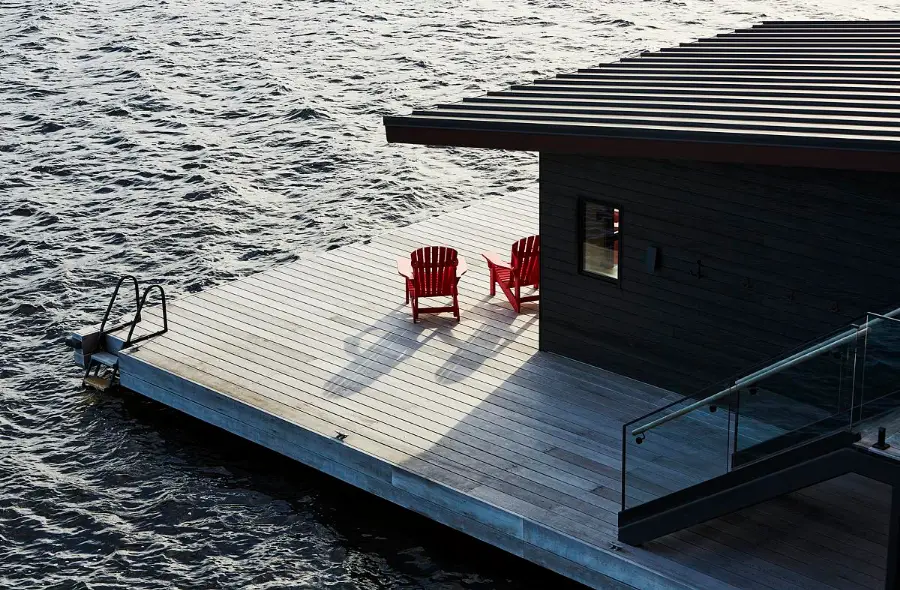 Functioning year-round and equipped with advanced mechanical systems for potential solar power, Scarcliffe Cottage achieves a harmonious balance between a traditional cottage and a potential year-round abode.
Navigating Challenges and Solutions
Architectural Innovations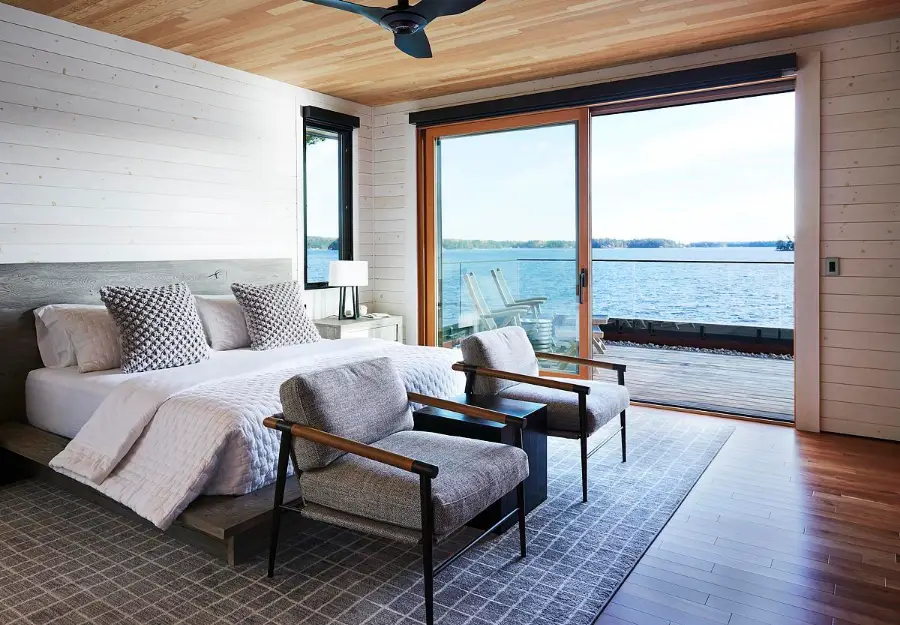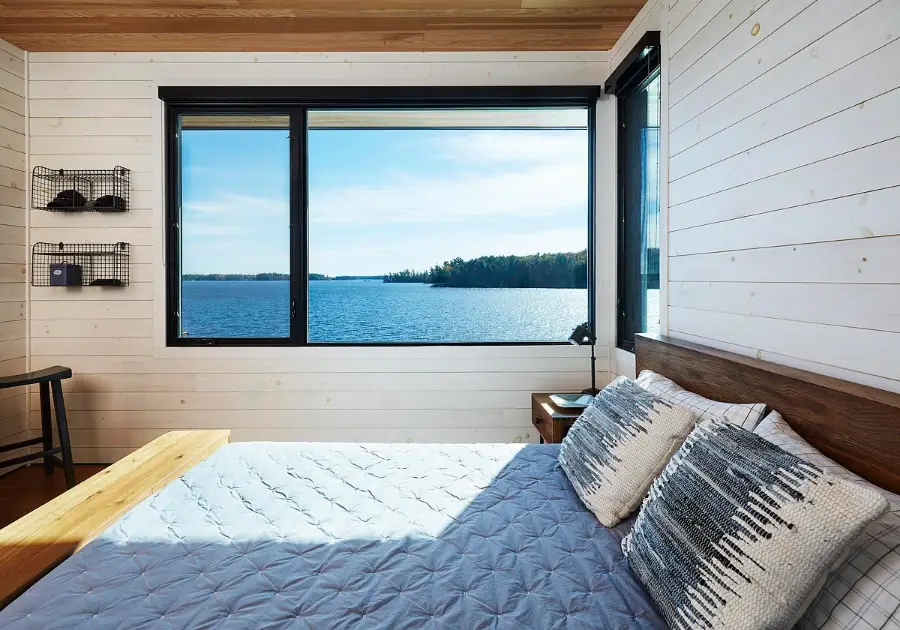 Altius Architects were tasked with the intricate challenge of modernizing the existing cottage's dimensional framework and minimizing the impact of a sizable five-bedroom waterfront structure, subject to Zoning Amendment approval.
Innovative Boathouse Design
The boathouse design presented a novel approach. Altius aimed for the boathouse to harmonize with the cottage's architecture by emerging from the water.
Crafting Solutions
Cottage Transformation
The design team initiated the transformation by projecting the first-story living area forward and elevating the two-story bedroom section up the hill. This creative split-level plan boasts cascading flat roofs, blending seamlessly with the hillside and water.
Camouflaging Elegance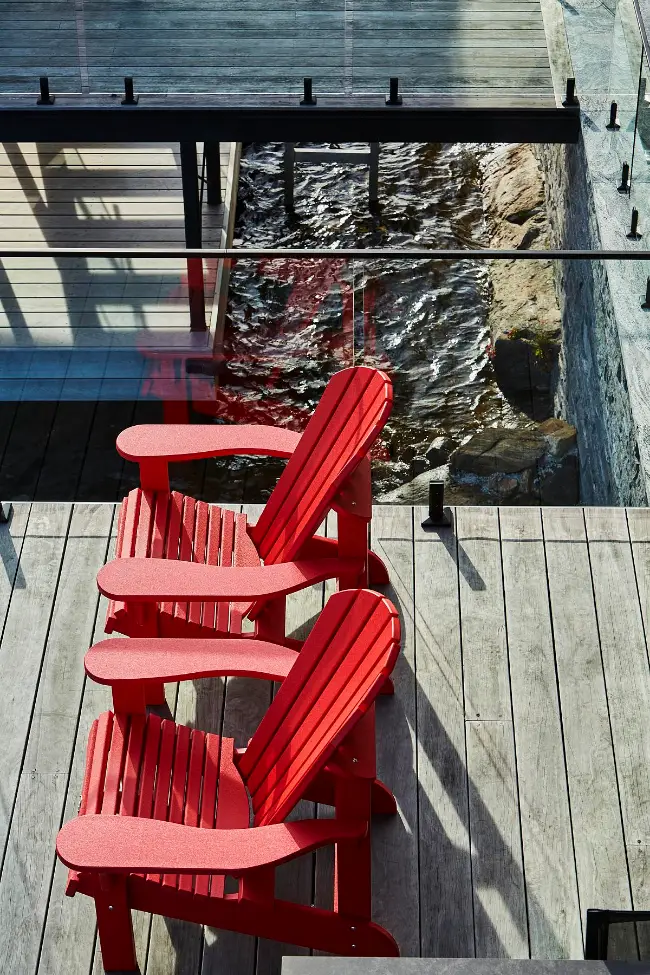 The cottage harmonizes with nature through terraced granite foundations and a combination of Shou Sugi Ban burnt wood siding and wine-red phenolic paneling. The color combination allows the cottage to blend unobtrusively with the lush surroundings.
Inventive Boathouse Approach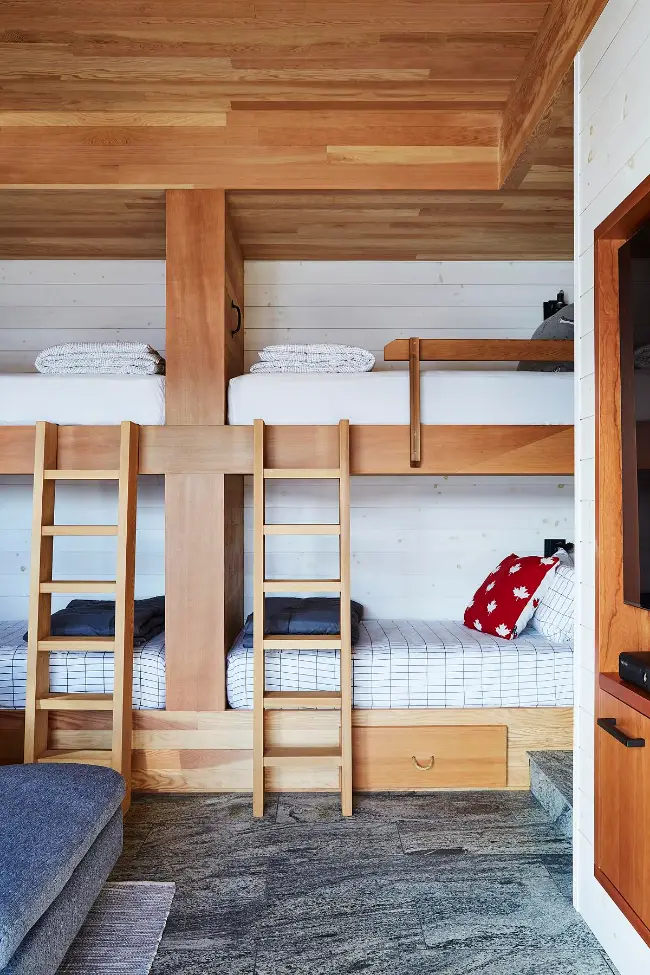 Altius ingeniously designed a sloping roofline that accommodates a boat lift and ski tower, ensuring the boathouse integrates seamlessly with the shoreline. A unique drive-through boat slip and a pedestrian bridge provide easy access, while the boat house doubles as storage for water sports gear.
Embracing Nature Inside
Visual Continuity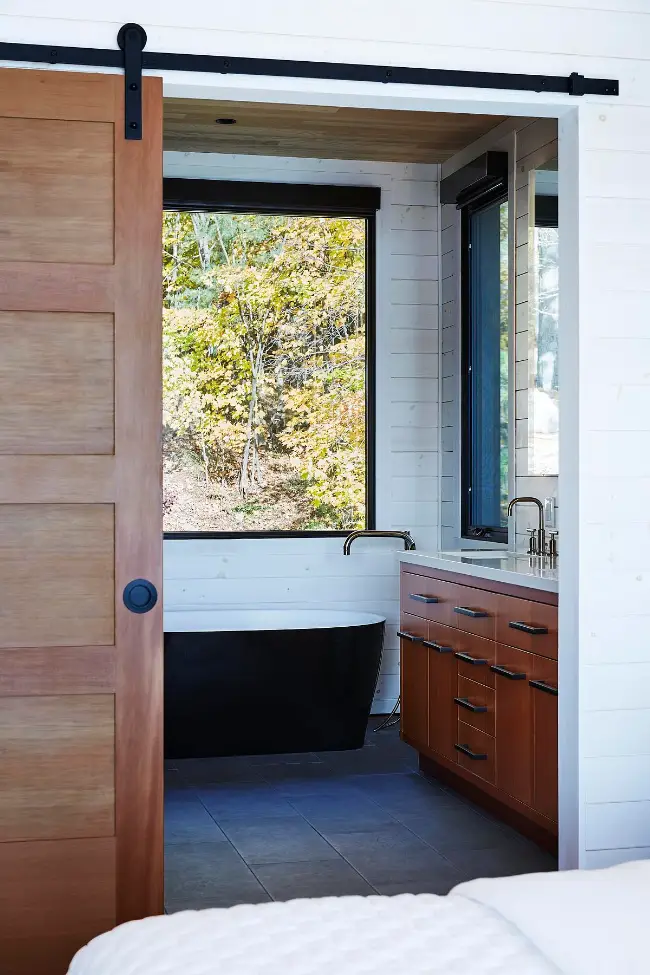 Materials harmonize the interior and exterior, fostering visual unity. Burnt black siding and granite find their way indoors alongside raw Douglas fir and locally sourced stained white pine siding.
The Scarcliffe Cottage transformation by Altius Architects reflects a seamless blend of modernization and ecological sensitivity. Through innovative designs and meticulous execution, a unique haven has emerged, embracing nature's beauty while enhancing the quality of lakeside living.
Photos by Naiomi Finlay
Project by Altius