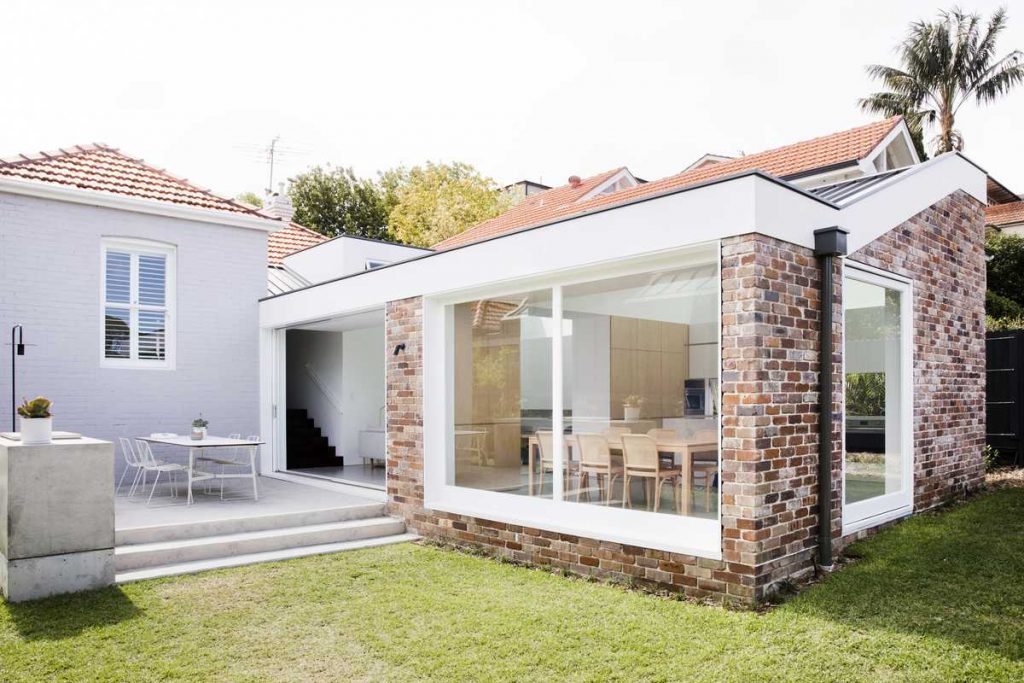 Recycled brick extension to a 1920s cottage by Studio Prineas
---
A recycled brick extension to a 1920s cottage brings lots of light into the previously dark home. The existing interior of the house had very little light. Also, the living spaces and garden, half a level below were separate. Dynamic shifts in the ceiling plane created loft living, kitchen & dining spaces that forge a strong connection with the house's previously detached garden.
Original structure
The architects maintained the original cottage and demolished an inferior add-on. They also have designed a new addition to capture natural light. One of the main goals was to reduce the overshadowing of the garden as well as its neighbor to the south. The addition has two defined spaces for living and cooking/eating. A change in level between the original and new enables a level connection to the garden. In turn, by lowering the new work and maintaining the roof line, dramatic internal volumes are created – their height emphasized by a new north-facing skylight along the full width of the addition, bathing the space in light throughout the day.
Recycled brick extension
The new addition connects the existing cottage to its garden, creating a spatially rich interior. The artificial lighting scheme works together in tandem with the daylighting strategy. At night, LED lights concealed in the joinery wash the raking wall and ceiling. Elsewhere, the play of light on surfaces informs material choices. Textures of white in the painted recycled brick and grooved joinery create a dynamic and tactile quality alongside the stone and Pandomo floor.
This palette of white and grey is juxtaposed by the raw warmth of the veneer joinery. You can see the details of brass through the lighting selection, and they are subtle but luxe tonal references to the timber hues. The design inventively and poetically solves the project's twin challenges – connection to the garden and introduction of natural light – by creating a spatially rich and memorable interior. It also allows the interior to borrow both space and color from its surrounds to enhance the interior experience.
Project by Studio Prineas
Photos by Chris Warnes