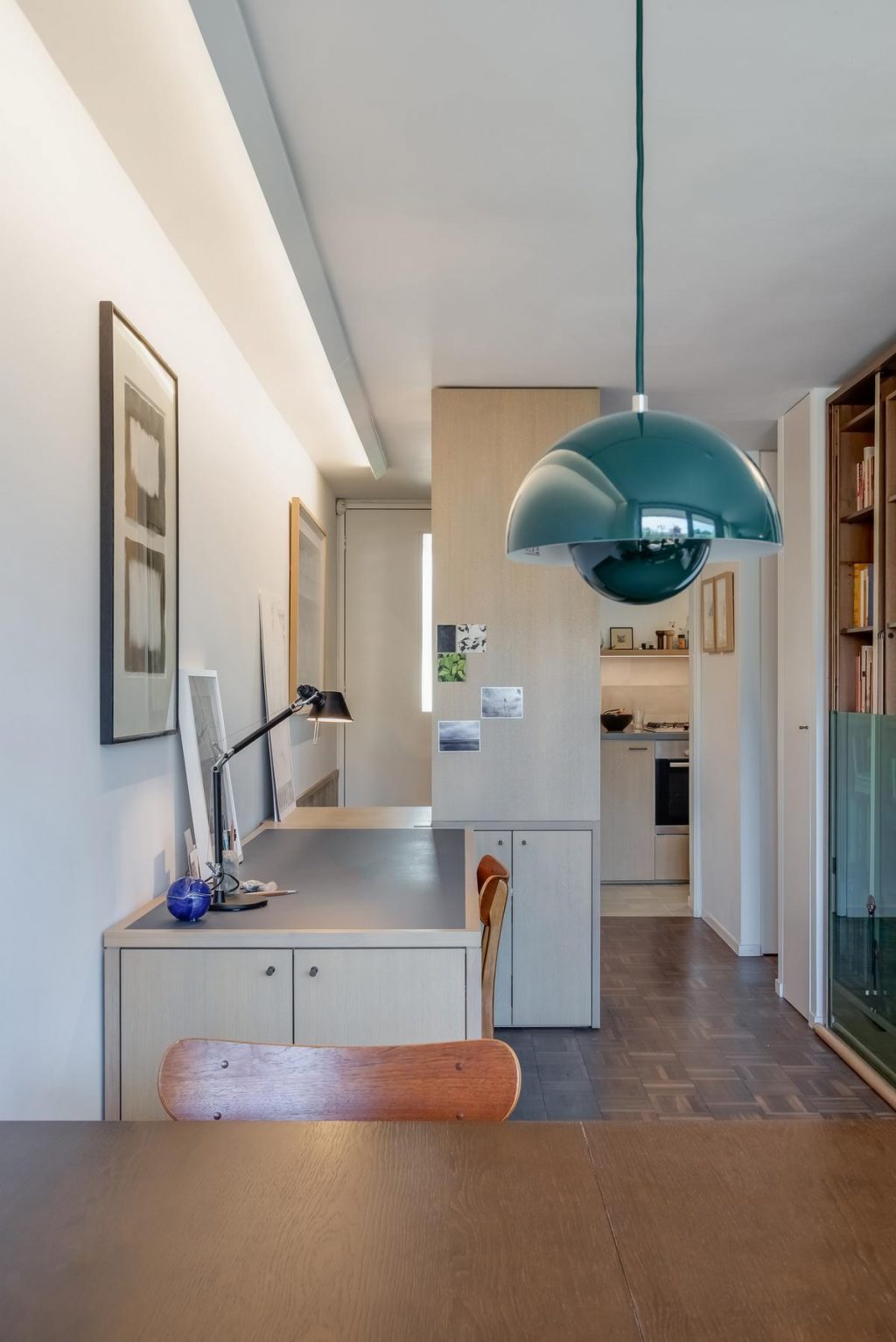 Refurbishment of a Small Apartment by Patalab Architecture
---
The sense of space, enhanced connectivity, and an understated material palette turn this sensitively refurbished small one-bedroom Whittington Estate Apartment into a spatial sanctuary and a carefully crafted place that feels much bigger than it physically is.
Situated to the East of Hampstead Heath in the Whittington Estate, the flat was designed in the 1970s by the architect Peter Tabori during the Camden Council's 'golden age' of progressive housing development. The estate is best known for its low-rise stepped profile which was inspired by the local topography, transforming the site's slope into a design cue and creating a cascade of terraces that allows every apartment to have its own outdoor space as well as a front door along the pedestrianized street.
A further defining feature of the Estate is the angular concrete divider that laterally separates each terrace. These concrete fins are the construction's principal load-bearing elements that perform two important roles: externally they emphasize the width of each apartment giving the low-rise estate a more domestic and intimate scale than is usually associated with estate housing, and internally they provide each flat with flexibility in general arrangement. Many of the apartments, including this one, have been adapted from the original layout thanks to these party walls.
Entering from the North of this apartment one now enjoys a view through the entire flat onto the original timber floor to ceiling sliding window doors that lead to the south-facing balcony. The perceived length of this vista is strengthened by a continuous light fitting illuminating the cross-wall that connects the entrance, study, and living area. The living room has also been increased and now spans the full width of the apartment and accommodating areas for dining and seating. This arrangement of bright living space is enabled by locating private spaces in the center of the plan with internal windows to allow natural light to penetrate through to the bedroom and bathroom.
Bespoke built-in furniture pieces structure the layout, balancing openness and enclosure as well as providing ample storage. Our design echoes original features such as full height doors and floor to ceiling height timber cladding whilst new joineries, such as wardrobe and bookcases, also reinforce this vertical emphasis and generate a sense of greater ceiling heights than is available.
The new material palette has been kept simple and restrained to emphasize the spatial flow within the flat. White plastered walls and ceilings are set against a dark oak mosaic floor. Built-furniture and kitchen cabinets are finished in white washed oak whilst grey cement tiles have been used in the bathroom and kitchen for both floors and walls. Furnished with a mix of modern and mid-century furniture, this refurbished 1970's apartment continues the spirit of Talbot's original design and sensitively integrates the contemporary interventions.
Photography by Jan Piotrowicz
Project by Patalab Architecture