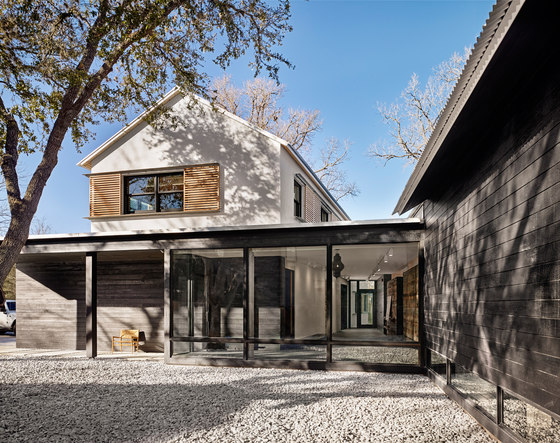 Relaxed Modern Austin Home
---
Aamodt / Plumb was commissioned to design a home for a young family on a beautiful site on Lake Austin with only one catch: an incredibly compressed 12-month schedule. "12 months is extremely fast!" notes Aamodt. "Twelve months made us realize that we had to think very differently about how to do this project. What we did was to redesign the process of building a house."
The architects built a complete Building Information Model (BIM) of the home in Revit before any construction happened. Then, to meet the tight schedule the young architects employed fast-tracking techniques typically used on large-scale projects and adapted them to the residential context where tolerances are much more demanding. They worked with Bensonwood, a high-tech sustainable timber company, to manufacture panelized sections of the house in their factory off-site. At the same time, all of the site-work and foundation work was performed on-site by Austin's high-performance builder Risinger Homes. This significantly reduced the amount of time to construct the building envelope. Matt Risinger of Risinger homes commented: "We were able to frame the house in just two weeks. That's pretty incredible for a 6,000 square foot custom home." The factory fabrication also meant that the envelope of the house fit together so well that the house was approaching passive energy standards with no additional measures. The architects were left with an air-tight envelope and fully complete site-work in the same amount of time that a normal house might have had only the site-work or foundations completed.
The house itself has an airy, relaxed feel that matches perfectly with the relaxed Austin vibe. Spaces blend with one another and views outside and to the lake beyond bring nature into the house. The house is divided into two wings: a private wing for the family to sleep and work in, and a public wing for dining, entertaining, and recreation. The split massing of the house allowed the architects to preserve all of the trees on the site and the house nestles around a mature live oak tree which adds to a sense of privacy and connection to nature.
On the exterior of the house, the high performance timber panels are clad in Shou Sugi Ban charred Cyprus, an ancient Japanese method of preserving wood by charring and cooling the wood.
The black finish of the charred Cyprus is offset by a lightweight white steel roof that efficiently reflects the rays of the Texas sun away from the house keeping it cool during the summer months.
Design team | Aamodt / Plumb Architects
Construction | Risinger Homes
Fabricator | Bensonwood
Area | 6 000 sq ft
Repost from Architonic
Via Dezeen