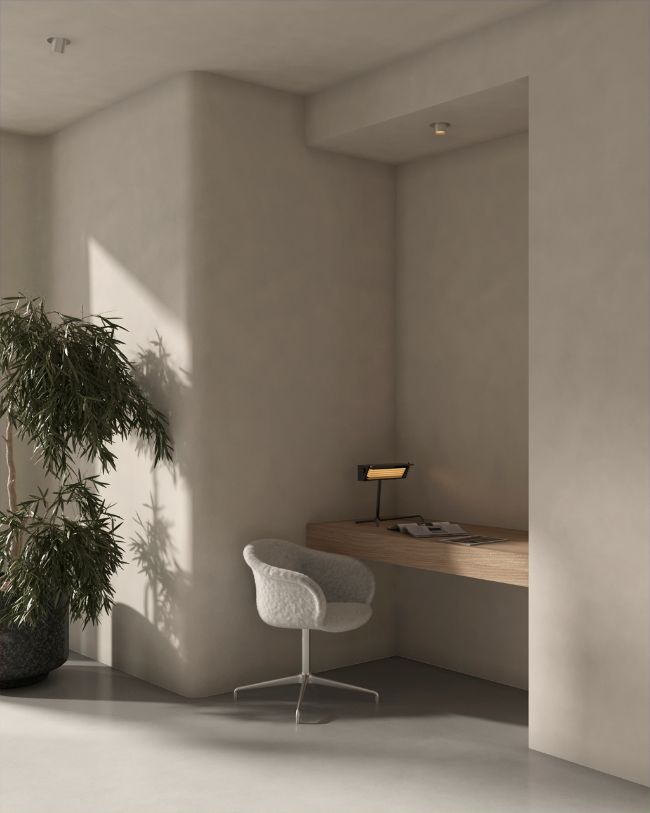 RYB Apartment by Men Bureau
---
The apartments are located in the Rybalsky residential complex in the Podol district of Kyiv. Since the apartment is located above the commercial area, Men Burreau architects had the opportunity to use the space more variably. They divided the entire space into two blocks – a private part (which includes a children's room and a master bedroom with a bathroom) and a public (which includes a spacious kitchen-living room, a bathroom, and a workplace).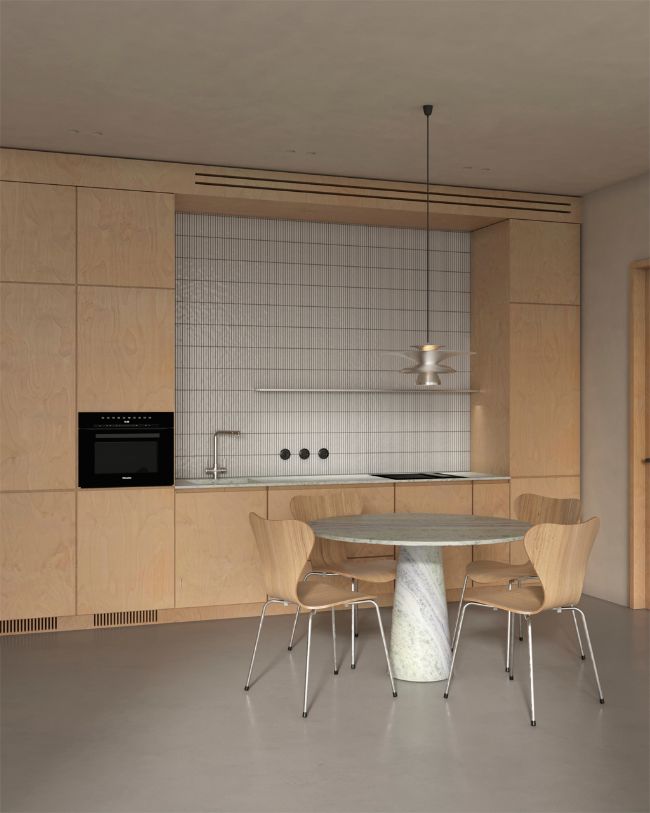 The team designed this place to accommodate the needs and emotions of the user, becoming the environment for various scenarios of everyday life. They connected all the main rooms compositionally due to materials and textures.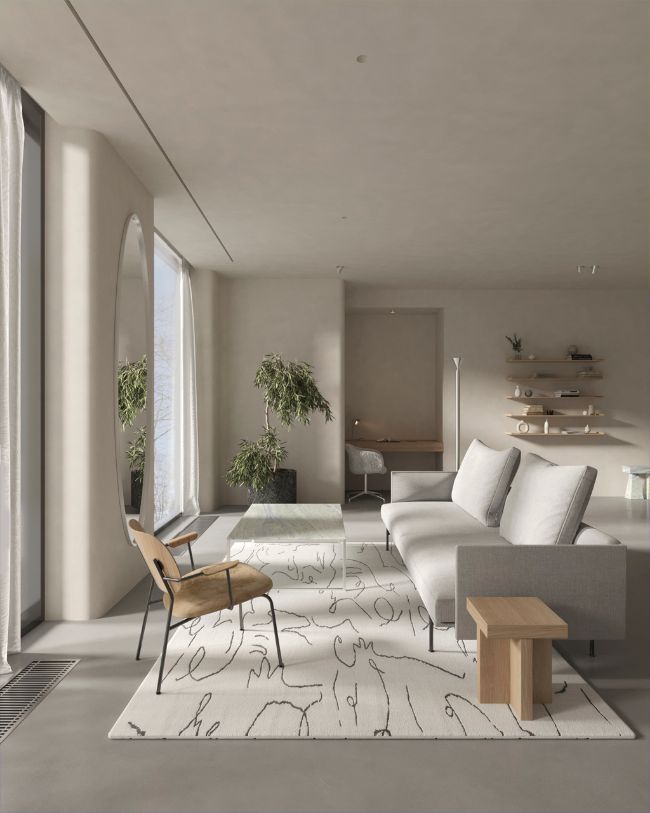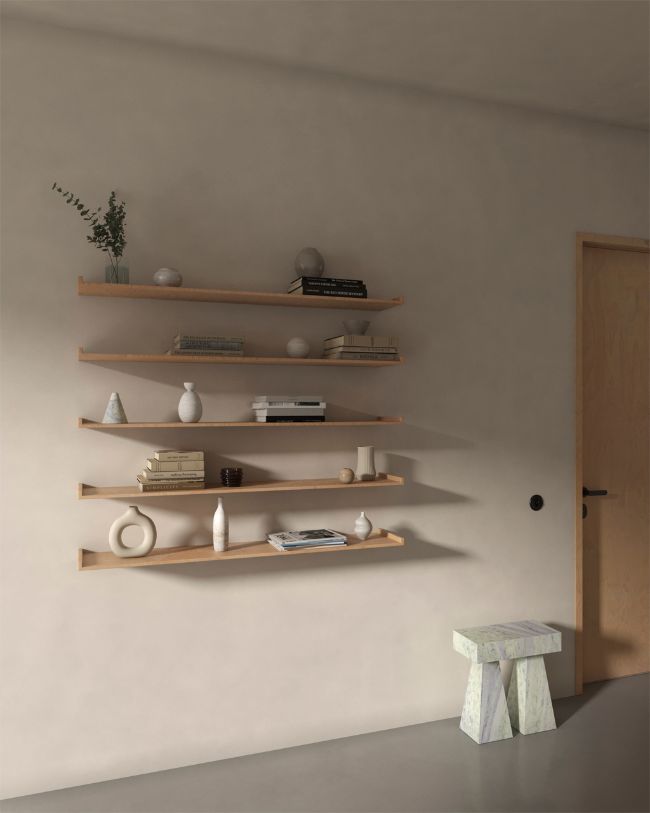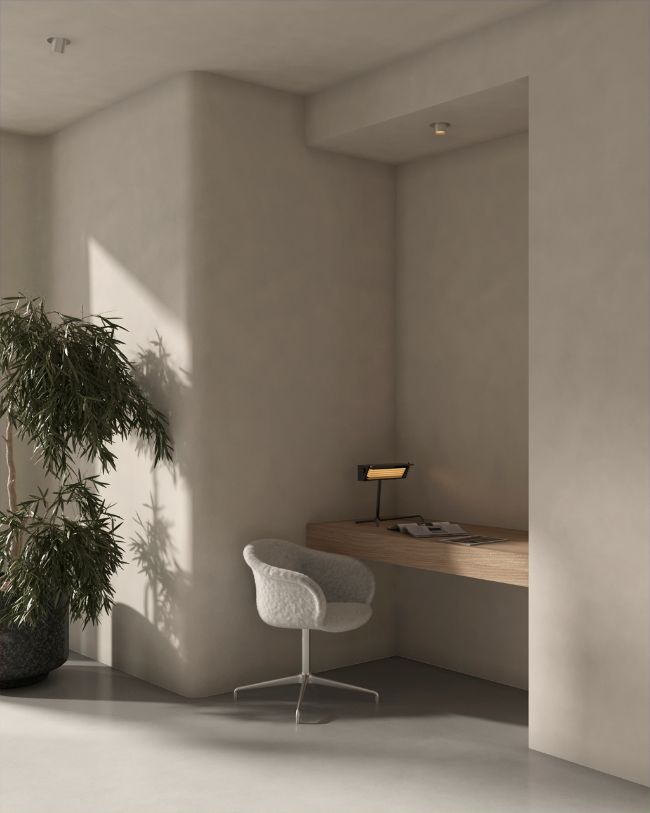 The designers were commissioned to design a place offering a peaceful haven for the owner and his family to retreat from their cosmopolitan lifestyle. The main goal was to create a clean, minimal but informal atmosphere based on natural materials.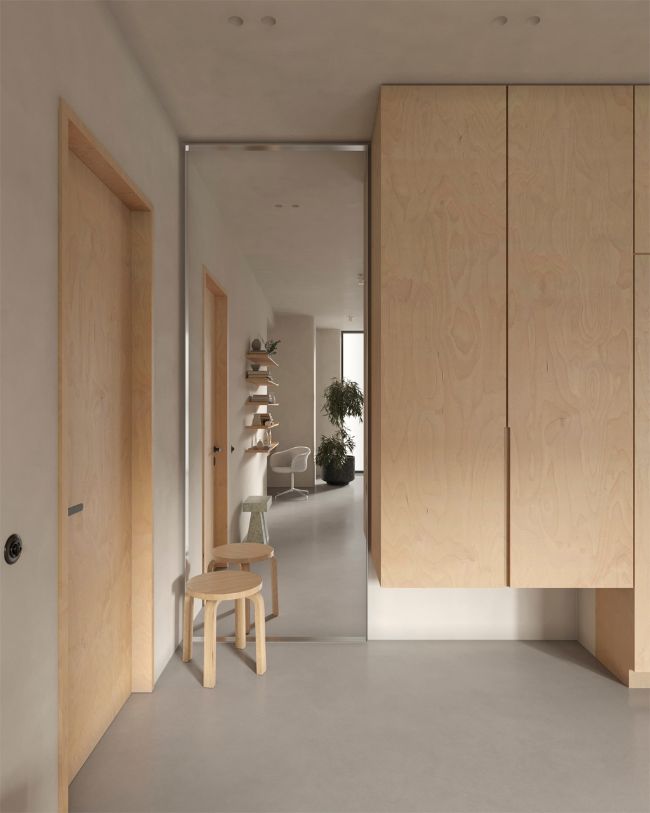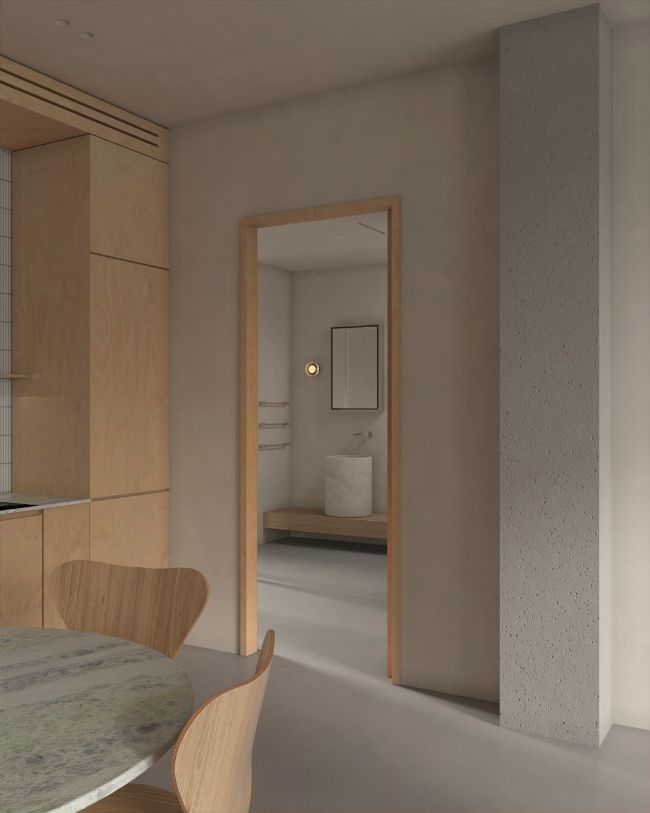 To achieve flexibility and avoid unnecessary division of this already compact apartment, the designers almost completely removed the partitions, creating an open-plan layout with one central module defining the main living space. This module consists of a functional kitchen set, a dining area, a compact workplace, and a spacious living room—a feature allowing the space to have several functions without any unnecessary clutter.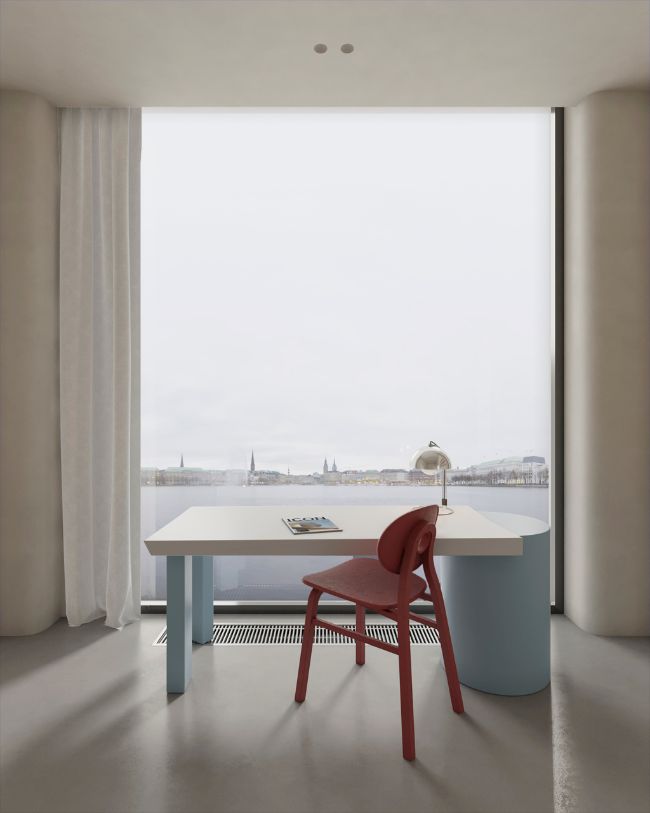 All rooms except the children's room are directed to courtyards with lots of greenery. A picturesque view of the Dnieper opens from the children's room. Soon after entering the university, this room will become a meditation place for parents. In this room, the team positioned the workplace in such a way that natural light contributes to comfortable work.
To visually connect the premises into one whole, the architects used a single palette of materials – birch plywood, micro cement, Japanese KitKat tiles, and Caribbean Calcite marble. The designers created a laconic background for furniture and light elements with their help. They balanced the cool tones of micro-cement in all rooms with the warm textures of plaster and wood.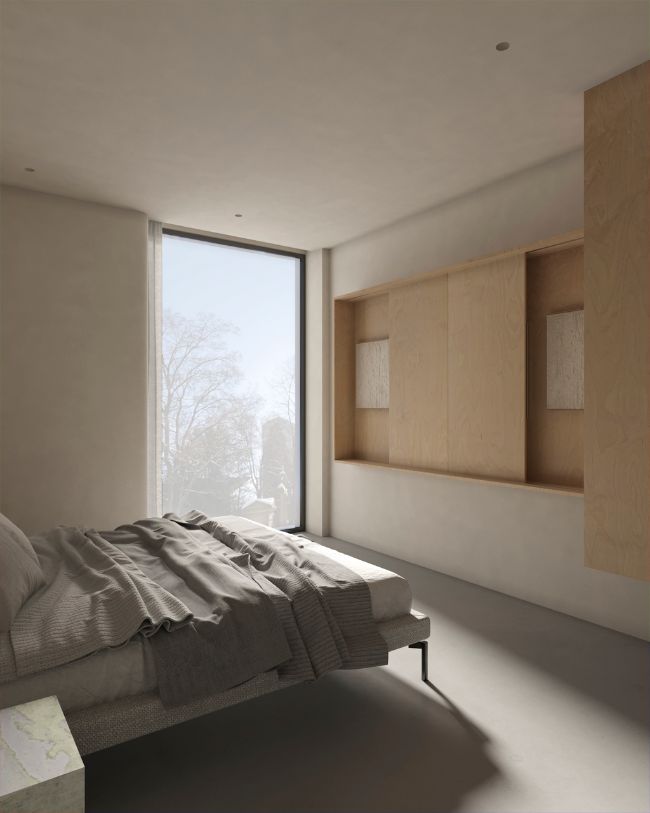 A combination of famous pieces of furniture such as Fritz Hansen dining chairs, Co armchairs by Norm Architects, and Apollo 180 floor lamp by Pholc are easy to match with custom-designed by our bureau furniture. The architectural character of the interior is further emphasized and enhanced by the poignant sunlight. A consistent composition based on a palette of natural materials creates a modest living environment, lavishly enlivened by changing natural light.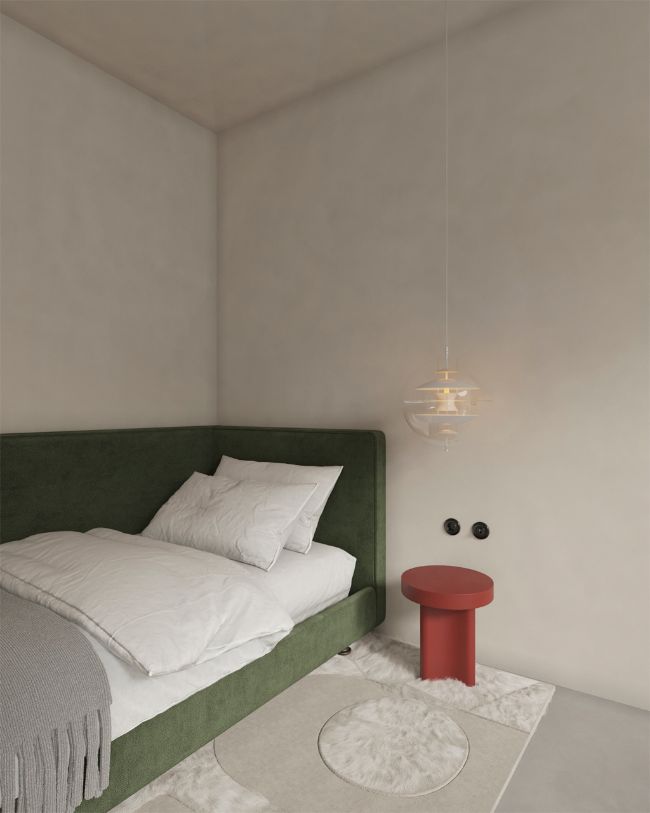 One of the main changes implemented within the project was the unification of three bathrooms into two more spacious ones and demolishing unnecessary partitions. This space recognition has increased the natural light entering the main living space. The designers used glass partitions to keep out the natural light that fills the bedroom.
The bathroom, sober and monochromatic, is enhanced by the japan KitKat mosaic tiles. The use of shades of gray contributes to the soothing atmosphere of the place. The new layout is adapted to the modern lifestyle.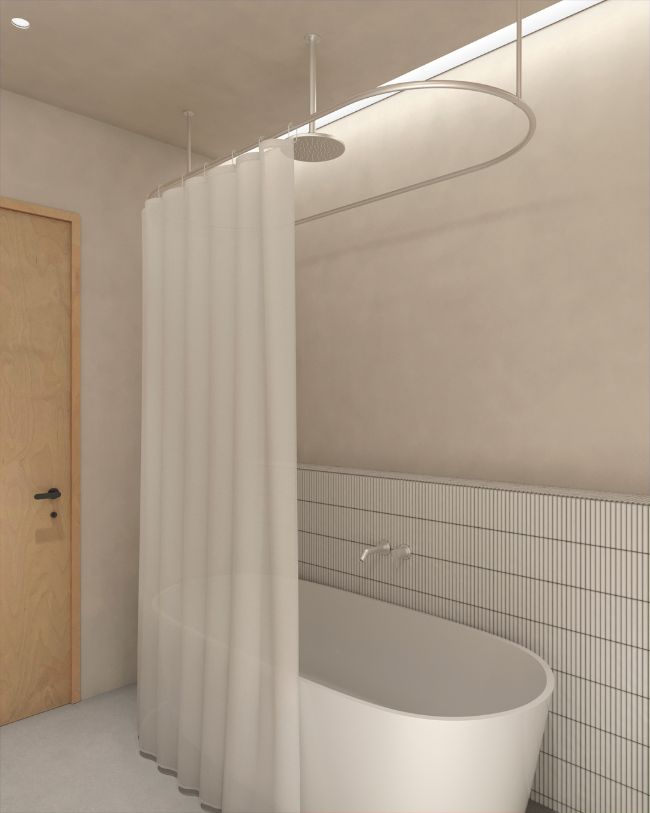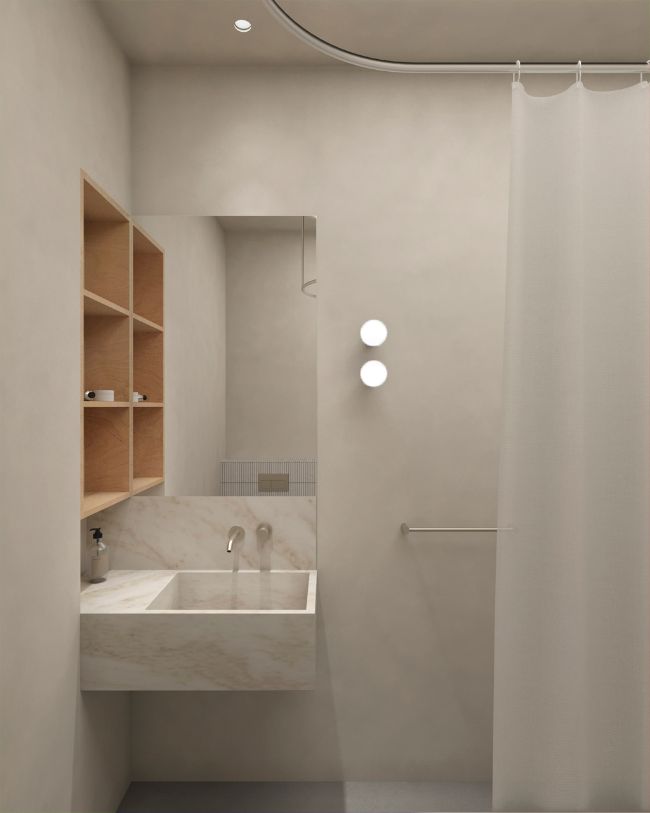 Project by Men Burreau