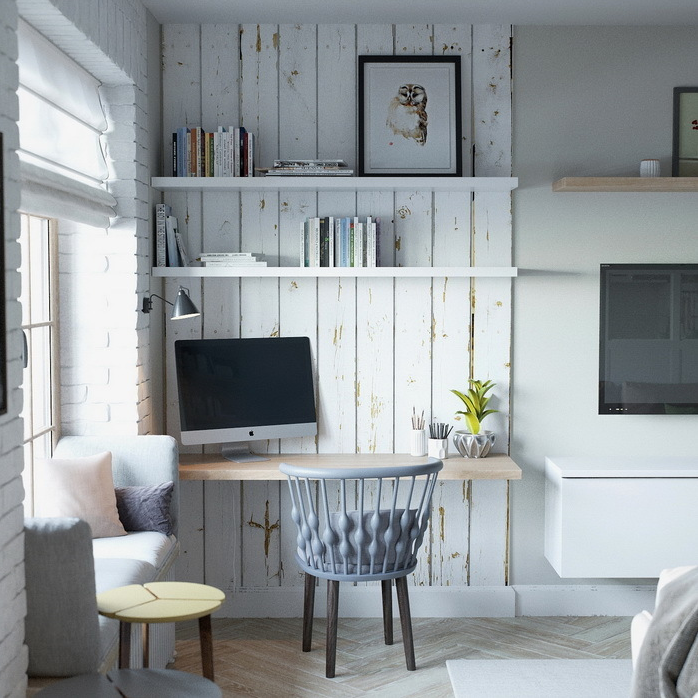 Stylish Apartment Redesign in Minsk
---
Inconvenient layout can create a lot of problems even with a decent spaced apartment. To make the space seem cozy and functional, the architect has combined kitchen with living area and put up a glass partition wall to isolate rooms a bit. The elongated rectangular bedroom has a space for a wardrobe, while still adding storage space to a headboard. The project was to design an apartment for a young couple, who travel a lot and are crazy about the Nordic countries. Their enthusiasm and determined style of the interior: it was necessary to fill the room with light and a homely atmosphere.
"Redesign was really needed. The living room was very small (just 15.4 square meter), and the kitchen was really dark, since the role of the window served as the balcony door. Initially, we dismantled the wall between the kitchen and living room and built a partition with glass "windows" instead. We also increased the window opening by lowering the sill. You can say that killed two birds with one stone: and now you get more ligh and a wide windowsill can be used as a sitting place"- says the designer  Evgenya Likasova. The main decoration in the interior – paintings and drawings, which owners have a plenty. A lot of space was used for these exhibitions: on the shelves of the living room, and the walls in the bedroom.
"The interior of this apartment – it is an internal reflection of lifestyle and aspirations of customers. Their love for the Scandinavian countries, the simplicity and coziness played a major role in choosing the color palette and finishes. The principal features of the Scandinavian style have become the natural materials, bright colors, simple concise form. All of these techniques I used to work on the project,"- says Eugene.
Location | Minsk
Bedrooms | 2
WC | 2
Total area | 68.4 square meters
Via inmyroom.ru