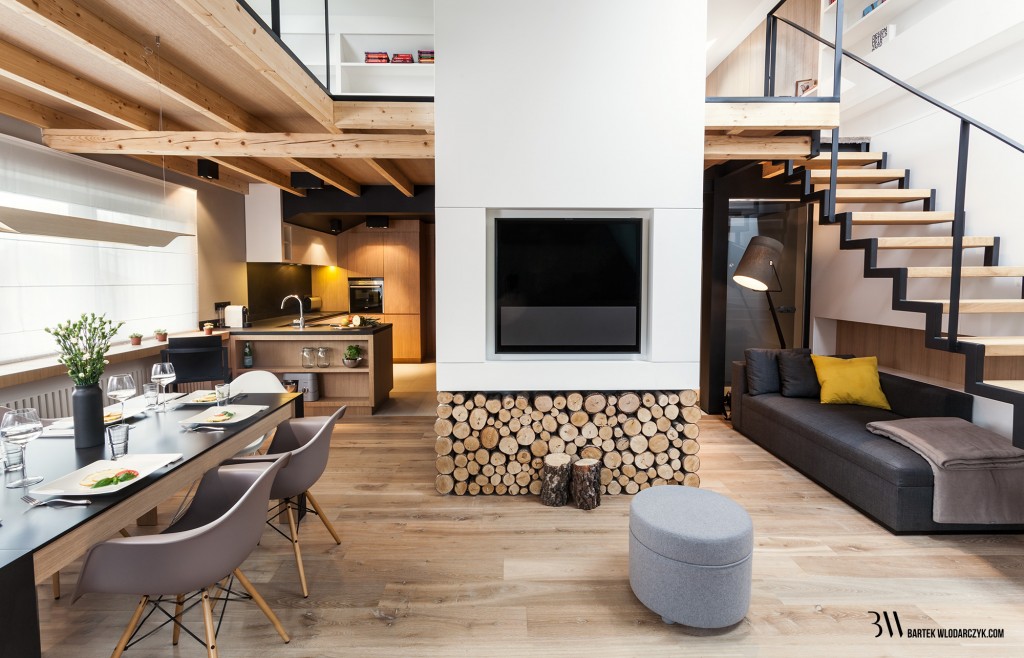 Tatra Lodge Apartment by Bartek Wlodarczyk
---
Bartek Wlodarczyk studio team of professional designers and architects with years of experience create a complex interior design and architecture projects in private and public investments. The diversity of realised concepts gives a broad spectrum of possibilities in the field by showing applied solutions through materials, original ideas and unique designs with charm.
Using the wealth of experience, this design studio offer services on a global level. Their work is guided by the idea of ​​creating a finished product, which perfectly corresponds to the expectations of practical and aesthetic tastes of customers, while also managing to create a consistent form and unique character. The team proposes specific solutions, which are guided by respect for the investor's budget, accurate planning and rational distribution of resources for implementation. 
The apartment featured in this post is the one on the top floor of a building in Zakopane. The studio intended to refer a lot to local architectural traditions, which is why there is so many local materials as well as works used by local artists. The whole interior design is a modern, contemporary mix of a traditional highlander style. The main palette is dominated by three colors – white, beige and gray, and natural additions of stone and wood. The colours overall are very muted and soothing, and windows of the apartment offer a beautiful view of the Tatra mountains.