The Best Seats In The House Choosing The Perfect Chairs For Every Room
---
When you're shopping for chairs for your home, you'll want to choose pieces that reflect your personal taste and are also durable enough to last for years. Chairs and barstools are an important feature of any room, and depending on what you're looking for, they can boost comfort, increase your productivity, or just offer great style.
With different rooms having different styles, finding the right chair design for each space is equally important. If you're redesigning your entire home or just looking for a couple of new pieces, it's important to set away some time so you can do the proper research. This article will cover which rooms in your home benefit from statement pieces, subtle looks, or touches of glamour. It will also outline specific examples to get you started on your plans.
Keep reading to gather inspiration and to find the best chairs for your home.
Pull Up A Chair In The Living Room
The living room is where statement pieces shine. You have your couch for lounging and your coffee table to hold all your snacks, but it's the accent chairs that really complete the whole design.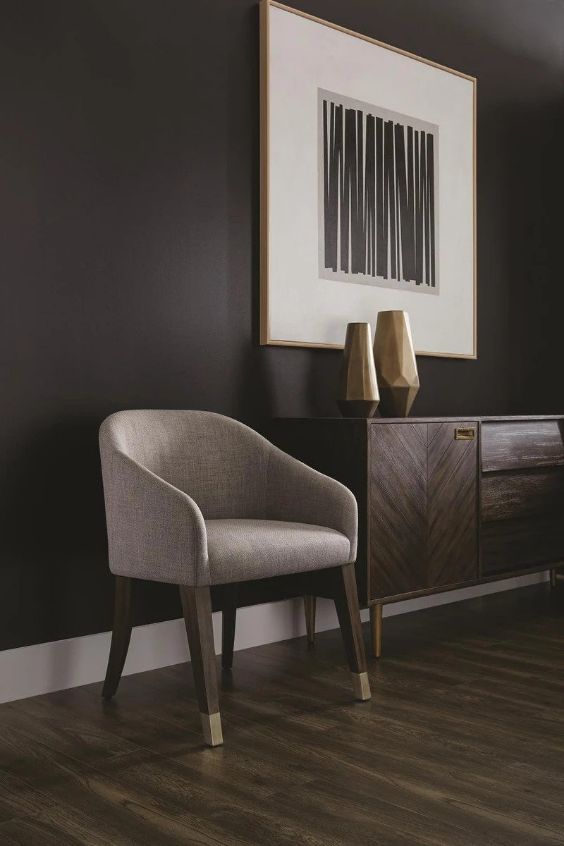 The Teodoro Accent Chair features a curved silhouette with flared armrests, adding a touch of sophistication to any space. With its soft, velvet fabric, you can relax comfortably and easily let your day melt away. The stainless steel structure keeps the chair durable and resilient, while the natural Acacia wooden legs with antique brass foot caps offer an added touch of flair.
If you're looking for something that really pops, look no further than the Quiberon Accent Chair. With its sturdy stainless steel frame and leather upholstery, this chair offers luxury and longevity. A rolled top cushion provides ample neck support, making it the perfect place for a quick nap. The cushion material is top-grain leather with an antique red finish for that dramatic look. If you're in the market for something a bit rustic and refined, the Bouillon Accent Chair offers style and comfort with solid rubberwood legs and a barrel back for easy relaxation. It's available in arena cement or navy-colored fabric and has solid rubberwood legs in a smoked acacia wood finish.
Fine Dining
More recently, the dining room has doubled as a home office for many folks. As more and more offices think about transitioning into a hybrid work schedule, this setup is most likely going to remain in the future. That's why it's more important than ever to have elegant dining chairs that match your style, but also maximize your comfort.
Displaying both sophistication and glamour, the Aries Pleated Velvet Dining Chair is a showstopper. Available in several colors, this fabulous dining chair has gold stainless steel legs and a matching handle on the back. With durable yet sumptuous velvet upholstery, it adds a glamorous touch to any room and will have your family and friends doing a double take!
The Lazio Side Chair is a great addition to your dining space. It has a romanticism to its aesthetic and is nothing short of sheer elegance. Not only will it give your home that certain "je ne sais quoi," this chair is durable and sustainable. As a natural raw material, rattan grows very quickly and is usually harvested by hand by local farmers — the most eco-friendly way. Rattan's durability compares to no other, and it's nearly impossible to wear out, lasting for generations to come.
Looking for something that's unique yet subtle? The Sussex Velvet Dining Chair has luxurious velvet upholstery with eye-catching antenna-shaped legs in beautiful, elegant gold. Not only is it versatile, but it also makes for a great conversation piece with a healthy dash of flair. It has a stainless steel frame for comfort and reliability, and Poly Velvet fabric which is a luxuriously soft textile that can be wiped with a dry cloth for quick cleaning.
Sit Pretty In the Kitchen
The kitchen is the heart of the home and it's where we gather with friends and family to create great meals and connect with one another. It can also be a place where we settle in to catch up on some extra work, with the island or bar functioning as a makeshift desk. No matter how you use the space, one thing is for certain; having a great set of chairs or bar stools is a must.
The Rhinebeck Barstool is anything but basic and is a sleek addition to any room that needs that touch of chic sophistication. The gold, stainless steel frame is reliable and strong and the padded seat provides ultimate comfort. This stool works well in any modern or contemporary space, and can easily be wiped clean with a cloth if there are accidental spills.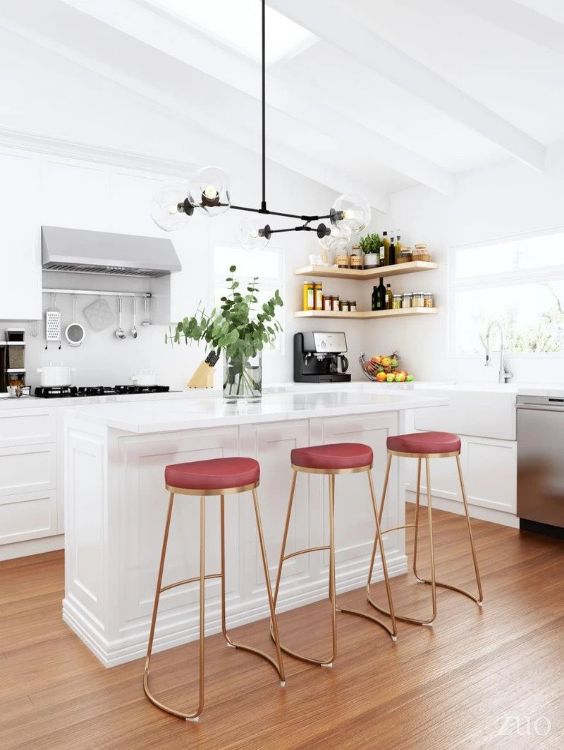 A more classic take on the barstool, the Halma Barstool brings a stylish addition to your kitchen or bar area. Its tufting on the faux leather seat is accented by a rustic bronze frame, making it great for both residential and commercial spaces. If you gravitate more toward a mid-century aesthetic, the Hull Bar Chair is what will make your kitchen shine. Featuring a white molded seat and back with a chrome base, this sleek design is a subtle enhancement to your kitchen.
Update Your Chair Flair
When it comes to your home decor, chairs offer so much more than just a place to sit. They can be a statement piece that influences how you choose to design the rest of your room or a muted accent that adds a touch of sophistication.
While style is important, it's also crucial to take into consideration your logistical needs and requirements to ensure you're making the right choices. Especially when you consider that you or some people in the family might continue working from home or doing school work from home, comfort and functionality could take precedence over aesthetics. Think of these pieces as investments toward your future, adding style, tranquility, and practicality to your space for years to come.
From the living room to the kitchen, great chairs can truly add to the appeal of your living spaces. Be sure to visit Furniture.ca to keep exploring and find the best chairs that complement your style.