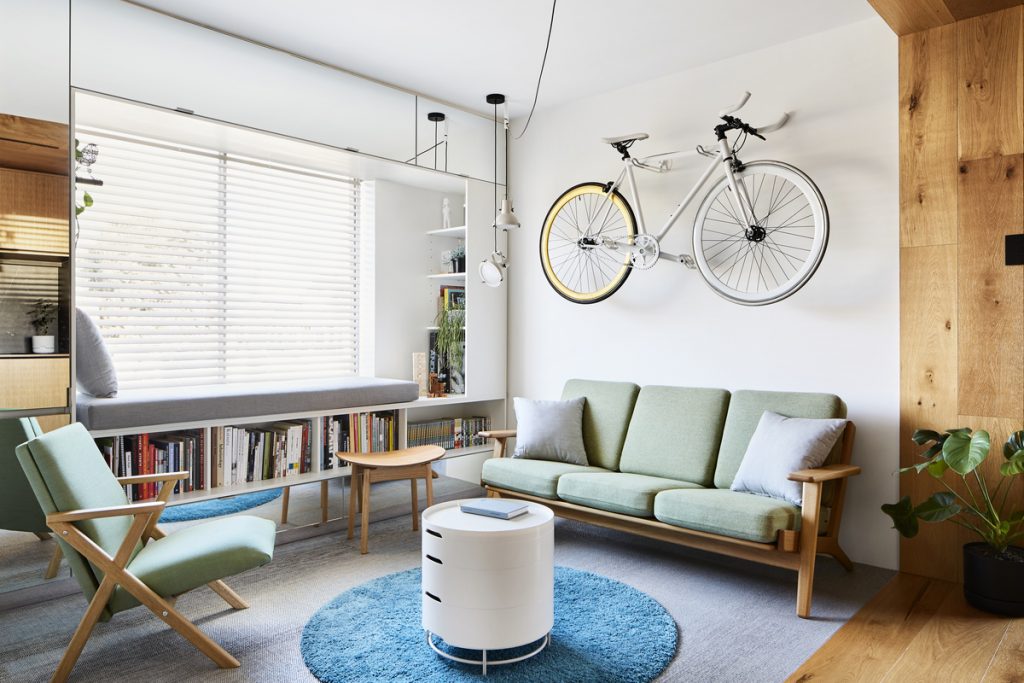 Tiny Studio Apartment Renovation By Tsai Design
---
Tsai design studio has completed a renovation project, by converting and revitalizing a 1970s 35m2 one bedroom flat into a an excellent modern studio apartment. The design is in support of the tiny house movement. It questions the modern-day lifestyle of living in excess and the modern throw-away culture and hyper-consumerism.
The existing site is a 1-bedroom apartment, one of the 12 units in a 1970s walk-up apartment. With a current 2.4m high ceiling, no working kitchen, an awkward layout, with a bathroom being the only space with north-facing window, and no outdoor area.
The design objective was to bring life back to neglected housing stock. Working within the constraints of the existing layout of structure and services to create a flexible, generous living/office needs of the architect occupier.
The design solution was a direct response to the limitation of the apartment. The designers added an internal window between bathroom and kitchen which now provides the kitchen with much needed borrowed northern light from the bathroom. They also added a switchable privacy film to the window and made the glass frosted to give privacy to the bathroom at the press of a button.
To introduce a sense of the outdoor space, the bathroom palette is carefully considered to create a feeling of an indoor/outdoor space, like a greenhouse. A feature moss wall covers the main wall, overlay with various pot plants to form a feature green wall; this is position in direct eye sight as you first enter the apartment, to be immediately greeted with nature and green.
In order to create a feeling of luxury, the strategy is to allocate generous proportions to the functions; a 4m kitchen is inserted into the apartment, this is the main feature of the apartment.
Layering and overlapping are the keys to planning for small spaces; two different functions can co-existing in the same area at different times. It then comes down to the detailing of the flexible joinery to make it an effortless transition between the two functions, such as the slide-out dining table.
Photography by Tess Kelly