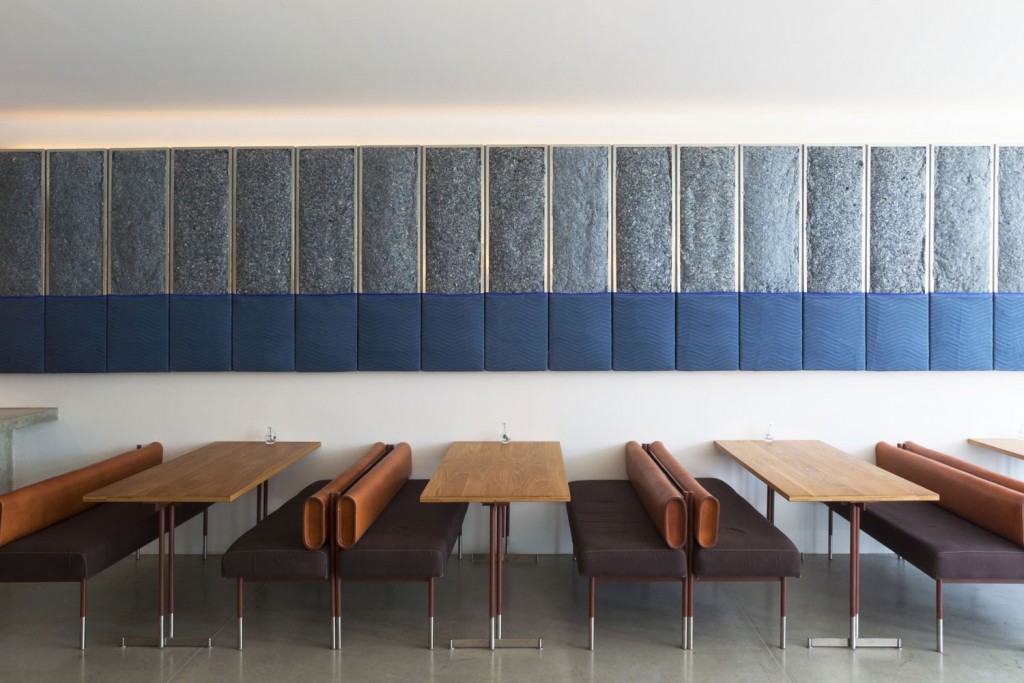 Torafuku Modern Asian Eatery By Scott and Scott Architects
---
This summer Canadian architecture studio Scott & Scott have designed a new place in Vancouver. It's the Torafuku Modern Asian Eatery.
Architects team were tasked with creating a space for the first permanent restaurant by the chefs behind the popular Le Tigre food truck, which moves around Vancouver serving a "contemporary interpretation of classical Chinese cuisine".
Torafuku Modern Asian Eatery is located on the ground floor of a building in close proximity to Chinatown. This restaurant has 48 seats, it was designed to reflect the origins of the business. The architects chose utilitarian materials intended to change with age and use – a common theme throughout their work. "We chose materials that are used primarily for their utility, left in their raw state or finished in a manner of basic construction standard," told the architect. "They balance the strength of utility borne materials with a desire for the public elements to wear-in with use, taking on familiarity and comfort over time."
As the main part of the restaurant, Torafuku's kitchen is placed directly in the middle. It also allows the chefs to be visible to the diners and reflects the informal and open nature of the Le Tigre food truck."We often met with the chefs after their lunch service, and there was a desire to have the open kitchen a part of the experience," Scott explained.
Probably the most special detail in this interior is a large cast-concrete table. It is suited in the front section of the restaurant, whilst four smaller booths sit against the wall on the left side. Acording to the architects this table and kitchen viewing bar were designed as durable elements around which the space is structured. A further row of two-person tables are set back in an alcove facing the kitchen.
Quilted pads made from denim and wool have been positioned above the booths to "tune the space's acoustics" and create "greater conversational intimacy". "They compliment the softer leather and tarpaulin seating and contrast with the more lively central communal table." said the architects.
Above the concrete communal table there is a long strip of LED lights that was custom-made by the architects. This light is made from simple steel flats that have been finished in red oxide paint. It can be balanced independently for up and down lighting.
Most of the furniture was handmade by the architects in their self-designed Vancouver studio, Michael Young's wood and aluminum chairs for Emeco and Lars Beller Fjetland's cork-topped stools for Discipline sit around the designated dining areas.
Architects: Scott & Scott
Location: Vancouver, Canada
Project Year: 2015
Photography: Scott & Scott