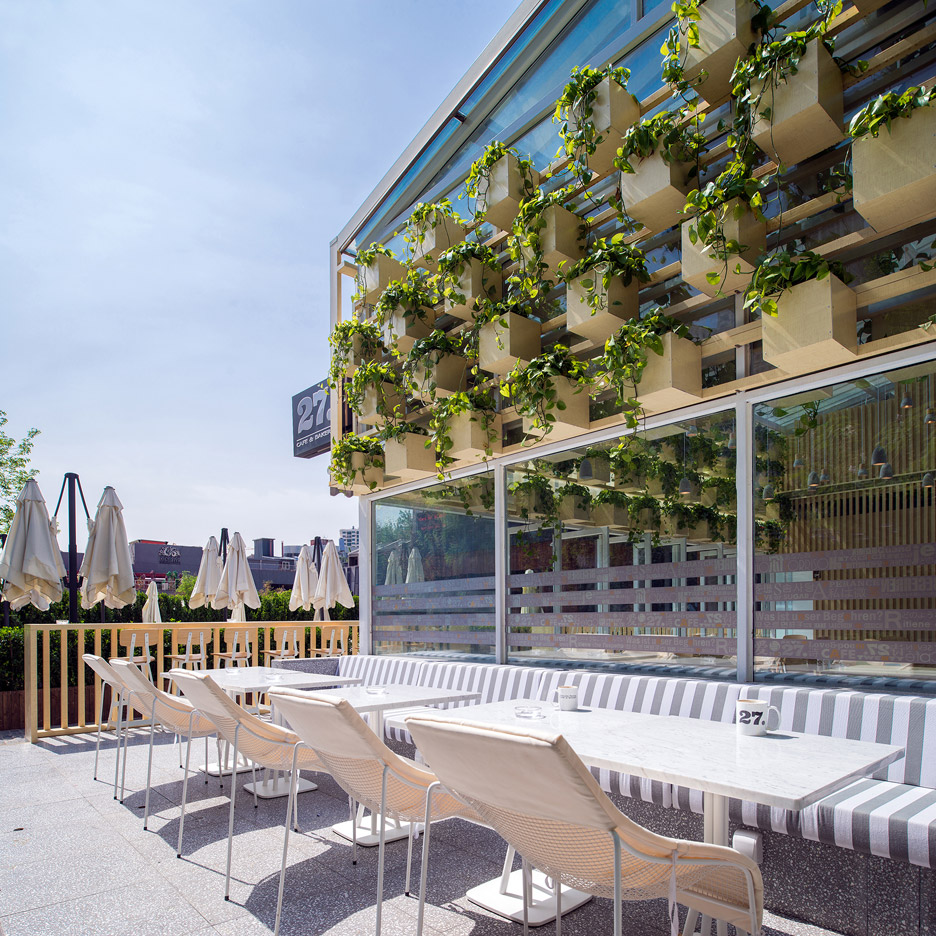 Transformed greenhouse into plant-lined coffee shop by the Four O Nine architects
---
Just one single decision and the place in Beijing becomes a different place. A place where green meets the aesthetics and becomes a single, well-combined area. Shanghai office Four O Nine has converted a simple glass building into a unique and modern café, with an even more impressive design solution, which surprises not only by its elements but also by the interesting concept, that the designers came up with.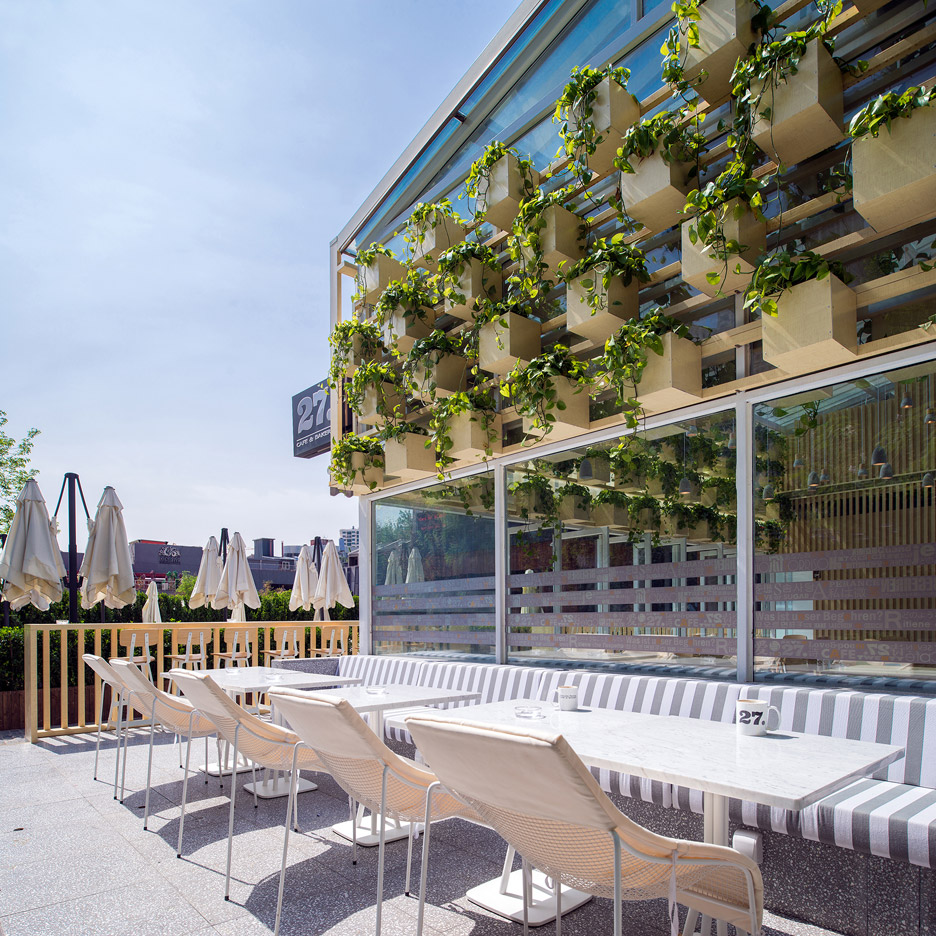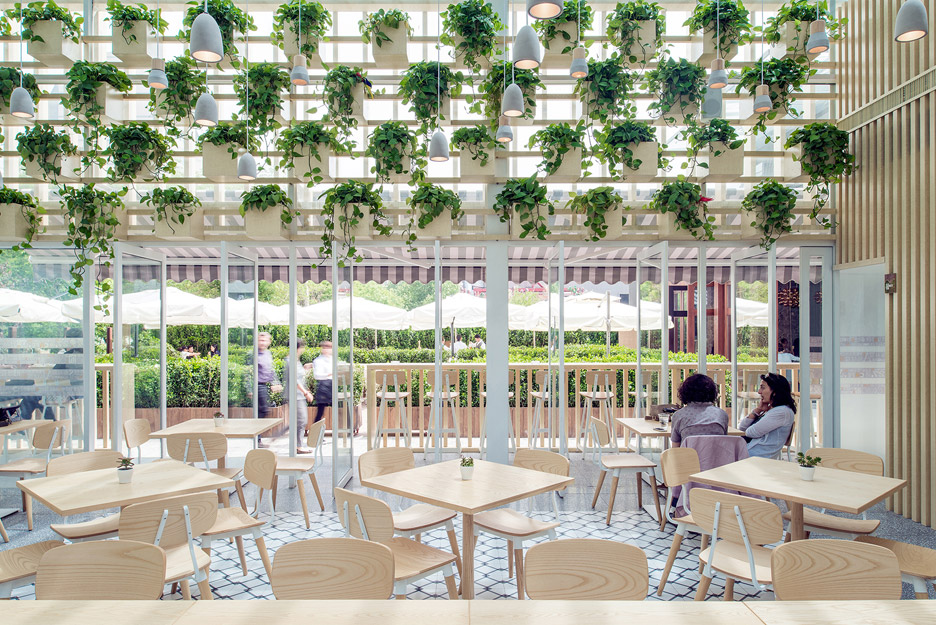 The main idea was to create an interesting element for space. And the main focus of the problem was the polluted air. The design needs to be not only great by its look, but also it needs to be functional. This is where the idea of adding plants to space came up brilliantly. The use of the plants purifies the polluted air and gives that needed fresh feeling to the cafe. This became the object, that attracts customers, and becomes a significant detail of the space.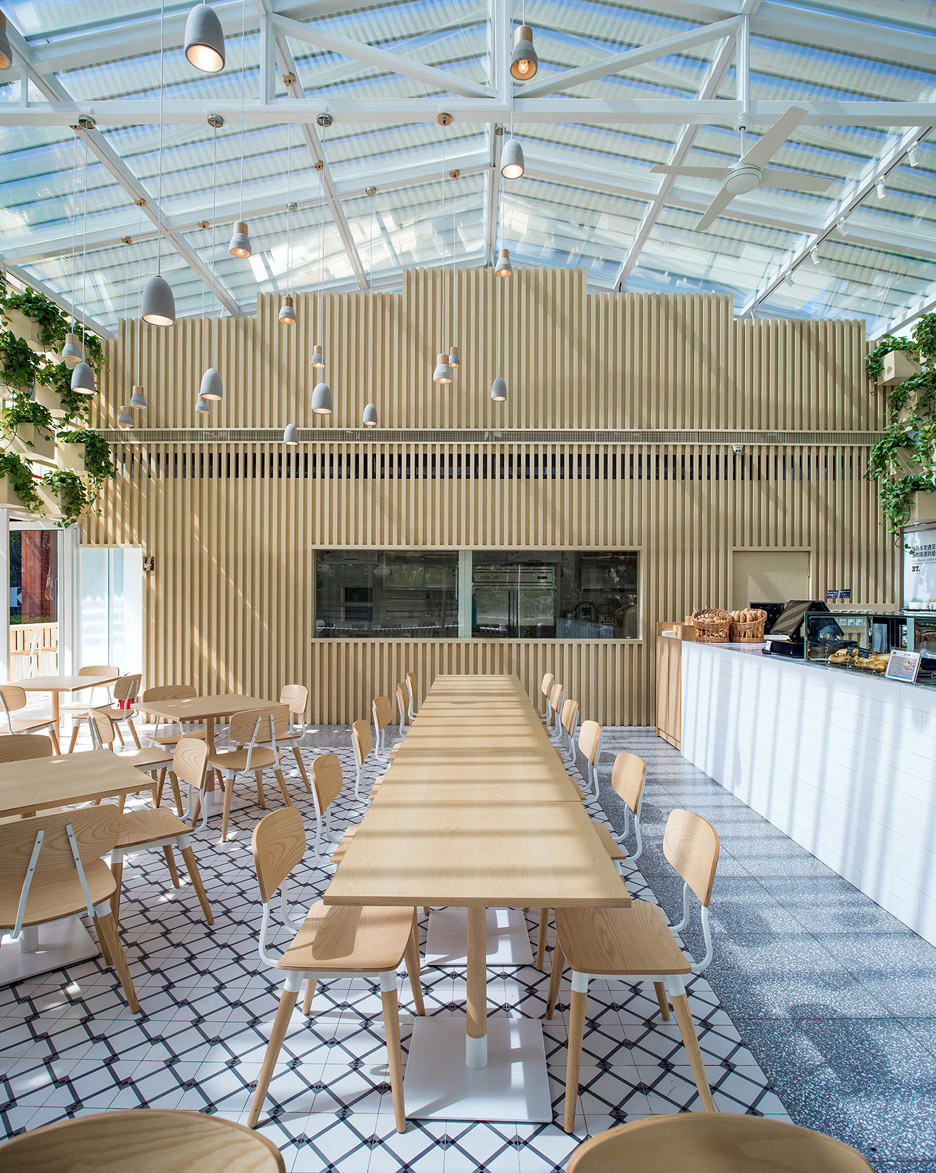 The main inspiration came from the Cafe 27's organic menu, which influenced the architects to create a place lined with greenery and natural elements, which could represent the fresh and new look and thinking of the cafe.
As the architect, Lukasz Kos mentions, the design was inspired by the food, that is being prepared from the healthy organic ingredients.
"We wanted to elevate that desire for healthy food with a healthy building, thus all of the approaches we took were ecologically sensitive," he continued.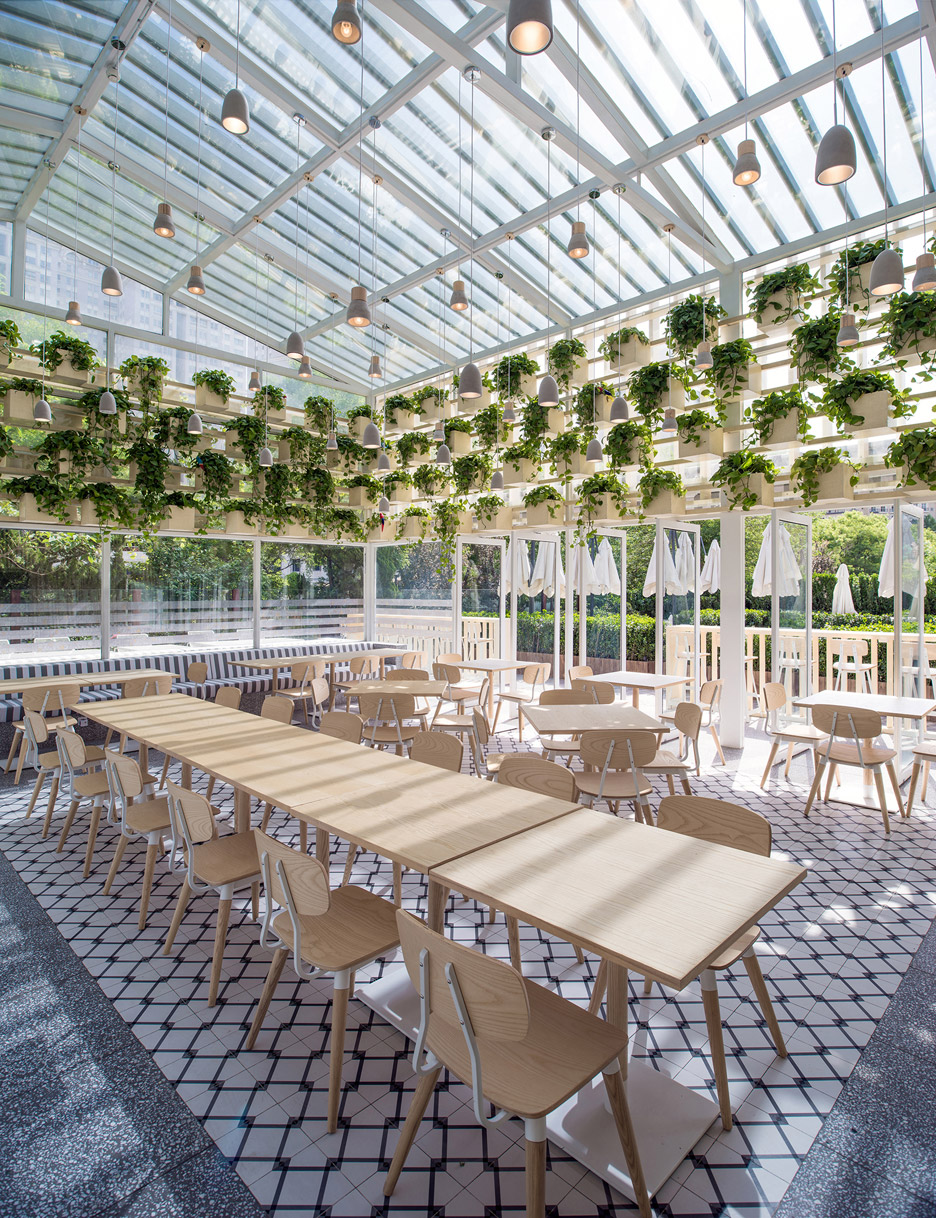 Usually, the plant-covered architecture is being used to improve the air quality in the cities where the issue of the pollution is common, as the vegetation absorbs carbon dioxide and produces oxygen. Cube-shaped wooden planters line the interior and exterior cafe walls. A hut-like elevation clad in ash batons divides the space in half, splitting up the dining area from the pastry kitchen and restrooms.
From the architects:
Ash batons are also being used to create a backdrop behind the white-tiled bar. For the flooring, terrazzo borders ceramic tiles that are used to define the seating area.
"The combination of the terrazzo flooring and ceramic bar creates a thermal mass that gradually and passively heats the space in the winter ".
The architects also added a new façade to the building. The new terrace dining room, whiskey bar is being created on its upper level. They have removed the previous existing pink classical façade of the main building and replaced it with charcoal concrete materials which give some new character to space.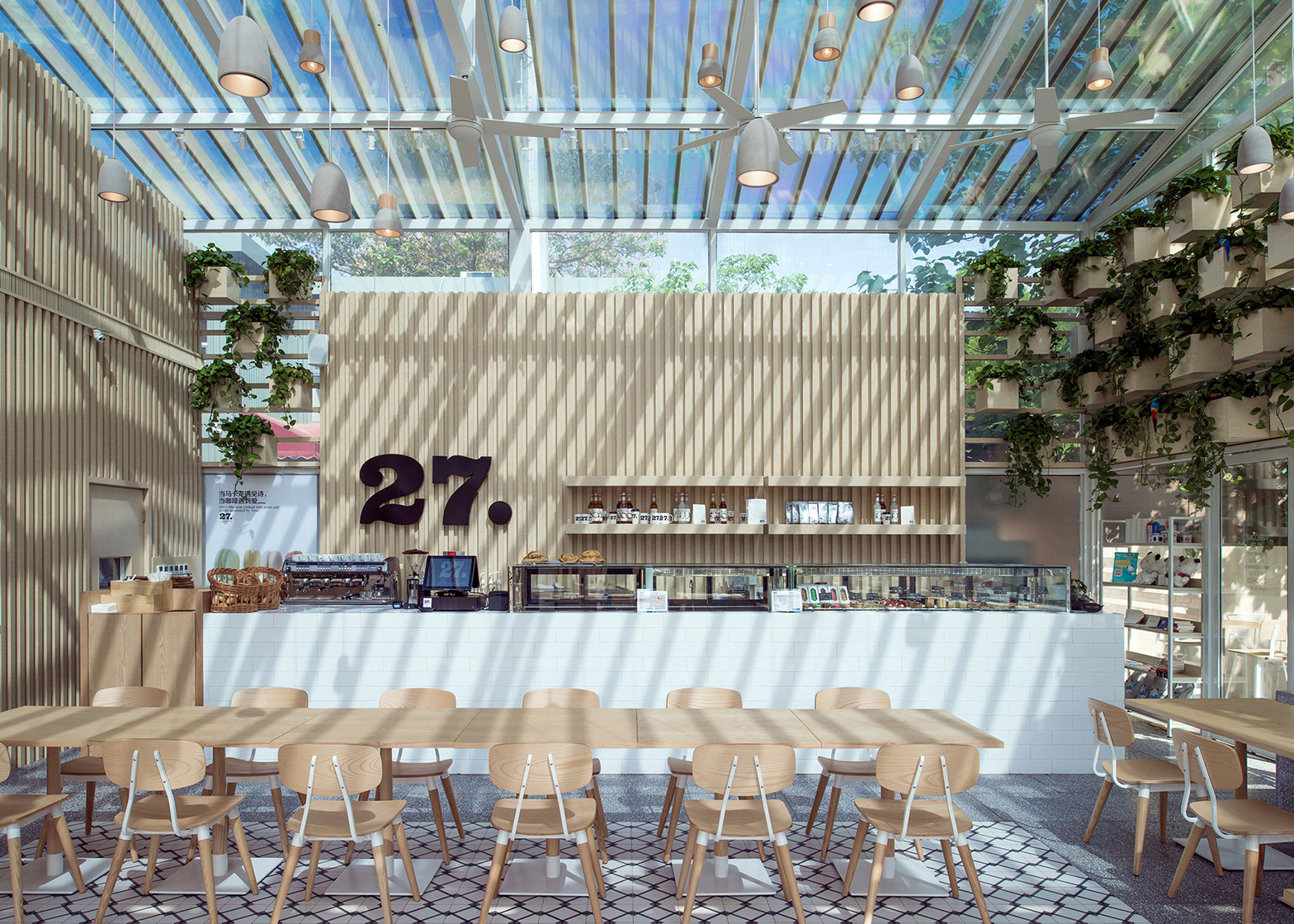 If this did not seem enough, the team also redesigned the surrounding landscape. They added the exterior dining garden with some bench seats to the front of the café, which gives that cozy and welcoming feeling.