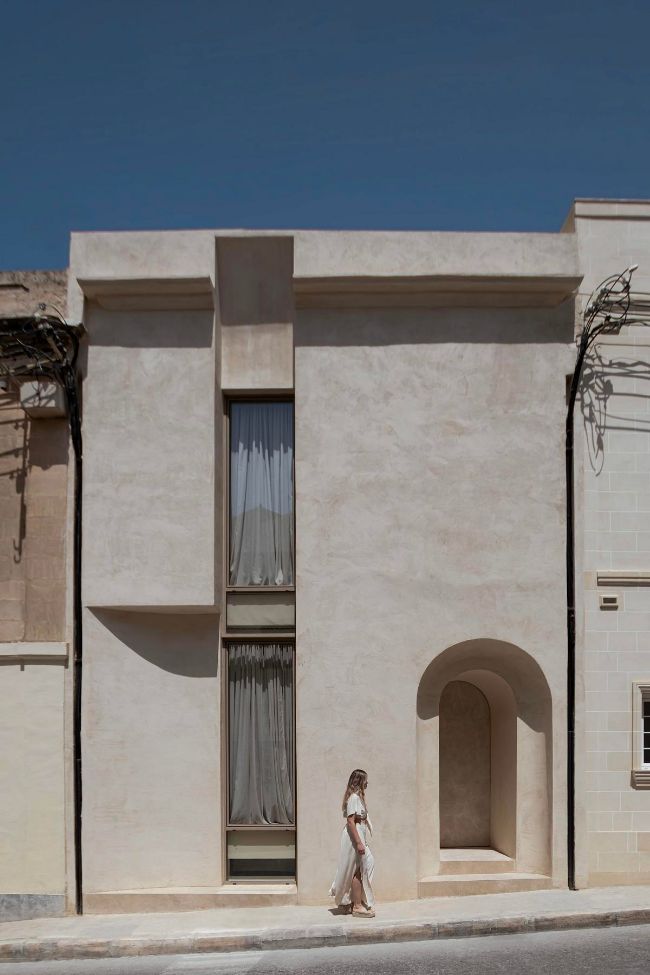 twentyfour: A Fusion of Tradition and Modernity in Rabat, Malta
---
Nestled in Rabat, Malta, this project unfolds as a modern reinterpretation of conventional architectural norms. While honoring the timeless aesthetics of Maltese architecture, the residence seamlessly integrates with its surroundings, imbuing a contemporary essence. This design philosophy extends inward, where a subdued and inviting ambiance is meticulously crafted through a harmonious interplay of illumination and a monochromatic palette. Further enhancing the spatial hierarchy are strategically incorporated curvilinear elements.
Spanning four functional levels, the residence begins with a communal space seamlessly connected to the remaining tiers via a traditional staircase. Ascending towards an overhead skylight, this staircase becomes pivotal for interior illumination. The subsequent level houses private quarters, including bedrooms. Moving upward, the second floor transforms into an art studio and leisure zone, opening onto an expansive terrace that connects to the rooftop via external stairs.
A testament to the timeless allure of minimalism, twentyfour illustrates how architectural design can harmonize the past and the future. It stands as a living case study, showcasing the evolution of terraced housing. By artfully merging tradition with innovation, the project epitomizes contemporary living and lays a foundation for future architectural exploration.
Architects: 3DM Architecture
Photography: Matthew Farrugia