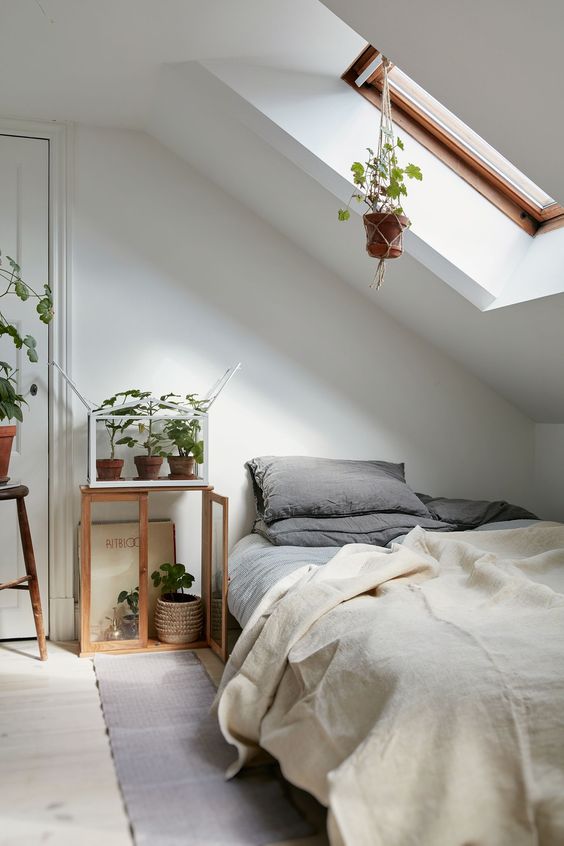 5 Attic Bedroom Ideas To Create A Luxury Sleeping Space
---
Attics aren't just for storing items you'll never see again for years and letting the cobwebs build-up, and with some planning and putting in the work, you can make yours a very comfortable room for you, your family, or your guests.  From top to bottom, this article will give you some suggestions that can help you achieve that and get the most out of your attic.
1. Start With The Ceiling
Since we're focusing on building a cozy attic, it makes sense to begin by talking about the very top portion of your house, and there are many wonderful opportunities to remodel your ceiling and turn it into something wonderful. It's also one of the most unique parts of the attic and can allow you to be very creative.
A lot of people love to use wooden ceilings to give the room a more rustic or old-fashioned look, but if you want something more modern look, you can always whitewash it. Of course, you can also paint them white to give them even more brightness and make the room feel more open.
Windows on your ceilings are also a popular addition to include because it can be very relaxing to be able to look up at the night sky when it's time to go bed and have plenty of natural lighting when the sun rises.
2. Work On The Walls & Doors
In general, walls can be very straightforward because many people tend to prefer to match their ceiling, but brick is a very standout option if you are looking to do something less uniform as well as painting it a different color entirely.
Windows can vary in size, but large ones and pop out windows can bring in plenty of light, if you don't plan on installing any on your roof, and it can still give you a nice view of the night sky. You might even opt for windows on both spots in your room.
It's a matter of preference, but decorating your walls, such as with fine art, can help contribute to creating a more luxurious experience and bring additional life to your room.
3. Focus on Flooring
Ceiling and walls aside, your floor can completely alter the way your room feels, and luckily, there are quite a lot of options that can suit whichever taste you're going for.
Hardwood floors are some of the most popular choices for luxury attics because there are different shades of wood available which means they can go with just about anything. They're generally very easy to keep clean by allowing you to sweep dust.
Carpeting is also a solid option too and there are a variety of colors to go with to match the vibe you're going for; however, if you want the best of both worlds, you can't go wrong with hardwood floors and a nice rug.
4. Set Up Storage, Furniture, and Lighting
In this broad area, you get the most opportunity to customize your bedroom the way you want it. However, first, you'll want to make sure you'll have a closet, and there are a lot of ways to make this work – for instance, some people find ways to create a walk-in closet and others like to construct one in a wall, especially in the slanted areas that connect to the ceiling.
You can also fashion some shelves or dressers here as well, but if you prefer standalone ones that are traditionally used, there are plenty of glamorous options you can go with. Since attics tend to feel compact, you'll probably want to go with a bed that is more low-profile and doesn't take up as much surface area. The same logic can apply to getting a desk too.
As for lighting, there's nothing classier than some lamps hanging from the ceiling, but standing lamps tend to be sleek and stylish, depending on what kind of atmosphere you're going for.
5. Don't Forget About Climate Control & Ventilation
You can have the most gorgeous looking sleeping space, but if your room in your attic doesn't feel right, it can really take away from the comfortability that it could have.
Good ventilation and insulation are a must in any serious attic bedroom, and if you're investing in designing one and planning to do significant renovations, this is the one area you should never skimp out on.
Attic fans are popular in a lot of attic bedrooms, but ceiling fans can also be viable depending on how high up they are, and they can also be a solution for lighting in your room.
The Importance of Getting Good Sleep
Sleep is vital in order to be healthy and functional, and the environment you're in, along with habits, can play a significant role in how much sleep you get and the quality of it each night.
These are all things that can be in your control, but if you struggle with insomnia or mental health conditions that prevent you from getting sleep, assistance may be necessary.
Medication can be a solution, but getting to the root of common issues that cause sleep problems like anxiety and depression can be a more practical and safer long-term option.
Counseling and therapy from BetterHelp can guide you to overcoming them so that you can start getting a better night's rest and get the most out of your attic bedroom.
Conclusion
Remodeling an ordinary attic and transforming it into something special can be a daunting project, but hopefully, the suggestions here can help you tap into your creativity and achieve a bedroom that rivals the ones that were already in your home. It could even be better, and you could get the best sleeping experience by planning your construction and ideas carefully.