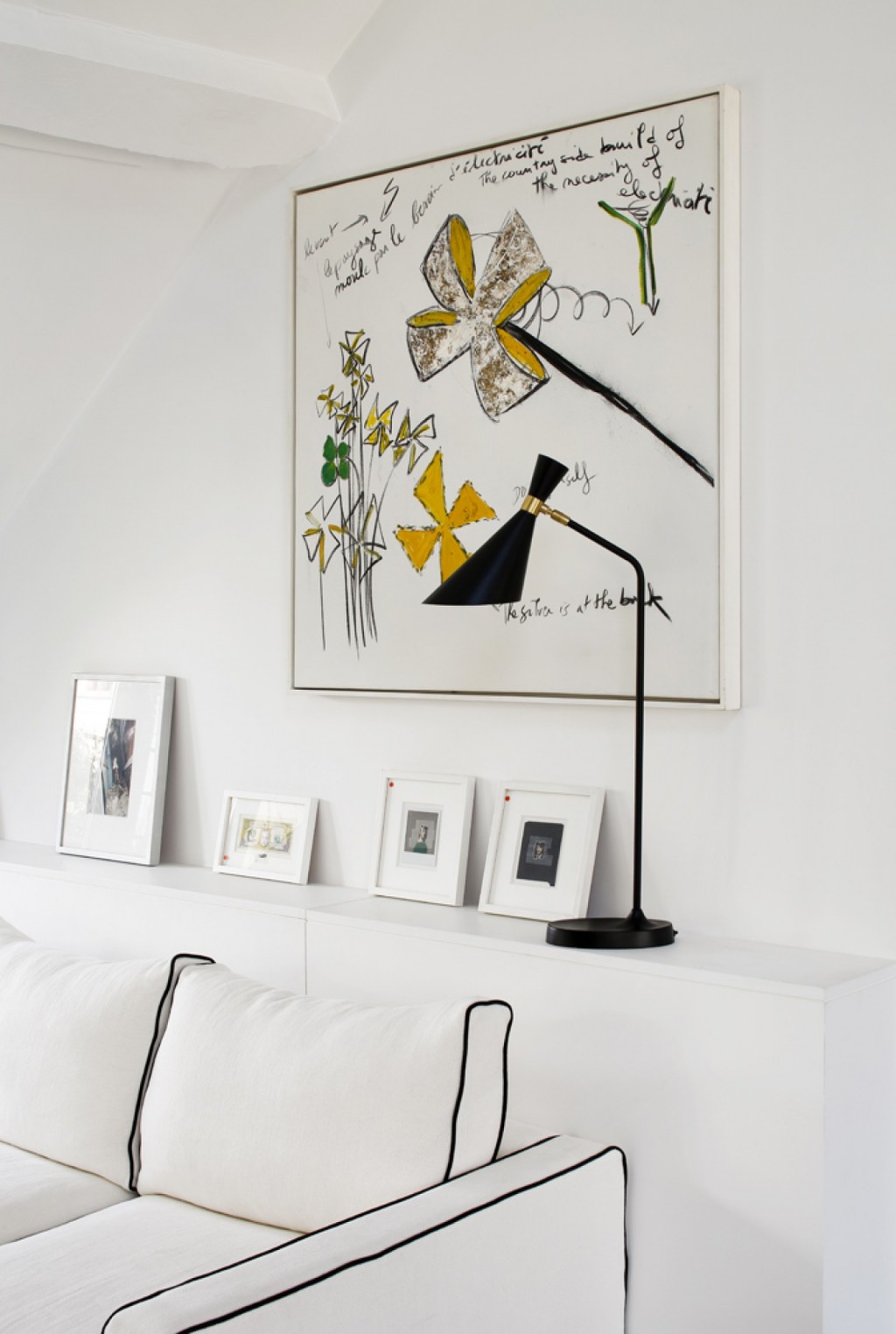 Wall Accent Ideas to Spice up Your Interior Design
---
A blank wall can serve as the ideal canvas to showcase your creativity and personality. A wall accent can spice up a tired looking wall and add freshness to your space. Empty walls can hold a multitude of possibilities. Anything from a piece of art or fine print posters to mounted mirrors and shelves, or even fresh suspended plants are a few helpful ways to showcase your personal style.
Whether you're an avid art collector, a lover of nature, or books, your walls can be customized by surrounding them with the things you love. Discover wall accent ideas below to spice up your interior design and make your house feel like a lived-in space.
Wall Art
Large scale wall art can make an empty bedroom or living room come to life. Did you pick up a new oil painting from your favorite artist at a gallery? Or maybe you prefer a printed poster of your favorite animal? It's time you find a wall space to hang your special piece and set the right tone.
Always consider the symmetry, position, and surrounding decorative elements before hanging art or poster. The vibrant wall art will do wonders to a dark space, while a black and white print will work best in a minimalist interior.
Create an Accent Wall
Consider a focal point in your living space by painting an accent wall. Grab a fun looking stencil at your local craft store and use a bold hue to make your interiors more interesting. For those with minimal artistic skills, you can opt for removable wallpaper with playful patterns and colors.
A singular wall with an accent design can revive a tired-looking space and change the whole feel and ambiance of your home.
Play With Fabrics
A tapestry should not only be limited to a gallery but can work just as well in your home. A wall hanging or carefully crafted tapestry can add a softer feel to your room. Look into framing your grandmother's embroidered shawl or a vintage scarf your mom wore when she was young. Hang them across a wall, behind your bed or sofa.
Fabric decor adds a combination of colors, unique textures, and patterns to your interiors. Fabrics are versatile and lightweight, so you can easily stretch and mount them on a frame and move around from space to space.
Paint a Mural
Call an artist friend over and conceptualize a fun mural to do together. Be it a calming landscape, flowers, or a contemporary pattern. Paint what inspires you to make your wall interesting. Work with a small sketch on paper before moving your way up to a bigger wall space.
Consult with your paint store expert before choosing your set of paints to avoid picking anything too shiny.
Work With Nature
Freshen your wall with an array of colorful botanicals, bringing nature indoors. Nature lovers can create an exotic vertical garden by planting upwards instead of outwards. Explore tropical plants, pretty flowers, or even fresh fragrant herbs.
Remember, plants don't need to rest in a flower pot along the porch or windowsill. Visit your favorite florist or gardening store to be updated on the proper planters that can work best on your walls.
Plate It Up
Did you happen to inherit special plates from your parents? Or maybe you bought a set of dainty dishes at an antique store from your last trip to Europe? Try grouping plates in the same colors and hang them on your wall. Look into placement and symmetry for a more cohesive look.
A row of plates on your wall will not only be visually pleasing but can turn as a good conversation starter when you have friends over.
Mirror, Mirror on the Wall
Mirrors help reflecting light and add a decorative touch to your interiors. Installing mirrors can also make your space appear a lot larger and brighter.
Consider hanging mirrors in different styles throughout the walls of your bedroom or living room. Combine different shapes and frames depending on the general theme of your space.
Add Some Shelves
If you don't have enough floor space for bookshelves, transform your book collection by building shelves on your walls. Put hardcover books, photographs, miniature sculptures, or trinkets from your past travels there.
Your wall space will reflect your personal taste in literature and inspire your guests to have something to talk about or read in the future.
Set-up a Writing Board
If you're the kind of person that likes to stay organized and keep track of work and social life, a whiteboard or chalkboard in an interesting shape and color can do the trick. It will let you write down the important things you need to do throughout the day or highlight an inspirational quote or poem that makes you feel good about yourself.
A large-scaled board is a functional addition to your office wall, kitchen, and children's playroom. It can also showcase hand-drawn doodles or sketches.
In Closing
Empty wall space can provide a bounty of potential with a little bit of creativity and ingenuity. Customizing your walls is one of the best ways to surround yourself with the things you cherish. Be it your treasured art and printed posters, or decorate it with a stylish mirror and mural.
Wall accents can improve and add life to your interior design and also act as a reflection of your style and personality.