Our Picks: 10 Best White Home Office Desks You Can Get Right Now
---
So, you're probably working from home and looking for a new white computer desk to make your home office more comfortable and productive. Since there are many options, we have prepared a short review of the best white office/computer desks you can get on the market right now. We based this guide on three criteria – aesthetics, functionality, and price. So, let's take a more in-depth look at the desks for your home office.
#1 IKEA'S SKARSTA – a Standing White Computer Desk
IKEA offers a wide range of quality computer desks for relatively low prices, so it's an obvious choice. Now, if you're looking for a standing white computer desk, IKEA may be the best option. First of all, compared to other stores, their price is probably the best. Also, IKEA is a worldwide brand, so you're shopping from a reliable seller.
It's easy to adjust the height with a crank handle, and it also allows you to change the desk positions from standing to sitting. SKARSTA computer desk costs $239.00 and has an overall rating of 4.6/5. There are two size options – 47 1/4×27 1/2 " and 63×31 1/2 ".
Shop SKARSTA white office desk on IKEA for $239.0
#2 IKEA'S MICKE – a Great Budget White Computer Desk
The IKEA'S classic MICKE is one of their most popular office desks. There are three different variants of this desk, and it will fit in both a small and spacious home office. MICKE has an overall rating of 4.6/5 and is one of the best budget white computer desks you can get on the market.
The smallest desk will fit in almost any spot and costs only $49.00. There's a $79.00 option with a storage unit on the left or the right and a drawer. The largest MICKE is 55 7/8×19 5/8 ", has two drawers, and also costs $79.00.
Shop MICKE white office desk on Amazon for $79.00
#3 Folding Desk for Small Spaces
If you lack space, a folding desk might be one of the best alternatives. When folded, the width of this desk is only 3.6 inches – thus, it can save a lot of that precious space.
The measurements of the desk are 31.5″(L) x 17.83″(W) x 28.4″(H), so as you can see, it's pretty narrow. Therefore, we wouldn't recommend it for a PC, but it's an ideal option to work with a laptop.
Another great thing about this desk is that it doesn't require assembly – it comes already assembled. And it only takes three seconds to unfold/fold the desk. The Folding White Computer Desk has an overall review of 4.5/5 and costs $79.99.
Shop The Folding White Computer Desk on Amazon for $79.99
#4 AGALMA – White Computer Desk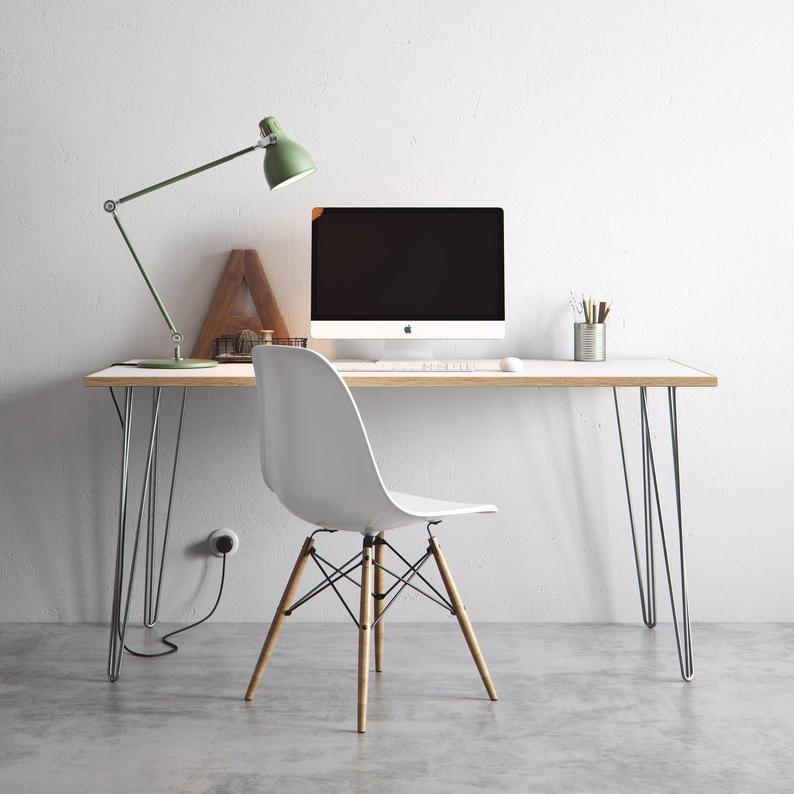 This handcrafted desk is a perfect choice to match your minimalist aesthetics. It's made of ethically sourced birch plywood, Formica top, and British steel. The retro-style AGALMA desk is easy to assemble and comes with free floor protectors. It has a stunning 5/5 review score on Etsy and costs $317.69.
Shop The AGALMA Office Desk on Etsy for $317.69
#5 Blake – Handmade Home Office Desk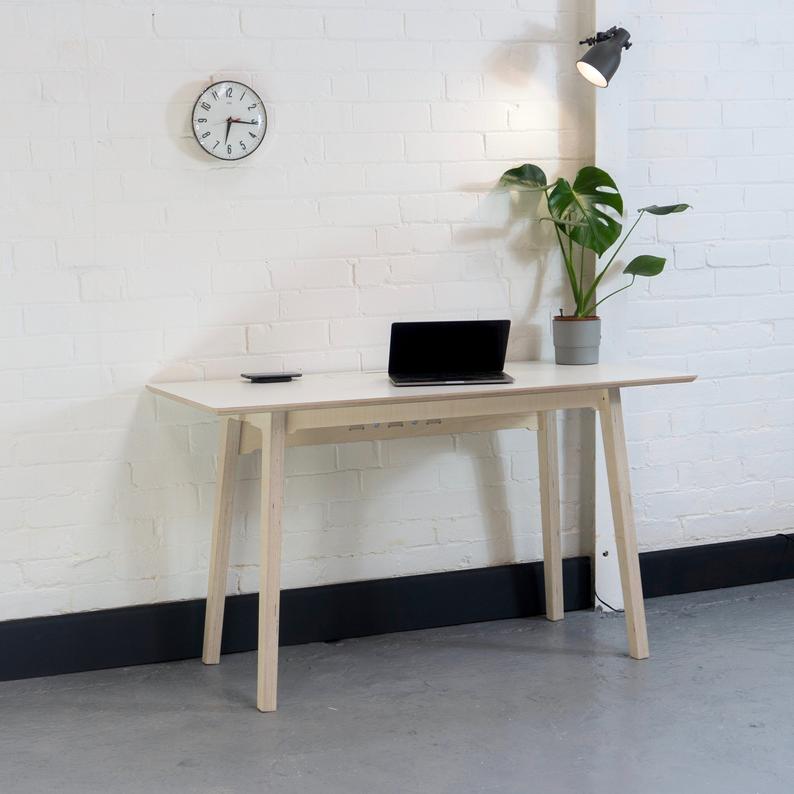 Although not entirely white, the Blake desk was on our list because of its beautiful aesthetics. Made of Birch Plywood and FSC, the Blake is every minimalist's dream! And believe us, it's not so easy to find a beautiful computer desk. The sturdy and simple structure is what makes it so attractive. The manufacturers have also cleverly and aesthetically hidden the underslung cable management tray.
The surface of Blake Desk is a non-reflective, all-white laminate resistant to scratches and easy to maintain. It also has a 5/5 star rating on Etsy, and the reviews are nothing but positive. The only thing that may pull you back is the price – Blake costs $344.00.
Shop The Blake Home Office Desk on Etsy for $344.00
#6 Haotian Computer Desk-Workstation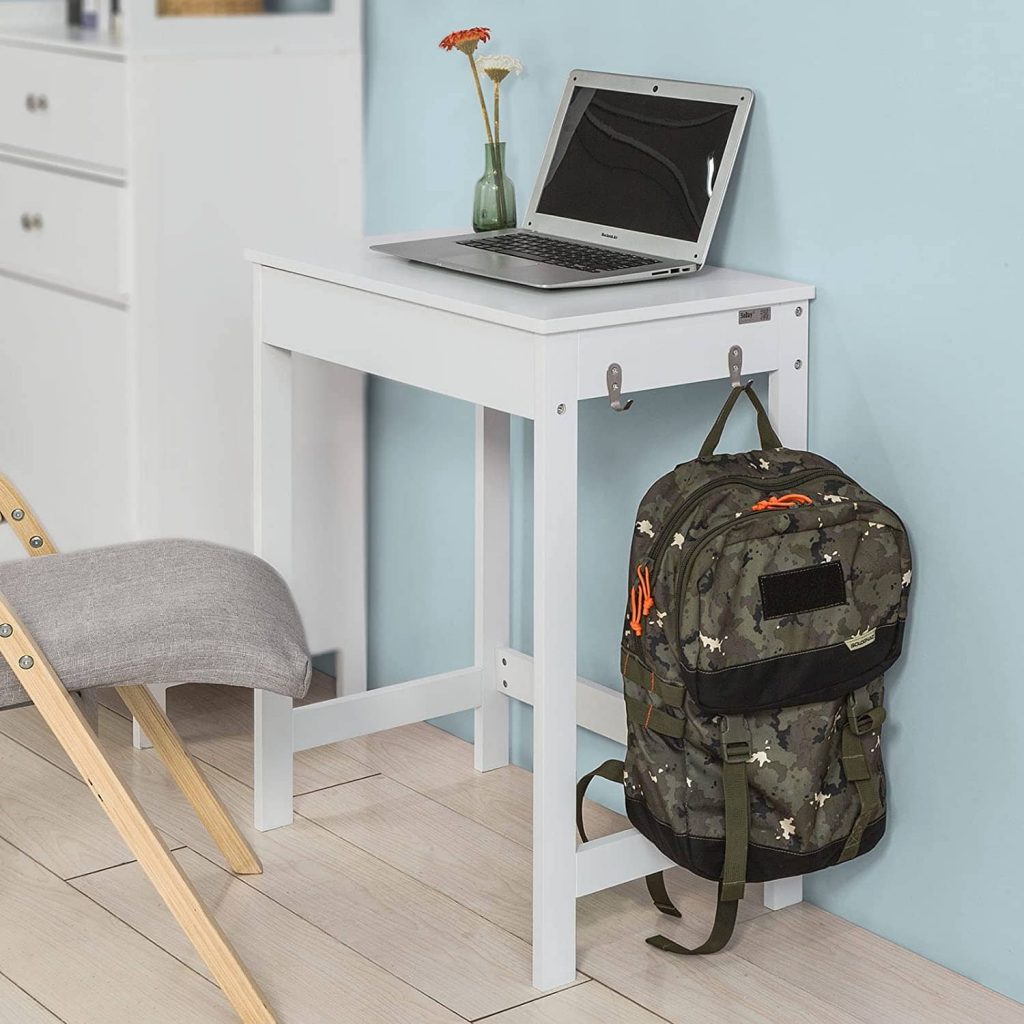 Haotian is a small computer desk-workstation that doesn't take up much space. It might not be the best option for those who spend long hours working or gaming but is a perfect choice for those who lack space. Due to its modern and compact design, it's suitable for children and teenagers. It has one drawer and two hooks on the right side, offering extra storage while keeping the surface neat and organized.
Made of standard MDF, this white desk will fit with almost any interior. Also, it weighs only 8kg, so it's easy to move it within the rooms. The dimensions of the desk are 23.62″(L) x 15.75″(W) x 29.92″(H). It has a pretty high 4.3/5 overall user rating, and the price is only $54.99.
Shop Haotian Computer Desk-Workstation on Amazon for $54.99
#7 Runway White Lacquer Desk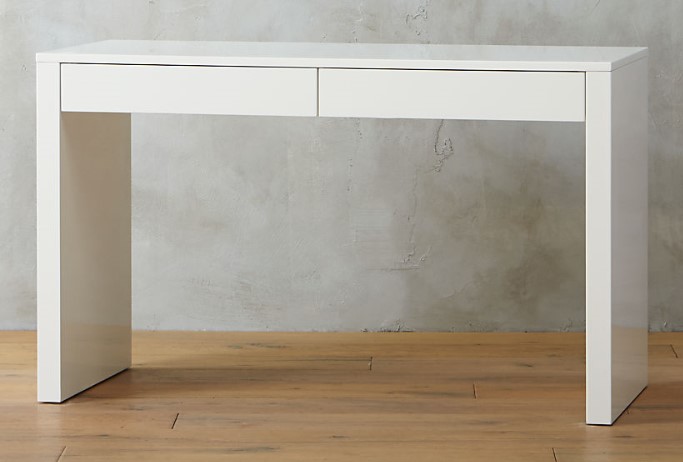 The Runway is a hi-gloss white lacquer desk that's ideal for a small home office. Two drawers will keep the desk organized, and its finish easy to clean. Although it seems small, you'll be able to put two monitors and a laptop on it.
The dimensions of Runway Desk are: Width: 48″ Depth: 20″ Height: 29″. It has a pretty high 4.7/5 overall buyers' rating and costs $399.00.
Shop Runway White Desk on CB2 for $399.00
#8 Stash Reversible Desk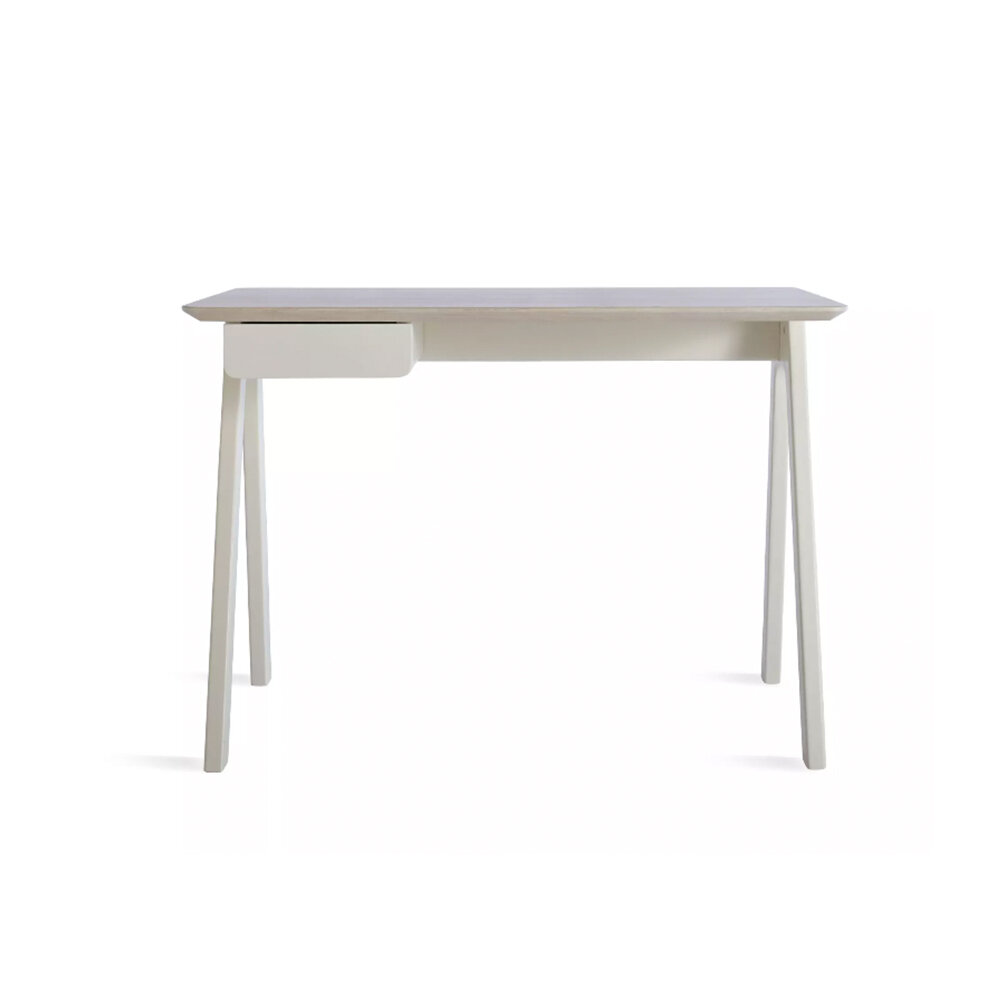 A beautiful design and solid wood for a reasonable price – that's what buyers say about this desk. It has a small drawer that will help to keep your workspace organized. It's sleek and elegant design will fit in any modern or minimalist interior. Stash's dimensions are 29.5" H x 42" W x 24" D. The price is $499.00.
Shop Stash Reversible Desk on Allmodern for $499.00
#9 CubiCubi White Computer Desk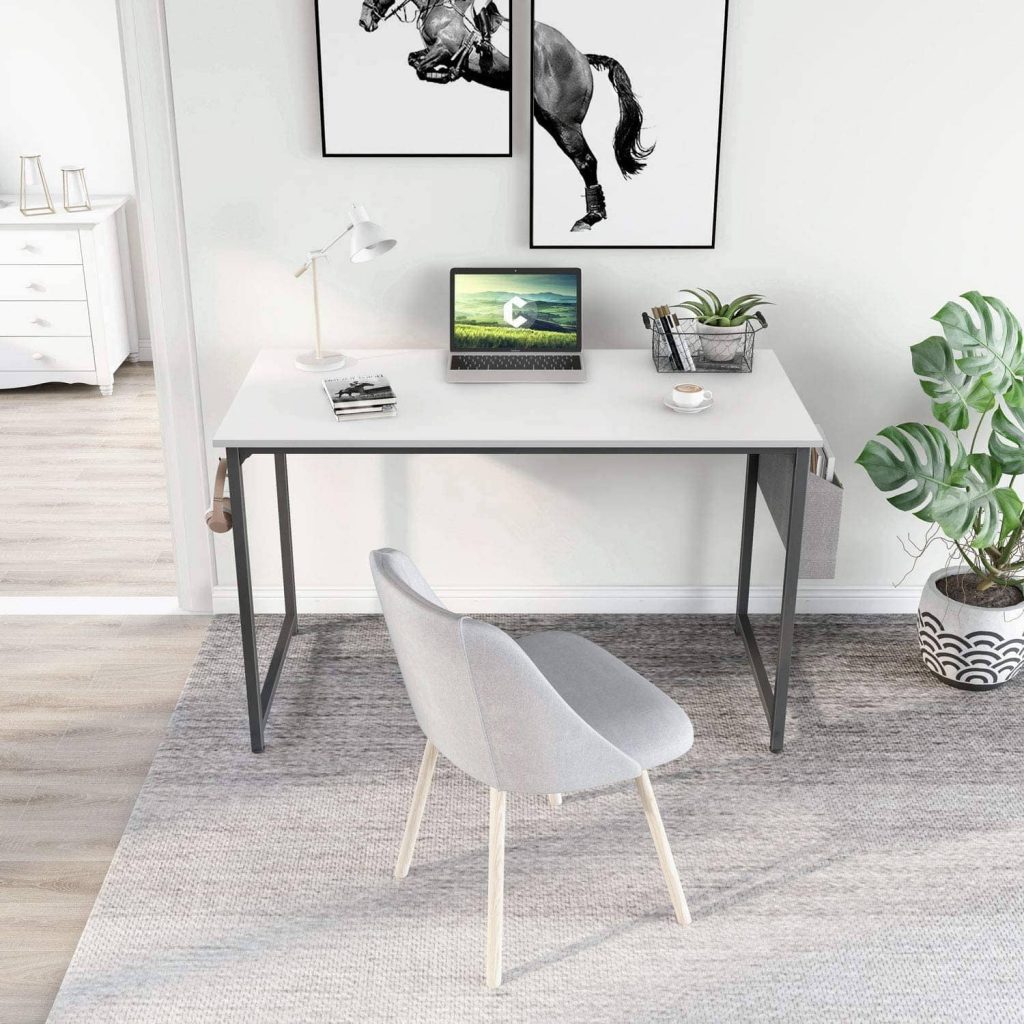 CubiCubi is a modern style computer desk made of a rigid metal frame and reliable MDF boards. It features a basic solid structure with a beautiful appearance. It also has an extra storage bag and a hook that helps to organize your workspace.
Since there are only two main parts, it's easy to assemble the CubiCubi desk. The manufacturer claims that assembly takes only 10 minutes and includes the tools needed for the process.
The measurements of the desk are 32″(L) x 19.7″(W) x 29″(H), so you'll have a lot of space. There are other size options as well. CubiCubi desk has an overall rating of 4.7/5 and costs $69.99.
Shop CubiCubi white computer desk on Amazon for $69.99
#10 Ameriwood Home Parsons Desk with Drawer
A simple and minimalist design Ameriwood Home Parsons Desk is another excellent choice for a comfy and stylish home office. A single drawer will keep the desk tidy and organized, while the top easily fits a laptop and a monitor. The dimensions are 30″ H x 39″ W x 19.7″ D, and the price is $139.50.
Shop Ameriwood Home Parsons Desk on Amazon for $139.50
Why Would You Need a New Computer Desk?
With the COVID-19 pandemic, more and more people are working from home. And with the current vaccinating speeds, it looks like the situation will remain the same a bit longer. That means we will have to continue working in our home offices for some time to come, whether we like it or not. This situation made many of us realize the importance of a comfortable workspace.
Although most of us can only allocate a small space for our home offices, that doesn't mean it has to be uninspiring. And comfort is one of the most crucial parts of a home office. You're sitting for at least seven hours, so that should make the desk and the chair the number one on your list. Skip the part on plants and decor for now, and take a look at your computer desk. Does it have a sliding hatch for a keyboard? Is your monitor positioned at least 20 inches (51 cm) from your eyes, and does it meet your eye-level? Finally, do you like its design and the color?
If you answered 'no' to at least two of the questions above, it might be smart to look for a new white computer desk.