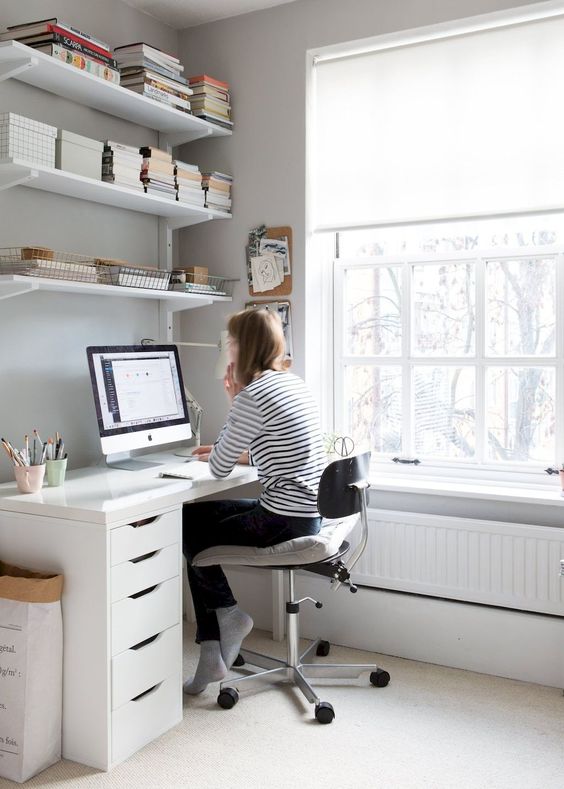 7 Design Tips That Will Upgrade Your Home Office
---
The increasing number of COVID-19 cases has forced many of us to work remotely. This has posed a great challenge for those who never tried working from home before. However, having a dedicated home office where you can work without distraction is key to finishing your tasks faster. If you do not know how to upgrade your dull-looking office, we've got you covered.
Try out our seven best tips for designing the most aesthetically pleasing home office!
1. Find the Best Location
When it comes to upgrading your home office, changing up its location might be just the thing you need. It is always recommended that you place your office in a spare room to avoid distractions. Yet, if you have many kids or your house is somewhat small, you can put your office outside, either in the garage or shed. You may also use your living room as a home office if the previous tips are not feasible.
2. Buy Comfortable Furniture
The easiest way to upgrade your home office is to do away with your old furniture. When choosing a new desk, make sure to get one that is not too small that it makes using your laptop uncomfortable. As for your desk chair, you should go for one that has back support and can be easily adjusted to your height to eliminate the risk of back pain.
To add a pop of color to your workspace, you should mix and match different designs and colors. If you still do not know what colors would work best, you can click here for some additional inspiration. In case you want to go for a more minimalistic vibe, neutral colors like black and white are your best bet.
3. Add Shelves
To truly upgrade your office, you need to have clever storage solutions like cupboards and shelves. The great thing about this design idea is that it does not cost much. You do not even have to buy ready-made shelves, as there are many amazing DIY designs you can employ to make your own. For a unique touch, play with different geometric shapes and styles to personalize your home office. This way, you can breathe new life into your office without breaking the bank!
4. Give the Walls a Makeover
Suppose you want to change up how your home office looks, repainting the walls should do the trick. Don't be afraid to express yourself through vivid colors like yellow since they can add an energetic vibe to your otherwise dull-looking workspace. You may also draw patterns to take it up a notch and tie together the various designs in the room. Just make sure that whatever color you end up going for does not clash with that of your furniture.
5. Include Greenery
Adding a few plants around your office can keep you motivated to work, not to mention that they will make the space look livelier. When choosing an office plant, opt for varieties that do not need too much maintenance. This means that you should choose ones that can adapt to different light conditions and do not need a lot of water. For example, Devil's Ivy is an excellent option for work-from-home employees, as it does not require direct sunlight. Zamioculcas Zamiifolia, the ZZ plant, is also an amazing choice. It can forgo sunlight for long periods and does not attract pests or need fertilizers.
6. Personalize the Space
Your home office is your playground, so let your imagination run wild and get creative with how you customize it. To add a personal touch, you can include photos of your family, friends, or pets. Furthermore, inspirational quotes and posters do not only function as decorative pieces, but they can also encourage you to work and finish your tasks faster. There are a lot of office décor ideas you can try, so hit your local Target to find items that cater to your unique taste.
7. Keep It Clutter-Free
Simply decluttering your office may be the upgrade you need! Don't believe us? Then, look around your workspace; the odds are that you will find a lot of tangled wires and knickknacks you can do without. To eliminate these cords, you can either buy a wireless mouse and a keyboard or a cord tamer to keep all the wires out of the way. It might seem like a simple upgrade, but you will notice a huge change right away.
Working from home can be challenging if you are prone to distractions, but upgrading your office might remedy this. By tinkering with the décor, moving the office to a different room, or adding a pop of color to your workspace, you will be ready to breeze through your tasks. Incorporating simple changes here and there, such as adding new posters or decorative frames, can also do wonders.