How to Make Your Living Room More Luxurious and Classy
---
The living room is the area of the home where guests are received and where the family spends the most time together. As such, when decorating this area, it must reflect something about the family. The combination of furniture and other elements in this space must also respond to the necessities of the family. If you have already had a design for your living room or if you're planning to update this space, you may want to consider the following to make the area more luxurious and classy.
Lighting
Having different light sources in the living room can add intensity to the place as well as ensure that every activity in the room is properly illuminated. Adding a statement light source, such as a cylinder lampshade or pendant light, can also be a focal point and add a narrative to the room. Installing dim lighting and dimmer switches is another approach to make the space luxurious. With dimmer switches, you can easily dim lighting while ensuring that you can adjust the light when needed.
High-hanging Curtains
For your windows, it is recommended to purchase long curtains that can be installed high, yet making sure that it touches the floor. This visual trick can make your living room appear taller as it makes the eyes look upward. When choosing the curtain material, opt for lightweight cotton and sheer fabrics to enhance the amount of natural light in the living room.
Curve Furniture and Lines
A room with furniture and fixtures that are straight, clean lines will make the room look flat. To add interest in the area and to make it more luxurious, you can add curvy items such as mirrors, accessories, lamps, or coffee tables. A marble coffee table can be found to fit any design scheme, and the variety of shades available can add just the right pop of color to add life to the room. A statement piece of marble furniture will also provide a high-end look. You can also go for a sofa with a curved arm or curvy sofa back to add depth.
Pillows and Textiles
The proper use of pillows and textiles will dress up a room and make it more luxurious. It is best to invest in high-quality pillows that will give that luxe feel. If on a tight budget, you can search for scrap fabrics that are usually on sale, sew it yourself, then look for feather inserts. You can also opt for cheaper soft backing for your throw pillows.
Use Mirrors
Mirrors can provide the pretense of a larger space. Decorative mirrors can be hung to reflect light and increase visual square footage. Antique mirrors can also be used to accent a room with a sense of history and wisdom. Moreover, the patina on an antique mirror makes it look luxurious due to its aged appearance.
Metallic Surfaces
Accentuate your living room with a few metallic surfaces such as an antique metallic mirror, a brass table, or even some vintage silver. This will make the room look more expensive. However, too much metal in the room is not pleasing to the eye and might feel too cold.
Fresh Flowers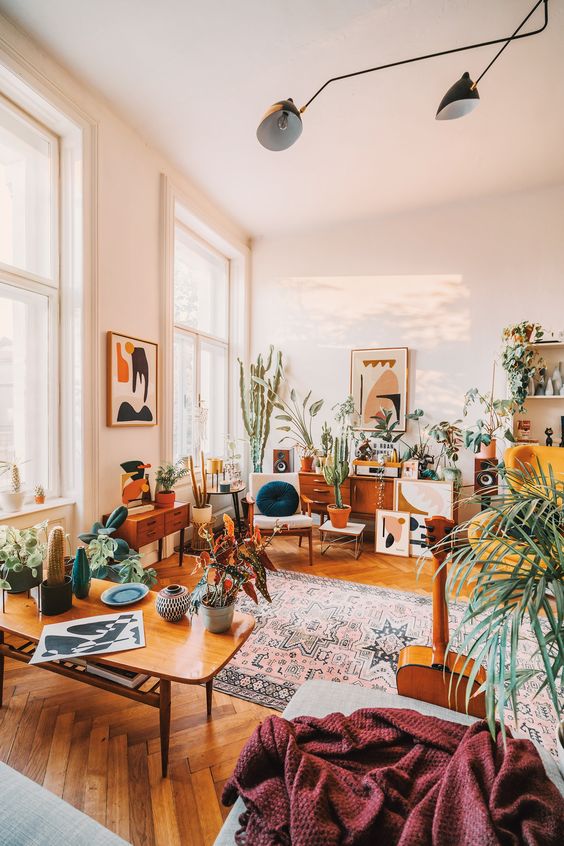 Fresh flowers are also advantageous for creating a luxe environment. A simple bouquet will provide a warm, welcoming, positive feel and instant sophistication in the room. If possible, have flowers arranged in different areas of the living area.
Large-scale Art and Rugs
Large-scale art in the form of painting or photography also provides luxury to any room. However, it is vital to select a piece with a personal significance, or you can even try to create one yourself. Installing large rugs on the floor can also complement the tall curtains and will make the room feel bigger and airier, resulting in an expensive feel. You can combine jute rugs and sisal rugs to have a contrasting texture.
Making your living room more classy does not require you to perform a major renovation. The addition of simple accessories or selecting a particular style of furniture can definitely bring a change to the area. Dimmer lights can set the mood of the room while high-hanging curtains, large rugs, and mirrors can make it larger and airier. Having a statement light fixture or a large artwork can be a focal point of the living room and a great conversation starter while providing an impression of the owner. Furthermore, the right balance of metallic pieces can showcase an expensive feel, while fresh flowers will prove a positive mood!