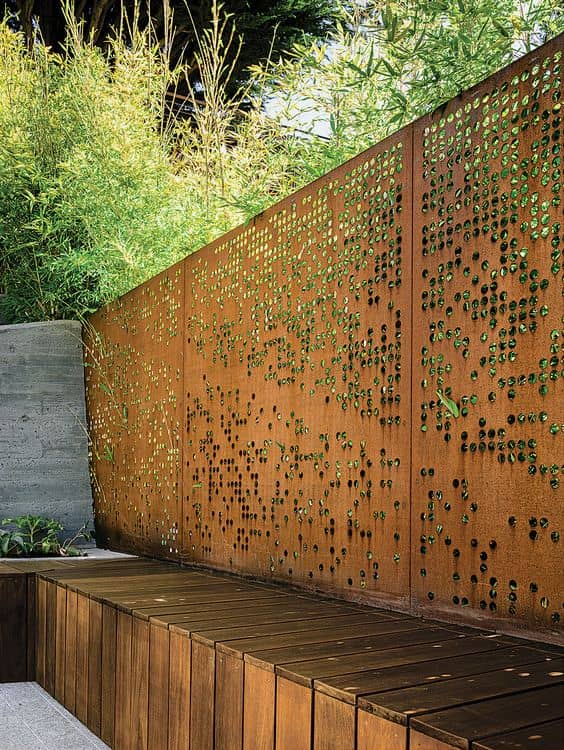 14 Patio Wall Ideas That Will Make Your Outdoor Space More Attractive
---
Not every patio offers a panoramic view. When you're enjoying your summer days and nights, you don't want to look at bare walls or cracked plaster. Luckily, there are many ways to revive the patio wall. We'll show you a few ideas for the spring season—from wood paneling to vertical beds.
1. Green Patio Wall
Ivy, wild vines and other climbing plants make dull patio walls disappear behind lush greenery. Some need a trellis, while others hold onto the facade with suction cups. Apart from visual advantages, this green patio wall also improves the micro climate and the ecological balance.
2. Patio Wall Made of Wooden Slats
Another great idea to cover your patio wall is to use wooden slats. You can even form a bench with storage space and extend it to create an outdoor kitchen. Wooden slats are hype in today's architecture. But their timeless look also makes them a good alternative for the facades of older houses. You can also lay them horizontally, but then they are more prone to moisture. The side effect of wood cladding is its thermal insulation function.
3. Vertical Gardening Beds as a Patio Wall
Vertical gardening beds are an alternative to climbing and container plants that we can find more and more often. It will take some time to install them, but the unusual decor is worth the effort. Vertical beds improve the air even more effectively than climbing plants—especially if you use moss because they filter large amounts of pollutants from the air.
4. Simple Patio Wall Decor
Another easy way to improve the look of the terrace or patio wall is by hanging one or more décor elements, for example—planters, fairy lights, or a (weatherproof) work of art. Experts recommend wood paneling or metal frameworks as a basis—then you can redecorate it more easily. By the way, it's not too late to install a nest box either!
5. Corrugated Aluminum as Wall Cladding
This classic building material has been experiencing a renaissance for several years. For many homeowners and architects, corrugated aluminum no longer stands for temporary garage roofs but facades and a light industrial touch. You can expose the corrugated aluminum's charm by combining it with warmer elements, such as wooden surfaces.
6. Colored Facades
An obvious but often underestimated option is a colored wall. You can then decorate it with a combination of outdoor furniture and plants. On this balcony, a bright sky blue is a perfect background for social gatherings.
7. Patio Wall as a Seating Area
This solution fulfills several functions at once—the wall disappears behind attractive wooden slats, where you can integrate seat and patio lighting.
8. Wall Cladding Made of Corten Steel
This trendy material has many advantages. First of all, it is durable and hard-wearing, looks modern, and at the same time natural and varied thanks to its uneven patina. Like other wall cladding, it is advisable to mount the steel plates as a curtain-type, rear-ventilated facade (VHF). A gap remains between the wall and the masonry (or insulation layer) so that rainwater can run off and moisture can escape.
9. Hedge
Perhaps the most popular and easiest way to make a patio wall look handsome is to use grasses and tall shrubs. The most beautiful wall is nature itself. The lilac and other flowering shrubs are perfect for the hedge. Bamboo looks good on almost every patio, and you can also use it as a privacy screen.
10. Gabion Wall
Gabions consist of wire baskets, which you then fill with stones and occasionally with tree trunk sections. They are easy to maintain, store heat, and are environmentally beneficial because they create insect habitats. If you find the puristic look in their original state too hard to get used to, you have many other design options. You can use dry stack stone without mortar, or you can fill gabions with colored stones and combine it with vertical beds.
11. Burnt Wood Patio Wall
Another alternative for a dull patio wall is burnt wood. Although a bit expensive, but durable material. It will provide total privacy and will add a minimalist look to your outdoor living space.
12. Combine Furniture and Plants to Create a Patio Wall
If you don't like the idea of decorating your patio wall, you can revive it by using furniture and plants. Install a seating area, and add plants behind it, like shown in the example below.
13. Perforated Brick Patio Wall
This type of wall is one of the most expensive and will require some time to install. But the result will be fantastic. A perforated brick wall will provide both privacy and aesthetic pleasure. You can add hanging pots or other decor elements to make it even more attractive.
See Also: Small Budget? No Problem! These Patio Ideas Will Help You Out
14. Play With Lighting
If you don't have much time or a big budget, you can improve your patio wall by installing lighting elements. It can be simple garland or ground lights that will make your wall more attractive.