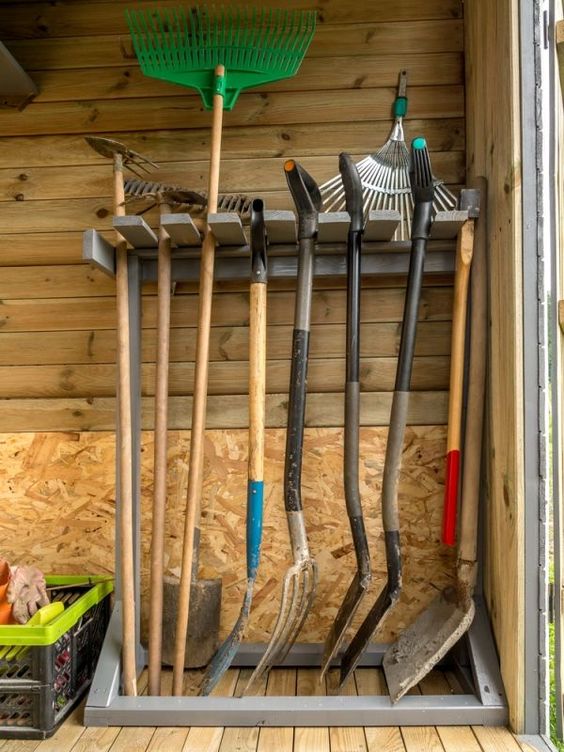 Shed Storage Ideas: 7 Tips on How to Get the Most Out of Your Shed
---
Whether you are a hobby gardener with a small backyard or a large piece of land—a garden shed creates order and provides extra space. It also makes your work much more efficient, as you have all the tools in one place. We have looked at the most clever shed storage ideas and can tell you that having an organized shed is not so difficult.
Wheelbarrow, hedge trimmer, lawnmower, water hose, children's toys, and other garden tools—what should you do with them? Of course, put them in the shed. Even the smallest garden shed can be a real space saver.
As with any other storage space, the most crucial part of a garden shed is organization. It should be a place to find the needed tools as quickly as possible. So, let's take a look at eleven brilliant shed storage ideas that'll keep it organized and tidy.
Simple Shed Storage Ideas for Small Items
– Boxes and Containers for Screws, Nails, Etc.
Apart from large tools, many small items such as nails and screws accumulate over the years. To keep your shed tidy, use plastic, wooden, or metal boxes. Not only do these storage containers save up space, but they also protect the items from moisture. From the whole list, this is the cheapest idea. You can use old jars or bottles to store small items. Just make sure that they are all the same size and color.
– Brush Holder
You shouldn't place brushes and other small items that have to dry after use in a closed container. For this purpose, you can either install a magnetic knife holder or attach a wire with hooks to the ceiling.
By the way, you can use a magnetic knife holder to store other metal items you use frequently.
Shed Storage Ideas for Garden Tools
– Hooks
The smaller your garden shed is, the more wall storage units you should have. Hooks are cheap, super easy to install, and save much of that needed floor space. Use them to hang tools with handles, such as shovels and spades. Now, don't just load all the walls with hooks alone—there are more clever shed storage ideas!
Extra tip. Instead of hanging all your tools on one behind the other, install several hooks. Although this saves space, it requires time if you have to rearrange it constantly.
– Hose Holder
The clutter of water hose in a garden shed is every gardener's nightmare. Therefore, you should always roll up and hang hoses, ropes, and cords on the wall. By doing this, you will free up floor space and avoid unnecessary kinks and knots. Once again, you don't need a fancy hose holder. Take a look at the ideas below. They cost almost nothing, and some of them provide extra storage space as well.
– Pegboard
This board is a must if you do a lot of DIY. The ability to access the tools you need quickly ensures the efficiency of the process. The tool boards are pretty cheap, but here are some creative ideas on making one yourself.
Shed Storage Ideas That Will Take Some More Time to Implement
– Shelves
Shelves are at the top of the list because they provide extra storage. It's the best choice to store boxes and other flat-surfaced items. Also, garden sheds are usually not large, so it saves floor space as well. Moreover, shelves are cheap since you don't need anything fancy—a simple DIY, and you're good to go. Place items that you rarely use on the top levels, and keep the ones you use at eye level, so you can grab the tools you need quickly.
– Vertical Storage Units
Although shelves are great to store boxes and other flat-surfaced items, they are not for rakes, brooms, or shovels. That's why a vertical storage unit is a must for any garden shed. These units are easy to do yourself, and not expensive if you prefer to buy them. Just make sure to clean the tools before you put them back in place, as moisture will damage the storage unit.
– Hideaway Workbench
If you lack space in your shed, a smart way to save it is to install a folding or a hideaway table. Unfold it when you need it, and when you don't – have extra storage space.
– Corner Shelves
If you have a free corner in your shed, install a corner shelf in it. Once again, place the items you rarely use on the top levels.
– Wall Racks for Sports Equipment
Putting everything in a corner is not a good idea. In case you need one thing from that pile, you'll need to remove everything and then put it back again. Not very convenient. A much better way is to install wall racks to store skis, snowboards, and other sports equipment. But if your shed is too small for all these items, take a look at the 10 x 15 storage unit.
Shed Ceiling Storage Ideas
If you're a DIY'er, you probably store wood and other building materials in a shed. They take up a lot of space and sometimes remain untouched for months or even years. Instead of placing these materials on the floor or shelves, it is better to use the empty area above.
A simple shelving unit such as below is easy to make and saves a lot of space when storing building materials. Also, a brilliant idea to use larger diameter metal or plastic pipes, as you can store more items inside them.
Before installing ceiling storage in your shed, make sure that the ceiling can hold the load.
Other Cool Shed Storage Ideas