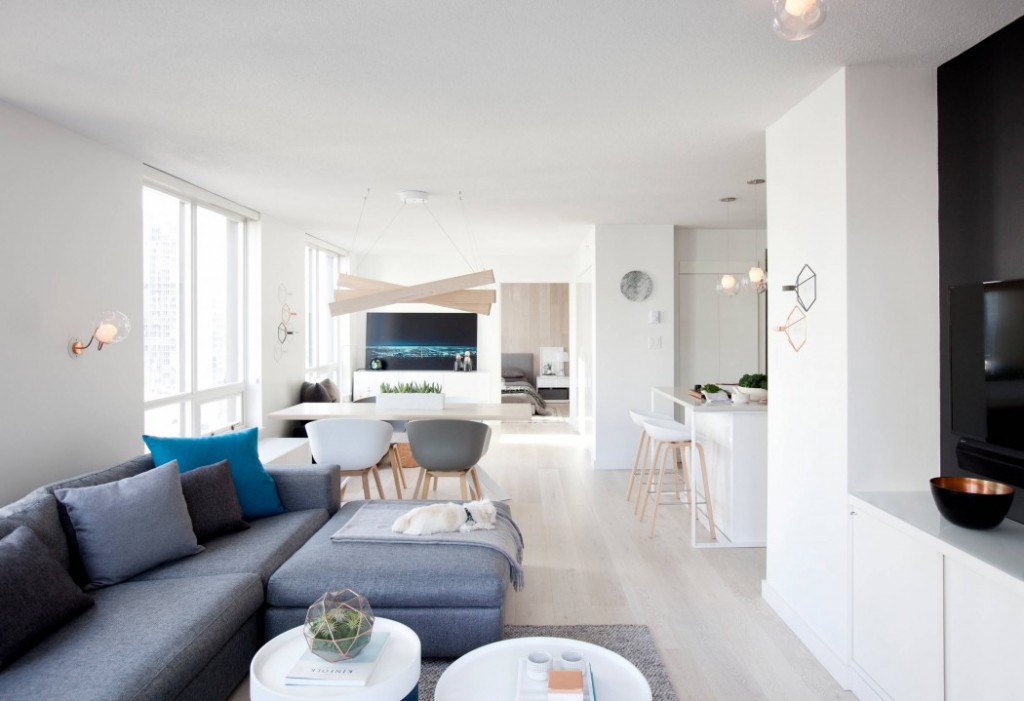 Yaletown Renovation by Gaile Guevara
---
Monday starts with new and exciting projects, therefore today you'll find a lovely post and a wonderful new interior. Located in downtown Vancouver, Canada, this cozy open-space apartment was completely redesigned in 2015. The renovation & styling of this project was fully covered by a talented designer Gaile Guevara along with a team of Laura Melling, Foojan Kasravi and Rebecca Raymond. The spacious 906 sq.ft apartment features a lot of trendy and stylish details and bits, while also adding an amazing 11th floor view. The whole space plan consists of 1 bedroom + 2 baths + den + living / dining room and a balcony. The colour and style seems to be a mix of contemporary and Scandinavian, since the whole space boasts with plenty of natural light and a minimal way of decor and interior design. The light wood details can be found not only as a simple floor and furniture match, but also covering a wall behind the bed and a niche plane inside, where the wall welcomes a few wall-hanged flowerpots. The kitchen – a light and airy space with as little unnecessary details as possible and an effortless and natural colour palette featuring bits of light wood and soft white colour. Living room and bedroom furniture in a deeper ash grey tone is livened up with small decor elements that come in brighter blue. The whole space seems to be not only liveable and inviting, but also aesthetically pleasing and feeling effortless. Also, the designer features in the website, where some bits of this interior were bought from. It is a really kind and helpful to anyone, who is interested in the details as much as the whole interior.
Accessories – Decorative objects | Teixidors Cushions available through Provide
Accessories – Area rug | CB2 + Zienette
Bedding | Stonewashed Belgian Linen Collection provided by Layers & Layers
Closets | Ikea Storage solution
Furniture – Sofa | GRomano provided by The Other Room
Furniture – Dining Table | Custom Table by Ben Barber Studio
Furniture – Dining Chair | Hay about a chair provided by Vancouver Special
Furniture – Bed | Facade Grey Queen Bed from CB2
Furniture – Bedside Table | Shake Nightstand from CB2
Hardwood Flooring | Kentwood Originals – Brushed Oak Snohomish by Metropolitan Floors
Lighting – Accent | LineLight By Lock & Mortice
Lighting – Decorative | Bocci 28d Provided by Bocci
If you're interested to see more works of this designer, just pop over here. Have a wonderful start of the week and enjoy your monday.
Via Gaile Guevara