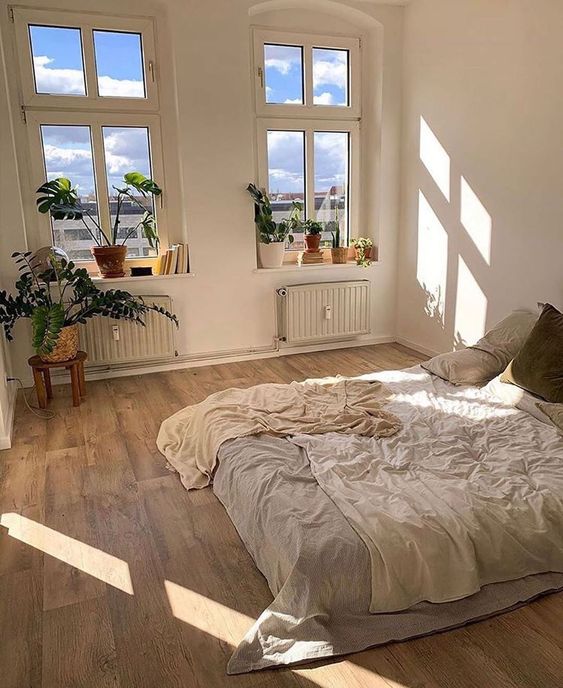 3 Simple Ways to Make a Room Look Bigger
---
We're always looking for more space in our homes. When surveyed, prospective buyers noted that the size of their living room was one of the most important aspects of a house and whether they'd be tempted to buy it. In fact, they considered this to be more important than the location of their children's school catchment area!
However, for those of us who are living in smaller living spaces, there are some tips and tricks to make it appear a little larger. Here are just a few you can try out:
Get rid of the clutter
Lots of belongings and clutter can make even the largest of spaces seem small. So start by having a big clear out of everything in the room. Ornaments, knick-knacks, and items that don't have a home need to go.
It's also a good idea to consider your furniture and whether it works for the space you have. A large sofa is going to dominate a small room, so it's a good idea to look for a seating solution that works better. L-shaped furniture is a popular space-saving choice for those looking to efficiently use what they have as these designs can nestle into corners and free up floor space.
If you have anything left in the clear out that you're not quite ready to part with, consider moving these items into a storage unit. You'll find these convenient facilities located up and down the UK from Cubic Storage in Southampton to locally owned units in the north.
Carefully consider color
Colour can have a huge impact on how the room feels, in terms of the general vibe and when it comes to size. Darker colors should be used sparingly and while the trend for colored ceilings is currently popular, a dark shade can make the ceiling appear lower than it is and dominate the space.
Instead, start with a neutral base – a cool white is a good option – then use pops of color in your furniture and accessories to bring in your own personal tastes and touches. Bright yellows paired with denim blues work well for sofa scatter cushions and light and airy drapes over windows offer privacy after dark but don't cut off the natural light.
When it comes to wallpaper, make the room appear bigger with prints and patterns that run vertically from floor to ceiling. This creates a stretched illusion on the walls and can make the room appear larger. Avoid busy, complicated patterns that distract the eye and encroach on the room.
Make use of mirrors
Mirrors are an excellent tool for creating the illusion of a larger space. Feature a large mirror facing a source of natural light to reflect light into the room and brighten up the area or hang it opposite a focal point in the room. Mirrors trick the eye into thinking there is more than what first appears and effortlessly open up the smallest of rooms.
Choose a mirror with a neutral colored frame or one that closely matches the color of the wall to detract attention from the fact that it is not a window but actually a looking glass and ensure you keep it streak-free and clean to avoid disrupting the illusion. If you have the budget, floor to ceiling sized mirrors can do all the hard work for you.
Ready to try out these tricks that can help your rooms feel bigger? With very little effort you can maximize your smaller space and enjoy a light and airy feel in your home.