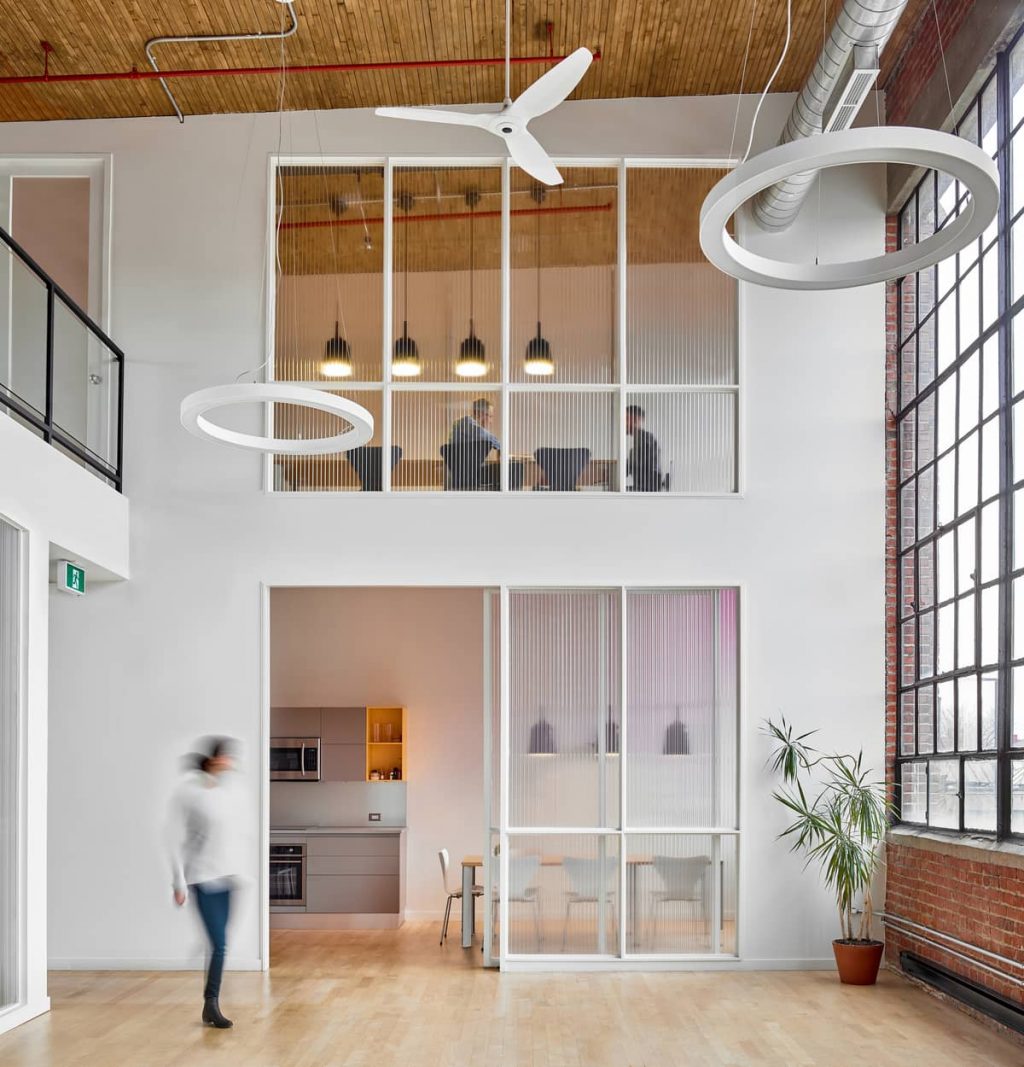 An Old Transformer Factory Was Converted into a Bright Office
---
Dubbeldam Architecture + Design designed the headquarters for Azure Publishing, a global architecture and design media brand based in Toronto. The new offices are housed in a former transformer factory located in the Junction Triangle, a historic industrial area in the city's west end. Dating back to the early 20th century, the converted factory has large floor plates, high ceilings, and generously scaled windows – features that are ideal for the multitude of creative enterprises that it now houses.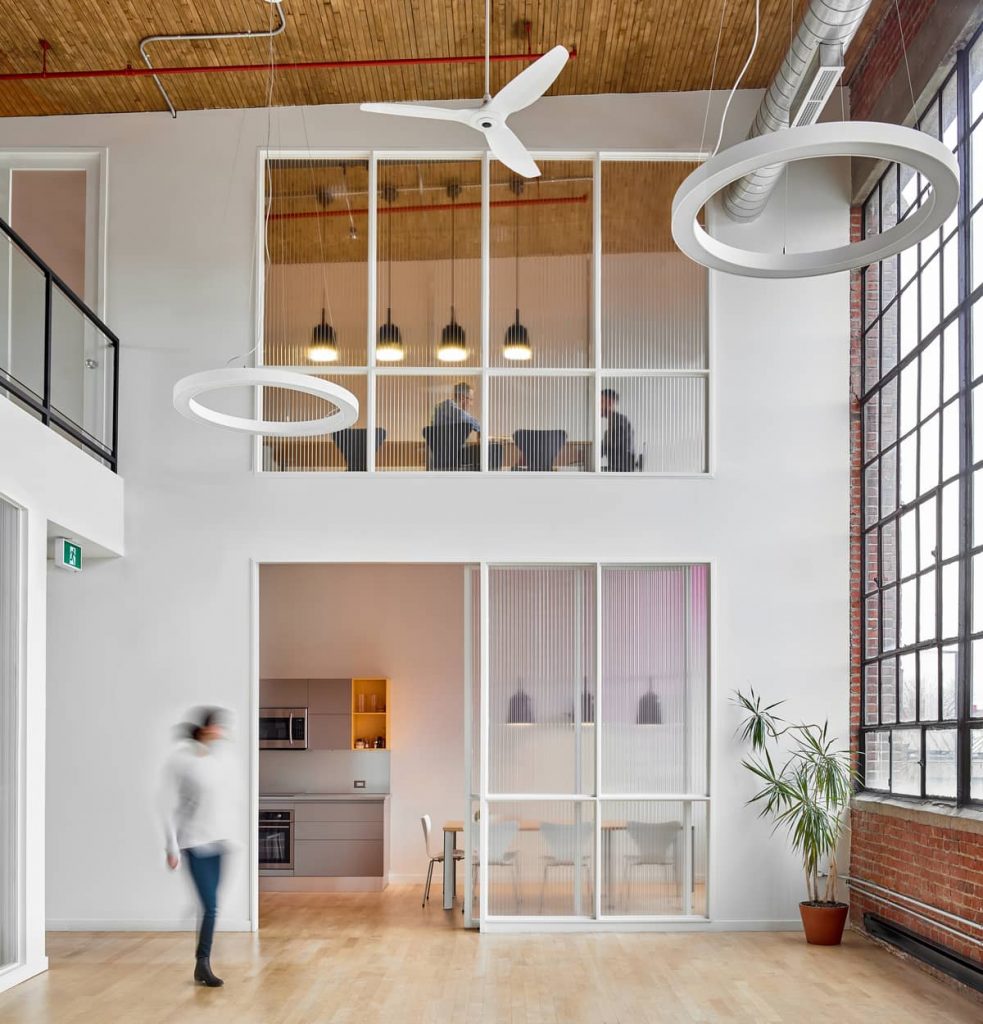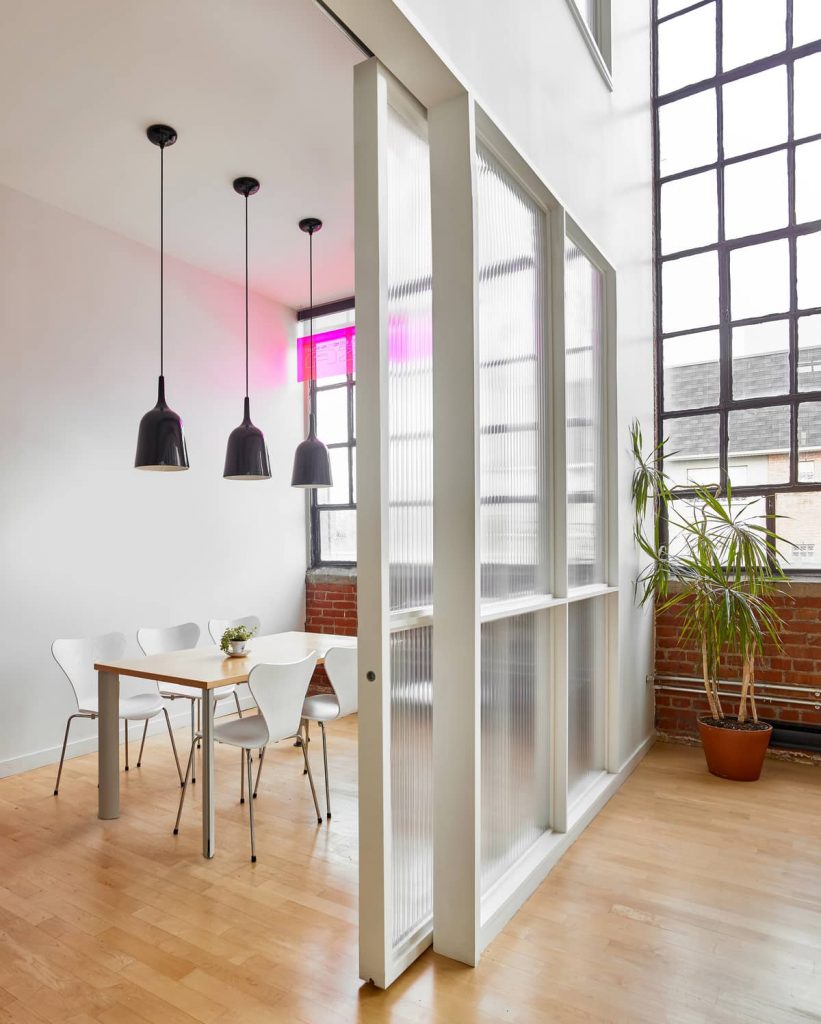 Across the road, the Museum of Contemporary Art has relocated into the century-old Tower Automotive building, becoming a significant anchor in the community. Its presence has further attracted other businesses, including the Drake Commissary and Henderson Brewery. Within this emerging creative neighborhood, Azure has situated itself in 5,600 square feet of space spread over two levels. The architects demarcated the entry by Azure's distinctive logo, which is visible through the reception glass. An assemblage of five pendants is clustered like cumulus clouds and float above the reception desk.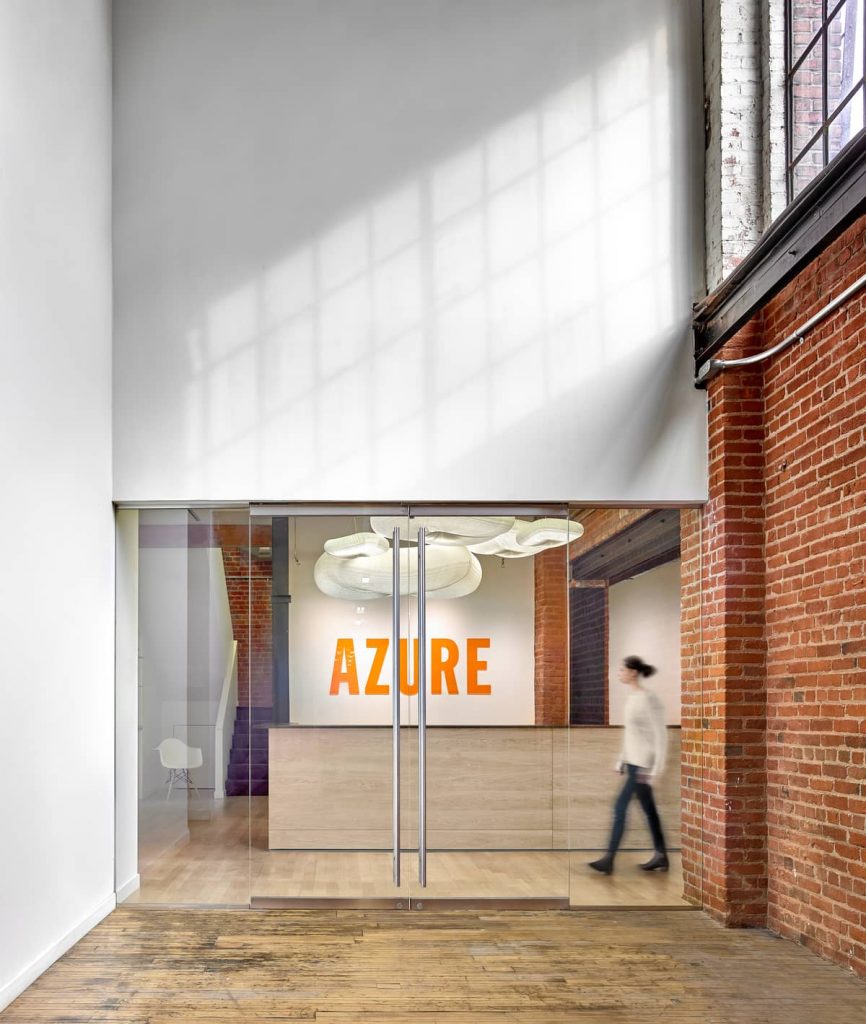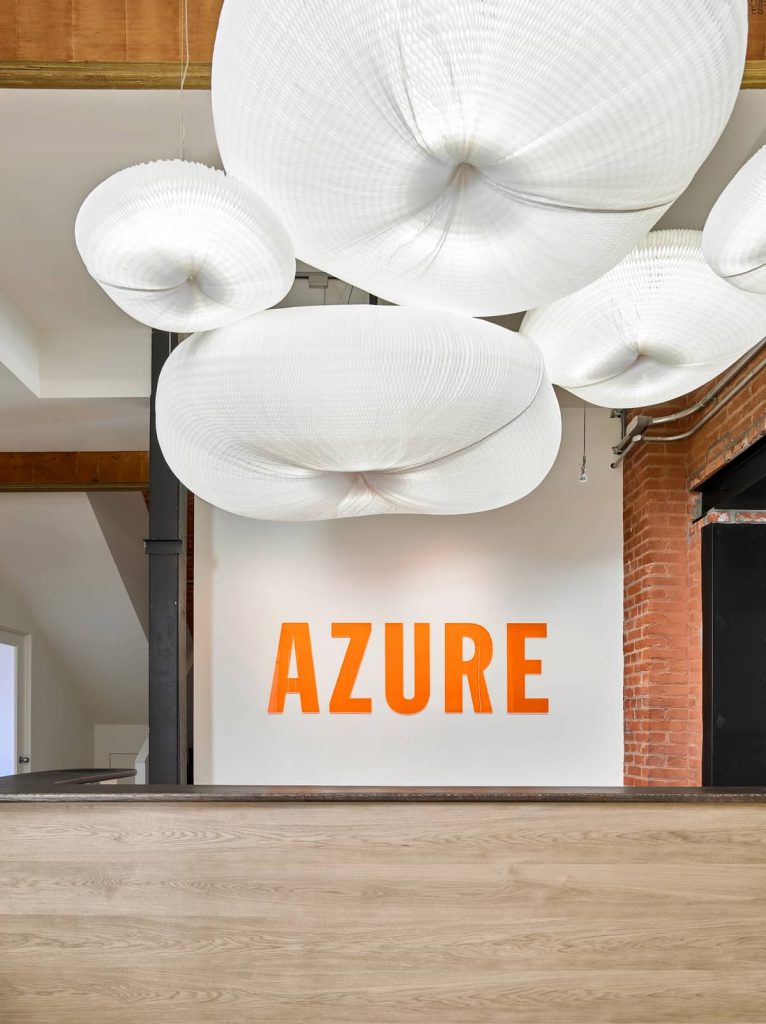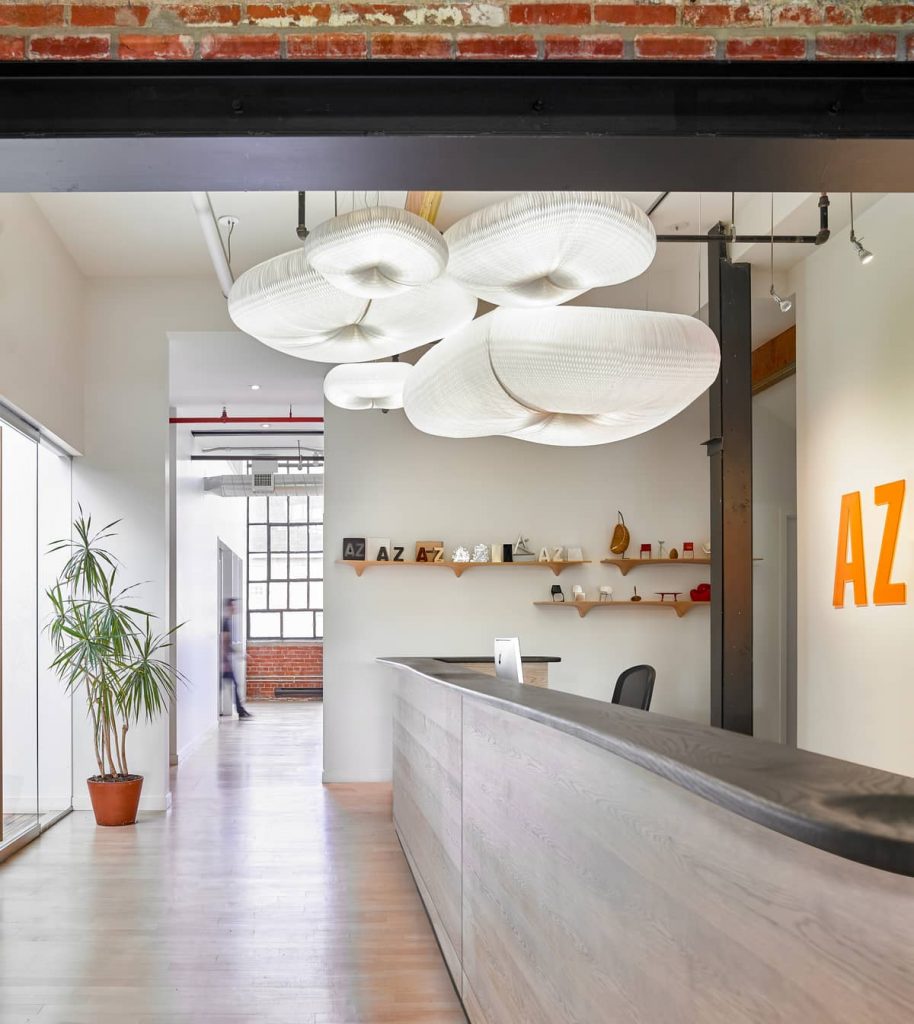 The reception area is surrounded by a large space that has 26 workstations, a pair of private offices, and a meeting room. Equipped with ergonomic desks and task chairs by Teknion, this quiet zone is made for professional focus while also accommodating client meetings and collaborative sessions. To optimize structure and order, the employees can stack reference material and personal belongings in integrated bookshelves and storage cubbies. The space is full of natural daylight from both south- and east-facing windows, increasing productivity and a sense of wellbeing for staff.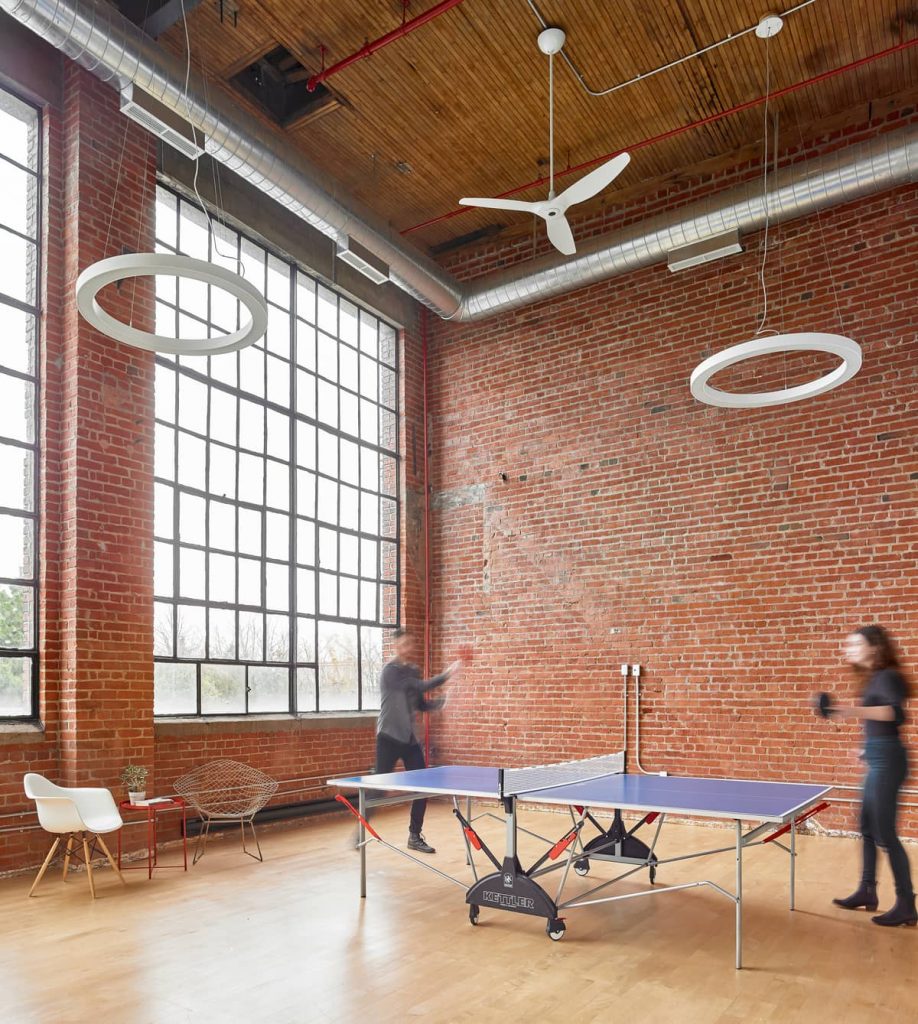 On the opposite side of reception, a double-height space captivates with its volumetric expansion, with 16-foot-tall original industrial windows framed in black metal providing even north light. Flexible in nature, the space is ideal for social events and recreational activities. The adjoining lunchroom and staff kitchen can be closed off by a sliding translucent acrylic screen, a device used throughout the office to maintain some privacy without sacrificing light transmission.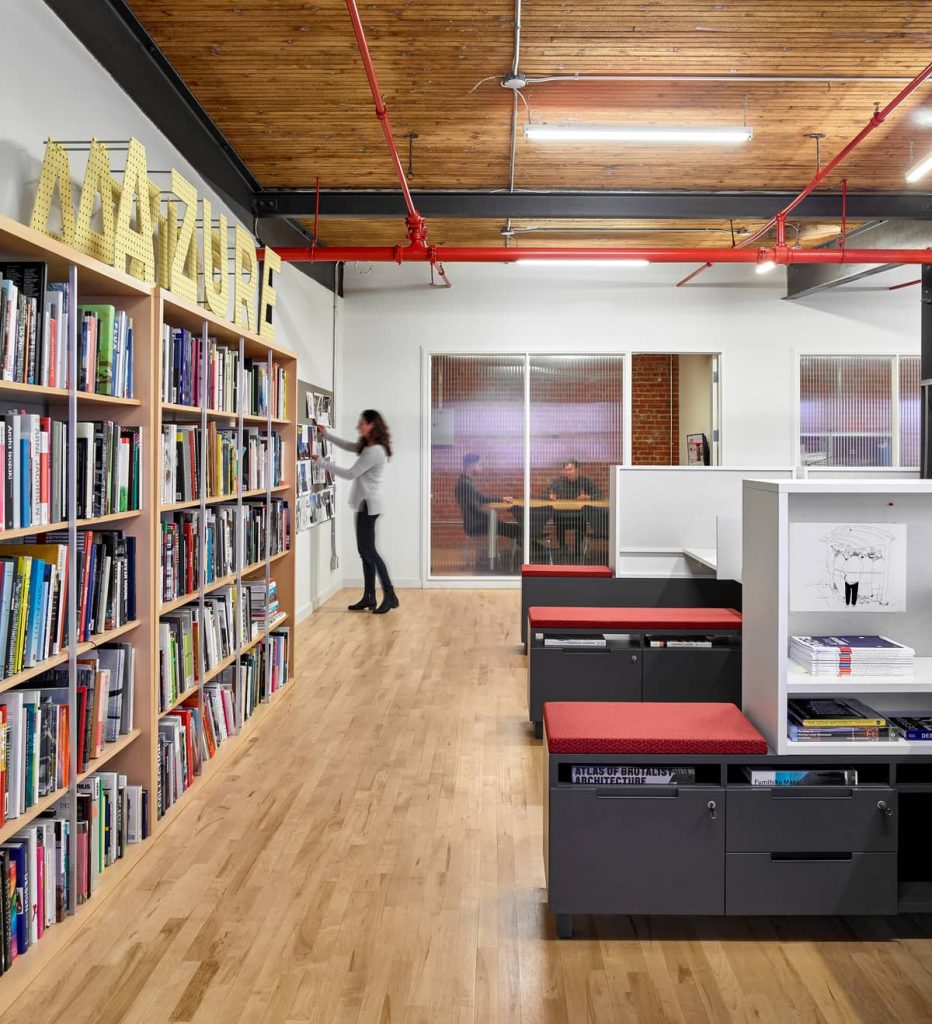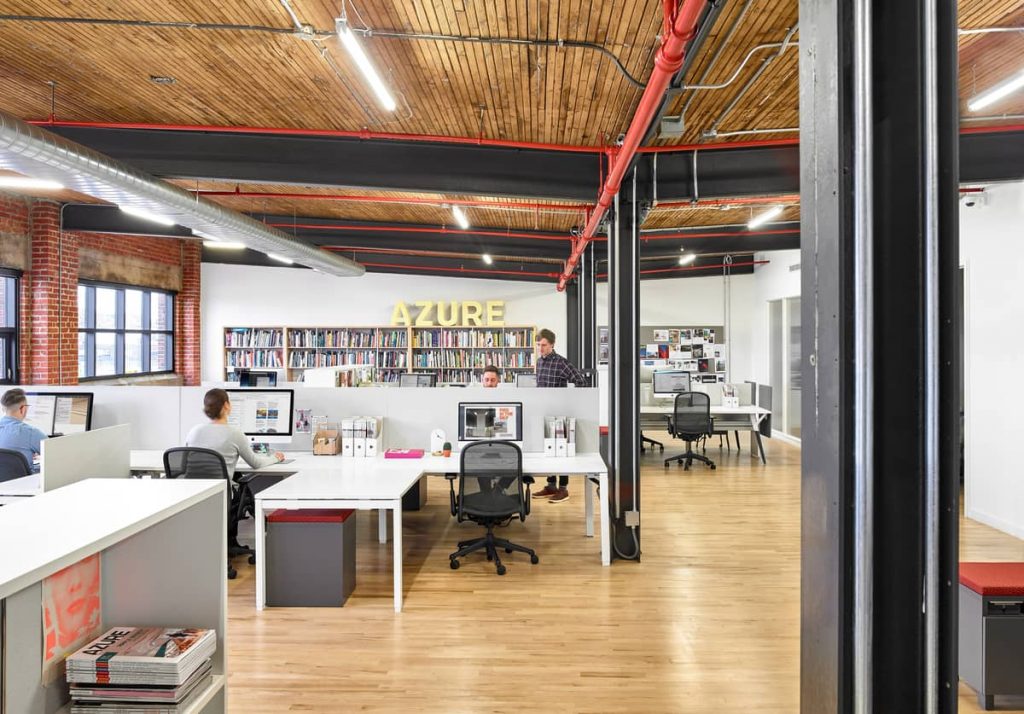 The material palette is a strategic interplay of new and old: white and pops of color are introduced through graphics, seating, and signage, in contrast to the neutral palette of the historic textured red brick walls, aged wood plank ceilings, newly installed honey-blonde maple floors, and darkened rough steel columns and beams. According to principal Heather Dubbeldam, "The design of Azure's new office preserves and accentuates the factory's original character, instilling an authenticity to the space by revealing its past."
Project by Dubbeldam Architecture + Design
Photography by Scott Norsworthy