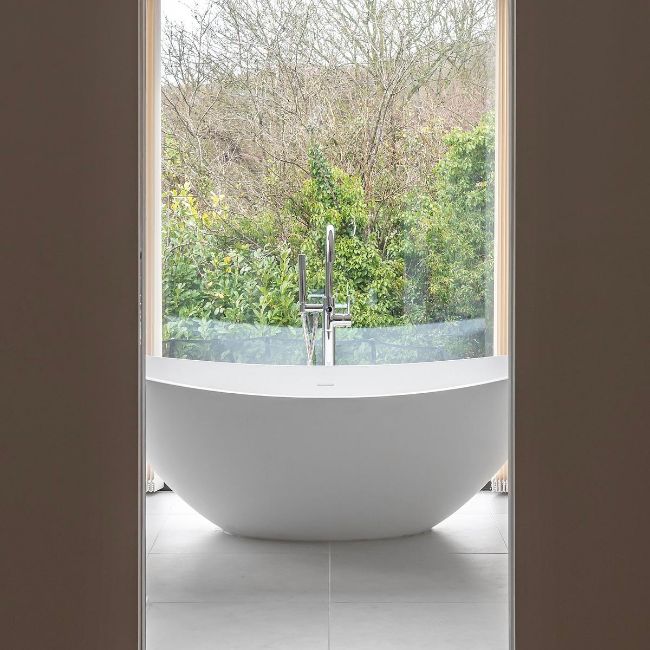 Bathtub 101: Everything to Know Before Purchasing One
---
A bathtub has many benefits beyond the obvious functionality, which is the basic purpose of a bath. A second benefit is that bathtubs provide an in-house spa. There's the absolute pleasure of soaking in a bubble-filled, scented bath. Few stress-relieving solutions are as effective without spending any cash.
The third benefit of a bathtub is that it can transform a drab bathroom into one that speaks class and elegance. For instance, the simple yet visually impactful Badeloft freestanding bathtubs are an excellent choice. The interesting shapes, colors and material variations bring a touch of the contemporary without crowding the bathroom. And that brings in a critical element to consider before purchasing a bathtub.
Size and Space
How much space is there for the bathtub? The ideal situation is to have the biggest possible bathtub. The kids will love it, and many romantic soaks will happen in the tub, thus the need for a roomy one.
But, before shopping, take stock of the available space. That will have a huge impact on the type you eventually settle for. For instance, don't try to tuck away freestanding bathtubs into a corner. They look great right in the middle of the bathroom with space around them.
Does it mean the bathroom has to be super-large? Well, no. While the standard tub measurement is about 60 inches long, 14 inches deep and 30 inches wide, smaller bathtubs are available. And that includes freestanding bathtubs that some may consider bigger. Measure the open space to act as a guide when choosing. Also, consider hallways, doorways or any obstacles that may impact easy installations.
Bathtub Type
Shopping for bathtubs can take a lot of work due to the sheer number of options available.
Popular choices are:-
Freestanding bathtubs come as standalone units, giving tons of installation flexibility. They are very popular due to their ability to inject a touch of luxury and elegance into any bathroom. Indeed, oftentimes they are the centerpiece, easily drawing people's eyes to them. There are distinct styles and shapes, including clawfoot, pedestal, Japanese soaking tubs and single or double-ended freestanding tubs.
Alcove bathtubs have the main benefit of space efficiency. They easily fit into three-wall enclosures or shower surrounds.
Drop-in bathtubs only have the rims visible. They feature custom-built frames that go into a cutout on the floor. Installing a surrounding deck significantly improves the decor of the bathroom. The result is a unique look with the drop-in tub as the centerpiece.
Corner bathtubs, as the name suggests, fit into a bathroom corner due to their triangular shape.
Soaking tubs are spacious and deep, thus excellent for soaking and relaxation. They allow for full-body immersion and can incorporate some of the designs above, like the freestanding bathtubs, corner designs or alcove tubs.
Improve the bathtub experience with features that offer different functionalities like air jets, whirlpools, inbuilt speakers, LED lighting and heated surfaces. Why book once-in-a-month spa sessions when creating one in your home for daily relaxation is possible?
Bathtub Material
Like designs, bathtubs come in a range of materials. The budget will largely determine the type of material. When calculating the final cost, consider installation and any associated hardware. On average, the total cost for a bathtub can range anywhere from $1000 to $5000.
Plastic is inexpensive and offers tons of flexibility with shapes due to ease of molding. Good insulation means they keep the water hot longer. Proper care is necessary, though, to keep them scratch and stain-free.
Fiberglass or glass-reinforced plastic is inexpensive and, with good care, can last years. Look for those with an acrylic finish for better durability. On the downside, the material is quite brittle and can develop scratches or cracks easily. Over time the material tends to fade, giving the tub an unsightly old look.
Porcelain is quite attractive due to its shiny, smooth finish. They're easy to maintain and quite resistant to scratches and stains. Be careful, though, because they can be pretty slippery. They may not be the best material if kids will be using the bathtub.
Acrylic bathtubs retain heat and are affordable and durable. They are, however, quite sensitive to abrasive chemicals and may scratch depending on the grade.
Cast iron is one of the best, most durable materials, with the added advantage of being chip and scratch resistant. The tabs are, however, very heavy, and there may be a need to reinforce the bathroom floor for additional support. Also, they are more expensive, so prepare to spend a little bit more.
Ceramic bathtubs are inexpensive and come in a variety of designs. However, they are high maintenance and can be difficult to install.
Stone is superior, natural looking and excellent at retaining heat. But like cast iron, stone is heavy, thus the extra expense of reinforcing the floor.
Final Thoughts
Bathtubs are an excellent addition to any bathroom. But it would be misleading to downplay the cost factor of installing one, despite the cheaper options available. That's why it makes sense to know more about the designs, materials, sizes, and more before placing a tub order.