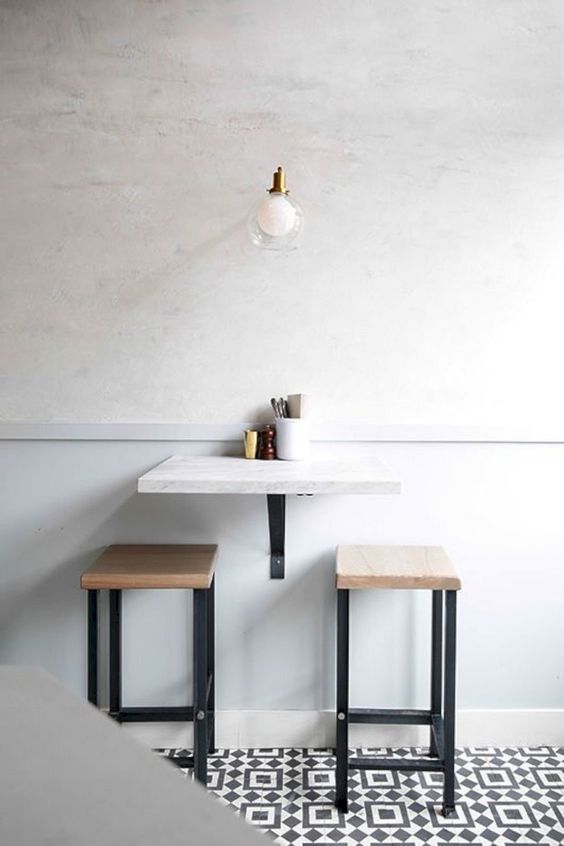 9 Small Restaurant Design Ideas for Your First Business
---
Size isn't everything. You don't need a vast space to cook delicious food — you can do it in a small restaurant. But when you're starting your business, the interior is still one of the most crucial aspects. If people leave due to the lack of available places or feel uncomfortable, you will lose your income. Luckily, there are many ways to maximize a small space to make it more efficient. Every item must have a purpose, and there is no place for things that are not useful. Let's dig into these small restaurant design ideas.
Tips for Decorating a Small Restaurant
When designing a small restaurant, you need to study the premises in detail. The most crucial space is the dining room, and you should focus on it. You can start with these questions: What is the square footage of the place? How many tables will you be able to fit? What is the location of the doors, windows, and bathroom? Can you place tables near them?
1. Use Structural Objects As Decor Elements
You don't need to invest in expensive decor elements. Columns, walls, or ceiling can also fulfill a decorative function. For example, you can expose a vaulted ceiling, brick wall, or metal constructions to create an industrial interior.
2. Custom-made Furniture
Custom-made furniture allows you to adapt to the space singularities, such as the presence of columns. The main advantage is that you can fit it into any space, but custom is always more expensive. Opt for square tables instead of round ones. You'll be able to stick them to the wall or join them together to adapt to a group of customers. As for the chairs, choose the ones without armrests, so you can stack them and save space.
3. Small Restaurant Lighting
Lighting is another crucial aspect of any small space. The first thing to do is making the most of natural light, so you should avoid thick curtains. As for the artificial lighting, choose ceiling lights instead of floor lamps so as not to waste space.
4. Beware of Accessories
Although wall decorations can improve your restaurant's interior, that doesn't work if the space is small. The main rule for a small restaurant: less is more! If you still want to add decor elements, use one large piece, then a few smaller ones. There's only one exception to this: mirrors, as they make the space feel more spacious and bright. Experts recommend placing them in front of windows.
5. Visual Coherence
Each element in your restaurant should follow the same line. In other words, your brand image should match the restaurant's interior. That's why it is crucial to plan every aspect of the interior and define a specific style. For example, you can base your design on a theme, the food you'll be serving, or any other concept. Just make sure that it all matches the same style—from the restaurant's website to packaging.
To achieve even more visual coherence, paint the elements such as radiators or wall sockets on the same wall with the same color. Another trick to make a space appear taller is to paint the ceiling a shade lighter than the rest of the walls.
6. Use Warm Colors
Colors are one of the most crucial aspects of any interior, so take your time to pick the right ones. For a small restaurant, we recommend choosing warm tones, such as white and pastel colors. Unlike dark shades, these colors will create a feeling of spaciousness.
You can use the 60-30-10 rule, which suggests using only three colors. Use the dominant color (60%) to paint the walls or ceilings. Then, use the secondary tone (30%) for furniture, doors, or windows. Finally, use the last color (10%) for cushions, vases, etc. By using only three colors, you will achieve greater luminosity and visual coherence.
7. Create Intimacy
An intimate environment makes the clients feel at home. It's a crucial aspect as, otherwise, they can have a bad experience. The good news is that it's much easier to create privacy in a small restaurant than in a large one. An intimate and private space should feel relaxed and quiet. The lighting should be soft and warm, not too intense. The best way to achieve greater privacy is to place a dim light over each table. If the restaurant's floor is too cold, you can use rugs that will add even more intimacy to the interior.
8. Small Details Make the Difference
When you look for small restaurant design ideas, think about whether they are functional or not. For example, no one wants to sit next to the door, bathroom, or stairs. So the key is to fill these gaps with decorative elements, such as plants, magazine racks, etc.
You also wouldn't want to sit on an uncomfortable seat. Choose restaurant bench seating and tables made of natural materials. If the furniture is pleasant to touch, your customers feel at home. Together with the interior, it should attract your clients' attention and invite them to enter.
9. Dual-purpose Elements
Dual-purpose elements are lifesavers for small spaces. For example, you can use bench seating as a partition to separate tables. If you lack storage space, you can get custom dual-purpose furniture, which serves as a seat and extra storage.
So here are our top nine small restaurant design ideas. We hope these will inspire you to create your space and get the most out of it.