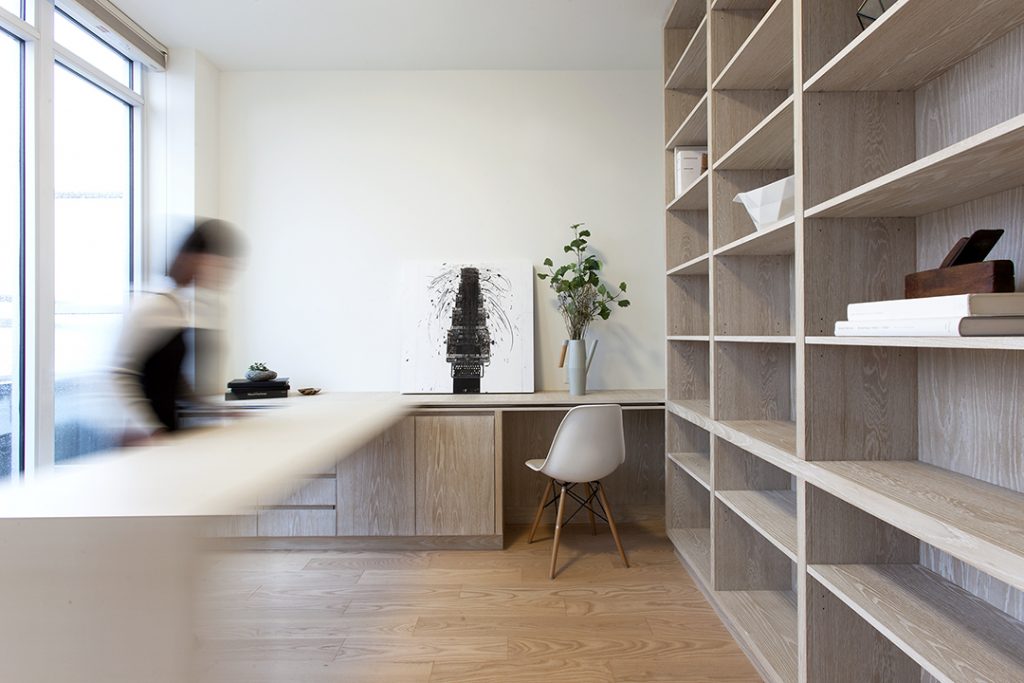 1500 ft2 Apartment Renovation by Haeccity Studio Architecture
---
Multi-generational housing and age-in-place options for evolving families is a public challenge in Metro Vancouver. As a new family headquarters, this dwelling had to accommodate the owners' various hobbies and collections, as well as provide flexible space for frequent visitors.
The clients were looking to downsize from a single-family house in Vancouver to a 1500sf two-level apartment in Richmond, close to transit. They soon realized that along with downsizing, comes new challenges for storage and efficiency.
The projects seek to exploit hidden opportunities to maximize discreet storage and incorporate flexible spaces. A shoe niche under the stair and a sliding desk in the study allows the room to transform into a spare guest room with a gentle push. In the upstairs corridor, space is "borrowed" from the master bedroom, thickening a single partition to include display and storage cabinets.
A wide range of warm finishes was therefore incorporated into the built-in millwork, giving each space its personality. Whitewashed white oak for the study, caramelized bamboo in the kitchen, cherry in transition spaces, and figured maple in the master bedroom each elevate the everyday rituals of the users.
Photography by Krista Jahnke