5 Ways Décor Evokes Positive Feelings At Home
---
Your home is where you feel most comfortable. So, the way you decorate your interior plays an important role in affecting your mood when you are at home. However, home decor isn't only about aesthetics. In fact, it creates a special energy that can certainly affect your overall mood. Whether it is the textures, the colors, or simply the decorative elements which are displayed in each room, the decor works towards giving a vibe that evokes many feelings as soon as you enter.
The psychology behind interior design goes deeper than what we usually know. For example, some people believe that clutter causes anxiety. That's why having an organized home helps your stress levels go down and gives you more time to do other enjoyable things. However, decluttering your home isn't the only way to create a calm and relaxing haven. In this post, we are going to give you five decor tips you can employ that will help you improve your overall wellbeing and will evoke positive feelings every time you are at home.
Relax with wall accent pieces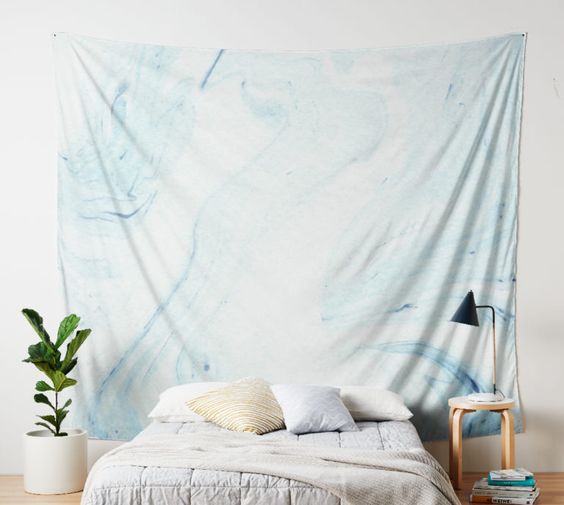 Incorporating wall accent pieces can define space differently and set a more pleasant mood to any room. Not only do wall hangings such as tapestries add some flair to your home, but they are the best way to put on your personal touch. The beauty of them is that they come in different designs, patterns, and colors that have a positive impact on you. For example, looking at tapestry with nature designs on it makes you more relaxed. Also, unique textures modify the tone of a room by adding a visual treat. It is really about choosing wall decor that you like, and you will be happy seeing for many years to come.
Add vibrant colors
Choosing the right color is very important in setting the tone in your home. The color theory states that lighter and darker colors affect your mood differently. For example, a neutral color like white gives you a sense of cleanliness and purity. As a warmer color, red symbolizes passion, adding a more intimate feel to the room. Yellow is probably the brightest color in the palette, which is associated with happiness and creativity. When it is combined with a neutral color, it creates a peaceful environment, making you feel more relaxed and comfortable in your home. Also, the combination of warm colors like red and yellow will make the tone of your living room or kitchen more inviting. In any case, color choices come down to personal preferences. So, if you like all shades of blue, then go for a bright blue feature wall or a piece of furniture to bring you more joy.
Bathe the rooms in light
It is hard to feel good if you are sitting in a poorly lit room. Another way of improving your mood is to let in some light. You can do this by making use of natural light. Installing large windows can certainly help boost your energy. If your windows are covered with drapes, uncover them. You can also use sheer curtains that allow the light to get in. If your walls are painted with bright colors, the natural light will reflect more easily – making the room brighter. This excess of natural light helps your overall wellbeing too. It gives you more vitamin D, fills you with warmth, and makes you more energized. Just imagine drinking your cup of coffee in the morning while enjoying the beautiful view from your big windows. Stress will no longer be an issue.
Use the power of scent
The smell is considered the most sensitive of the senses, which is why it can influence your wellbeing more than you realize. Different scents have the power to affect your overall mood. Walking into a fresh, pleasant smelling room will make you feel better and refreshed. Research has shown that certain smells can trigger more vivid emotional memories than images. If you know which scent can impact your mood, you can use this to your advantage and include it in your home. For example, the fragrance of citrus makes you more productive and awake. So, if you are struggling with waking up in the morning, having a citrus scent in your bedroom can help. Lavender is another scent that offers the feeling of relaxation in your bedroom or even your living room. Also, use the scent of cinnamon to reduce drowsiness and boost your concentration.
Implement Feng Shui in your home
The design of your room certainly has a large influence on your mood. Feng Shui interior design is the most popular way to utilize good energy and bring harmony to your home. It is a Chinese art that was documented as early as 960B.C, and the fact that many incorporate it in their homes is proof that it is working – the five elements of Feng Shui help with achieving balance in your room. For example, you can make the entrance of your home more colorful and welcoming. You can also arrange the furniture in such a way that it seems inviting and natural light is reflected on it. Make sure you mix different chairs and sofa styles to make your living room more lively and dynamic. Also, plants are more pleasing to the eye, so make sure you use them as much as possible. Keeping everything in the right place will create a serene environment.
Final thoughts
Your home decor has the power to affect who you are as a person. Your piece of mind is the most important, and you can achieve it with the way you choose to decorate your home. It is the easiest way you can ensure positivity. Remember that your surroundings reflect how you feel, so make sure you surround yourself with the best there are.