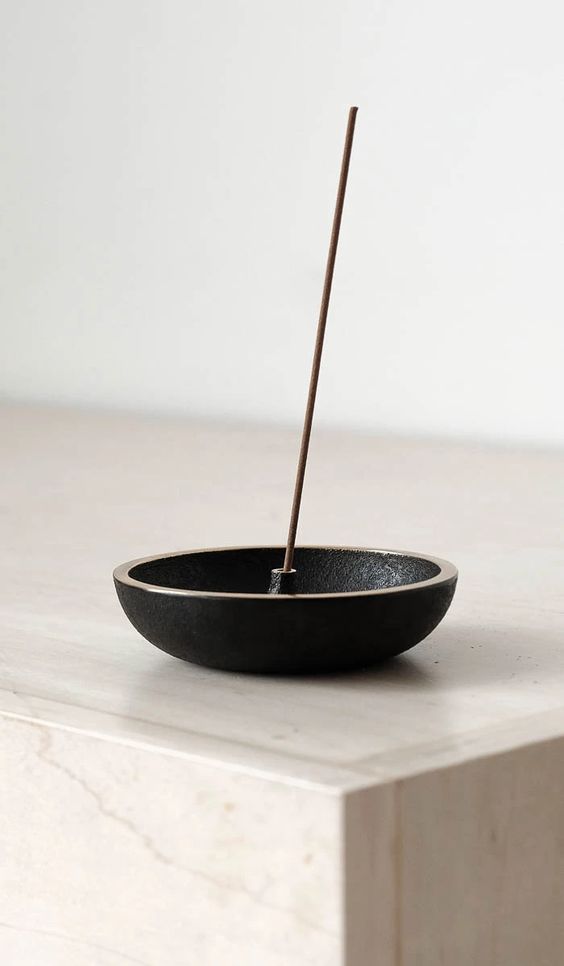 Incense holder: 50+ Best Holders You Can Get Right Now
---
Throughout history, incense played an important role in various religious communities. Up to this day, it's not only a part of many religious ceremonies but is also a necessity of every meditation or yoga class. The incense holder is a cheap and easy way to improve your home's interior and create a cozy atmosphere. There are many products to choose from, so we have saved you some time and collected only the ones that are worth your attention. So, let's take a closer look at these holders and where you can get them.
What is an incense holder and how to use it?
An incense holder is a container designed to hold the burning incense sticks safely and comfortably. Although it might sound alike, an incense holder is not the same as an incense burner also known as a censer. These are two different things. We use an incense holder for incense sticks, while the censer is often used in religious rites.
In this article we're going to talk about the incense holders: why do you need one, what are the dangers, and what are the best designs you can find on the market right now.
Given the elongated shape of the incense sticks, their holders are usually boat or tray-shaped. On the one end, it has a tiny hole to place the stick in. The flat and long surface of the holder allows collecting the falling ash from a stick.
The symbolism of incense
Although most people use incense for the great smell, there's a long history and a deep symbolical meaning behind this. The use of incense goes way back in time. Many ancient cultures were using incense for various reasons. The oldest incense burner was found in the Indus Civilization (3300–1300 BCE).
There were many uses of incense, including various rituals (people believe it can ward off the evil spirits), killing insects, etc. But the most common use was and still is for religious purposes. At around 2000 BC, incense reached Ancient China where it began to be used in religious ceremonies. In the 6th century, the Korean monks brought incense to Japan, where it was widely used at the purification rites.
During the Old Testament times, incense was a thing that appeals to God. So, the rising smoke became a symbol of a person's prayers rising to God. Frankincense was one of the gifts from the Three Wise Men who visited baby Jesus after his birth. Until this day, incense has a deep symbolical meaning for Christians. The sweet odor serves as something pleasing to God.
Can incense smoke be harmful to your health?
It turns out it can. Researchers from the South China University of Technology and the China Tobacco Guangdong Industrial Company conducted a study to find out whether incense smoke is bad for health. They tested the smoke of tobacco and incense directly on bacteria cells in a laboratory. They found that the toxic effect of the incense smoke on the cells was greater than of the cigarette. However, there is no information about the funding of the research, and they used only four incense sticks and one cigarette.
So, even though the results are questionable, we still have to admit that there's at least some danger of incense smoke to our health. It's pretty obvious when you think. Burning anything that produces smoke, whether it's cigarettes, candles, firewood, or incense stick – is harmful to our lungs.
But the real question is: should you be worried about the incense smoke? Well, the answer to that depends on several factors. First of all, how often will you burn incense? If you're going to turn your home into a Buddhist temple, then don't expect to have healthy lungs. But if it's going to be an occasional thing, then you shouldn't be worried. You breathe much more in the streets, so burning one stick once in a while not going to make a huge difference. Another important thing is to have good air ventilation. After burning an incense stick and enjoying the smell, don't forget to ventilate your home, so that the smoke doesn't stay too long.
Types of incense holders
There's a wide variety of shapes and materials of incense holders. You can find anything from plastic, wood, ceramic, or metal. The price of an incense holder mostly depends on whether it is a hand-crafted product or one from a Chinese factory. The design also plays an important role because you can find cheap kitsch incense holders for a few dollars. But these will hardly improve your interior design. Nowadays with the rise of Etsy and similar shops, it isn't hard to find a good-looking product. But we saved you some time and looked through the best incense holders that you can get on the market right now.
Vertical incense holder
The name speaks for itself. A vertical holder is usually a round shape. An incense stick stands straight while the ash falls in different directions on the holder.
Wooden incense holder
We could call these the most authentic holders. Due to the material of which they are made, these holders tend to have a more classic appearance. Speaking of resistance, rest assure because a wooden holder is not going to burn. It will, however, be more difficult to clean it than, say, a ceramic holder. But wood is one of the most sustainable materials, so you should think about that as well.
Ceramic incense holder
It's all about the design. While wooden holders don't have a lot of color options, here you can choose from a wide range of shades. Also, you can choose from different textures, as the surface of a ceramic incense holder can be smooth, rough, etc.
Metal incense holder
These also come in various colors and designs, but usually have a minimalist kind of look. You can often find incense holders made of mixed materials, such as metal and stone. It looks authentic and beautiful. Take a look ↓
Stone or concrete incense holder
Such holders look best in modern interiors. Although the trend of concrete has passed a few years ago, it's still a great way to warm up your interior. And a concrete incense holder is the cheapest way to achieve that. Apart from the concrete, there are also many other options. You can find incense holders made of granite, marble, or terrazzo. Take a look at these examples ↓
Why do you need an incense holder?
There are many reasons to have one in your home even if you're not the biggest fan. Sometimes shit happens, and, for example, you burn a toast in your oven. You open your windows and try to get rid of the awful smell, but it doesn't go that easy. An incense stick can come in handy and neutralize the terrible smell.
If you have a corner to pray or meditate, incense is a great way to create an appropriate atmosphere. Or maybe you just want a different smell in your home. So for that occasion, an incense burner is a great option.