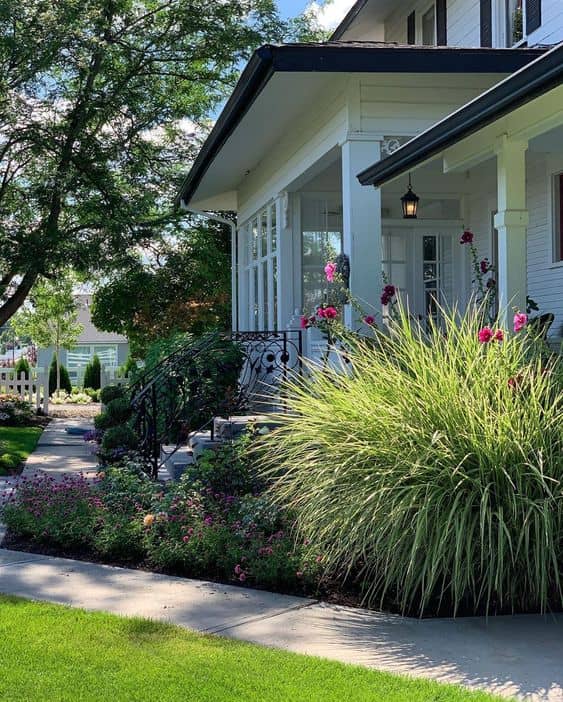 8 Landscape Ideas for Small Front Yards
---
Many homeowners have begun seeing their front yards in a whole new light due to their homes' increased value and the proliferation of inspirational garden photos on social media sites like Pinterest and Instagram. A well-designed landscape not only helps to draw attention to the structural beauty of a house but also improves curb appeal, increasing a home's value.
You don't have to spend hours and thousands of dollars to create an attractive yard, but there are several creative and low-maintenance ways to update the exterior of your home without draining your savings.
Any person with a green thumb can freshen up their home with various ideas, including planting flowers on a wheelbarrow or hanging some plants and flowers on the wall. Besides stone and plants, you can always find an alternative component to accentuate your front yard's appearance more. A stone walkway, water feature, and stone patio are also some ideas for anyone handy. With these landscaping tips, you'll have a beautiful front yard that rivals all of your backyard ideas.
1. Use The Corners
The idea is to maximize the front yard of a small house. But don't overcrowd it with plants! The center yard and front yard can make excellent design locations, but the corners of a yard can be breathtaking as well. You can add an accent of beauty to liven up the front yard. You can add a mixture of stones, trees, and bushes. Find more helpful hints from landscape design software, and you can start working your way to a fabulous front yard.
2. Planted Wheelbarrow
What could be better than a beautiful wooden wheelbarrow filled with flowering ivy? This sweet idea would go well pretty much in any yard, but it has a natural cottage feel. The most attractive hanging basket displays are those with flowers that were spill over the sides, such as petunias, fuchsias, and the like. The best results happen when you use a high-quality potting mix that will help retain water in the wheelbarrow for your flowers to thrive throughout the hot summer season.
3. Prepare the Lawn Grasses
With the suitable lawn in place, other plants can complement a front yard's décor nicely. Colors can pop off the front yard display because the grass is a solid shade of green. An attractive front yard also gets more beautiful with a gorgeous lawn, even if it's minor compared to other yards. Hence, this goes to say that you should properly maintain your front lawn, and it's already a great start to achieving the best home exterior.
4. Potted Border
You don't have to be an expert gardener to beautify your garden with these easy ideas. The containers are best for bulbs that require a lot of care and are often kept inside throughout the winter, but you can buy pretty blooms in the pot, evergreen shrubs, creeping ground covers, or plant new plants as the seasons change. A neglected side yard can be made more interesting by using the idea. It'll also look good if you add showy but short-lived annuals to an established perennial bed.
5. Succulent Stone Planters
A succulent display is perfect for low-water yards and xeriscapes yet dramatic and easy to maintain. The succulent plant is available in a wide range of colors and only requires minimal care. To achieve the best results, mix textures with creeping succulents and yuccas for height and various textures and types. West Coast gardeners will appreciate the low water and care requirement for succulent planters, but they can use these pots anywhere. Put your succulents inside if you live in an area where winters are cold or wet.
6. Plant Boxes
Having a family garden improves your life. One way to enhance your garden is through the use of plant boxes. Landscaping in the front yard can sometimes require plant boxes when it's too small. Rather than just having the landscape on the ground, this will add a little layering effect to the front yard. You can set up a lovely arrangement of flowering plants in the planter box.
7. Use Accents
Apart from lovely decorations for your front yard, such as stones and plants, adding some accents in your front yard landscaping can make it even more unique and appealing. Despite this simple landscape, having a small spot of stones where a jar stands out a lot from the surrounding landscape. You can use recycled jars and keepsakes to use as your pots and flowerboxes.
8. Clematis Climbing Wall
You can use clematis instead of ivy for covering ugly walls, fences, mailboxes, etc. There are several hundred species in this genus, making it a very diverse flower. If you're in more excellent areas, make sure that it has plenty of suns. It can be a deciduous tree, but in warm regions, it may become an evergreen. No matter what, the summer months are always blooming with the most stunning blooms. Colors range from pink to purple to even white. There are also numerous flower shapes available.
Conclusion
These are just some of the many landscape ideas you can implement on your small front yards. Enhance your curb appeal by using landscape design software, and you can execute the planning yourself. You may do all the planting and de-potting if you have a green thumb, anyway. And if you're busy, you can always call a landscape artist to help you with your front yard green project.