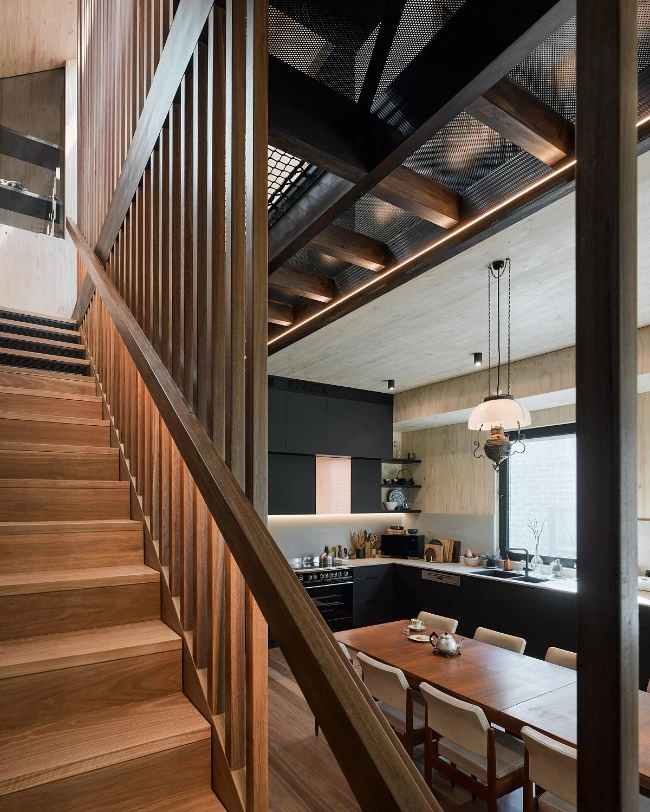 Harmonizing Generations: The Music Room by Alexander Symes Architect
---
The Music Room, crafted by Alexander Symes Architect (ASA), unfolds its tale as a residence for a musical family of three, nestled on Gadigal Land in the Sydney suburb of Glebe. This architectural endeavor arose after the clients, having parted ways with their initial architect—whose focus shifted from single-dwelling projects—sought ASA to bring life to their vision of a sustainable and health-centric abode. Situated adjacent to the "Sze Yup Temple," the home contends with ink-printed prayer papers affecting local air quality during specific prevailing winds.
Inheriting the project from a predecessor who veered away from class 1 buildings, ASA navigated a complex landscape. The clients, adamant about preserving the approved building envelope to minimize impact on neighbors, tasked ASA with adapting materiality, window placements, and skylight positions. Though modifications to the Development Approval were feasible, the original envelope remained non-negotiable. The clients, a family of three with a teenage son, sought a residence that not only aligned with their current needs but also future-proofed itself for a flexible multi-generational living arrangement.
Given their involvement in the music industry, acoustic considerations became pivotal. The Music Room emerged not just as a dwelling but as a space designed to adeptly manage the intricacies of music production, addressing concerns of sound containment both within the house and for neighboring ears. Beyond acoustics, the clients also harbored environmental concerns, particularly regarding air quality impacted by the ritualistic burning of ink-printed prayer papers at the nearby "Sze Yup Temple."
This family, consisting of a musician and music producer, strategically acquired the home with the intent to renovate it to suit their immediate needs while ensuring adaptability for future generations. With a growing trend of children returning home due to housing affordability, the residence has been thoughtfully designed to accommodate flexibility and privacy. Its layout allows for the family to "age-in-place" downstairs in the original dwelling, while the shared living spaces and private rooms upstairs cater to the evolving needs of their teenage son and potential future family. The Music Room, in essence, harmonizes architectural ingenuity with the symphony of family life.
Architect: Alexander Symes Architect – alexandersymes.com.au
Builder: AJP Constructions Pty Ltd
Structural Engineer: Cantilever Consulting Engineers
Photographer: Barton Taylor