How To Clean Floor Grout Without Scrubbing
---
We all enjoy clean and shiny grouts between our tiles, whether it's in the bathrooms, kitchens, or living rooms. But over time, these grouts get moldy, dirty, or discolored, making them look unpleasant. There are lots of ways of how to tidy up your space. But do you know how to clean floor grout without scrubbing?
If you're a housewife reading this, you know it's an enormous pain to bend down on your knees and scrub those tiles. However, there are ways to enjoy clean grouts while sitting back and waiting for the results. How? By getting the right cleaning agent and by leaving those chemicals to do the cleaning job.
Keep in mind that there's no way to get your grout 100% cleaned without doing a bit of scrubbing. But this being said, here are some of the best and most effective ways to clean floor grout with minimal scrubbing effort.
1. How To Clean Floor Grout Without Scrubbing Using Peroxide & Baking Soda
If you are looking for a safe and cheap way to clean your grout, soda and peroxide is your first choice. All you need is some peroxide and baking soda available in your kitchen to get the job done.
Here are the ingredients for the cleaning chemical:
1 cup of peroxide
1 cup of baking soda
All you have to do is mix these two ingredients up together in a bowl. Next, optionally put the solution into a spray bottle and sprinkle it on your grouts or pour it directly. Let the mixture stay for about 10-15 minutes. After that, you can start scrubbing the grout using either a small brush or a toothbrush. You'll be surprised by how easy it is to clean your grout with minimal scrubbing effort.
Peroxide acts as a strong oxidizing agent that has a powerful disinfectant property. And combining it with a baking soda, which has an alkali property, can cause dirt and grease to dissolve effectively on its own.
That's why while leaving the mixture on the grouts, you will see the foaming takes place. That's the chemical reaction between the cleaning agent and the dirt.
In some cases, you might need to increase the amount of both the peroxide and baking soda. But that's only if you're still having trouble with removing the dirt in the grouts. You also might need to repeat the process once again before everything is entirely cleaned and shined.
2. Use Strong Chemical Agent Like Lysol or Clorox Bleach
The second method to clean your grout without scrubbing involves using much stronger cleaning chemicals like Lysol or Clorox bleach on your grouts. This method is highly effective and can almost guarantee you the perfect grout cleaning without actually scrubbing, but it does come with costs to pay.
First is the cost of the chemical agent itself. If you already have either of these chemicals in your bathroom, then the financial part doesn't matter to you. The second, and probably much more important thing, is that this method is riskier than using baking soda, as these chemicals are harsh cleaner, both on you and your tiles.
So we don't recommend using them very often. But it's a great way to revitalize bathroom tiles that have been neglected or plagued by stubborn stains and build-up. You can also clean your floor grout using this method once in a while when the dirt seems to stack up so much that it would take hours to get rid of them.
All you have to do is to apply the chemicals directly on your floor grouts and leave them for a couple of minutes. Make sure the room is well-ventilated and that you're wearing gloves and goggles.
3. How To Clean Floor Grout Without Scrubbing By Using Polyblend
Last but not least, there's another way to clean your grout easily using a specific grout cleaning product called Polyblend. Polyblend is a polymer-modified, cement-based sanded grout that produces hard, dense joints that resist shrinking, cracking, and wear.
Polyblend is a product used specifically to clean and whitened all kinds of grout stains. It effectively cleans hardened and stubborn stains and grime. Unlike the strong chemical agents mentioned above, this product is less harmful to your body and tiles, making it almost safe to use.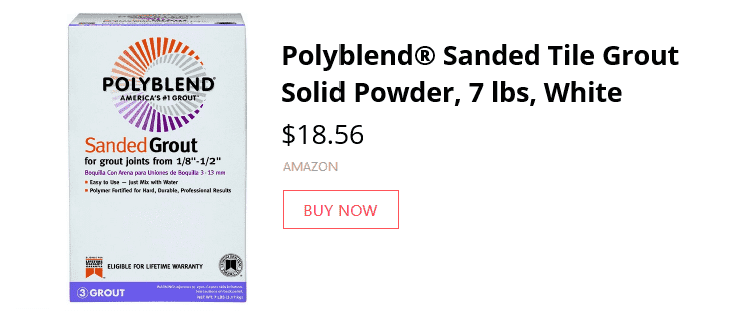 To use Polyblend, all you have to do is mix the chemical well with water, then use a brush dipped in the mixture, and apply it along the grout lines. Leave it for about 10-15 minutes and then use either a toothbrush or any bristle brush to scrub the mixture mildly from the grouts.
The only downside of using Polyblend is that it takes more effort to clean the grouts as you need to get on your knees and paint the mixture along the grout lines, unlike the above two methods, where all you have to do is just apply the cleaning substances and let them do their job.
However, when combining this method with the peroxide method, you will be able to remove all kinds of grout stains in the safest way possible.
Conclusion
And that's all for our top 3 ways to clean floor grout without hardly scrubbing the floor tiles. As you can see, the natural method is the safest and cheapest. However, by using it, you may not be able to clean all kinds of stains. The second method is much harsher, but you can end up harming your health. Therefore, the third method is what we recommend the most as it's the safest and most effective way to clean your floor.
If you know any other effective methods, don't hesitate to let us know in the comment section below.